LucidLink's 3D Video Explainer Delivers Revolutionary Video and Animation Creation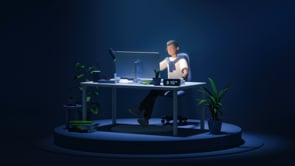 LucidLink's 3D Video Design Showcases Everything About the Product Without Dialogue
Cloud storage has always helped make creative projects, but with LucidLink, this aid has been taken to another level.
This article explores how the unicorn used multiple tools to deliver a memorable video design that effectively promotes LucidLink.
This short, animated video doesn't have a narrator or dialogue. However, the message is communicated through relatable personalities, colors, background music, and captivating visual storytelling.
But before diving deeper, don't forget to explore more of the best video designs on DesignRush, where you can also find the perfect video production company!
Featured Custom Video Designss by Top Digital Agencies
LucidLink's 3D Video Design Informs Users of the Program's Features Through Animation
The first frame introduces Vic, a Video Editor based in NYC, who gets a message from his superior to help with a task. Cooperative and hardworking, he's ready to lend a hand despite the tight deadline. However, Vic encounters several technical issues that prevent him from completing the task.
He then sends a message to his London-based superior for assistance, and she suggests using LucidLink.
The video explainer proceeds to show an overview of what LucidLink does, enabling Vic to accomplish the task. Satisfied and relieved, he proposes that she adds the entire team so they could improve the team's work efficiency regardless of the location or internet speed (browse other commercial videos with incredible storytelling like this.)
Receive proposals from top video production agencies. It's free.
GET PROPOSALS
LucidLink's 3D Video Explainer Resonates With the Audience By Including Work-Related Humor
Work-related situations and problems like low disk space and slow internet are all too familiar to remote workers. The agency portrays these scenarios to relate to viewers through LucidLink's 3D video design.
As the Editor's character in the video spends hours waiting for his download to finish, his frustration rises as a pop-up notification about his low disk space shows. His slow internet speed also adds to his problem.
The events may be annoying, but it shows that anyone can encounter these problems. It also validates the concerns of office workers, proving the importance of having LucidLink in a remote work setup.
Check out other intriguing animated videos.
LucidLink's 3D Video Design Conveys Different Feelings and States of Mind Through Colors
The video begins in a remote setup for the Video Editor. We see him sitting at a desk on a regular evening, and the desk is surrounded by plants, books, and a mat beneath his feet. The agency uses a color scheme of dark green, blue, purple, and gray to portray the time of the day.
Learn how to use colors in your design to your advantage through our color psychology guide.
On the other hand, the part of the video starring the Content Manager features a lighter color palette. Aside from the time, it expresses her confidence and ease at work, thanks to LucidLink.
Get a chance to become the next Design Award winner.
GET STARTED