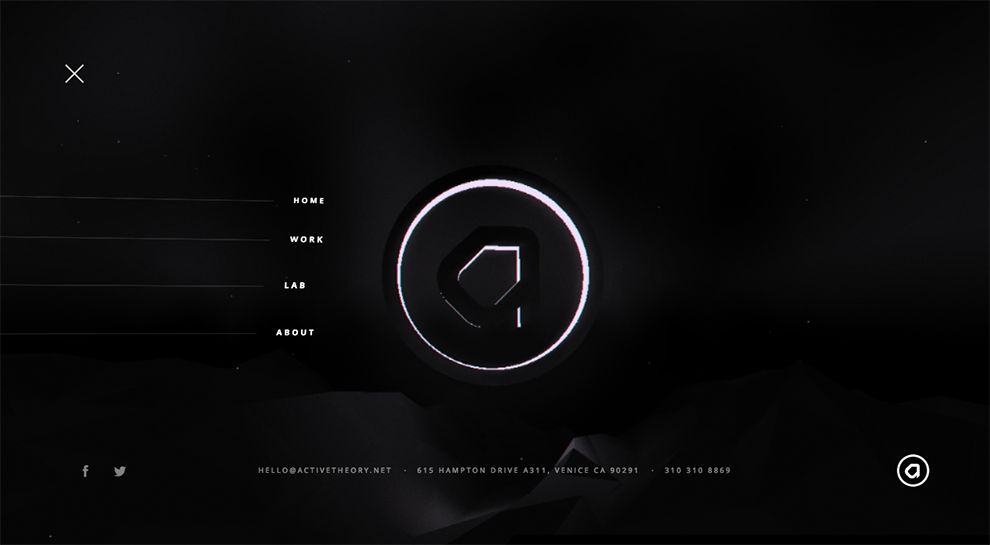 Interactive stories created through dynamic web design: that is what Active Theory aims for when they work with their clients, creating undeniably immersive user experiences. 
With that in mind, their website showcases that from the moment potential clients land on their home page, starting with an exciting and exquisite fractured glass effect. The effect follows the cursor as it moves across the screen.
Accessible from the homepage and all other pages, potential clients can open up Active Theory's hamburger menu from the upper left corner.
The menu opens its own slider page where the company's logo is displayed in the center of the screen. The use of shaded and gradient color creates a three-dimensional imagery effect, allowing the logo to pop out of the screen at potential clients.
The lighting to create this effect is drawn up from the bottom of the page, where the black negative space is interrupted by a gradient light up to gray effect. Page options are aligned on the left side of the page beside the logo with a flat design and are in the sans serif font.
Carrying over the use of effects from the home page, the menu mobilizes a slight movement effect. As the cursor moves across the screen, the logo and the page options follow the movement.
Discover the difference between mobile app design and mobile-friendly web design.
Learn more!
Active Theory makes navigating through their portfolio easy, relying heavily on visual arts to pique interest. With the use of a sliding side bar menu from the right, potential clients have the option to see all portfolio options laid out and to click on the ones they want, or they can simply scroll from the top of the page to see each project as it is. Through this side bar menu, potential clients can utilize the in-post tags to pick and choose the types of projects to view.
Portfolio pieces utilize a single image that takes up the entirety of the page to introduce potential clients to the overall feel of the project. The project's name is listed in the bottom left corner in sans serif font, accompanied by a paragraph of information about the project. Allotted information is kept to a minimum, as potential clients are prompted to visit the actual website to see the portfolio project in action.
Active Theory is a creative website design in the Professional Services industry.
More Best Professional Services Website Designs