Blue is a complex color that has a lot of psychology attached to it. This means that blue can mean a lot of different things. It conveys reliability, so many banks and Governments use it. It is associated with optimism, with the sky blue helping us feel better about our future - ideal for future-forward, tech brands...
Blue websites always seem appealing since the color conjures up feelings of fun and calmness associated with bright skies. In its milder hues, blue is the color of peace, power, and friendship. Darker blue conveys expertise and depth.
Because of its adaptability, blue is frequently the color of choice for professional web designers. So, blue websites tend to be clear, trendy, cool, and transparent. The soothing color appeals to many designers, making creating a fantastic original page more difficult.
If you wish to utilize blue as the primary hue on a new website, check out this list of the best blue website designs as inspiration:
1. Celsia by WarmDevs
Standout Features:
Conveyor-belt affiliation representation
A single-page layout
Many circular elements
Celsia represents a Norwegian-based SaaS company that excels in helping companies become more sustainable rather than just working on fixing sustainability reports. WarmDevs developed the brand's web design in a fresh, modern, corporate style.
This single-page layout (find more amazing single-page designs here) combines edgeless elements for a smooth and pleasant user journey. As soon as you land, the bottom right-corner chatbot invites you to schedule an online demo.
The design leads with a short testimonial video with a past client set on an opaque blue circle. Apart from the reliable blue, circles are the main elements of this design - with many interactive and background decorative circles spread across the layout.
The video testimonial is accompanied by a conveyor belt of interchangeable past customers, combined with their satisfaction with Celsia. The past customers section is followed by press coverage, providing more depth to the brand's reliability.
Standout Features:
A well-branded design
Problem-solution storytelling
Interactive elements and consistent gradients across the website
Neon Rain Interactive is a design agency with an impeccable web design that immerses any browser with its cool color palette and attention-grabbing interactive elements.
The homepage greets you with the purple-blue gradient hero text with millions of blue dots loosely forming the letter "N". The hover effect lets you play around with it as the dots "scatter" while you hover over them.
The web design relies on awesome visuals to maintain your focus while it takes you through a casual problem-solution journey. Neon Rain Interactive shows you they are fully aware of the common issues with design agencies with six symmetrical content blocks, each talking about one.
This web design is exceptionally well-branded, as it remains consistent in interchanging "N"-like elements and gradient headlines. The CTAs are easily spotted as there's a continual flowing effect, essentially emphasizing the buttons.
3. Jellyfish Museum by Anna Gadelia
Standout Features:
A four-color natural color palette
Magical real-life photography
Curved lines
Jellyfish Museum's website was designed by Anna Gadelia. The website design relies on various colors of these incredible animals, as well as those of their natural habitat.
The website resembles a virtual home ground for the creatures with a four-color combination that strikes a pleasant balance between warm and cool colors (two shades of blue, pink and red). The design is full of majestic real-life photos showing different jellyfish types, followed by content blocks that talk about the museum.
The design also features a series of thin curved lines that mimic the animal's tentacles and some cool unknown facts about them. The website allows you to dive into the intriguing world of jellyfish from the comfortable seat of your chair, prompting you to learn more about them.
4. Profondo Blu by Naiade Studio
Standout Features:
Wavy layout
Great use of positive space
Cute informal icons
Profondo Blue is an Italian marine resort complex that combines prominent marine life exploring activities with exclusive, luxurious accommodation services. Their creative solution for the web design was made by Naiade Studio.
The solution brings livelihood to the frequently dull accommodation website designs by implementing incredible marine-life photography and a map of intriguing activities across a "wavy" layout.
There's lots of positive space that's broken down unobtrusively by blue waves, making up for a stunning layout. These curved lines serve as dividing points between stunning deep-sea imagery above it and the content-based elements below it.
To ensure the content blocks maintain the entertaining note, they are accompanied by cute informal icons.
Standout Features:
Straightforward homepage
Classic corporate layout
Extensive "about" section
Whether you're a young person looking for exciting ways to engage in healthy social activities or a parent that wants to see their child thrive and improve their health through physical programs put together by experts – YMCA of the North has got you covered thanks to Five Jars' web design solution.
The homepage is direct and provides a "map" to navigate towards your aims easily. Above the menu, you'll find three color-coded boxes that invite you to become a member of the organization in various ways. The fixed navbar allows you to move freely and explore the prominent layout.
The priority is improving the health of children, so the website design refrains from unnecessary flashy elements and visuals, helping the browser maintain focus on the key aspects.
The "about" section contains intriguing information about the organization, its activities, plans and programs, with a cute community video as a cherry on top. Here are some other designs that prove "about" sections can be fun!
Standout Features:
Immersive video
High-resolution photography
Well-branded
Bradford Marine is a long-running family-owned business that's grown into a trusted leader in the local yachting community. Savage Global Marketing ensured that they developed a web design that reflects the brand's successful history in providing various yacht maintenance services.
The homepage invites you to enjoy a 90-second pop-up video showcasing life in a day of the business, with their team working together to improve the yachting experience. But the visuals don't end there. Each content block is accompanied by high-resolution photography of the vehicles and the beautiful docks.
Rather than cluttering a single page with tons of content and scrolling, the website design ensures that you are not overwhelmed with text at any given stage. Instead, its soothing color palette that reflects all the sea colors prompts you to seamlessly "swim" through the pages.
Standout Features:
Subtle warm welcome message
Drop-down category segmentation
All-blue color palette
Baylor College of Medicine's website design is professional and soothing. Glide Design developed a solution that presents the college as a place of humility and humanity, working together to help those in need.
The homepage greets you with an effective yet subtle warm welcome message positioned at the very top of the layout, above the menu. The fixed navbar menu is well-structured, with various vital pages easily accessible.
Below the menu is a tagline hero text on top of a translucent video showing you all the work done by people at Baylor College, followed by a strong call to action inviting you to join their charitable cause.
The website immediately introduces you to this community's goal and purpose, and once you're well-informed, you are presented with a simple modern category division. A meaningful photo accompanies each category name and your mouse triggers a hovering effect that immediately provides more textual info about these categories.
The website design encompasses various relaxing shades of blue, inspiring you to trust society's confidence and help build a better future together.
8. WhaleStep by MARIANA YANCHAK
Standout Features:
Technology-savvy look
Animated visuals across the board
Modern landing page
WhaleStep's website was designed by MARIANA YANCHAK. The layout comes across as contemporary, balanced and reliable, helping the brand position itself as knowledgeable and assertive online.
The landing page is modern and minimal, with an unintrusive photo of the team behind the bolded headline font-style hero text. The website establishes an authentic tech-savvy look with a lighter shade of blue and multiple animated visuals.
The design is decluttered and clean, with only three main options to pick from. If you are fond of simple web solutions, check out these clean website designs!
The past work experience is engaging and detailed, with multiple testimonials highlighting their positive experience with the company.
Standout Features:
Simple and straight to the point
Lets the customers do the talking
Comprehensive elaboration on provided services
Helical Research presents a decade-long heritage in the market research business. Their website design, built by Hop Creative, proves that you can rest assured that your brand will benefit from their services – as it's simple and direct, just like data research results need to be.
The website design makes excellent use of positive space. The few visual elements add a stylish touch to it, but the primary goal is to showcase the level of expertise of the browser. With only three options, the homepage answers three key questions: what they can expect from the brand, who is on the team and what their portfolio is like.
Each of these provides a short yet concrete answer with several rounded icons accompanying the content blocks. The "about" section provides extensive feedback from past customers, thus letting you engage in an honest word-of-mouth review section.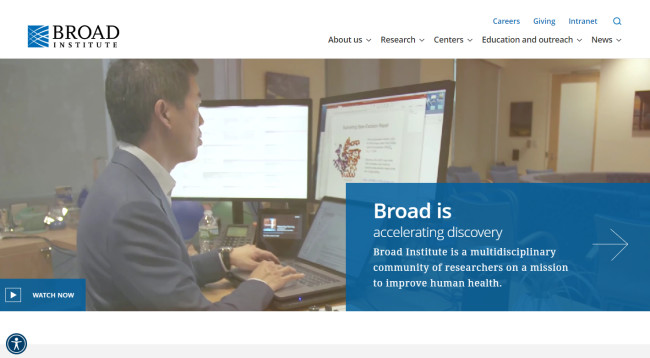 Standout Features:
Highly immersive POV video introduction
Clearly divided sections
A thorough menu options description
Broad Institute is a research organization aiming to pave the way toward further understanding and analyzing genomics. WDB Agency did an impeccable job with their web design, providing an online forum for researchers that an average Joe easily understands.
It's not easy to simulate a wide variety of the institute's activities in a short video. Still, the introductory video encapsulates all the crucial aspects of the research work. The video intrigues you to learn more, and you're a click away from getting extensive information on the procedures.
The sections are clearly divided, with relevant latest news followed by the community and research sections.
When you hover over the menu, you'll be pleasantly surprised with a thorough description of each clickable option, once more showcasing the integrity and seriousness of the institute.
11. Kvartal by AMgrade
Standout Features:
Modern and intuitive
Addressing potential issues
Multiple practical hover effects
AMgrade built Kvartal's website design in a way that answers all the potential new tenant's questions without you having to ask them and wait for a reply.
This modern and intuitive design informs you how the neighborhood is built to care for different demographic types and their individual needs. It combines state-of-the-art images with comprehensive and detailed information on the specifications of the apartments and the social possibilities.
The hover effects are implemented to alleviate any confusion upon browsing through your options. The design even subtly hints at special promotions, which is refreshing compared to the often overly aggressive layouts.
Near the bottom, you'll find the colored coordinates of the area visible on a map, as well as images of certified legal documents that ensure the credibility of your purchase.
Subscribe to Spotlight Newsletter
Subscribe to our newsletter to get the latest industry news