Let's be honest: most of us wouldn't be where we are without that good ol' cup of Joe in the morning. Coffee provides us not only with daily fuel to go about our daily routine, but a renewed spirit to keep at it.
While we can agree that the branding of our favorite caffeine fix and its quality don't necessarily always match, chances are – the better the brand, the better the coffee.
Now, when it comes to top-rated branding agencies' work it's tough singling out one above all, especially when consumers wander through the supermarkets' aisles searching for the best. So, why choose only one?
And so, we have chosen the 13 best coffee branding designs that will make the said decision even harder.
Standout Features:
Ultra-minimal
Influenced by 90' street culture
Unconventional color palette
Process Coffee branding by Angel & Anchor pushes against the conventions and expectations of your typical coffee brand.
Rather than opting for a color scheme that is traditionally associated with the beverage (i.e., warm, earthy colors signaling the hot coffee), Process Coffee goes in the opposite, bold direction that raises brows with sheer originality.
Emphasizing the "bold" angle, its identity is highly influenced by 90s skateboard culture, helping capture an approachable, upbeat and personal attitude to specialty coffee.
After creating the initial brand identity, Angel & Anchor drew dived even further into 90s inspiration, from skateboarding videos to developing a packaging concept centered around the VHS tape. With different paper finishes, deboss details and evocatively nostalgic design, each coffee brewer is immersed in an engaging experience from sleeve to cassette and inner bag.
Standout Features:
Punky and playful
Color-coded
Bold, stamp-like logo
"Armed with ingenuity and small-biz agility, beverage company Troobado is no stranger to taking on the Goliath-sized established players in the industry."
Nowhere is this approach more apparent than in their latest launch, which uses everything they've learned in the hospitality industry to build a better café experience. With the addition of Skidmore Studio brand-building expertise, Dozer Coffee - part roaster, part cafe, part lounge and the daytime counterpart to the well-loved HOMES brewpub, had no means of failing.
Preparing the initial reveal, Dozer needed a full visual identity that captured both the energy of the early morning and a good cup of coffee that complements it, while still living comfortably in their existing family of brands.
The logo was designed to be stamped, printed, etched, engraved, sprayed, burned, distressed, or anything in between on just about any object. The visual style embraces strong punk rock aesthetics. With custom, zany illustrations full of sci-fi easter eggs, the background reflects not only a raw, "street" look but a rebellious youthfulness as well.
Although monochromatic, the more you look at it, the more you will find to appreciate. The black & white "graffiti" backdrop is perfectly complemented with bright pops of color that further bolster the brand's playful nature.
3. Natureza by Insigniada
Standout Features:
Green = sustainability
Classy logo and typography
Original colors, traditional packaging shape
Natureza ("Nature") is a Brazilian-based coffee company that specializes in both roastery and cafes brews. Primarily, it focuses on developing more consciousness around coffee and its daily sustainable production and usage.
When developing the Natureza brand and accompanying packaging design, the Insigniada agency wanted to reflect the aforementioned sustainability message, but also make it "pour" directly out of the brand and its products.
The main idea in collaboration with Natureza was to develop a fully organic and sustainable packaging, both for pouches, cups and boxes. Besides figuring out which recyclable materials to use, as well as maintaining the high quality, the agency had to print something beautiful on top of it.
This led to transforming Natureza's core values including Love, peace, open-mindedness and respect towards Mother Earth and all its Creatures into memorable, yet clear and concise taglines and a beautiful, nature-inspired pattern.
When it comes to logo and typography, Insigniada turned an abstract idea of the coffee bean into the logo, which is based on the coffee bean outline, coffee steam and letter N. Labels stay the same across different brew types, where only the coffee name changes, which are done with different colors and unique wordmarks.
4. VillaVictoria by Al Margen Branding & Packaging
Standout Features:
Natural colors
Biodegradable packaging
Beautiful illustrations
Grupo Horeca launched VillaVictoria, a new range of high-quality selected grain "coffee" in the format of 100% biodegradable compostable capsules aimed to unite coffee enthusiasts with the respect for the environment.
With the so-called "green heart" sustainability message, Al Margen Branding & Packaging conceptualized a brand and accompanying packaging that connects with "very coffee growers" who are aware of and concerned about their environment. They are the ones who maintain a "green" attitude regarding their literal "down-to-earth" way of life.
When it comes to packaging's graphic design, it stands out with exceptional illustration work, carried out and personalized to highlight each variety of coffee. Custom, hand-made illustrations are created exclusively for this range of coffees; they provide an imprint and highlight the product.
Each one highlights the origin of the specific coffee brew through a linking stamp with a modern style mixed with vintage fifties touch. The color of the illustration brings somewhat of an exotic feel. The strength of the 4 illustrations enhances the graphic design of the packaging and resonates with the consumer who sees a product of a natural origin reflected in the packaging, selected and cared for in every detail.
Standout Features:
Monochromatic
Infinite possibilities formula
Distinctive
f(u) = formula cafe is a coffee brand that "follows a precise formula" to make unique coffee products. This formula is also deeply rooted in design language, created by By Enjoy agency. In fact, the veritable quadrilateral "f(u)" is the symbol of the infinite possibility of the Formula Café brand.
The graphics of various shapes are all presented by the equally varying forms of the four letters of the word "CAFÉ". As a result, the conventional boundaries of the brand image are broken, or rather, the content is extended.
In order to achieve a concept that would fit their products specifically, the brand opted for a distinctive visual style, that's far removed from traditional imagery, yet is produced as a standardized, modern design language.
The "f(u)" stands for the calculation of the dependent and independent variables. Using this concept of the mathematics' function expression, the unpredictable graphical fluidity is reflected throughout the entire visual system.
Get connected with the right branding firm for your project.
GET STARTED
Standout Features:
Traditional design paired with modern trends
Bold typography
Minimal illustrations
Leap Coffee Roasters is a specialty North County Local Coffee micro-roaster based in San Diego County, California. Founded back in 2016, it was a "leap of faith" venture born from a shared love of coffee and community.
Essentially, Leap Coffee is all about the basics: a really great cup of coffee, prepared with great care, enjoyed by great people.
When developing the identity behind it, Cubic Orange approached it with a specific mindset. As avid coffee enthusiasts themselves they've created a brand that exudes all the core qualities Leap's customers love. Combining contemporary trends with coffee aesthetics tradition, Leap emanates premium quality, enthusiastic service, meticulously prepared small batches and consistency in their roast.
Featured Custom Packaging Designs by Top Digital Agencies
Standout Features:
Fun logo
Customer-centric tagline
Stylish typography
Ambassador Coffee Service aims to deliver the absolute best coffee and modern coffee-making equipment (backed by the personal touch) and unify it with old-school customer service.
This union embodied in their brand, created by Bradbury Brand + Design Experts, is not solely customer-centric, it also inspires a happier workplace. The agency created an identity that is unique to the industry; it's fun, vibrant and friendly.
The revamped logo and welcoming tagline "At Your Service" reflect the very core of the ACS. B
The brand, however, is far more than its symbols. After the new messaging, identity, color scheme and applications were completed, Bradbury Brand + Design Experts took Ambassador through the Customer Experience revision process by working internally with the staff and gathering valuable data from customers, externally.
Pinpointing the exact pain points, as well as moments of delight they were able to provide invaluable insight and recommendations to improve the way staff engage and serve the customer.
8. Wild Thyme by Studio Unbound
Standout Features:
Minimal plant-inspired logo
Green marble color
Classy typography
Wild Thyme is a pleasantly quaint artisan café hidden in the heart of London. Since opening, it has quickly become a favorite place for residents and a key hub for the local community.
At the end of 2021, owners approached Studio Unbound to elevate the look and feel of their brand and make it match the quality of their products. They aimed for a sophisticated and cool new vibe, whilst maintaining the community feeling.
In line with the natural ethos of the cafe, the logo is inspired by the sprig of Wild thyme, a herb found all across the English countryside. The thyme sprig shape captures the 'w' and the 't' of its namesake in a minimalist and elegant form. The wordmark itself also follows the sophisticated aesthetics
The color palette is a family of rich natural greens, inspired by the herb and the English plains lands. It gives the brand both an organic and luxurious feel.
Standout Features:
Minimalistic
Pastel color palette
Modern, sleek typography
Aptly named, Three Beans, LLC sought out FlowState Branding for the creation of their latest product branding. Brought to life from an obsession for the perfect Espresso Martini, NuRange Coffee exists to simply "deliver the undelivered" for coffee enthusiasts "by any beans necessary". The agency infused this "get-after-it" mentality and a fanatic dedication to quality blends into every branding element.
Once the goal and angle were set, FlowState Brandin set the right temperature with three, distinctly different messaging approaches:
"Grind Hard"
"Coffee Companion"
"Daily Revolution"
The explanation behind each one would be redundant, but the sheer attitude burst with rebellious nature and colorful disposition.
To complement this rather candid mentality is the choice of minimalistic aesthetics. Not because it's trendy, but for its clarity: each coffee can speaks for itself through clear-cut and uncomplicated design.
10. Acashia by Nitid Studio
Standout Features:
Premium appeal
Gold accents
Color-coded
Acashia is a coffee company founded in the middle of 2020's global turmoil by two young coffee lovers. Trusting in their brand's premium quality product, founders aimed to translate their feeling to the packaging, courtesy of Nitid Studio.
Though reflected in it, the packaging's "premium" appeal, however, shouldn't be perceived as something unattainable and/or too pretentious. Rather, it should turn heads among younger demographics that don't necessarily know much about the expansive world of coffee but is willing to try different flavors and ultimately, pay for it.
What makes this specific coffee special is that it is blended with non-traditional ingredients. For this reason, it was necessary to make the differentiation between the flavors clear.
The result is a solid structure that makes identifying the brand a breeze. With this robust concept, separating flavors with individual colors was only natural. The touch of gold was key to emphasizing the feeling of high-end quality.
Standout features:
Clever illustration
Teal color scheme
Metro sign-inspired
Metropolis Coffee Company started as a family-brewed passion project. From a small Seattle café, they grew into an established craft coffee brand with nationwide distribution. Aiming to reimagine its story for a broader audience, Metropolis approached EightySeven to reflect its core values.
The agency updated the packaging and identity with a new look and feel to share Metropolis's tale with coffee enthusiasts across the country, while also demonstrating the premium quality the brand is known for.
In conceptualizing the rebranding, EightySeven went back to basics: they defined what a metropolis is — a place where people who are always on the go, come together to connect. In this case, "M" directs people to something else that's guaranteed to "take them places" — Metropolis Coffee.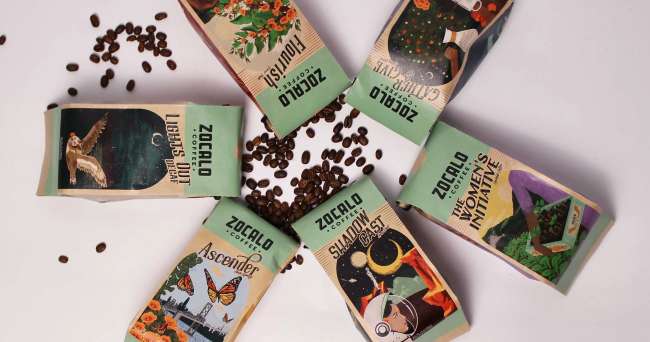 Standout features:
Custom illustrations
Vintage feel
Color gradient
Zocalo Coffee approached Norlo Design for an elevated look representing their hometown and core values while evoking a nostalgic and vintage feel.
The agency redesigned Zocalo's series of six compostable 12 oz coffee bean bags, giving each one a unique look in line with the new branding direction. Each bag has a custom illustration and wordmark respective to that particular roast.
They all have a single "punched out" element where the tan color of the Kraft bag material shows through. Growing California Poppies illustrated at the side of each bag is a nod to the state where Zocalo Coffee has its storefront and roasting facility. Each roast uses varying color gradients while maintaining the same composition and layout throughout the series.
13. San Camilo by Simon Londono
Standout features:
Creative illustration
Striking typography
Great choice of packaging material
San Camilo is a Colombian coffee brand dedicated to "awaken" the genuine love for coffee beverages. For years, the brand has been producing top-quality coffee blends and sharing them with enthusiasts who seek to consume a drink right from the "source."
To help San Camilo in the mission of awakening, Simon Londono created a robust and powerful identity and packaging, which clearly focuses on the brand's name, providing certain masculinity and industrial tone. The typography relies on slight angular shapes, combining a simple Victorian look with classic calligraphic touches for the logotype and monogram, lurking to preserve the premium and high-quality look found in the high rating of the product.
Finally, the "industrial" letters are paired with a system of organically shaped illustrations based on nature, that provide a narrative to the brand and talk about its relationship with the land where the product is planted, harvested and roasted; the ecosystems and the Colombian flora and fauna.
The symbol that unites all these aspects is a bee, which in itself is an amalgamation of a coffee bean and a bee – a coffee beean, if you will.
Subscribe to Spotlight Newsletter
Subscribe to our newsletter to get the latest industry news