In previous article, we covered the basics of eCommerce SEO: what it is, how to develop an SEO strategy and how to optimize your eStore for conversion rates.
In this article, we'll share in-depth tips on how to attract the right audience with purchase intention to your online shop.
Following these seven eCommerce SEO best practices can help ensure a comprehensive search engine optimization of your online shop, plus the traffic and revenue benefits that come with it.
Best Practice #1: eCommerce Keyword Research
The first step of eCommerce search engine optimization is identifying the exact search terms that potential customers are using.
This is what keyword research is for.
eCommerce keyword research differs from other types of keyword research in that it looks for commercial keywords that show buying intent and product searches instead of "how to" informational keywords.
Keyword research informs every subsequent SEO task from optimizing product and category pages to naming product images.
It also affects technical SEO, because keywords are part of site architecture and site URLs.
Let's take a look at the most effective methods of finding the best keywords for your eCommerce site.
Google And Amazon
Google search's autocomplete feature suggests relevant search queries that people are using when you start to type your query.
At the bottom of the Google search result page, searches related to the search query can also be a potential source of keyword ideas that you can use, alongside the main or primary keyword.
Google SERP pages contain another potential keyword goldmine - a "People also ask" section where you can find long-tail, conversational keywords in the form of questions.
This is also something users are frequently asking search engines.
Then there's the Google Keyword Planner (GKP) that can offer close variations of a term like "men's leather shoes" but is also capable of finding keywords that are not just variations of a term. GKP is also useful for checking search volume and commercial intent.
Amazon works similarly to Google in that it provides keyword and search suggestions, except these ones are exclusively product-focused.
Search for a keyword that is relevant to one of your products.
This will give you insight into some potential product category names and other potential keywords to use.
Long-tail keywords, consisting of three to five words, are very specific, usually have much less competition and, as a consequence, higher conversion rates.
While on Amazon, check out "relevant products" subcategories for eCommerce keywords and category ideas and take notice of the Full Store Directory in the bottom-left corner.
There, you can find the category for your products and find the most relevant subcategory to see how Amazon sorts specific products. Exploring sub-subcategories may even give you more keyword ideas to explore.
According to Ahrefs, in 2020, some of the top searches on the platform were:
Nintendo switch
Wireless earbuds
Bluetooth headphones
External hard drive
Wireless mouse
So, it's no surprise that electronics (with 44%) is the most popular purchased category by Amazon users.
SEMRush
Keyword research tool SEMRush can generate new keyword ideas but its primary strength is showing keywords your competitors are ranking for.
You can use this tool to find eCommerce keywords for your business in just a few simple steps. First, by entering a competitor into SEMRush's search engine.
Click "Organic Research" in the sidebar. This will show all of the keywords your competitors rank for.
You can then take a look at your competitor's reports and see the websites that are similar to the one you're looking at, so you can repeat the process with the newly found competitors.
How To Choose Keywords for eCommerce Product And Category Pages
We have seen the most efficient ways of looking for eCommerce keywords for your website - but which ones should you choose and how can you be sure you made the right choice?
Here is what to look at in order to find the best keywords for your eCommerce website:
Search volume: This is the most important keyword/search term metric, as it shows the percentage of people searching for it on a monthly basis. Search volume columns can be found in Google Keyword Planner, SEMRush and aHrefs. Keyword search volumes can fluctuate in different seasons. Take note of these fluctuations and follow their month-to-month search volume info, because they can impact your SEO performance. You will get an impression of what the high volume means for your particular niche over time, as you explore keywords.
Commercial intent: Google Keyword Planner can help you distinguish between users that search for a high-volume keyword you are looking to rank for. It can tell you whether these are high-value prospects or if they're targeting the wrong audience. GKP shows the keyword's Competition rating that reflects how many people bid on the keyword in Google Ads. If a lot of people are bidding, it is a keyword with high commercial potential. You can also look at the keyword's commercial value in SEMRush's CPC column.
Competition: SEMRush's Keyword Difficulty is a metric that provides you with an insight into how hard it is to rank for a certain keyword. Simply enter your keyword into the search field, click on "keyword difficulty" in the sidebar and look at the "difficulty %" column. The higher the number is, the more difficult it is to rank for the keyword.
Best Practice #2: eCommerce Website Architecture
The way you set up your online store's navigation, category pages and product pages makes up the eCommerce website's architecture - how the pages on your website are arranged and organized.
A good website architecture helps get the most relevant content in front of users and reduces the number of clicks necessary to find a page they are looking for.
Website architecture is an important SEO consideration for eStores because they have more pages and a more complex structure than your average website.
The two most important rules of eCommerce website architecture, to ensure that users and search engines are able to find all pages, are:
Keep the website scalable and simple
Keep each page at least three clicks away from the homepage
Let's look at an example of poor eCommerce website architecture.
Can our designers make this one for us?
The above diagram shows a website that takes four clicks to get to a category page and adding a new category or a page would hide it deep in a website, making it too difficult for a visitor to find it.
Such architecture provides poor user experience and navigation but is also bad for SEO. A home page is the website's most authoritative page. Internal links from this page on your website to another page, delegate this authority.
This kind of site structure is too deep and is not scalable. It is also not simple, as it's hard for users to understand the website's logic.
Here is an example of a well-optimized eCommerce website architecture: The link authority on this website, as the sitemap shows, is focused in the category and product pages.
This authority improves these pages' Google rankings and makes it easy for Google to find and index each page. A simple and flat architecture helps buyers easily find the products they are looking for.
Best Practice #3: On-Page eCommerce SEO
On-page eCommerce SEO is about optimizing category and product pages once the website architecture is all set.
Category and product pages generate most of eCommerce website's traffic, sales and revenue. It is important to optimize them according to search intent and specific search queries for products.
This is because someone who is looking for a specific product like "altan bottier loafers blue patina size 11" is much closer to making a purchase than someone who types in a general term like "buy leather shoes online".
Let's look at the essential steps of optimizing category and keyword page title tags for specific keywords.
Title Tag Optimization
Here is an example of a well-optimized title tag from an eCommerce website:
Breaking this down into various elements, we can see an added modifier and click magnet "60% off sale," along with the target keyword "men's shoes and sandals" in the title tag.
Modifiers help your page to rank for long-tail searches. For example, people might add terms like "best," "cheap" or "free shipping" when searching for "men's leather shoes."
That's why it's advised to add some of these common terms to your title tag. Another strategy that you can use to boost your CTRs is to use magnet words such as "lowest price" or "X% off." A higher clickthrough rate means more visitors and buyers for your eStore.
Google also uses organic CTR as a ranking signal, so it's a good SEO practice that can place your brand higher in search results.
Including click magnet words in your title tags and meta descriptions will produce more clicks and more prospects for your eStore. Some of the click magnet word examples that entice searchers to click on a link in search result pages are:
X% off
Sale
Lowest price
Last items in stock
Free shipping
Guarantee
Meta Description Optimization
Including more click magnet terms such as "free shipping," "all items on sale" and "great selection" in your product page's meta description also helps with maximizing your CTRs.
Of course, the most important thing about meta descriptions is to align them with what's actually on the page.
Use such terms only if that's what you're indeed offering on your product page.
Frontloading primary keywords in your meta description - which means placing them as close to the beginning as possible - is advisable, because Google crawls and finds frontloaded keywords more quickly and easily.
For instance, instead of:
"On our webstore, you can get free shipping and best prices on a wide variety of men's leather shoes - now at 60% of their original price."
Write a meta description that prioritizes the key search term, like:
"Buy men's leather shoes at 60% of their original price for the duration of the sale period! Free shipping included."
In meta descriptions, unlike title tags, you can include longer click magnet words and phrases. The maximum meta description length of 150-160 characters allows for this extra space.
Some of the click magnet term examples that you can use in your product page meta descriptions include:
Get the best prices on ____ now!
Get free shipping on all _____ today!
Click here to see all of our exclusive deals on _____.
Great selection of _____ at the guaranteed lowest price.
Product And Category Page Content
When creating and optimizing content for your product and category pages, for search engines and higher conversion rates, there are two essential rules to follow:
Include 1000+ words of content
Use your primary keywords 3 to 5 times
Longer content ranks best in Google search results because Google needs to understand the content and the context of your page in order to offer the most appropriate pages to searchers.
The more content you provide, the better Google will understand your pages.
Using long-form content also makes sense from the perspective of user experience: in-depth product and category pages provide visitors with more value as they help them understand what the product is all about.
If you offer thousands of products, consider writing long, in-depth product descriptions for your best-selling 50-200 products.
Using target keywords 3 to 5 times in the content is another essential step when writing your 1,000+ word product descriptions.
Including your primary product or category page keyword three to five times is just enough to help Google understand what your page is about and rank it accordingly, without keyword stuffing.
Just like with meta descriptions, include one of your keywords near the top or the beginning of the description, because Google favors these front-loaded keywords that appear in the first hundred words on a page.
URL Length And Content
eCommerce websites usually have long URLs that include categories and subcategories within, like
https://example.com/category/subcategory/product.html
Here is an example of a good URL for eCommerce SEO:
Keep your URL below 50+ characters to avoid lessening the impact of the keyword in the URL. URLs for category and subcategory pages should include a one-to-two-word description in their URL.
Product page URLs should include just the target keyword for the specific product and you can separate the terms with dashes.
Some eCommerce sites don't use categories and subcategories in their URLs. For example:
This makes your URLs shorter and more keyword dense and it doesn't hurt your page's ranking.
Internal Linking
Link internally from your eStore's authoritative pages to high-priority product and category pages.
For example, if you published a long, high-quality blog article on women's leather shoes that generated a lot of backlinks and you have a product page on high-end women's leather shoes, you should add a keyword-rich anchor text link from the blog article to the product page.
Google's Rich Snippets
If you want the most striking way to stand out on Google result's first page, look no further than rich snippets.
eCommerce websites have the opportunity to get one of the most eye-catching rich snippets out there: reviews and product definitions.
Here's an example: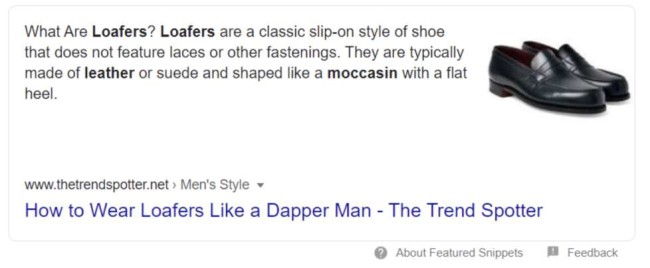 You can get these snippets by implementing Schema markup on your eCommerce product pages, which is a special code that gives search engines (like Google and Bing) a deeper understanding of your page's content.
Appearing in Google's rich snippets is not easy and takes dedication and strategic thinking.
In the case of an eCommerce website, it's a good practice to write a brief 40-60 word definition of a product that also explains its benefits and aligns it with the user's search intent and queries.
That way, when users search for a specific term such as "men's leather shoes," a product page that is optimized to provide an informative piece of men's leather shoes has a good chance of appearing as a rich snippet.
You can manually set up Schema markup to appear in these snippets, using Google's excellent Structured Data Markup Helper.
Best Practice #4: Technical eCommerce SEO
Technical eCommerce SEO is particularly important for online shops - again, because they usually have a lot of pages and a complex structure.
Having many pages increases the chances of a technical SEO issue appearing on some of them. Also, a majority of eCommerce pages do not have any backlinks that point to them.
Technical SEO is usually the factor that determines what pages will appear on the first page of Google's search engine results'.
If two eCommerce competitor websites are even, the difference in who will be placed higher boils down to the technical SEO. Regular technical SEO audits are crucial.
There are many SEO tools that you can use for technical SEO audits, such as:
Raven Tools
DeepCrawl
Site Condor
SEMRush
Ahrefs
ScreamingFrog
Raven Tools allows you to choose the Site Auditor option on the left-hand side, which analyzes the website for potential technical SEO issues.
These tools will point out issues with your eCommerce website's title and meta description tags, duplicate and thin content and broken links.
Technical SEO issues come in many forms and each requires a specific set of solutions:
Too Many Pages
The number of products and types of products, or categories, will dictate how many pages an eCommerce website will have.
Each product will require a page of its own, with a unique URL, which may eventually lead to a ton of pages.
You can fix this issue by identifying pages that you can delete or noindex. These can be products that are no longer in stock or even those that are performing poorly.
Trustworthy research shows that 80% of eCommerce sales comes from 20% of products.
Deleting poorly performing pages that don't generate revenue, noindexing them or turning them into one all-encompassing "super" page will help reduce the number of pages and get rid of duplicate content.
Duplicate Content
This is why duplicate content can negatively affect your eStore's Google rankings.
Committing to make unique content for each page on your eCommerce website helps with rectifying this issue.
The most common causes behind duplicate content on eCommerce websites include:
Creation of URLs for every product or category: Those URLs that describe, for instance, a same shoe but in different sizes or colors, get indexed by Google which creates a lot of indexed duplicate content, since these pages will likely have the same text with only slight variations.
Boilerplate content: This is the same snippet of text that appears on numerous pages. Google will consider this a duplicate content if it's over 100 words.
Copied descriptions: This appears on different product or category pages with the same or very similar content.
You can fix duplicate content by noindexing pages that do not bring any search engine traffic and cause duplicate content issues.
If category filters generate unique URLs, noindex them. It's also a good idea to use the canonical tag - "rel=canonical" - that tells search engines that some pages are copies or variations of the same page.
When they identify the canonical tag on the page, search engines will know that it's a unique page. Finally, the most effective fix for this issue is to create unique content for all the pages that are not nonindexed or do not use canonical URLs.
To make this process simpler and quicker, try creating product and category page outlines and templates that you will add unique content to.
Thin Content
After solving duplicate content issues, it's time to address the problem of thin content that can compromise eCommerce website SEO campaigns.
It happened to eCommerce giant, eBay, when the company lost 33% of its organic traffic due to a thin content-related penalty. Longer content tends to rank above thin content. Content is regarded thin if it doesn't bring any unique value to your customers.
It can be challenging to write lots of unique content for pages with similar products but you should strive to write a minimum of 500 words or, ideally, 1,000 words, for all-important product pages.
Identify the pages with thin content on your eStore site using Raven Tools — it will crawl through your product pages and identify low word count content.
After you find all the thin content pages, ramp them up with unique, longer content that adds quality and value to your customers by informing them about the benefits and features of the product.
To make the process easier, create a template for product page content such as:
Product description: 50-100-word intro
Bulleted list of product features
Deep dive product description with use cases, benefits, FAQs, awards etc.
Conclusion: a 50-word summary with a call-to-action
Site Speed
Google has publicly stated that they use website page load speed as one of the ranking signals.
Slow load speeds increase the shopping cart abandonment rate by 29.8% eCommerce websites may load slowly because they:
Operate on platforms with excessive coding
Use large file sizes of products images
Have slow hosting plan and servers
These issues can be fixed by:
Upgrading to a better hosting plan that your eCommerce website won't share with multiple other websites. An eStore should have a standalone, dedicated server all to itself.
Compressing image file sizes and optimizing them for the web.
Investing in a CDN, which is one of the most cost-effective ways of improving your website's load speeds.
Best Practice #5: eCommerce Content Marketing
Content marketing can help eCommerce websites get a lot of high-value traffic. To create content for higher rankings and more traffic, use the following step-by-step technique:
1. Find Out Where Your Customers Are
Find out where your customers spend their time online to get insights into their desires and pain points.
A great place to begin your customer search is on Reddit. Other great places to search are Forums on specific subjects, as well as on social media.
In all of these places, you will not only find your prospects, but also heaps of inspiration for your future content. Pay attention to what people are talking about? What topics interest them? What would they like to know about?
Ask yourself these questions to form an idea of what kind of content you could produce that would provide your audience with the most benefits.
2. Learn Your Customers' Lingo
Keep an eye out for words, phrases and general terminology your audience uses to describe their problems and wishes.
These phrases can be a great resource for you to base your content on and use them either as a topic, keywords or both. Try to research which of these phrases have the highest keyword potential in terms of difficulty, volume of use and competition.
Optimize your content by using these in article titles and text, title tags, meta descriptions and even images.
3. Create High-Value Content
The best and, arguably, the only bulletproof way to create content that will surpass your competition and give value to your customers is by using the Skyscraper technique.
This method consists of the following steps: Find the best-performing piece of content by your competitors that ranks well, gets a lot of traffic, fits within your niche and matches your target audience.
Create your own version of the same article, but better. Add more infographics, useful videos, charts, use cases, social proofs, pieces of content and so on. This is the gist of Skyscraping technique.
Repeat this process each time you create and publish new content and do this regularly and consistently.
Publishing high-value content on your eCommerce website consistently will result in better page ranking and higher volume traffic thanks to links, social shares and the sheer quality of content that Google will reward with better ranking.
Best Practice #6: Link Building For eStore Websites
When it comes to ranking factors, Google puts a lot of emphasis on content and links.
Ideally, websites with high domain authority should provide backlinks to your website to significantly boost your rankings.
Link building is an off-page SEO technique which is time-consuming but has a great effect on eCommerce website SEO and organic traffic boost.
In this section, we will cover four distinct link building methods:
Resource page link building
Partnering with influencers
Broken link building
Claiming competitors' links
Resource Page Link Building
Resource pages are websites that have plenty of material that revolves around certain industries, which can be the one your eCommerce website is covering.
These could be blog posts such as "Top X Resources For Social Media Marketing and eCommerce Managers" or directory pages that list websites that present a great learning resource on a specific topic.
The latter is easier to get, but it does not wield a lot of page authority due to the generally non-informative nature of the page.
An easy way to find resource pages is to Google "inurl:resources + your topic or industry."
Once you have found a resource page that has potential, you should add the URL and the site's contact info into a spreadsheet.
After a while, when you have compiled a list of resource pages, send each of them an email. It's best to use a template, like the one below, and customize it according to each recipient.
"Hello, [name]!
I was looking for some information on [topic] and found your resource page:[URL of resource page]
This is a great list of resources! I would like to add one of my own that I think your readers would love.
It's about [topic].Do you mind if I send you the link to check it out?
Either way, keep up the awesome work!
Cheers,[Name]"
This process may be tedious and time-consuming, but it provides great results in the long-run.
Partnering With Influencers
Individuals in your industry that have a huge online following, along with website(s) with a great domain authority that are not competing with you are potentially great sources of backlinks that can build your audience organically.
When you partner with influencers for SEO, you need to get them to link back to your site from their website or their social media channels.
This link could be one of your product pages or a blog post featuring one of your products. You can build relationships with influencers in one of the following ways:
Share their content and comment on it
Reach out them with questions about their expertise
Suggest them to your customers
Give them complimentary products or gifts
Search for influencers in your niche by performing Google searches like "(your topic or industry) blogs/influencers."
Broken Link Building
This is one of the easiest and one of the most effective link building tactics that requires you to find broken links to topics that your website is covering.
To start, use the Check My Links extension to search websites in your industry and blog posts around your topic that have broken links.
The extension will show the broken links highlighted in red so you can locate the website they're on.
When you go the website with a broken link, reach out to website owner/administrator with an email template similar to this one:
"Hello, [name]!
I was browsing your site today and noticed a broken link on this page:[page URL]
The broken link is pointing to this:[broken URL]Just thought you'd like to know!
By the way, I have a great resource on [topic] that I think your readers would love!
It might make a great addition to your page:[your URL]"
To get results, you will likely need to send hundreds of such emails, so this can be a very time-consuming and painstaking process.
Claiming Competitor's'Links
This technique not only improves your eCommerce website's rankings but pushes your competition out of the way at the same time.
Ahrefs lets you "spy" on your competitor's keywords but it also tells you where their links are coming from.
To do this, follow these steps: Enter their URL in the Site Explorer Click the "Backlinks" tab on the left Filter by "One link per domain" and link type "dofollow".
This will result in a list of your competitor's' links and pages they're getting them from.
The way to capitalize on this depends on the page they're linked on.
For instance, if it's a blog article such as "X Best Gifts For Music Aficionados," you can send the page owner an email asking to be included in their article.
You can boost your chances of this happening by offering something in return, like a free gift.
Best Practice #7: Local SEO For eCommerce Websites
Owners of eCommerce websites that have physical stores or are just operating locally within a certain region can use SEO techniques to give them a boost of local traffic. The most effective techniques for this are:
Google My Business profile: You can enter your business's details into Google's database through the Google My Business feature. It allows your eCommerce business to appear in local search results by showing its website info, working hours, address, photos and reviews.
Local citations: These are backlinks from other local websites such as press releases, magazines, yellow pages and news media. This impacts local SEO by showing Google that your business is popular and locally known.
Links on social websites: Great for building overall domain authority and local ratings, these can include local links on regional news outlets, locally-based blog websites and associations.
Takeaways On eCommerce SEO Best Practices
These eCommerce SEO best practices - done by top SEO companies - ensure good ranking and visibility on search engines, high clickthrough rates and a constant influx of high-value prospects. To summarize, the seven steps of optimizing your eStore include:
Website architecture
On-page SEO
Technical SEO
Content marketing
Link building
Local SEO
Subscribe to Spotlight Newsletter
Subscribe to our newsletter to get the latest industry news