In 2022, marketers' spending on social media advertising will increase by 89%!
In other words, the total volume of social media ads could increase drastically and this segment will get even more competitive than it already is.
There are two ingredients for getting - and retaining - the viewers' attention with social media ads: honest and accurate claims in the copy and quality design that catches the eye. On a side note, DesignRush has ranked the top social media marketing agencies that can help you turn some heads.
In this article we will look at:
The best online places where you can find inspiring social media ad design

The examples of the best ad design on Facebook, Instagram, YouTube and TikTok

Trends in social media ad design for 2022
Let's get inspired by this advertising eye-candy right now!
1. Facebook Ad Design Examples
1.73 billion active users visit Facebook daily.
Brands potentially exposing their ads to such a huge audience need to execute their design to perfection in order to get noticed in users' busy news feed.
Here are some particularly successful examples of great Facebook ad design.
1.1 The Guardian Weekly
The Guardian's Weekly Facebook carousel ad has vibrant colors and imagery that make the magazine's recognizable serif typeface pop exceedingly well against the vivid yellow background.
This vibrancy continues all throughout the ad with the shots from the magazine accompanied by a different copy and value proposition that make a selling point.
The ad uses all the commodities of the carousel ad format: it showcases multiple aspects and features of the magazine.
The consistent call-to-action button invites viewers to subscribe and drives them to the landing page with the same visuals and messaging from the ad.
1.2 The New Yorker
The New Yorker's brand recognition is second to none: both the logo and characteristic signature style give this Facebook ad a very distinctive feel that is aligned with the publication's main outlets.
The smart and humorous illustrations, for which The New Yorker is known, are the backbone of this video ad. Characters appearing in the ad present the magazine's audience which may act as a persuasive point, albeit subconscious.
The entire video lasts six seconds and is very to-the-point with its copy that highlights the cost-benefit of the three-month subscription and acts as the call-to-action.
1.3 Porsche
Porsche, a manufacturer of prestige sports cars, takes Facebook carousel ad capacities to the next level: each segment has not only a different copy, imagery and feel - but also the purpose.
The ad's first segment is a messenger bot and an invite to send the direct message to the Porsche customer service.
The ad moves on to showcase different levels of emotions and experiences while driving one of Porsche models with "Share a drive", "Share a thrill" and "Share the moment" messaging.
All throughout the ad, the CTA is the Send Message button, making this one of the most interactive examples of Facebook advertising.
1.4 Toms
A video ad that is not about generating sales or conversions as much as it is about raising awareness.
Not highlighting any of their products, Toms has made a compelling video campaign that accentuates human relations through striking visuals and a memorable tagline.
The simplicity of the shots reveal the core emotion of the ad and the design, stripped of any usual calls-to-action and selling points. The absence of all this generates curiosity with the viewer.
1.5 Sephora
Another Facebook ad that provided numerous benefits of high user engagement to Sephora, one of the leaders in global makeup and beauty retail.

Visually lush, Sephora's ad campaign stands out in the users' feed with its excellent imagery and strong contrasts. It also uses minimal space and time to showcase multiple products and promotions, aimed at a diverse and inclusive set of prospects.
The ad provided a massive increase in reach, CTRs and ROI for the brand, as evidenced in Facebook's case study.
2. Instagram Ad Design Examples
500 million people use Instagram Stories every day.

Stories have become the popular new channel for brands advertising their products or services for two reasons:
They can appear in users' stories feed organically in-between regular stories.

Due to their 24 hours expiry time, they instill fear or missing out with the users which feel the urge to look at all the available stories in their feed.
Of course, regular sponsored posts are also the way businesses reach out their audiences on Instagram. Here are some of the finest from both worlds.
2.1 Deliveroo
Deliveroo's Instagram story ad generates brand awareness thanks to the intelligent use of these elements:
Custom text that contrasts the background

Branded colors that differentiate the ad from numerous other story posts that may follow immediately after this one

Excellent use of fast movement of elements that keep the user interested until the end of the ad

The call-to-action at the end of the video that invites users to swipe up for more
2.2 Prequel
No better way to advertise the app for editing and adding filters and effects to Instagram Stories than Stories themselves, where it can exhibit some of its capabilities.
This is an example of a well-thought-out format and platform for a social media ad. It uses several high-quality images that obtained the subtle 3D movement effect and ends with a clear CTA that invites the viewers to go straight to the App Store and download the app.
2.3 Under Armour
Outrageous in its execution, the ad by this popular sports apparel brand features two adventurous athletes, GoPro, airborne soccer ball tricks and is sure to sweat the palms of the most steel-hearted viewers.
Great concept and a daring outcome that keeps the viewers glued to their seats. There is a brand voice consistency in the ad copy that says "On the pitch or in the clouds, we flex under pressure".
2.4 Wolf And Shepherd
Men's shoe manufacturer uses the power of a dramatic product demonstration to stand out from their competitors.

The way they demonstrate the quality of their dress shoes is through a lengthy video that features the brand's founder running from the bulls at a famous festival in Pamplona, Spain. Naturally, he is wearing one of his products, demonstrating its durability.
Another example of drama well-employed for the services of Instagram video ads that cannot fail to attract and keep viewers' attention.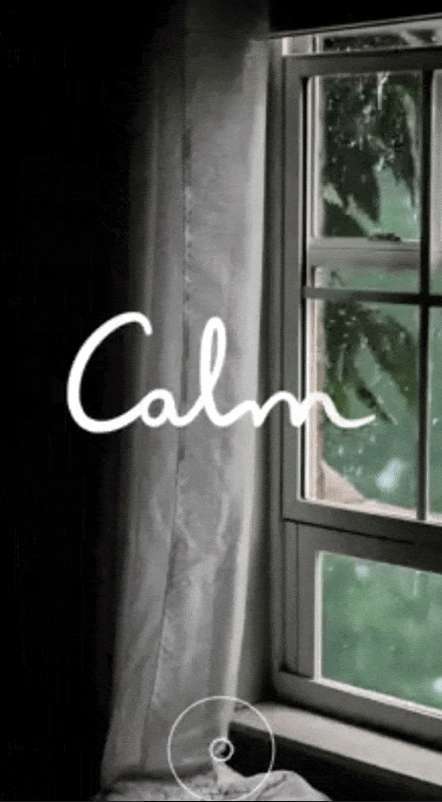 2.5 Calm
Delivering quite the opposite feel of what we've seen so far, Calm meditation app's Instagram story is exactly what it says and what it should be: calm.
Serenity comes aplenty in this short story message that reduces the often neglected and non-conscious anxiety the average Instagram user may be feeling going through the stories.
One of the core teachings or aims of meditation is achieving mindfulness and a sense of blissful emptiness by slowing down. The somber imagery of a darkened room and a rainy day outside the window evokes just that, along with the copy opening with "Do nothing."
3. YouTube Pre-Roll Ad Examples
YouTube pre-roll ads have a primary purpose of boosting drive awareness and, to some extent, driving website traffic.
Mermeters consider skippable pre-roll YouTube ads the most effective ad format. However, many users still see them as a nuisance and prefer to skip them.
So in order to retain viewers' interest and make them notice the pre-roll ad, advertisers and marketers often come up with witty, sometimes outrageous ways to present their message.
Here are the few that succeed remarkably with this.
3.1 Mercedes-Benz
Luxurious car manufacturer Mercedes-Benz doesn't even need all 6 seconds of YouTube pre-roll ads: 3.8s will do. And why exactly this amount of time?
Because that's precisely how much it takes for their flagship vehicle and the object of the ad - Mercedes-AMG GT S coupe - to reach the 60 miles per hour from the still position.
The rapid-fire movements of the copy, roaring engine sounds, the image of the car and the delivery of "From 0 to 100 in 3.8 seconds. Just as long as this ad." message - all condensed into less than four seconds.
3.2 Geico
Geico has made a "skippable" ad that you don't want to skip - and even if you do, the message is already delivered in its entirety!
Ironically dubbed "Unskippable", it sympathizes with the audience's irritable reactions to pre-roll ads and ends just in time the "Skip Ad" button appears. But by then, the main advertisement is already done.
What remains is a good minute or so of solid comedy that keeps the audience waiting for something to happen. Only to...
YouTube ad humor and wit at its finest and a video advertisement that is widely regarded as a masterpiece.
In fact, it was so good they made several sequels, including this one:
Now, moving on.
3.3 Burger King
Another cheeky example of skippable pre-roll YouTube ad that you surely won't skip comes from Burger King which went as far to implement 64 custom scripts so that every ad could be changed for the previous video.
Humorous and intelligent, the ad openly states that their target audience, young males, strongly dislike pre-video ads - and by doing that, they introduce fast food chain's offers.
The video triumphs in its main objective: to make the user NOT click on the "Skip Ad" button.
3.4 SurveyMonkey
SuveyMonkey is one of the leaders in online form, query questionnaire and survey services.
With this YouTube ad, they wanted to prove a point: that conducting a research survey with your target audience is always a good idea before executing the solution.
Otherwise, things like this might happen.
3.5 Hefty Party Cups
The example of a YouTube pre-roll ad that took the extreme use of the product - the iconic red plastic cups, the essential element of any party - as a way to get customers' attention.
Loud techno music and uncensored dancing are not the kind of behavior anyone normally associates with the conservative setting of a workplace. Unless there's a company party that's getting out of hand going on.
The seemingly oblivious colleagues standing around just acting as it's business as usual add another dimension to the ad's hilarity.
4. TikTok Ad Design Examples
In a little over three years since its launch in September 2016, TikTok has gained over 800 million users. In terms of monthly active users and advertising audiences, it has surpassed the likes of Twitter, Pinterest and Reddit.

TikTok is the hot new thing in the social media realm - and here is how brands redefine their creativity when it comes to advertising on this platform.
4.1 Chipotle
TikTok as a social network has a more personal, first-person philosophy to it than YouTube. Mexican restaurant chain Chipotle's ad campaign looks and feels as if it was made as a spoof in someone's room.
That is exactly the point, because it makes it relatable to this social network's audience and the 55,000+ followers.
Using a popular music tune as a reference that evokes a sense of similarity, the ad highlights some of its menu items as it partakes in the #oneyearofTikTok celebration - with humorous consequences.
4.2 Crocs
Crocs, whose footwear products are always going to be very divisive, aces the TikTok game by making viral videos, video challenges and ads that seem to alter the notion of brand advertising.
One of their wildly successful campaigns was the #ThousandDollarCrocs challenge for which they teamed up with the celebrity musician Post Malone. The ad gained almost 3 billion views and invited users to create their own take on the video, with the best one winning a valuable award.
A great example of an ad campaign using the power of celebrities/influencers and user-generated content.
4.3 Levi's
This Levi's influencer ad campaign garnered quite a success on TikTok and promoted the network's new "Shop Now" button that is a first step toward making this social website an eCommerce power.
It allows users to make purchases through links on TikTok and to raise awareness of this - and their products, of course - Levi's employed a group of influencers for a series of viral video ads.
4.4 Apple Music
Apple Music highlights a favorite feature of their service in their ad: ad-free music streaming.
Apple music makes two strong value propositions in this Tik Tok ad:
The size of their music library containing 60 million song

The fact that they are all ad-free
These features along with a recognizable brand visuals and vibrant neon hues make for an effective, brief, eye-catching message
4.5 Postmates
HD visuals and bright colors are the backbone of Postmate's simplistic ad delivery. The high-value coupon code is a copy incentive that directs users to the relevant landing page which mimics the visuals of the ad.
What Makes These Social Media Ad Examples Great?
We can break down the design of the above examples to establish the core elements of a great ad design.
The right ad format:

Are you going to go for a YouTube pre-roll ad or the full-blown video ad? Or are you choosing between Facebook ad carousel and Instagram Story? Remember that each of these formats can help accomplish a different goal. Pre-rolls are good for building brand awareness. Video ads have

the highest CTR

of all digital ad formats. Facebook ads can increase brand recongition and drive website traffic while stories generate a strong FOMO with the audience. Consider what your goals for the ad are and choose the format accordingly for the optimal results.

High-quality and eye-catching imagery:

The visual appeal of the ad is a "break it or make it" factor: it is the sole reason why a user may stop scrolling their news or stories feed and pay attention. Apart from being in high definition, your imagery should also be relevant to the ad and the context of the copy.

Very little description copy:

As little as copy text as possible is the way to go in order to engage users. Nobody wants to read paragraphs of text in an add. Strive to create a catchy, memorable tag line that describes the offer and gets it across in just a few words.

A prominent call-to-action:

A singular call-to-action button should be embedded into the design of the ad and it should invite the users to complete a single, easily understandable action. Consider your target audience and your ad campaign's goals when choosing what CTA you want your ad to have.
5 Design Trends Best Social Media Ads Should Follow In 2020
The social media ad examples we have just reviewed each have their own unique points and individual design cues.
However, they all have some things in common. These and other ads will very likely keep following the below five directions in design that will dictate social network marketing in 2020.
1. Muted Colors
Color palettes with muted and understated hues act as a counterpart to vibrant and vivid colors that also dominate social media graphics in recent times.
The muted shades update and refresh your ads' graphics, especially when implemented to copy and ad solutions that use photography as their main medium.
2. Heavy Fonts
Heavy, bold and extra bold fonts have dethroned lightweight and handwritten fonts in social media presence and advertising.
Although bold, these fonts also need to be simple - the eye-catching effect is all the more effective if it is easily understandable and legible.
These fonts should only be used on headers or other important parts of the social media ad.
3. Animations
Still largely underused in social media advertising, GIFs have taken over the internet largely through the power of memes.
Branded and unique GIF can provide an edge and air of uniqueness over competitors in 2020. Their visual nature makes them very memorable and, by association, your brand recognition will be boosted.
4. Abstract Illustrations
Exaggerated proportions and off-beat color combinations, surreal-like scenes and abstract style: this is the type of illustration that will be big on social media in 2020, and that includes ad imagery.
These illustrations grab and hold on to users' imagination and attention and encourages longer times of looking at the ads.
5. Subtle Motions
More subdued than GIF animations, these micro interactions have gained a lot in popularity in web design recently. Endearing and enchanting, they have a profound effect on emphasizing the messaged of your ad and captivating users with their repetitiveness.
Takeaways On Social Media Ad Design Inspiration
Being present on popular social networks and looking at examples of sponsored posts and ad campaigns by successful brands and White Label Social Media Management companies can provide a great dose of social media ad design inspiration.

What all of these creative advertisements have in common are:
Striking visuals and high-quality imagery

Prominent calls-to-action

Highly economical use of text

Awareness of the ways user perceive and interact with the ads on a specific network

A fitting approach to the ad execution considering the above point, for instance the way Geico bypassed the skippability of the pre-roll YouTube ads
Following these best practices, along with the latest trends in ad design, will always ensure your social media ads get noticed in the sea of user-generated and marketing content on any social network.
Subscribe to Spotlight Newsletter
Subscribe to our newsletter to get the latest industry news