What Makes Web Development Companies in Toronto Unique?
According to statistics, 48% of web users find websites credible due to their web design. Webpages have a design optimized to rank high on search engines to be visible amongst competitive brands and service providers. 
In web development, branding is essential to have a sense of unity. It serves as a pillar of any business since it captures your potential clients and leads. 
Considering that, web development companies in Toronto have an extensive requirement to become experts and proficient in their areas of expertise. They require specific skill sets to function for a company which adds to their reliability and credibility. 
Additionally, this industry in Toronto requires a degree, certificates, and licensing. It is a profession that emphasizes the skills necessary to provide top-notch service. 
With over hundreds of web development job opening in Toronto, you can ensure to acquire the best company for your projects. The option for this is vast, and the demand is high; the country is pursuing young IT aspirants to add to the industry. 
Furthermore, with the increasing demand, various online web development courses are also available in Toronto. Honing their skills is a top priority in offering a cutting-edge and unique service. 
Toronto is prominently known for its diversity. People are always in pursuit of greatness. That said, you can ensure outstanding service from an experienced Toronto website developer.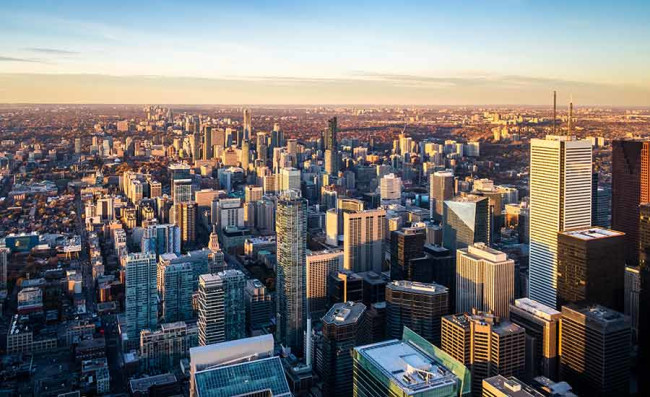 What Services Can You Outsource to a Web Development Agency in Toronto?
To become proficient in this area, a web development agency Toronto-based outlet ensures specific skills embedded in their web development specialists. Through this, an agency can offer the following services: 
Reprogramming and Repairing Computer Programs

 

Achieving Proper Technical Infrastructure Setup

 

Inspecting and Testing Web Development

Computer and Information Systems

 

Intuitive and Appealing User Interface and User Experience (

UI/UX

) Design

 

Website Branding

 

Technical Support

 

Web Designing

 
In most cases, Toronto Web Development services vary depending on the agency. Some may have specific benefits, while most agencies have IT specialists with broad specializations to offer more services. 
How Much Do Toronto Web Development Companies Charge for Their Services?
Web development is often a grind. Top-tier success in this industry calls on a wide range of abilities and a cost-effective rate.
Producing high-quality results might take a lot of work for service providers. Individuals need to get a degree and train to add to their resumes. 
With that at stake, a top-tiering web development company in Toronto has an hourly rate of as low as $1, increasing to $25, $125, and more. Their rates usually depend on the agency and projects. 
They can also rate you per project, usually costing around $1,000 to $50,000. DesignRush has a list of top Toronto web development agencies you can scan. 
Why Should You Outsource Web Development Companies in Toronto?
Regarding global competitiveness, innovation, and quality of life, Toronto consistently ranks near the top, making it one of the best places in the world to conduct business. A city's strength lies in its ability to attract and retain diverse residents and businesses and its status as a global economy and financial markets hub. 
Reason #1. They Have Top-Quality Designs
Web design alone forms the initial judgment of a company's credibility.
People look into a website and scroll away once they do not find it attractive and pleasing to the eye. Content is crucial to increasing the clickability of your websites, and a web development company in Toronto specializes in this area. 
Reason #2. They are a Team Player
Toronto is relatively strict regarding accommodation for their clients/customers. They ensure top-notch service while encouraging customer satisfaction for every service rendered. 
With that, you can ensure that a web development company in Toronto works hand in hand to guarantee you cutting-edge designs and development. They can easily make your ideas and visions become a reality. 
Reason #3. They Have a Pool of Talented Web Developers
Due to its high demand, outsourcing web development services in Toronto is a smooth process. Businesses are now transitioning to online operations since the pandemic, and the need to optimize online marketing and advertising continues to peak today. 
That said, Toronto has several web development professionals with a wide array of skills to perform the topmost duties. You will find a web development company in Toronto that will suit your preference and guarantees a cutting-edge work process. 
Reason #4. They Have Seasoned Specialists
Apart from the increasing demand for web developers, Toronto has only the best people to work in the industry. Honing their skills and ability to perform satisfactory service in web development is vital to a company's success.
To achieve this, web developers must provide certificates to prove their legitimacy and increase credibility. A web development company in Toronto offers only their topline professionals to function as a team for your projects. 
Reason #5. They Understand Your Need
When outsourcing for web development companies in Toronto, these intelligent professionals know what you need to have an edge in the market. Trained web developers ensure to meet your requests and demands, providing you with satisfactory work. 
Apart from that, working with you is a step toward making your vision come to life.  When you hire web development pros in Toronto, you get to be a part of the action and enjoy the ride.
How to Choose the Best Toronto Website Developers?
The abundance of web development companies in Toronto makes the decision process tricky. It can take time to decide which business is best for you. 
Keeping that in mind, here are some things to consider before committing to a web development agency in Toronto: 
Tip #1: Assess Their Area of Specialty
Most agencies in Toronto for web development can have areas of expertise they offer as services, and others have a vast option for you to choose from their packages. Ensuring they cater to what you are looking for is necessary to avoid paying for extra services and stay on budget. 
Tip #2: Look for Reviews About the Agency
Before you consult their customer service, read reviews from previous clients of a web development company in Toronto to see whether or not they met their demands as a service provider. You will better assess their outputs, how they handle clients, and if they are trustworthy. 
Tip #3: Ensure Their Cost Fits Your Budget
Budget allocation is crucial, especially for starting businesses. While paying for substantial web development is an investment, you may also want to consider other matters that need your budget.
With that at stake, see if their hourly rate and per-project rate are perfect for your funds before you hire a service provider. In some cases, deals and discounts are available for new customers. 
Tip #4: Discuss the Project Scope Before You Seal the Deal
Talking to a service provider and seeing if they understand your needs is key to creating a connection before working with them. Through this, you will understand how a company works on different projects, their terms, and how they handle transactions with potential clients.
Tip #5: Ensure They Respond Quickly
If a web development company in Toronto instantly replies to your messages and emails, they can keep in touch with you along the way. It shows a company's work ethic and entails visibility toward its clients. 
If you want to understand an agency further, you can ask the following questions below to further your understanding. 
10 Questions to Ask a Web Development Agency in Toronto
#1. How many people are working with you? 
It would be best if you begin by inquiring about the web development company in Toronto regarding their team size and the amount of experience they have. Make sure that your supplier has a skilled team and that the team members have previous experience and are having an excellent time working together. 
#2. What kinds of services do you have available? 
Inquire about their other services, such as search engine optimization (SEO), social media optimization (SMO), domain and hosting acquisition, logo design, etc. 
An experienced team works for a web design firm that provides such services. Another advantage of selecting this is that your requirements for a project are in one company. 
#3. Who are some of the businesses you have collaborated with before? 
Inquire with them about their portfolio and the feedback they have received from previous customers. Examine the websites they have built to determine whether or not the design is appropriate for the company, as well as the website's functionality, navigation, call to action, check pages, payment gateways, and so on. 
#4. How long does one of your projects typically take to complete? 
The process of designing a website takes significantly longer than usual, which makes the experience very unpleasant. It is more effective to divide the process of creating a website into multiple stages so that you can track how far along the project you are. 
#5. How much do you charge each of your clients for your services?
When selecting the services of a web development company in Toronto, one essential element is the company's pricing structure. 
Ask them how much your website will ultimately cost and how they will be billing you; will it be on an hourly or project basis? Check to see that the creation of your website doesn't include any additional, unexpected costs.
#6. How is your technological, business, and artistic blend appropriate for my project? 
Select a web development company in Toronto wherein you feel confident working along the project process. Consider whether you would rather be a part of a team that has existed for a considerable amount of time and takes a conventional approach or a young team that takes a more innovative approach. 
#7. How do you plan to guarantee that users of all devices will have the same experience when visiting the website? 
If you are looking for a reputable web development company in Toronto, one thing you should look for will always recommend a responsive design. 
They will guarantee that the website will function effectively on all devices. You may inquire about their plan of action regarding this topic to determine whether or not they have strategies regarding this matter.
#8. To what extent will you test and conduct quality assurance procedures on the website before it goes live? 
As soon as the site goes online, users should see seamless performance across all devices and browsers.
Only by doing cross-browser tests can your web design company guarantee that. Before releasing the website to the public, they need also carry out a series of quality assurance procedures. 
#9. What are the next steps once the website has been finished?
Because up-to-date information benefits your site's search engine optimization (SEO), you should update the content frequently. Inquire whether or not agencies give a paid service in which they take care of the maintenance and upkeep of your websites and provide bug fixing and customer assistance. 
#10. What are the expectations placed on me as a client?
Maintain close contact with the developers working on the project for revisions, additional inputs, etc. You can appoint someone inside your organization to be the primary point of contact with the other party. 
Takeaways on Web Development Companies in Toronto
Reaching a broader audience and creating more leads or consumers requires having a website with a structured design. Subsequently, building a website and its design contribute to marketing a company's brand. A reputable web development company in Toronto has what it takes to provide you with the highest possible level of service. They know what is going on in the market and can help you get ahead. 
It's not a question of whether or not you should take your business online in today's market. It just depends on when. And what better way to establish your presence than to give your brand a digital home?  
In this day and age, it makes sense to use the unique skills of web development services in Toronto by outsourcing them. Finding the right agency partner might just be what you need to move your business closer to your bottom line. 
Best of luck! 
...
Choose a Business Partner Today!