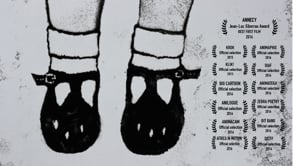 An Ordinary Blue Monday is a three-minute short film done in the sand by Naomi van Niekerk. Frame by frame, the artist has created images out of the sand on a bright surface, giving the appearance of a black and white sketchbook.
The film centers around the word ordinary, used in the title. Frame one is a clothesline, shirts, and pants, flapping in the wind, looking almost like series of vintage black and white photos, and at the same time almost like hand-drawn sketches. This style remains throughout the whole film.
A shirt from the clothesline flies off in the wind, zooming toward the camera, and turns into a sea of stars, amongst which the title appears, one letter at a time, in a hand-drawn sans-serif font. No two letters are the same, as the artist has drawn each one in the sand.
Next, houses are shown, again, drab and mundane. A narrator comes on, speaking in Afrikaans, mingled with some English here and there. We follow along with the narrator, as images depict day-to-day events that, right from the beginning, denote hardship, pain, loss, and the all-around struggle of poverty. The bold black and white style connects with the emotion and events of the narrative. The sandy filter, which gives the animation a vintage look, is a depiction of the gritty nature of the story itself.
The background music is very repetitive, several pianos and a grungy guitar, which matches perfectly with the animation style and the story. As soon as the narrative starts, the music stops for a brief period, and comes back near the end of the story.
The old shirt, which at the beginning of the film flew loose from the clothesline, returns to end the story, landing on the ground as if dead. The artist inverts the screen, turning the black shirt white, and it flies back into the starry night.
Viewers will get a brief glimpse of what life is like in this stark portrayal of South Africa. The animation will grip them until the very end, and they will leave with a question or two in their hearts.
An ordinary blue Monday is a beautiful short animated video.