The Stars as Viewed from the International Space Station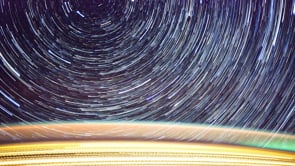 The galaxy—a mysterious place that leaves the brilliant minds on earth fascinated with its formation. As most scientific theories conclude, the stars share a billion-year story about how the galaxy, planets, and the sun came about. When NASA built the International Space Station, it was a chance for those on earth to get a glimpse into the unknown.
Stars Viewed from International Space Station is a video that captures high-quality stills of the Milky Way. The video's introductory credits uses a bold, sans serif typography that fades as the music begins and pulls the viewer into the fold. Each still works in sync with Alex PM's smooth jazz track while the camera catches the stars from all angles of earth. Viewers can witness the stars aligning in space while the camera zooms in and out, an aerial perspective.
Viewers can sense the movement throughout the video, particularly, as the camera was shooting from earth's angle. As the video continued, viewers could see the infrared images of the earth's atmosphere and also get a glimpse of the beautiful disaster that is light pollution. Although the focus is on the stars, the International Space Station's video silently tells the story of human error.
What's great about the video is it isn't interrupted with awful narration or overused subtitles. The three-minute film was powerful and relied on music to convey human emotion instead of verbal cues. As technology continues to advance, the world can expect to explore outer space far beyond astronaut suits and still photographs in a textbook. The video was a revolutionary way for individuals to study space and all of its components.
The Stars as Viewed from the International Space Station is a stunning demo video.