Air Canada's Informative Video Reaches A New American Audience With High-Value Content & Style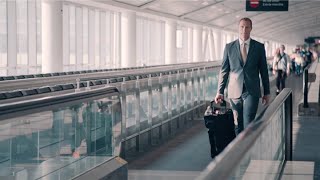 Clear, Concise Text Makes This Informational Air Canada Video Easy To Understand 
Air Canada is the country's flagship airline carrier, and it's a big name in the international airline world.
But the brand needed to reach out to new audiences — more specifically, an American audience to promote international flights with a connection in Toronto. Almost all of the airline's international flights connect in Toronto, and the brand wanted to eliminate the stigma that comes from layovers.
To do this, it decided on a #TravelSmarter video campaign that the brand promoted on its social media accounts as well as its website. This video encourages travelers in the United States to choose the brand for their international travel needs — and not to worry about the layover in Toronto, because it's actually a pro throughout their trip, not a con.
This two and a half minute video is a stunning visual display — full of exciting videography, smooth transitions, and impactful content. But if it weren't for the clean and clear text that accompanies the voiceover and video, this video wouldn't be half as good.
That's because this text adds context. It clarifies what the video is trying to say and gives viewers more tangible content to interact with. And not everyone can hear well, so the addition of text is a great way to ensure that all audiences can understand what the video is trying to say.
This text further promotes the brand and its international connection in Toronto by highlighting the benefits of the airport and the perks international travelers have access to — they can skip the line, forego another security check altogether and get to their gate without the need of a shuttle, bus or train.
These are all positives that other airports might force their passengers to go through, so they are on full display here.
This clean text is displayed on sliding blocks of text — simple blocks that line the bottom of the screen, or bigger blocks that slide in and take up half the screen. Either way, the text is easy to read and jumps out from the design. And it sits on the screen long enough for people to actually read it.
The inclusion of this text is great, but it's even better because it adds just the right amount of context without going overboard. The brand knew to add complementary text, but not too much to overwhelm or frustrate.
It adds context and clarity, making the video even more compelling for American audiences.
Engaging B-Roll Gives American Travelers Exciting Context & Thrilling Travel Possibilities
The bulk of this video is made up of b-roll — of travelers in airports, cityscapes, planes flying in the air and more. And this b-roll gives consumers a peek into what they could experience if they choose to fly with Air Canada.
B-roll is powerful because it gives an organic look into a brand and its operations. And it also works as the perfect background imagery to the text on the screen and the powerful voiceover that touts the brand, the Toronto airport and its benefits for American travelers heading to international destinations.
This high-res video is bright, bold and engaging, fostering a dynamic enthusiasm in the viewer and showing them clearly what they can expect if they choose to fly with the airline. And considering the negative connotations that come with connecting flights — especially international flights — it's peaceful and extremely helpful to see these situations in action.
And the choice to go with real-life imagery instead of an animated video aligns the brand as an authentic and smart business that can be trusted.
Modern Transitions And Motion Graphics Add A Fresh Authority to The Air Canada Brand
Most of this video is made up of varying videos of the Toronto airport, airplanes in flight, cityscapes and more. But there is an edge of modernity and playfulness that comes from animations and transitions.
The animations are seen throughout, with blocks of text sliding in and out with smooth and simple transitions. Similarly, subtle imagery in the form of animated maps and flying planes add a playful sophistication that further promotes the brand and its authenticity.
But there's also a harshness in the blunt transitions from frame to frame. But instead of it being jarring, it creates an urgency in the user that encourages them to buy.
These creative elements add a fresh and modern tone to the brand. And they help the viewer remember the brand as a whole and the services it provides.
This isn't just a boring video with a lackluster voiceover and uninspiring imagery. It's exciting and engaging and in your face. It demands to be seen. It demands to be heard. And the airline demands to be experienced in much the same way.
Explore DesignRush's Agency Listing section to find the best branding agencies!
Air Canada's Video Design Is Directed At American Travelers, Providing High-Value Content
All of these powerful design elements work together in this video to create a targeted design that effectively connects with its American audiences.
This isn't just a video promoting brand identity — though it does do that, adding modernity and freshness to the airline.
It's a video that knows what its purpose is — to show American travelers that international travel with the brand doesn't have to be difficult, overwhelming and uncomfortable. Quite the opposite, actually. Thanks to this b-roll, text and transitions, users feel a sense of ease and tranquility to the design that transfers in their minds to the overall process of transferring at Toronto airport.
This video aims to change American perceptions about connecting flights at Toronto airport, and it does so in a smooth, direct and successful way.
Need targeting a marketing campaign? You're in luck — these digital marketing agencies can help!
The History Of Air Canada
Air Canada is Canada's leading airline, with the biggest fleet, most flights and most passengers in the country. It's an international airline with service to the United States, Europe and beyond.
The airline was founded in 1937, and it has grown to international acclaim, with service to 207 destinations across the globe. It's the founder of the Star Alliance and is headquartered in Montreal, Canada.
The airline was first named Trans-Canadian airlines in 1936 before the name was changed a year later. At this time, it was regulated and controlled by the Canadian government. But in the 1980s, the government deregulated airline travel and this airline, with the airline privatizing in 1988.
In 2000, the carrier acquired its biggest competition in the Canadian airline market — Canadian Airlines. And after a brief financial crisis in 2003, the airline came back better and bigger than ever before.
Here's a word from the airline itself:
Air Canada is Canada's largest airline and the largest provider of scheduled passenger services in the Canadian market, the Canada-U.S. transborder market and in the international market to and from Canada.  In 2017, Air Canada together with its Air Canada Express regional partners carried over 48 million passengers, offering direct passenger service to more than 200 destinations on six continents. Air Canada is a founding member of Star Alliance™, providing the world's most comprehensive air transportation network.
But it's much more than just a corporate entity providing safe and efficient flight travel. It's a brand with a dedication to consumer happiness and safe flight — it's a brand that travelers can trust. And this video helps promote that to the American audience in a stunning and sophisticated way.
This Video Positions Air Canada As A Trustworthy Airline For American Travelers
Air Canada's #TravelSmarter campaign video is an informative design that reaches out to a targeted audience with ease and satisfaction.
The video aims to inform American travelers about their airline and how easy it is to use. They promote their connections at Toronto Pearson Airport, showing consumers how efficient the process of connecting flights is with this airport.
Almost all of the international flights operated by Air Canada connect in Toronto, but instead of this being a deterrent, it aims to align it as a benefit. It shows passengers that the process is a simple one, with users not needing to go through security again, but instead using a shortcut to get to their gate.
It's a powerful video that makes use of robust b-roll of the airport and the process. And the seamless way this video transitions from frame to frame is modern and easy to follow. Clever animations and video add a personality and an engaging aspect to the design that shows the high-value of the airline and its connecting flights.
Similarly, the clean and bold text adds context and gives viewers a more direct understanding of the process and what they can expect.
This is a great video for brand identity — with the Air Canada maple leaf and bright red coloring apparent throughout. And it promotes positivity in the otherwise possibly unknown brand that connects with American audiences quickly and efficiently.
There's an informative quality to this design, of course. But it's also playful, fun and engaging. With the help of this video, American audiences can learn more about an otherwise unknown brand and maybe even choose it the next time they want a budget-friendly, luxurious international flight experience.  
If you thought this promotional video was great, you'll love our Best Video Design section!
Plus, create your own informative videos for your brand and products with the help of these video production agencies!