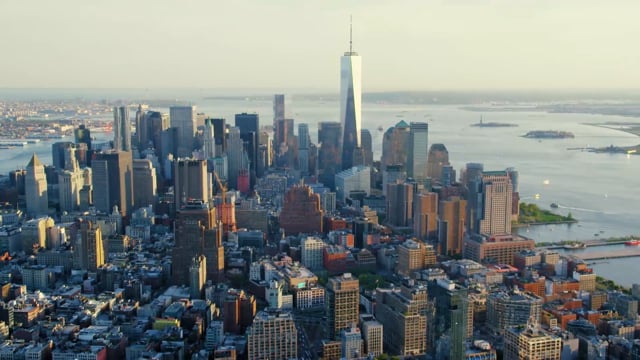 TomTom was one of the first companies to create a digital map of the world, all the way back in 1991. Since then, they've collected an enormous amount of data from users across the globe, and enabled people to simplify and enhance their lives.
The video opens with on screen text—a large, sans serif font with a modern typeface. A white screen is behind the text, and the text acts like a window to moving video behind. The white background fades into the moving images, and the video takes off. There is no voice narration, and the text tells a brief history of TomTom and it's current mission while shots of video play in the backdrop. The music starts off simply, with guitar and a drum beat, and then transitions into electronic beats that carries the video throughout.
The video complements the narrative with aerial shots of large cityscapes, which transition to crowds of people, which then transitions to individuals using phones and tablets to navigate with the TomTom app. From there, the camera changes to aerial shots of busy streets and a speed-up time lapse of a highway at night. This time lapse technique continues throughout the video to display the quickness and efficiency of TomTom.
The videos and text combine to produce a sense of ease and accessibility; that using TomTom products will get you where you need to be, the way you want to get there. The goal of the video is to let viewers know that the titanic amount of data in the TomTom applications is at the tips of their fingers. The video portrays this by showing a large mainframe in a dark room, blinking lights and fiber optic wires. With the knowledge that the viewer has access to this data, the final message of the video is TomTom welcoming the viewers to be partners in mapping.
Mapping apps are among the most used apps among smartphone users. In a world where daily use of a digital map is necessary, users will find that TomTom has a lot to offer.
TomTom — Brand Video is a professional commercial video.