The competence of healthcare services largely depends on in-person experience. Before that, however, web design companies with a proven track record need to "doctor" efficient and strategically thought-off medical website designs to give people a glimpse of what these institutions can do for them – and if they're any good at it.
In the United States alone, 89% of users search for medical information online before actually calling a hospital to schedule. Out of all the services people would like to book online, medical services rank first with 25%, followed by beauty appointments with 21%.
The key to a successful patient journey starts with a click. This post lists the 6 best medical website designs that will inspire medical businesses to keep you're their clients engaged and informed through impressive site structure, design, and content.
1. CariFree by Gravitate Design
Standout Features:
High-quality imagery
Easy menu navigation
Complementary on-brand color schemes
CariFree offers science-based solutions to common oral health problems. Their medical website, designed by Gravitate Design, displays authority and expertise through informative copy and high-resolution images.
The colors used on this website are easy on the eyes, making browsing through the content-heavy site as easy as a breeze. A complementary blend of blue and white invokes trust and comfort among site visitors.
CariFree and Gravitate Design go way back to 2016. Their client-agency relationship stays intact because of the web design company's commitment to creating effective web designs that don't just look good, but also drive awareness, encourage patient appointments, and bring results.
You'll notice a graceful scatter of Call to Action (CTA) buttons around the site. The first CTA is placed right below the main brand promise on the top of the fold, header area, and links to their Shop. Alongside this, is a video play button that allows you to watch the video whenever you please. It's lighter than most CTAs on the site, but noticeable nonetheless.
Another notable design move is the cartoonish icons for common oral conditions like bad breath, white spots, dry mouth, and sensitive teeth. These icons are also clickable and redirect users to their respective pages.
Gravitate Design is a full-service web design and digital marketing company that caters to medical websites, travel and hospitality, technology, education, and so on. They focus on four key online marketing points of success: web design, website optimization, maintenance and hosting, and digital marketing.
Other Services by Gravitate Design:
Strategy
Analysis
Development
Branding and messaging
Content
Search Engine Optimization (SEO)
Social media
Email marketing
Standout Features:
Distinctive CTAs
Organized category menu
Design accessibility tools for readability preferences
Scrolling through the pages of Springfield Dental Solutions is like watching a beautiful slideshow. O360®, the partner web design company for this website, created an elegant, modern design with enough attractive photography. These hi-res images bring the human element to another level while giving the website visitors a homey user experience.
On the homepage, you'll see a variety of distinctive CTAs. More than anything, O360® came up with this web design to drive results for their client. These eye-catching CTAs are cleverly positioned across the page, urging visitors to click on them.
Out of all the design features on this site, O360® outdid themselves with the Accessibility Tools positioned to the right, giving the visitors the freedom to personalize some parts of the website (font size, background, contrast, and links) for better readability.
O360® is in the business of helping healthcare professionals for over 20 years. They design, optimize, and strategize marketing efforts for the healthcare niche – dental, medical, and other specialties. They pride themselves on creating custom designs that are wholly owned by their client.
Other services by O360®:
Web design
Search Engine Optimization
Pay-per-click services
Social media marketing
Reputation management
Standout Features:
Interactive content
Full-screen welcome video
Great patient testimonial section
Village Emergency Centers is all about providing access to trusted emergency rooms in Houston, Texas 24/7. Their website, designed by Versa Creative, welcomes visitors with a full-screen video on-loop.
The Village Emergency Centers website contains a lot of information about different emergency rooms across the state, and Versa Creative did a great job presenting those without overwhelming the users. Their interactive web design and content, on the homepage especially, steal the show.
The sticky menu at the top-most part of the page is organized according to categories: Locations, Services, and Resources. With this, navigating through its pages is easier.
Upon entering the website, you'll see a full-screen map with the brand logos (blue and white hospital icons with a red heart at the center of the cross) as location pins. Clicking on these pins will display a somewhat callout bubble that has the complete address of your chosen pin.
Versa Creative is a creative marketing and advertising agency. Their grit to meet and surpass their client's goals shows in their web design for Village Emergency Centers. Blocked sections, adorable heart symbols (a key representation of the brand), and convenient submission forms, all contribute to their client's online presence.
Other services by Versa Creative:
Brand positioning
Account management
Web design
Copywriting
Photography and Videography
Website development
Search Engine Optimization
Content marketing
Amazon services
Email marketing
Public relations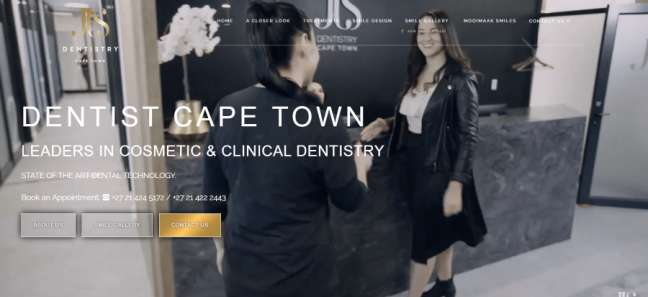 Standout Features:
Sleek and elegant CTAs
Embedded Instagram grid
Great balance between content and graphics
If elegance has a face, it'll most certainly be JJS Dentistry's website.
Designed by Avily, the overall look of this website embodies the client's (JJS Dentistry) branding of state-of-the-art dental care. It's hard to ignore the CTA buttons on this website because each of them looks like fine gold.
Unlike the earlier web designs presented in this list, Avily made use of JJS Dentistry's video assets. There's a full-screen video header on loop upon visiting the site, and two other videos embedded on different sections of the homepage.
This move hits two birds with one stone: keeping their visitors engaged and generating higher website traffic. According to a study released by wyzol.com, 87% of digital marketers say that their website traffic increased when they started adding videos to their pages.
Avily is on a roll in using unique and brand-tailored features on this project. Instead of a usual color block or an image divider to separate content, Avily incorporated JJS Dentistry's Instagram profile. Scroll through the homepage and you'll see an image grid with photographs fished from the client's gallery and Instagram account. This section balances the elegant image with friendly photographs of Dr. JJ Serfontein with his patients and friends.
Avily banks on the use of market-leading technology and their talented team of website designers to create a medical website that improves the patient journey. Their agenda is to deliver web designs that are clean, purposeful, and user-focused.
Other services by Avily:
Website design
Social media marketing
Practice branding
Reputation management
Complete marketing management
5. HIPAA Compliant Web Portal by ScienceSoft
Standout Features:
Responsive design
Great user experience
Easier manageability functions
A good design is more than surface-level beauty. Above all else, it should be functional.
That's what ScienceSoft takes pride in. They're an Information Technology (IT) Consulting and Software Development company expert in the healthcare realm since 2005. Their services are tailored to physicians' and patients' needs; from hospital systems integration to patient engagement portals.
Recently, they developed a HIPAA-compliant portal for allergy treatment management.
HIPAA, or the Health Insurance Portability and Accountability Act of 1996, is a chain of rules that ensure the protection of sensitive patient data. ScienceSoft developed a web portal that has security measures in place while providing the most convenient allergy management.
With modules like Patients Management, Claims Management, and Invoice Management, primary care physicians stay on top of things in terms of patient care.
Patients Management gives doctors an overview of their patient's basic details, insurance coverage, and contact information. In this module, doctors can freely upload their patients' test results and request immunotherapy treatment.
Claims Management, on the other hand, allows timely tracking of all patient claims. Viewing each claim will display procedure codes, ICD-10 diagnosis codes, allergens tested, and the number of injections given. This three-module setup comes full-cycle with Invoice Management, wherein physicians can process invoices.
Other ScienceSoft services:
Business analysis
HL7 integration with EHR/EMR and other systems
Training for content contributors
Website maintenance
Content personalization
Patient portal embedding
Web analytics
6. Blister Pack by BrainStorm Digital
Standout Features:
On-brand colors
Clean and effortless interface
Smooth horizontal transition within pages
Who says medical websites can't look fun?
The Blister Pack website, designed by BrainStorm Digital, looks vibrant with sprinkles of color here and there!
Upon landing on the homepage, pills in various shapes and colors scattered on a muted blue background greet the visitors. While the rest of the page is white, the blue color adds a cooling effect on the eyes of any viewer.
Another thing worth mentioning about this web design is its smooth transition. Navigating through the pages is like turning the pages of a book with its unique horizontal transition effect.
Brand colors are masterfully utilized in this medical web design, too. BrainStorm Digital emphasizes certain information by adding solid color linings on some content blocks (see packaging rates) or changing the text color.
As a web design company, BrainStorm Digital believes in the power of technology and its effects on graphics, design, costs, and marketing.
They strive to foster long-term relationships with their clients by delivering scalable solutions that quickly adapt to the changing market.
Other services by BrainStorm Digital:
Responsive web design and development
Graphic design
Brand identity
Search engine optimization
Digital Marketing
Subscribe to Spotlight Newsletter
Subscribe to our newsletter to get the latest industry news