Hybrid Mobile App Development - The Ultimate Guide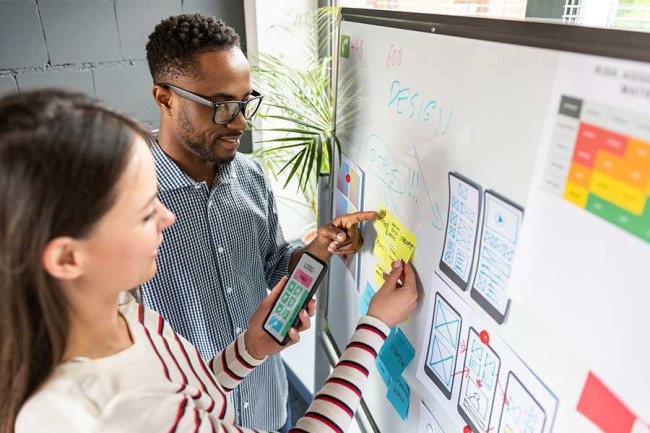 Developers write hybrid software with web technologies such as JavaScript, CSS and HTML.
People who have limited financial resources demand hybrid software most often. An example of a hybrid mobile app is the well-known messenger – Skype.
By 2021, the number of app downloads is expected to reach 310 billion worldwide. And, nowadays there are 3.5 billion mobile users around the globe so the number of newly developed apps, among which hybrid as well, is increasing every day.
Hybrid Mobile App Development vs. Native Mobile App Development
A quick fact says that 90% of the time people spend on their mobile phones is time spent on apps. This is the reason why more and more native and hybrid mobile apps are developed every day.
However, what's the difference between these two types of mobile app development?
Well, developers create native mobile apps for specific platforms only.
So, they use only the languages that the specific platform accepts. For instance, both Google and Apple create hybrid mobile apps that can be supported only on iOS or on Android. This is the most common type of mobile app creation.
Google Maps, Facebook and LinkedIn are native mobile apps that are designed separately for iOS and Android. So, for these apps, writing of separate codes is required.
When companies create hybrid software, they include a single code bar for all platforms. It means that the developers need to write the code only once and then can run it anywhere.
However, this is possible because of certain tools that make the communication between the native platform and web view easier. Thanks to them, hybrid mobile apps can be compiled and transformed into a native app.
Hybrid mobile app development is the creation of a single app that can run on multiple operating systems including Windows, Android and iOS.
Advantages And Disadvantages Of Hybrid Mobile App Development
It is very easy to develop and download hybrid mobile apps. However, do they function the same as native mobile apps?
Take a look at their advantages and disadvantages and see for yourself.
Advantages
They are easier to scale on another platform. For example, when you build them for Android, you can easily launch them on iOS.
There is only one codebase to manage. Unlike with native building where you have to create two apps, with hybrid software building, you create only one app. So, you need to manage only one database.
It takes less time to create them. Since there is one database to manage, it takes less time to create hybrid than native apps.
They cost less. Hybrid mobile apps cost less than native apps. Due to the fact that developers use a single codebase, the initial costs and the maintenance costs are low. So, they are much more affordable than the native ones.
Disadvantages
User experience. Bearing in mind that there is one codebase for all platforms, the user experience might not be a positive one. We are talking for different operating systems, so it is difficult to customize an app based on one platform.
Lower performance. This is one of the biggest drawbacks of hybrid mobile apps. They load in a webview that is difficult to reach a native performance.
Availability of features. There is a possibility that some of the new features of the hybrid software are not available for some platforms. What's more, some native features may not even exist.
Errors. When hybrid software is developed, it is possible that it comes with hidden errors.
Hybrid Mobile Apps – How Much Do They Cost?
No one can tell a fixed price for hybrid software. However, compared to native mobile apps, hybrid mobile apps are less expensive to create. Usually, the cost will depend on the time required for the app to be created, its features and design.
Let's see how much would hybrid mobile apps of different complexity approximately cost:
Simple hybrid mobile apps have very few features, and developers can create them for a shorter time. So, they would approximately cost about $10,000.
Medium complex hybrid mobile apps are more complex than the simple ones and, they could cost $10,000 – $50,000. Companies would need 2-3 months to create them.
Enterprise hybrid mobile apps with plenty of features are complex apps that require more time to be developed. They take about 3-6 months to be launched and can cost $50,000 – $150,000.
Games are the most difficult apps to create and hybrid mobile app development companies might charge you up to $250,000.
Some of the companies can charge hourly as well, starting from about $50 per hour.
What Are The Qualities Of Top Hybrid Mobile App Developers?
The right hybrid mobile app developers should provide you with the best experience possible.
Here are the qualities that your partner should possess:
They should have broad experience. You should never hire a company without looking at their work first. Finding out what projects they have worked on and who their clients are will help you understand the level of their experience.
Hybrid mobile app developers should always have the right approach. They should assure you that the process will be handled properly. Moreover, they should offer you clarity on the progress of your app at every stage.
Expertise is another quality of the best companies. It is essential for the hybrid mobile app developers to have certifications and technical experience. To be able to fulfill all the tasks connected to the building of your app, these people need to have knowledge of hybrid mobile app development. By hiring experts, you will ensure that the process of app building goes that best way possible.
Hybrid mobile app development companies should focus on compliance as well. They should possess ethical standards and practices and need to pay attention to clean coding standards while focusing on quality.
Among the other qualities of hybrid mobile app developers is also responsibility. This is one of the most critical factors for better communication. Therefore, make sure the people who build your hybrid software are responsive and let you know about the progress or any changes.
How To Find The Best Hybrid App Developers
There are many factors you should consider when trying to find the best hybrid app developers for your business needs. And, sometimes it all depends on what you prefer and whether you have some special requirements.
However, when business people search for hybrid app development companies, they usually focus on:
Location: Does the location matter to you? Would you like to work closely with the hybrid app developers? Or, you are comfortable to hire a reliable outsource team? Consider these questions since they may play a major role in deciding which hybrid app development firm is the best for you.
Cost: The cost of the app is another crucial aspect to look at. Not all hybrid app development agencies charge the same. That's why you need to determine how much you are able to spend. Set a budget, and ask potential developers for a price estimate. However, also think about whether you want to save money or spend a higher upfront cost which will bring you a higher return on investment.
Post-launch services: Just because the app is live it doesn't mean that the developer's work is done. Apps need to be maintained and updated continuously. Therefore, you need to make sure that the hybrid app developers will be there for future service and consultation.
5 Questions To Consider Before You Hire Hybrid Mobile App Development Companies
With so many companies on the market, it may be difficult to make the right choice.
Here are a few things to consider about hybrid mobile app development companies before you hire one:
Talk about the price. It is of great importance to get the best product, not the cheapest one. However, it is also essential to consider the budget you have. So, try to get an estimated cost by the potential companies to see if you can afford them or not.
Check their previous work. When you research hybrid mobile app development companies, take a glance at their portfolio. Find out what projects they have worked on and who are their clients. That way, you will see whether the company is right for your business or not.
Require a project timeline. Ask companies in what time they could finish your project. Will they launch your app on time? How many projects are they currently operating? Try to set a deadline and ask if it is possible for them to finish the project until a given time.
Ask them how you will communicate. During the process, you and the hybrid mobile app developers will constantly be in touch. So, you should also know how you are going to communicate until the project ends.
Level of involvement. The hybrid mobile app developers are going to build an app for you. So, it is obvious that you need to be involved in the whole process. However, what you probably don't know is the level of involvement they will require. That's why you should ask about it in advance.
Once you collect all the necessary info about all the potential hybrid mobile app development companies, make a selection and choose the agency that you believe is the best.
Hybrid Mobile App Development Agencies: Choose The Best One For Your Business
Thanks to hybrid mobile app development companies you can now have a mobile app working on different operating systems. By offering your app on multiple platforms such as Windows, Android and iOS, you will increase your reach.
The reason why more and more people hire hybrid mobile app developers is that hybrid mobile apps cost less than the native ones. What's more, it takes less time to create them and it is easier to manage them.
That's why hybrid software and hybrid mobile apps are becoming more popular than ever, And, this is the reason why there are plenty of these companies and hybrid mobile app developers you can choose from.