58% of companies claim that the quality of leads is the most important metric for business success.
At the same time, generating high-quality leads is the biggest challenge for sales teams.
If you are one of those businesses that struggle with this, you are in the right place.
In this article, we'll define the roles of lead generation companies and how they can benefit your organization and list the best agencies you can partner with to generate more conversions.
A lead generation company is an agency that helps businesses attract and convert potential buyers into paying customers.
Not every person can be a lead. The job of these companies is to find the consumers who have shown interest in your products and/or services and implement various strategies to guide them towards making a purchase.
Top 10 Lead Generation Companies For More Conversions In 2021
Upcall is a California-based lead generation company that serves clients across a range of industries, including real estate, legal, finance and technology.
Considering their services, you will get access to professional callers to manage your phone interactions and intuitive software to monitor your results.
Upcall can assist you with:
Market research

Phone surveys
Stock check
Mystery shopping
Data collection
Fundraising

Lead generation

Candidates screening
Cold calling
Appointment setting
Outbound call center
Telemarketing
Sales outsourcing

Lead qualification

Facebook leads
Appointment scheduling and confirmation
Event attendance marketing
Lead nurturing
Customer follow-up
Upselling and cross sell

Customer engagement

Customer feedback
Customer retention
Event follow-up
Payment reminder
Customer survey
Win-back campaigns
Pricing:
Upcall offers four pricing structures:
Enterprise
Agencies
Growth
Basic
However, you need to contact the agency for a quote.
Based in Massachusetts, INFUSEmedia is a data-fueled, demand generation engine that specializes in diving qualified interest for B2B organizations.
The agency serves clients from various sectors like retail, technology, manufacturing, education and finance.
They take an omnichannel approach and generate leads by strategically promoting content through different types of campaigns.
Their core services include:
B2B demand generation
B2B lead generation
Content syndication
Content marketing
Account-based demand generation
Predictive demand generation
Lead validation
Performance marketing
Lead nurturing
Intent-driven marketing
Pricing:
Contact INFUSEmedia for a custom quote.
Headquartered in New Jersey, LeadGeneration.com is committed to building ROI for organizations with a strategic and innovative process.
They deliver leads in real-time, focusing on multichannel approach strategies, including:
Search engine optimization (SEO)
Social media
Paid search marketing
Content distribution
Whitepapers
PR and brand awareness
Web development
Email marketing
Lead nurturing
Call tracking
Landing page creation
Appointment setting
Lead follow-up
Pricing:
LeadGeneration.com executes personalized strategies that work the best for each client. So, you need to require a custom quote for their services.
Callbox specializes in generating leads for B2B businesses across various sectors, including technology, healthcare, finance and marketing.
The California-based agency follows a four-step marketing process: identify, expand, engage and convert leads.
They leverage various mediums, including:
Email
Website
Webinar
Voice
Social
Chat
Pricing:
Contact Callbox for a custom quote.
Martal Group is a California-based company that helps clients drive leads and close more deals by relying on human intelligence and reliable business data.
Some of the industries they serve are publishing, finance and IT.
The agency offers three different service tiers:
Lead generation
Lead generation and customer onboarding
Lead generation, customer onboarding and account management
Pricing:
Contact Martial Group for custom pricing.
HookLead is a South Carolina-based digital company helping technology organizations generate more leads and sales through proven marketing and high converting design.
Their goal is to increase return on investment to get the most out of their clients' marketing budget.
The agency's core services include:
Inbound marketing
PPC management
Video explainers
Landing pages
SaaS marketing
Digital marketing
Search engine optimization
Conversion rate optimization
HubSpot implementation
Sales enablement
Pricing:
Contact HookLead for a custom quote.
Cience is a Colorado-based B2B outbound marketing company that uses machine learning and cutting-edge tools to generate quality leads for its clients.
They serve businesses across a range of industries, including biotechnology, education and finance.
CIENCE is People-as-a-Service (PaaS) that can assist you with:
Customer relationship management
Demand gen
Digital marketing
Email marketing
Inbound marketing
Market research
Outbound call center
Pricing:
The company offers four pricing modes:
CIENCE SDR team
CIENCE Inbound SDR
CIENCE Data - Customer Sales Research
CIENCE CRM Migrations & Integrations
However, you need to get in touch with them to get a quote.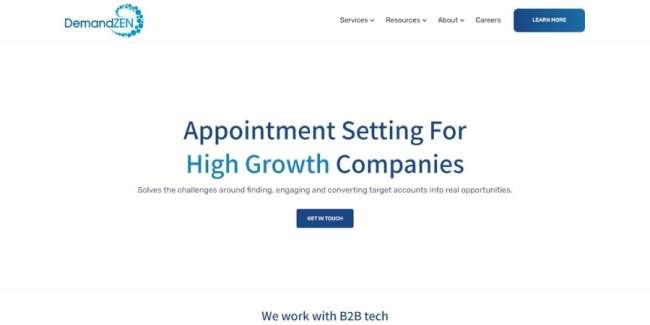 Located in North Carolina, DemandZEN provides outsourced demand generation services for B2B tech companies.
The agency's job is to help organizations solve their unique challenges around finding and converting leads that will expand their revenue opportunities.
They generate business results, DemandZEN combines various strategies, including:
Digital marketing
Lead follow up
Appointment setting
List building
Social media
Content
Email cadence
Account based marketing
ABM
Pricing:
Contact DemandZEN for a custom quote.
SalesHawk is a California-based company that generates new sales opportunities for B2B organizations through artificial intelligence and automation.
They offer two automation models: email and social media.
The agency's job is to make your potential customers aware and interested in your services. To achieve that, they take customers through three phases: consideration, intent and purchase.
Pricing:
Contact SalesHawk for a custom quote.
SalesRoads is a Florida-based company that has over 14 years of experience in generating leads for businesses in the B2B sector.
Some of the industries they serve are education, manufacturing, transportation and marketing.
The agency can assist you with:
Demand gen
Outbound call center services
Appointment setting
Sales outsourcing
Telemarketing
Pricing:
Contact SalesRads for a custom quote.
Most Popular Lead Generation Services
The key lead generation services that you might want to consider to increase the number of qualified leads and conversions include:
Lead research: Lead generation is a process that starts by understanding where your target market "lives" on the web and putting their needs and wants into this context. These companies will conduct research to define your best-qualified leads. They will also help you align your offerings with their specific needs, determine a customer cycle and identify the most effective ways to reach your prospects at each stage of that customer cycle.
Appointment setting: This is an important task where a company creates a list of prospects based on your business's target market and industry. Then, they contact potential clients to introduce your organization and emphasize its key selling points. Through establishing cold calls, these agencies' job is to find "warm leads" or interested buyers.
Inbound lead qualification: Lead generation companies will track the leads that you generate on your website and tell whether they are viable or not. Either manually or automatically, they will perform this process based on lead qualification criteria. This will save your organization time but also optimize your website lead generation strategy.
Lead management: These companies will track, evaluate and prioritize your inbound and outbound leads. They will follow the activities and behavior of both qualified and unqualified contacts giving them constant attention until the point where they are ready to make a purchase.
Lead nurturing: Using a consistent sales lead nurturing system, lead generation companies will help you build strong relationships with your customers. The point is to turn them into loyal and long-term paying clients by using various strategies like email marketing and content creation.
How Do Lead Generation Companies Work?
Lead generation companies partner with organizations in both B2B and B2C sectors across various industries that want to grow their sales and revenue.
They closely study their business needs and goals to determine who their audience is and what kind of leads would be qualified for them.
Then, they develop strategies that will help them find the leads that match the businesses' customer profiles and use various tactics to attract and convert these leads.
They follow the consumer journey and all of the stages that prospects go through before making a purchase.
From awareness to interest and conversion, they optimize each stage of the sales funnel for maximum sales by using various channels like social media marketing, email marketing and SEO.
Once prospects convert into paying clients, lead generation companies develop loyalty programs to turn customers into repeat buyers and brand advocates.
What Channels Do Lead Generation Companies Use To Attract Clients?
Lead generation companies use various promotional channels to attract and convert potential clients.
Some of the most effective are:
Content Marketing
Producing and distributing valuable and relevant content can play a major role in attracting and converting an audience.
Businesses can take advantage of this channel to educate their prospects about their offerings, create interest in them and stimulate their purchasing decisions.
However, despite this channel's effectiveness, 51% of organizations claimed that creating content that generates quality leads was one of their top content marketing challenges in 2020.
This is one of the hardest lead generation channels to execute on because many businesses fail to:
Reach the intended audience
Create high-quality content that stands out
Align content with the buyer's journey
Lead generation companies can make all the difference and implement various content marketing strategies that work. They might focus on different tactics like:
Creating a buyer persona
Developing a blog and attracting subscribers
Building high-converting landing pages
Creating the right content formats for each stage of the sales funnel
Selecting the right mediums for content distribution
Doing guest posting
And more
Email Marketing
74% of organizations say that email marketing is vital to the success of their company.
Email marketing is one of the best channels that businesses can use to connect with their potential customers and build lasting relationships.
In fact, it is one of the best tactics that you can leverage to increase your sales and revenue.
Data supports this, and according to OptinMonster, email has an ROI of 4400%.
Email makes it easy to reach out to your target audience, encouraging them to take the desired actions.
Campaign Monitor ran a survey to study the email marketing strategy challenges of modern marketers.
The organization found out that for 58% of the marketers, increasing the email engagement rate is a major goal.
However, 44% of them claimed that increasing the email engagement rate was also their top challenge.
While email is the best medium that you can take advantage of to increase brand awareness and nurture leads, it can sometimes be difficult to get the desired engagement and conversions after capturing those leads.
The reasons behind this may vary, from the lack of a clear strategy to failing to build personalized email campaigns.
To help you get high-quality leads, drive engagement and conversions, lead generation companies will focus on:
Defining your buyer's persona
Segmenting your audience
Using email data to determine personalization strategies to pursue
Create highly customized campaigns
Designing clean and concise emails
Creating attention-grabbing subject lines
Including strong CTAs
Using email automation
And more
Social Media Marketing
One of the reasons for the effectiveness of social media marketing as a lead generation channel is the ability to easily guide users to take action.
From simple CTAs on Facebook posts to swipe up options on Instagram stories, businesses can take various opportunities to promote their offerings on the platforms where users spend significant time (up to two hours and three minutes daily in the US).
A Social Media Examiner report shows that according to 67% of marketers, lead generation was the third biggest benefit of social media marketing in 2020.
However, when compared to 2019, the generated leads dropped from 74%.
This number indicates that driving leads using social media is becoming more challenging for organizations.
This is commonly a result of developing ineffective strategies or not having the right expertise in-house.
Outsourcing lead generation services will give you access to top-notch talent and experienced professionals who know what tactics work for specific businesses and industries.
These experts will conduct proper research on your audience and competition and then create a solid strategy to help you push your leads towards the end of the sales funnel.
They will also post consistently, run social media ads, build social media communities and focus on other aspects that will boost your social media presence.
Ad Retargeting
Retargeting advertisements have 10 times higher clickthrough rates than display ads.
Retargeting as a channel helps you remind prospects who have already visited your website of your products and/or services.
It is an effective lead generation tactic because you only advertise to people who are familiar with your business and are interested in your offerings.
Lead generation companies can help you manage these types of ads the right way so that you can enjoy a higher number of conversions.
They will create off-site advertisements across various mediums but also on-site campaigns to reinforce the visitors' purchase intent while they browse through your offerings.
Using retargeting along with several other tactics, the Digital Silk agency helped their client Xerox get an increase of 43% in conversion rate for nurtured leads in only six months.
Search Engine Optimization (SEO)
Search engine optimization (SEO) as a channel focuses on increasing search engine rankings and driving organic traffic. As such, it complements lead gen efforts by generating awareness.
However, for your pages to rank high and be seen on Google today, you need to consider over 200 factors, including both on-page and off-page factors.
Modern SEO strategies differ from old-school SEO and go beyond producing quality content and writing meta titles.
Today, modern SEO is a synonym for a great user experience. In other words, apart from optimizing your web pages for search engines, you need to optimize them for users.
Think factors like user intent, page speed and mobile responsiveness.
In addition, modern buyers are often self-educated. They may enter the sales funnel at different stages and may proceed at their own pace.
Lead generation companies are fully aware of these changes and adapt their strategies to keep up with the evolving trends and expectations.
Discover how to define your ideal customer profile for more qualified leads.
Learn more!
B2B vs. B2C Lead Generation Companies: How They Differ
Unlike B2C lead generation companies that sell to individual consumers, B2B lead generation companies target business owners or other decision-makers to sell products or services to particular organizations.
This indicates that they might need to create different strategies for both kinds of groups that will depend on several factors like:
Longer sales cycle: Unlike B2C buyers, who usually make one-time purchases, B2B buyers enter into contracts for products or services that take a longer time. This is why B2B projects have longer sales cycles that are harder to complete and take more time, research and resources.
Authentic content: Considering that B2B buyers take a longer time to convert, they usually perform longer research before making a purchase, taking into account the long-term benefits and ROI of a specific offering. This makes B2B buyers more knowledgeable than B2C buyers, urging lead generation companies to deliver highly valuable and unique content to nudge them along the sales funnel.
Main challenge: While both B2B and B2C strategies aim to drive conversions, the goal of these two may differ. B2C sales are more about perception and quality, whereas B2B sales depend on trust and building personal relationships.
Social channels: Social media is one of the best assets lead generation companies can leverage to bring conversions to their clients. These agencies understand B2B and B2C buyers well and they are aware that the two different groups utilize different social platforms. For instance, LinkedIn is the best channel to reach decision-makers and influencers in the business realm. B2C buyers, on the other hand, spend most of their social media time on channels like Facebook, Twitter and YouTube.
Interaction: Unlike B2C lead generation companies who typically deal with individuals, B2B lead generation agencies often face interacting with teams. This indicates that they need to take their projects with professionalism, to meet the demands and specific needs of multiple groups of people.
The Advantages Of Hiring A Lead Generation Company
The major advantages of partnering with a lead generation company are:
#1: Work With A Qualified Team
These professional companies will give you access to a specialized team of marketers who have deep experience in various lead generation strategies, including content marketing, blogging, branding, SEO and social media marketing.
These experts will support your internal marketing team and provide you with constant guidance on the current trends in the market.
Their expertise will give you the edge you need to improve your lead generation efforts and deliver the sales you need to keep the business going.
#2: Take Advantage Of Their Results-driven Mindset
The best thing about outsourcing lead generation services is that you can get the assistance you need to drive clients without leaving your important tasks and core business activities.
The primary goal of your external team will be to drive results for your business. They will put all of their efforts into generating results for you while you and your employees can devote time to other vital tasks to keep the business going.
#3: Get Access To Cutting-edge Tools
Lead generation companies come equipped with expensive tools that can help you better manage your leads, marketing automation, analytics and other processes.
They can provide you with accurate and up-to-date data so that you can approach new prospects, track customer interactions and engagement successfully.
How To Choose The Best Lead Generation Services Agency For Your Business
Investigate the following criteria to make the search for the right lead generation services agency easier:
Relevant industry experience: While the fundamental lead generation principles may be similar across different sectors, industry experience can make a difference. The companies that have worked with clients in your field are familiar with your target market and understand your audience's needs, pain points and challenges. This allows them to create more effective strategies and generate results quicker.
Range of services: Lead generation companies come in different shapes and sizes. While some of them may specialize in specific channels only, like social media marketing or email marketing, others may be able to take multidimensional approaches to attract leads. Considering that multichannel campaigns can increase ROI by 24% and help you achieve a 7.5% decrease in cost per lead, it is recommended to partner with the latter.
Agency reputation: Reputation measurement is an important factor in understanding what other clients think or how they feel about prospective lead generation companies. So, be sure to check their:

Google rankings (to see how well developed SEO strategies they have to build brand awareness for themselves)
Online reviews (to find out how trustworthy they are, if they have satisfied clients and whether they are capable of delivering results)
Awards and industry-specific prizes (to learn about their achievements and see if their hard work is recognized)
Social media likes and followers (to find out how many users are willing to attach themselves to them)

Customized approach: There is no guaranteed formula for success. Every business is different and has its unique goals. This is why you should stay away from companies that offer a secret formula to drive leads. Instead, you should partner with an agency that is able to provide you with customized strategies based on in-depth research tailored to your specific needs.
Cutting-edge tools: Lead generation is a process that requires the right tools to be able to execute successful strategies. These tools can help you collect key info on your prospects, automate messages and campaigns, perform customer surveys and more. They can make all the difference and help you convert more leads. So, make sure you ask what kind of tools you will have access to when partnering with these agencies.
10 Questions To Ask Lead Generation Companies Before Hiring One
Have you ever partnered with a company in the same or similar sector? What results have you delivered?
What type of lead generation services do you provide?
What lead generation techniques do you think will work for our business?
How do you create your strategies?
What tools and technologies do you have access to?
How do you measure the effectiveness of your strategies? Will we receive analytical reports that will track the results?
What KPIs will you focus on?
How will communication be handled? Will there be a dedicated contact person?
What is your pricing policy? How much will the project cost?
Will we sign a contract? What will it include?
Takeaways On Lead Generation Companies
Lead generation companies can help you close more deals and increase your revenue by leveraging various channels like:
Content marketing
Email marketing
Social media marketing
Ad retargeting
SEO
The key reasons to consider professional lead generation services are:
Working with a qualified team
Taking advantage of their result-driven mindset
Getting access to cutting-edge technology
To select the best agency partner for your business needs, consider the following factors:
Relevant industry experience
Range of services
Agency reputation:
Customized approach
Cutting-edge tools
Subscribe to Spotlight Newsletter
Subscribe to our newsletter to get the latest industry news