Qualities of a Top Web Designer (And How to Find One for Your Company)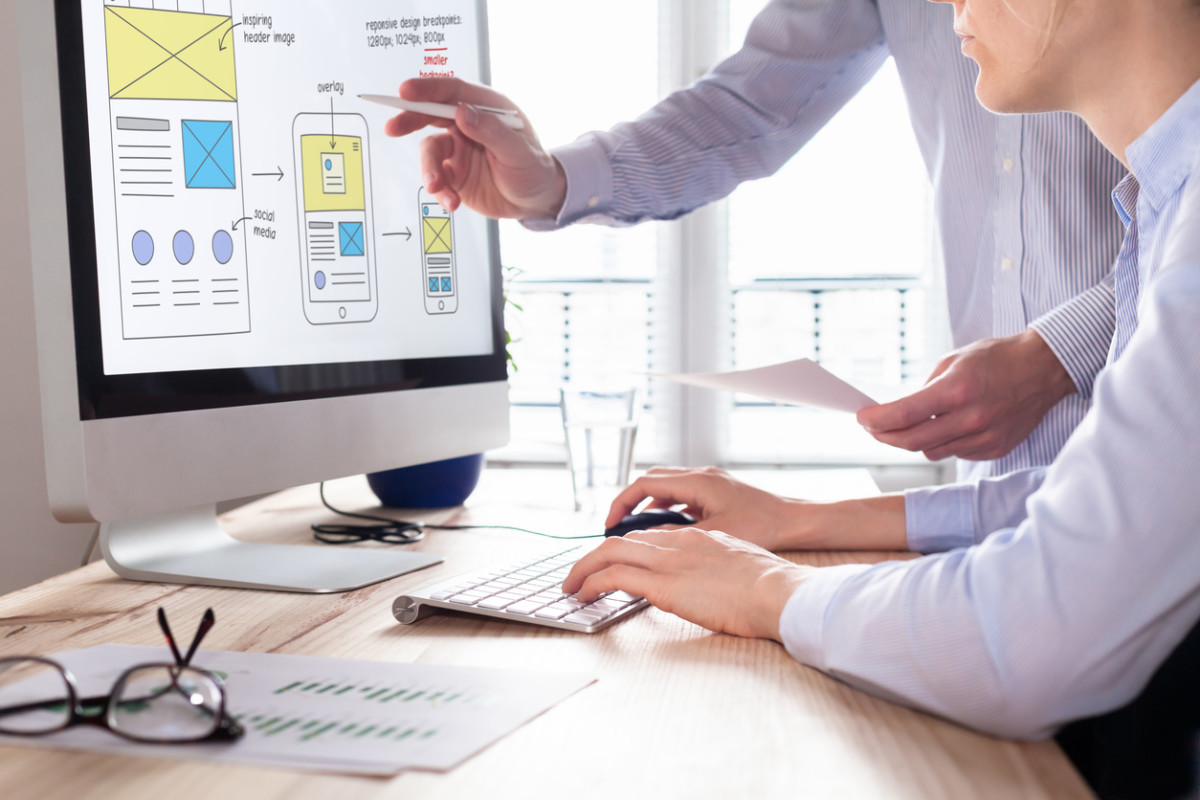 There has long been the saying that your website is to your online business what a brick and mortar shop front is to your offline business. As such, for the best part of two decades, companies have searched high and low to find a top web designer to piece together a website reflective of their ethos, brand and product.
In a world where it seems impossible to escape the internet and online activity, surely it's paramount that businesses have a solid online presence and a well-designed website, right?
Well, you might be surprised to hear that although the majority of us might agree, there are many businesses that don't even have a website. As recently as 2016, 46% of small businesses in the US (that's companies with under $1 million annual revenue or less than 10 employees) still don't have a website.
The research carried out by Clutch suggests that small businesses are skipping online websites predominantly for two reasons: cost and a lack of relevance to their industry. It's astonishing that we're still in a position where this is the case, and with these revelations in mind, it might be helpful to revisit why the majority of businesses invest heavily in top web designer talent to ensure their website is of the highest quality.
Why is web design so important?
Rather than addressing the question of whether all businesses actually need websites (because it's fair to say the reasons are strong) we're going to investigate what it is that makes web design so important.
The web design services industry is a huge market, with an estimated annual revenue of $26 billion. It's no surprise when you consider the implications of a great, or poor, website design. It's estimated that 94 percent of website users' first impressions are design related, with the same percentage citing poor design as the reason they mistrusted or rejected a company.
If that's not significant enough for you to reconsider that shoddy design then you might be alarmed to know that having an "average" web design still isn't good enough. On average, three-and-a-half out of 10 users will fail to complete simple tasks on a website they consider to be average. The damaging impact that can have will ultimately relate to conversion rates, subscriptions, purchases and profits.
The most common issues associated with poor web design? Too much going on throughout the website, poor navigation, and text that is too small. You'll not be surprised to hear that there is a straightforward solution to cure each of those three design flaws. Hire a top web designer!
What will a top web designer do for you?
They've been known to solve problems relating to anything and everything. Some say they brew the best coffee, bring it to your desk and still have time to work minor miracles by speaking to your computer… Ok, that might be a slight exaggeration, but the point is that web designers really can turn water into wine, or in their language, an inefficient, broken website into an engaging, effective user experience that dreams are made of.
A web designer specializes in creating the visual aesthetics of a website. Typically coming from an artistic or design background, they'll create a user experience (UX) which makes websites easier to navigate and enhances their visual appeal.
How do they do that, you might ask? There are several key tasks that a top web designer will carry out each time they begin to put together a new design, including:
Choosing layouts and page elements to optimize the visual appeal for the brand
Improving the overall interface and UX of the website, such as navigation
Creating banners and landing pages to generate leads
Considering mobile users and incorporating responsive design
Although most web designers will typically carry out similar tasks, the top web designers — the cream of the crop — will go above and beyond. For them to do this they need to possess more than the academic or professional qualities of most designers.
What are the qualities of a top web designer?
While the average web designer will just make each new site similar to the next with subtle changes specific to the client, a top web designer will combine their personal traits with their skills and experience. Here are some of the top qualities to look out for when you're searching for a designer to transform your website.
Industry-specific experience
Having experience as a web designer is one thing, but having industry-specific experience is another, completely different kettle of fish. When a designer knows exactly what the market expects they can create a design that will suit the target audience perfectly.
This is a difficult obstacle to maneuver if your designer does not have industry knowledge, and it can heavily impede the design process.
"Understanding the target audience for the new website is always the most important thing. There are so many different audiences to attract and they all have very specific needs and tastes," according to web designer Filipa Machado.
A portfolio that shows experience but makes sense
You might be tempted to take a slight gamble and opt for a younger web designer. That's not a bad idea in many ways, but while they have talent, it's difficult to beat experience and a solid track record. A top web designer will have a portfolio that truly reflects their previous work, and most importantly, makes sense.
It doesn't have to be flashy, but a portfolio will contain the best of the best from a designers history -- just like Brooklyn-based website designer Marleigh Culver's portfolio, pictured above. It's also an excellent way to spot designs that are similar to what you are expecting from your prospective designer. You'll be able to probe the designer for reasoning on why they choose a particular layout or style for a previous client.
Another way to look at this is to think of a portfolio as a story. Every piece of the puzzle should fit together so that the story you read makes sense. If a designer has made a website for a local restaurant that's known for gourmet quality food, the aesthetics should match that and have a corresponding message and tone.
That said, don't be put off by a web designer who also shows evidence of experience in other types of work, such as, graphic design, UX design, web development, or print design.
Empathy
This is one trait that differentiates a top web designer from a good one. They have to realize that they're not designing a website for themselves, but for the person who will be using it.
Top web designers will take into consideration aspects of a users behavior and personality that other designers don't, for example:
Fears and doubts
Goals and expectations
Behaviors
Frustrations
Tolerances
Preferences, and more
The most practical form of empathy through design is the user persona: a fictional identity created through research to try and replicate the traits of a likely website visitor. This is actually highlighted in UXPin's Web UI Design Best Practices report as one of most important elements when it comes to great web design.
They make data-based decisions
Simply put, a top web designer will choose to rely on concrete facts as opposed to their opinions or instincts. Not only is this approach more reliable, but using real data for support actually validates a designers decisions.
For example, a usability test will pinpoint the behaviors, decisions and tastes of even the most fickle users, and in turn, provide you with a thorough stream of hard data to fall back on, and often reveal insights you have never discovered.
Good designers may be sure their designs will work based on their instincts, but a top web designer will make sure by running tests and checking the results.
Want more tips on finding top design professionals? Sign up for our newsletter!
What type of contract should your top web designer have?
Now that you know what to look for in a designer you just need to begin your search. Rather than sending you into the maze that is that internet, we thought it would be helpful to narrow down the places for you to look.
However, before we even do that, it's important to determine what type of web designer you want to hire. Are you going to opt for a freelancer, hire a web design agency, or employ a web designer full-time? Wait.. why are you throwing another spanner in the works, you might ask? Well, although it seems like another tedious step in the process it's important to figure out which suits your business needs best, and which can result in the best website design.
Freelance web designers
Hiring a freelancer might seem a little daunting if you've never done it before but those that have hired a lone ranger will know that it's quite the opposite if you find the right person. Potentially, the most attractive benefit of hiring a freelance web designer is the competitive price compared to an agency or full-time employee.
You'll have a direct line of contact to the person who is actually designing your website, and in the case of most freelancers, they're usually happy to discuss strategy or designs most of the day or outside of formal meetings.
Web design agencies
While you might pay more for the services of a full-blown agency, you'll ultimately receive more than just a website design at the end of the project. Depending on the scope of your web design project you might need experts ranging from content creators, SEO experts, and digital marketers to web designers and developers.
Most web design agencies will have all of these aspects available either in-house or on-call. This means that you can sleep easy at night knowing your website design will benefit from continuity from start to finish as well as ongoing maintenance if required.
Full-time web designers
If you're searching for a design to complete a one-off project then opting for an agency or freelancer might well be the best choice. However, if you expect to require the services of a web designer in the long-term, then opting for a full-time employee is probably wise.
You'll have someone dedicated to your projects, rather than juggling multiple clients and tasks at once. What's more, you can probably say goodbye to low-quality results as a full-time designer has no restrictions in terms of revisions and editing before they complete their work.
If you're struggling to find a full-time employee you can always hire a designer remotely and maintain the full-time status.
How to find a top web designer
Once you've identified which type of web designer you're going to choose you can begin your search. The way you go about your search might differ depending on the scope of your project, your budget, and the type of designer you've decided to go with.
Check Behance and Dribbble
One of the best ways you can find a top web designer is by searching for work that catches your eye on Behance, Dribbble or other design portfolio websites. Why? Well, it's quick, free, and it's arguably the most honest way of discovering designers based on what they've historically produced.
It will also help you set your expectations accurately. Sometimes if you hire a designer based on their CV or resume and samples you can build up an image in your head of what they might deliver. If they fail to meet your expectations based on what you imagined it will likely be a disappointing outcome regardless of what the designer produced.
Advertise that you're hiring
Don't worry, this doesn't necessarily mean you have to splurge out on high advertising costs. You can post your desired roles on sites like Angel.co for free and LinkedIn for a low cost. Posting that you're hiring is not only a great way of promoting the growth of your business, but it can also help you narrow down the field based on your criteria for applicants.
The more refined your job description the more likely you will be to receive top web designers who fit your requirements perfectly!
Questions that will help you spot a top web designer
Once you've started getting your applications in the door or pinpointed which freelancers/agencies you want to interview, you should consider which questions to ask them. Asking the right questions can help you spot the top web designers from the average ones.
Not only that, asking questions before you hire a designer or an agency is an important task to help you identify whether or not they'll be able to work well with your current employees and you. Try asking some of the following questions (hint, hint - the best designers will give the best answers in most cases!):
How much industry experience do you have?
Do you have a process that you go through when designing websites?
Based on our goals, how do you think improved UX/UI design could help us achieve them?
How long do you expect this project/build to take?
How many revisions are included?
How often will we communicate and how?
How do you take into consideration the impact of SEO through your web design?
How do you charge your clients/What is your salary expectation?
Do you offer maintenance or revisions after the initial project is complete?
All you need to know about finding a top web designer
With any luck, after reading this guide you'll be well on your way to finding a top web designer ready to help you create the ultimate website. Just to recap, keep the following things in mind before and during your hunt:
Having an average or poor website design can dramatically impact the performance of your product/service and even detriment your company profits. Don't skimp on web design
Web designers can help your business with everything from initial website creation right through to responsiveness for mobile devices, landing pages, and UX/UI optimizations
The qualities of a top web designer include:


Data-based decision making
Empathy
An excellent portfolio
Industry-related experience

Weigh up your options and decide whether you want to hire a full-time, freelance, or agency-based web designer
Do you have any tips for finding top web designers? Share them in the comments below!
Want more career tips like this? Sign up for our newsletter!