Although conventional mascots are not as prominent as they were in times past, there's a reason why their cheerfully illustrated ambassadors are not far behind when you think of brands like KFC, Michelin or Starbucks.
More often than not, trademark mascots are the first touchpoint with any brand. Like totems, they embody company values to form lasting connections and improve brand awareness to make it a household name.
People tend to remember faces more than names, and since not every company can boast colorful real-life characters like Elon Musk or Richard Branson, brand mascots offer a proven way to get recognized.
Nothing says unique like a custom mascot sketched for your brand by a professional designer. As always, we've collated some of the best mascot visuals examples out there to get you inspired:
1. Nilsen by Aqueles Caras
Standout Features:
Fun and colorful
Ironic approach
Evocative of early 2000s popular cartoons
Beginning as a conceptual project for an animated series, Aqueles Caras studio created Nilsen as a spiritual successor to the legendary Cartoon Network features like Dexter's Laboratory, Powerpuff Girls, Courage the Cowardly Dog and more.
Nilsen turns the satirical aspects to eleven, which in turn writes the comedy by itself, without any scripts.
Nilsen is not a Brony; he's always complaining, hating his "unicorn cute life," which is why he's the moodiest and most pessimistic unicorn of them all.
He works at a big advertising agency as a financial advisor. He never won an award or attended an event, probably because he failed to see his potential.
His work and routine are very repetitive, living by the book and grumbling every step of the way. We bet you know someone like Nilsen.
He may be unable to CHANGE, but his disgruntled face makes our day, especially when placed on various promo materials and business collateral.
2. Rabbit by Tandem Branding
Standout Features:
Simplistic design
Efficient
Animated
Rabbit is an on-demand, ultra-fast delivery service that promises to bring your ordered goodies, such as groceries, cosmetics, electronics and more, in under 20 minutes! Now that's impressive.
This bunny, designed by Tandem Branding, is always on the go, has no need for napping (unlike the one in the fable) and is bound to transform the future of retail.
The simple white rabbit mascot visually shouts reliability and speed but is also friendly and memorable. Showing they appreciate the tortoise's triumph (in the same fable), the agency borrowed its green color scheme to create a winning tandem (pun intended) on the run to success.
The playful Rabbit character against bold fluorescent shades cannot go unnoticed on the streets or on screens.
Standout Features:
Old-school
Blazing red color palette
Custom typography
After Colonel Sanders' fast food revolution, there was only so much you could do about fried chicken. Some standards became... well, standards for a reason. However, some brands achieve the impossible and find a way to think outside the box or bucket in this case.
Nash fried chicken branding immersed itself in the old-school but went in the opposite direction, making it weirdly contemporary.
Their mascot, designed by Thiago Gari, calls to mind those retro cartoons from the turn of the 20th century (Betty Boop, Felix the cat, etc.); however, in recent years, this distinct style became wildly popular with the Cuphead video games and shows.
Nash rooster is equally zany and quirky. It might be Nash's signature hot sauce, but the mascot visual radiates with a fun personality that is sure to fast-food charm enthusiasts.
Standout Features:
Symbolic
Expressive
Symmetrical
Estrategia Concursos is a renowned Brazilian company specializing in education. Owl being its mascot, was a no-brainer, but that choice has much deeper roots.
In ancient Greece, it was believed that the owl goddess Athena kept on her left shoulder and revealed to her the truths of the world. In other words, the owl represents Athena's universal wisdom and knowledge, accentuating her role as a goddess of wisdom.
To modernize the myth and bring Estrategia Concursos brand on these new digital information tracks, Ane Schutz reimagined the character design and posed to be used across their platforms and general communication.
The result is a charming and symmetrical birdie that preys on knowledge and inspires you to do the same.
Standout Features:
Charming character designs
Creative use of color
Well-thought-out twist on SaaS illustrations
Located in Londrina city in Brazil's Paraná region, Nowall School is a renowned, albeit quirky social media education center that blurs the lines between learning and entertainment.
Wanting to personify its distinct "academic" approach, Nowall approached Henrique Petrus to develop an expanding visual universe that presents the company's unique personality on social media.
For this, Henrique created a slew of zany characters, illustrated elements and a visual guide that contains color spectrum, typographic families and more. Their modular features make these colorful "dramatis personae" stand out. They were designed to exchange members and elements among themselves to generate new characters, increasing the possibilities of this visual universe.
Standout Features:
Sketchbook style art
Animated drawing
Wine-inspired color accents
You know what they say – Cats and wine make everything fine! Therefore, Nuta Mart designed an adorable cat mascot for a wine blog on Instagram and other social networks.
It's simple, the sophisticated cat in the images informs oenophiles about wine, its origin, grapes, varieties of wine and its rich history.
While a somewhat unconventional mascot for the viniculture, this cute and well-mannered sommelier will take you on an unforgettable vinified journey.
Standout Features:
Rounded finishes in the shape of smoke
Inspired by weed culture
Colorful design
Speaking of cats, Balacobaco Prod.'s new mascot speaks to a different kind of enthusiast. Its objective is clear: to disseminate knowledge and to demystify taboos about marijuana.
Giovanna Merlin's distinct design helped the brand express its charisma through robust typography, an explosion of colors and high-energy visuals inspired by the effect of cannabis and the shape of the smoke itself. The objective here was to transmit as much as possible what it means to be "do balacobaco" (trendy, hip).
The brand's mascot, Yumi, was directly based on the client's Persian kitten. It carries the brand's voice and transmits all the energy that Balacobaco Prod. radiates. Now, that is what we call high-class design!
8. Lia by Rogerio Torres
Standout Features:
3D model
Radiating character
Well-dressed (great color combination)
The future is now! Virtual influencers are becoming more and more popular, and businesses looking to future-proof their impact invest heavily into the creation of ideal, artificially generated personas to represent them. At least these influencers are not going to misuse Twitter as their real-life counterparts.
Back in 2021, with the help of designer Rogerio Torres, Construtora Celi launched their virtual darling - Lia.
Torres first outlined Lia's profile and personality to draw a digital influencer. She is a charming, mature, communicative, elegant and connected woman of the 21st century. She is an architect with a consolidated career, married and has two children. Now, that's an impressive CV.
From there, Lia's physical appearance and fashion choices practically define themselves. Simply put, Construtora Celi opted for the perfect "show, don't tell" way to personify its brand.
Standout Features:
Traditional designs
Anthropomorphic characters
Purposefully limited color palette
Sometimes, designing a visual that truly seems like it jumped from the mid-20th century can be more challenging than constantly adhering to contemporary and emerging trends.
CaliDoso, however, submerged himself in nostalgia when he sketched new Insurgentes restaurant mascots. With a bit of inspiration from popular graphics of old, these retro mascots relish in those distinct Mexican flavors. Literally.
Each character is a charming, anthropomorphic archetype, representing some of the most famous Mexican dishes.
Standout Features:
3D render reminiscing of stop motion art
Tech-oriented
Inspired by the famous '90s toy
Smartway delivers various comprehensive services that aim to bridge the gap between insurance companies and their clients. Their amicable manner and distinct business intelligence are masterfully embodied in their new mascot, courtesy of Poke. - Smart Boy!
This tech doggo perfectly carries Smartway's signature futuristic look, making the brand inviting and distinctive to customers.
Charming, friendly, loyal, reliable and intelligent, Smart Boy personifies the brand's essence and values which clients look for in an insurance company.
11. Ioio Fun by Joao Joinles Silva
Standout Features:
Fun and colorful
Nostalgic
Positive
Ioio temporary tattoos bring back memories, and that is precisely what their mascot is – childhood personified!
Little Yo-yo, designed by Joinles Silva, is the perky girl we all knew in kindergarten. One look at this adorable mascot takes us back to a time when sharing gums, sticking temporary tattoos, waiting for Saturday morning cartoons and having first crushes were the foreground of our collective childhood.
Her wide-eyed innocence is enchanting, maintaining that sweet memory of magic and games and bringing it to today's children.
12. The Horde by Johnny Haru
Standout Features:
Sports-like imagery
Embodies the band
Dominant crimson color
The Horde is an epic folk band currently based in Shanghai. In their own words:
"We pluck, strum, warble, hootenanny and kick ass"
Their new imagery, courtesy of Johnny Heru, aims to unite all the elements the band proudly carries, be it music style, fashion, personal tastes and simply those evocative of its colorful namesake. As a musician himself, Johnny understood that the road to an ideal mascot lies in fusion.
The end result is a charming, albeit wild warrior that borrows both from the members of Gengis Khan's horde as well as from the Scandinavian Berserkers of old. Additionally, we'd say that there's a pinch of that good ol' NBA-inspired heraldry smartly sprinkled to give a whole b(r)and a contemporary vibe to follow its folk roots.
13. Pet Style by Drop Estudio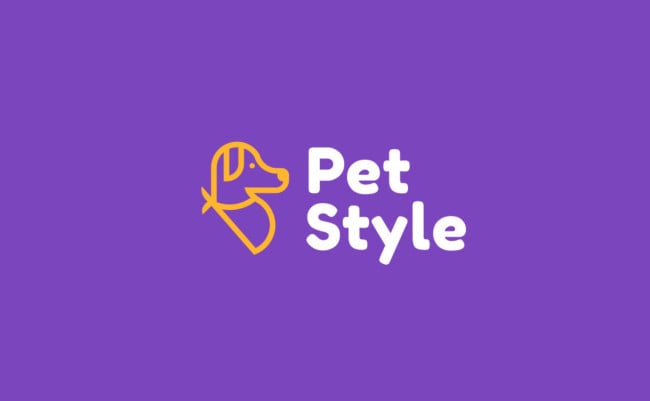 Standout Features:
Minimalistic
Geometric
Adaptive
Based in Porto Alegre, Pet Style is a company that produces accessories for Pets. With its flagship product being bandanas for dogs, it was only logical for the monogram/mascot to be adorned with one.
Drop Estudio created the brand's new visual identity to stand out from other competitors in the same niche painting it with a fun and cheerful color palette. On the other hand, the dog shape in the symbol was developed to demonstrate in a minimalist and candid way the flagship product and the company's niche.
Just like the logo typography, the mascot is "cute & stylish" with rounded corners, creating harmony with the entire personality of the identity.
Subscribe to Spotlight Newsletter
Subscribe to our newsletter to get the latest industry news