Billboard ads have been around for as long as advertising has existed — with brands using these large mediums to get their messages across and attract consumers from all walks of life. And they're not going away anytime soon — even as our world continues to become more digital.
The best billboard ads are exciting, bold and in your face. Graphic designers create them having in mind that they're giant and almost impossible to ignore. They line highways, busy intersections and transportation hubs all across the world, promoting brands and products in a dynamic and creative way.
Billboards have a way of taking people off guard and eliciting a reaction in a way that other avenues and advertising mediums can't. And brands need to continue playing around with these platforms in order to stay relevant and reach consumers.
And these 12 billboard ads are certainly the best kind of eye-catching print designs — your brand could learn a thing or two from their success.
The 12 Best Billboard Ads Stopping Commuters In Their Tracks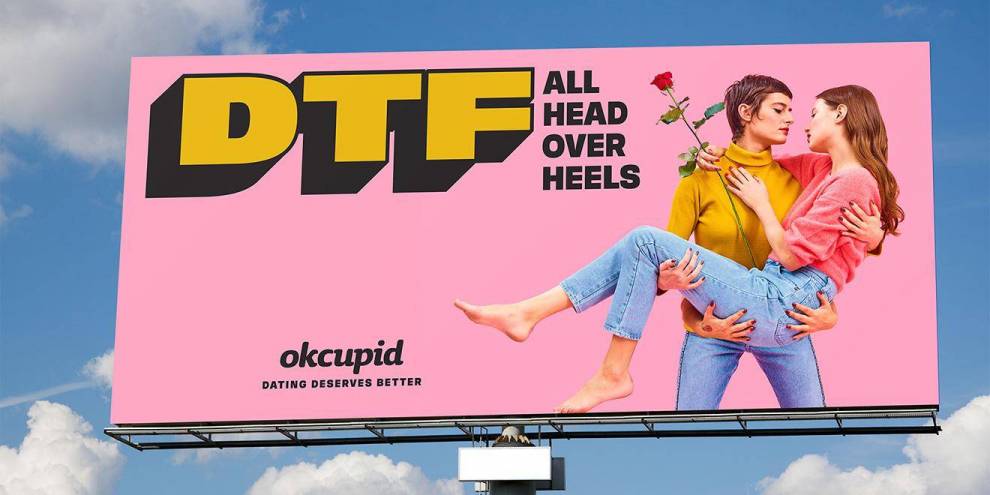 OkCupid's innovative and creative billboards are sure to excite and amaze the second you lay eyes on them. This is a brand that understands its industry and understands consumer perceptions. And they went with a daring advertising campaign to shake things up and widen their audience base, changing opinions about online dating.
This online dating site brand went with a clever and humorous concept in its billboards, using the iconic acronym — DTF — and turning it on its head.
We all know the term DTF — thanks, Jersey Shore. But here, instead of meaning down to f***, this ad campaign adds its own twist.
Down to furiously make out and down to flea market are just a few of the phrases displayed on these advertisements, and they connect with millennial, modern audiences in a fun way that gets them immediately engaged and changes perceptions about the brand and about online dating as a whole.
These designs are also made up of bright and exciting colors and out-of-the-box imagery. They instantly grab your attention and make you think. The messaging, combined with the imagery in these billboards really rounds out these creative designs and makes them impossible to ignore. These are billboards we're happy to interact with on our morning commute.
2. Transport For London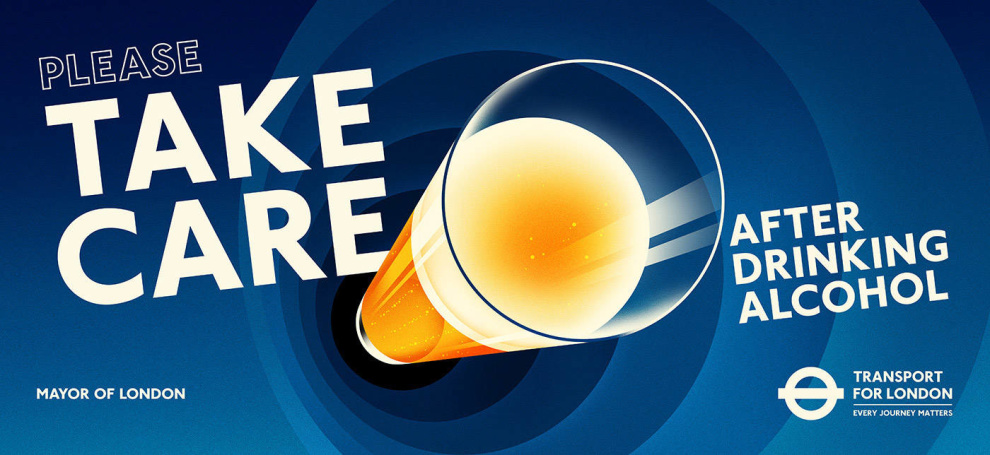 After statistics showed that the number of incidents and accidents on the London underground, commuter train and bus service were growing, Transport For London knew they had to engage with commuters in a personal and interactive way. So Transport For London decided on a colorfully bold ad campaign to help heighten awareness about safety when transporting in the city of London.
The resulting billboards lined subway stations, tunnels and more. And their modern and in-your-face nature make them impossible to walk by without stopping to inspect further.
Made up of smooth, bright color gradients, these posters incorporate transportation imagery in the form of subway doors, buses and handrails. Similarly, other recognizable imagery grabs attention like pint glasses and sneakers. This, paired with bold and big typography warning people to pay attention delivers its message in a clear and playful way.
There's an approachability here that makes people actually pay attention and take the warnings to heart. There isn't a cold and unfeeling vibe here, instead, these designs come off as friendly and approachable. And they work.
They're fun and engaging and cool. There's a modernity here that makes people want to take the time to take the message to heart. And it's simplicity and straightforwardness creates an urgency that makes an impact.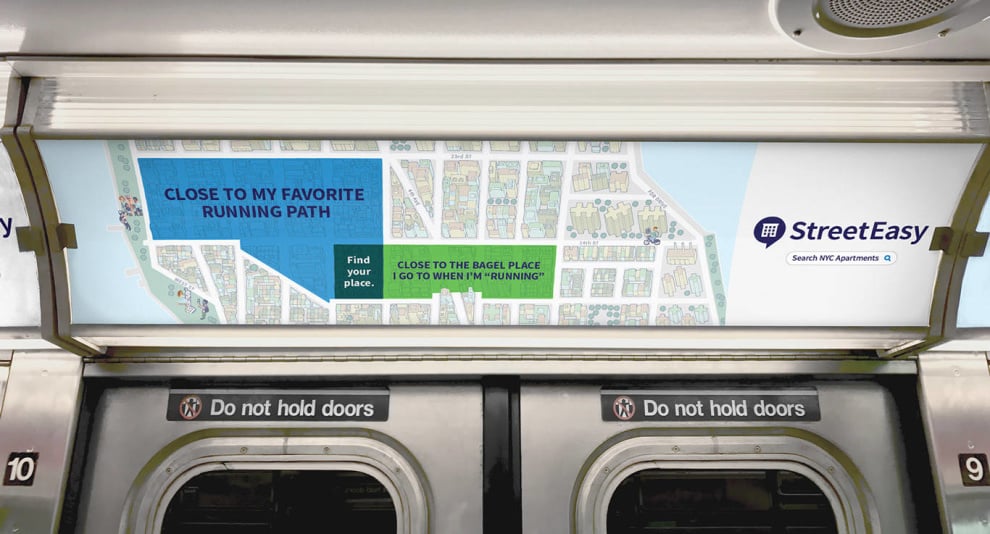 StreetEasy is a New York City-based real estate brand that connects users with the homes and apartments of their dreams. Using the intuitive app, users can search for homes to rent or buy in all five boroughs of New York City. And to connect with their audiences, the brand took to the subway with an extensive billboard campaign to turn heads and grab attention.
These billboards are made up of a variety of clever phrases and map imagery that highlights specific areas of the city, highlighting neighborhoods with funny messages and highlighting a middle ground that could potentially be your new home.
These ads play with humor and imagery in a down-to-earth and funny way. By highlighting neighborhoods physically and with approachable and relatable messaging, these billboard ads are aimed at the brand's target audience in a specific and straightforward way. And they certainly make an impact, quickly rising to become one of the most widely used services for NYC residents looking to find a new home.
These indoor and outdoor billboards are intuitive and engaging. They were created with a specific audience in mind, and with a clear brand identity as a strong backbone. These billboards align the brand as a leader and as a friendly entity that innately understands what renters and home buyers in the NYC area are looking for.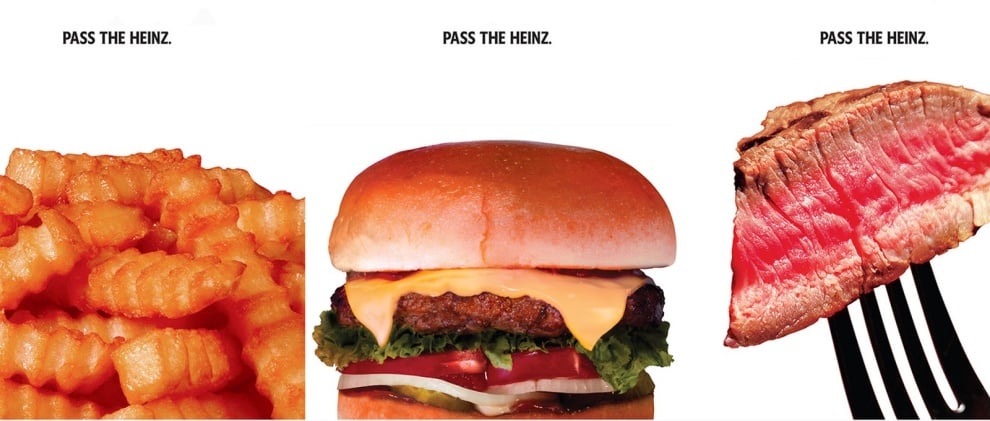 Heinz went with a retro ad campaign in the form of large-scale billboards to add a playfulness to the brand and attract attention. Part ad campaign, part publicity stunt -- these billboards lined popular areas across the country, with bold images and a straightforward tagline.
But the coolest part? These ads actually came from a television show!
Yes, this advertisement idea actually started out on Mad Men, with Don Draper pitching the idea to Heinz executives who turned it down. But in real life, Heinz loved the idea and decided to put it to good use.
These ads are made up of big, bold photographs. Pieces of steak, fries and burgers make up the majority of the design, set against a clean, white background. At the top of the image, the phrase "Pass The Heinz" lets viewers know what this is an ad for.
But other than that, there is no actual Heinz product imagery on the design, which works to entice in a subtle and sophisticated way.
There's a retro feel to this design with its simplicity. This is a clean, white ad with a photograph and a single line of text. But that's it. And it certainly makes an impact.
Fictional campaign turned real-life, these Heinz billboards are a winner in our book.
5. Sport England

When it comes to women in sports, there are obvious misconceptions, biases and stigmas. There is an obvious discrepancy between men and women in sports, so Sport England decided to go with a print campaign to change perceptions and encourage more women to get physical.
And the resulting billboards are a shining example of what happens when a brand decides to commit to a cause, with billboards that stand out thanks to exciting photography and bold typography.
These billboards highlight real women in action, foregoing extensive editing and retouching in favor of showing real women. These are actual women with real bodies playing sports because women can and should engage with sports just like men.
In addition to this eye-catching photography, the brand teamed up with Nike and was able to integrate the iconic Nike font. These bold, capitalized words perfectly captured the brand and its robust messaging.
These ads encourage women in a clever and passionate way to take time for themselves and make fitness and physical activity a major part of their lives. And it encourages people to drop the stigmas surrounding women in sports, empowering them to take time for themselves and hit the court for a game. These ads are in-your-face and compelling. And we love the messaging that they promote.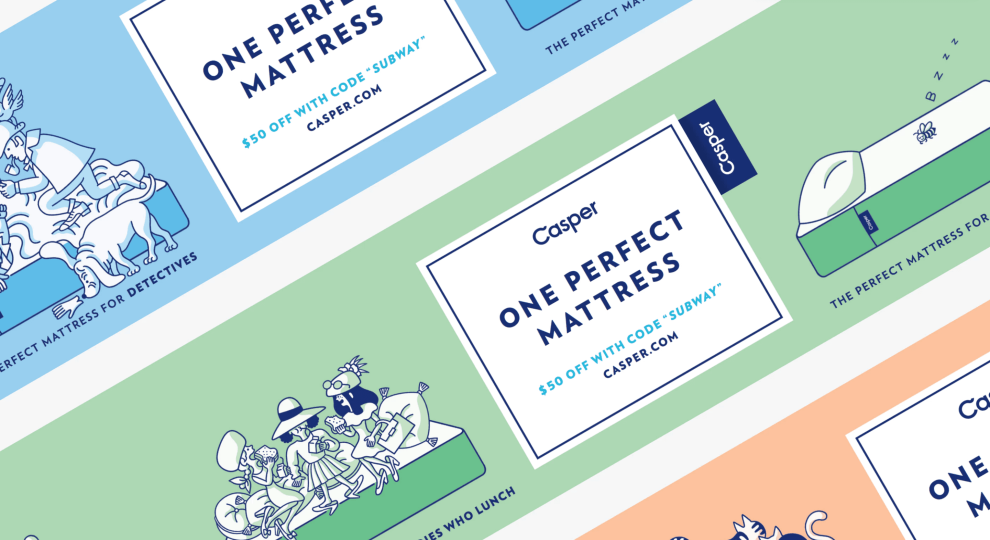 Casper is an up and coming mattress and bedding brand that is based almost entirely online. And to capture the Casper experience, the brand rolled out an extensive and creative marketing campaign to raise awareness and promote the brand's approachable and friendly identity. f you wish to do the same, you can always hire one of the most creative digital marketing agencies we have listed in our directory.
The Casper brand promotes its friendly, relatable identity with the use of clever and bubbly illustrations. These, matched with a humorous message makes these billboards an exciting and effervescent design that people actually enjoy interacting with.
These designs are made up of light and airy pastel colors that instantly put people at ease and put them in the mindset of relaxation — which is exactly what the Casper mattresses promote. On these pastel backgrounds sit a myriad of airy and bubbly illustrations. They are cute and creative and fun — promoting a brand that is intuitive and cool.
These images are paired with a clever and funny line of text that promotes the mattress in a humorous way, encouraging laughter from passersby.
These billboards promote the brand and its products in a breezy and clean way, playing with imagery and humor to grab attention and keep viewers interested.
Whimsical, ethereal and fun — those are just a few of the words used to describe these designs, and they certainly put you in the mindset to sit back, relax and drift off into dreamland.
Coca-Cola went above and beyond in its recent billboard campaign. The brand rolled out the first-ever three-dimensional, robotic billboard that engages with audiences thanks to its interactive elements.
This robotic sign took up shop in Times Square, spanning six stories and featuring 1,760 independently moving LED screens. This sign comes with a choreographed display that really stands out and grabs attention in the bustling arena.
According to Kim Gnatt, Business Strategy Group Director for the brand:
From the beginning, our brief was to create a pause-and-refresh moment in the crowded environment of Times Square.Our proprietary 3D technology brings our iconic brands to life in a unique and differentiated way that will hopefully catch people's attention and make them want to engage for a longer period of time.
This billboard is the first of its kind, and it's one that marks almost 100 years of Coca-Cola legacy in the popular area. It's a fun billboard that promotes the innovative nature of the brand and aligns it as a leader in the industry — one that has been at the top of its game for years and will continue to be for years to come.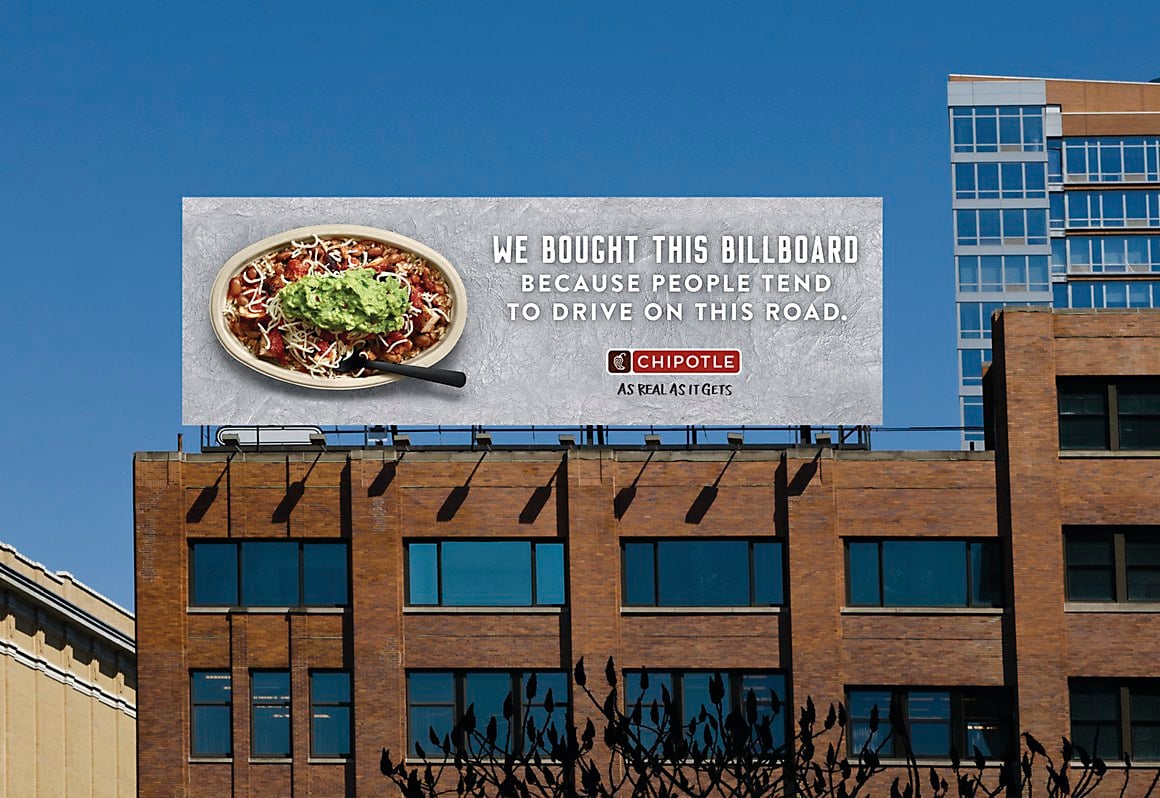 The Chipotle brand has had its ups and downs in recent years — with scandals and outbreaks shedding a negative light on the burrito brand. But a clever billboard campaign hoped to change perceptions and urge consumers to come back to the brand — and they used humor to do it.
These ads use Chipotle product imagery as the main element of the design. Burritos, tacos and more make up these billboards with a funny message stamped over it. These messages don't really talk about the products themselves, but more attract attention thanks to their blunt and straightforward nature.
There's almost a transparency to these billboards that are relatively simple and in your face. They are tongue-in-cheek, avoiding annoying promotional messaging in favor of a more laid back and relaxed tone that aligns the brand as a friendly and cool personality.
This bright and bold photography, matched with the humorous and aloof tone really impacts audiences — especially younger, millennial audiences. And these are the audiences that were turned off by scandal. So this campaign hopes to bring them back.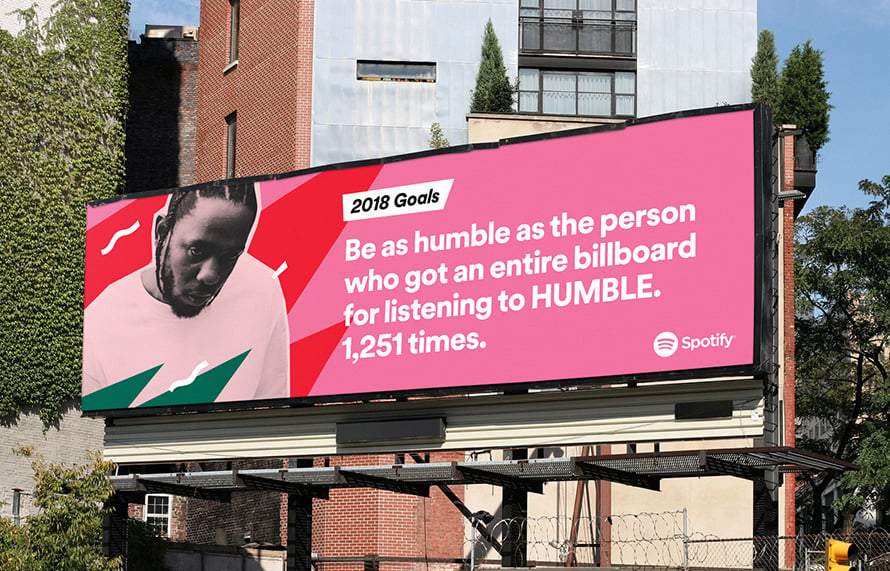 Spotify has always been a brand that came off as fun, young and cool. Promoting music does that to a brand, I guess, and that identity has helped the Spotify brand grow into one of the biggest names in music streaming.
But Spotify went a different route with its billboard campaign, turning to consumer data to create customized and personal ads that use Spotify user information to grab attention and induce laughter. Using data they have on certain song listening statistics, Spotify broadcasted to the world funny information about listening behavior.
It called out people who listened to certain songs and made comments about people who maybe listened to a song a little too much.
These billboards are created in typical Spotify fashion, with the iconic playfulness and color incorporated into the design. They're fun, cool and creative, engaging on a highly personal level and grabbing attention by being an approachable brand that knows how to make you laugh.
These ads impact consumers and create a conversation. And they are easy to enjoy because they encourage you to interact with and tell your friends about.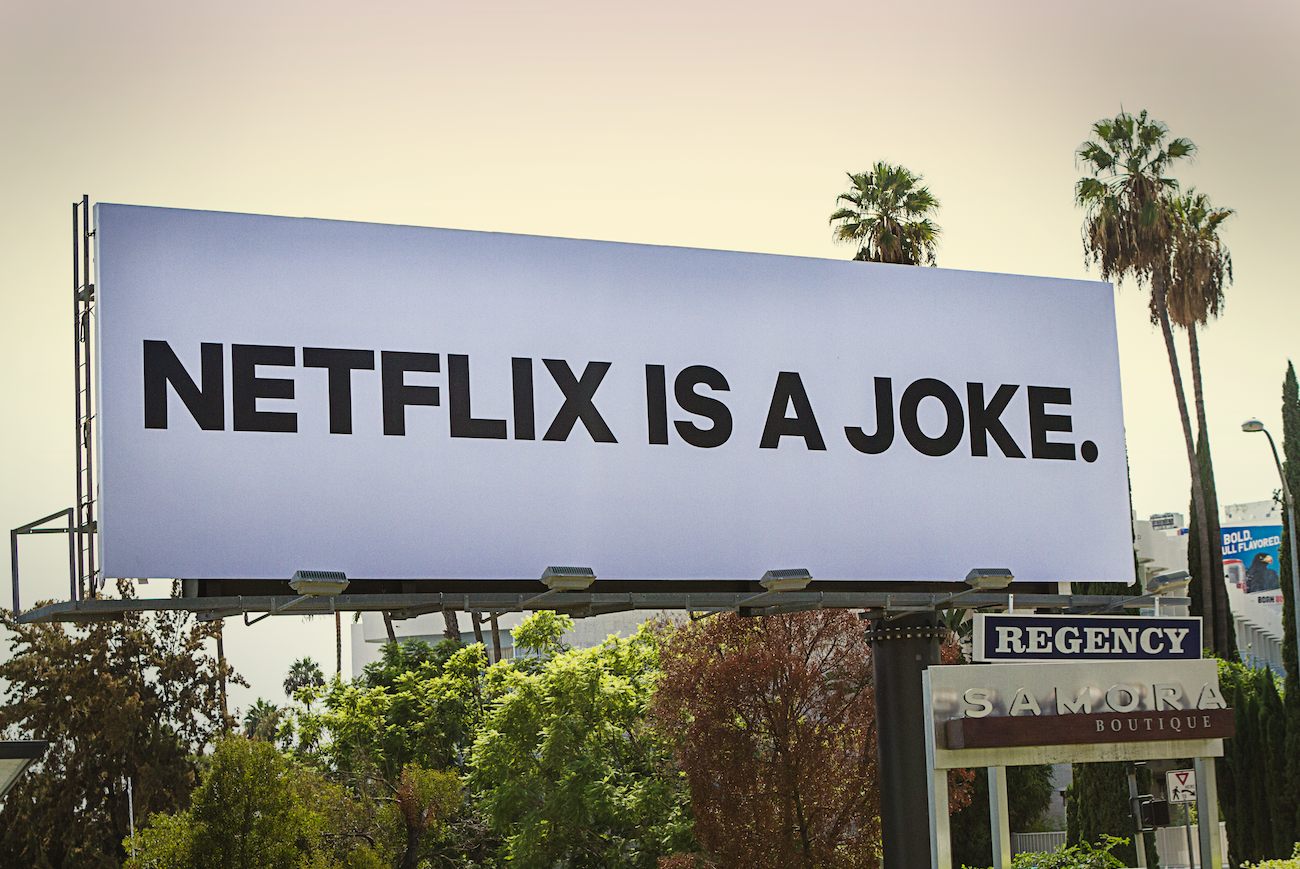 About a year ago, weird ads started showing up across the country. Big billboards with a white background and a simple line of text started popping up. The next was written out in bold, black sans-serif font.
"Netflix is a joke."
That was the message greeting commuters across the country, and it certainly left people a little bit confused. Who was putting up these billboards? What do they mean? And how could someone actually dislike Netflix?
It turns out that the campaign was actually a publicity stunt by none other than Netflix itself, and it was a powerful one that really got people talking.
Netflix is known for its creative advertising and fun persona. And this campaign captured that essence but infused a clever twist that got a discussion going. It was another way to increase brand awareness and drive home the brand and its identity as an approachable, cool and easy-to-interact with an entity that consumers are happy to turn to after a long day at work.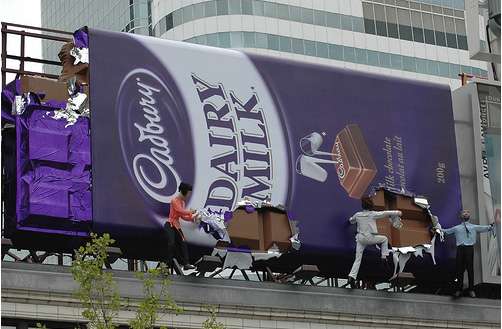 There are so many moving parts to this Cadbury billboard. First of all, it's three-dimensional. The billboard is like a performance, with little figures ripping away at the packaging to reveal the delectable chocolate inside.
It's a fun and creative billboard that makes use of shape and texture as well as color, imagery and typography. And it sends a clear message — Cadbury chocolate is irresistible. Just looking at the billboard, you'd instantly agree.
You almost wish you could be scaling the pole to get up to that chocolatey goodness. This billboard is bold and in your face, but it's also playful, creative and wistful. There's an enchanting element to this design — and it's so simple, you're almost surprised by how impactful it is.
Cadbury knows its products sell, so they let the chocolate do all the talking.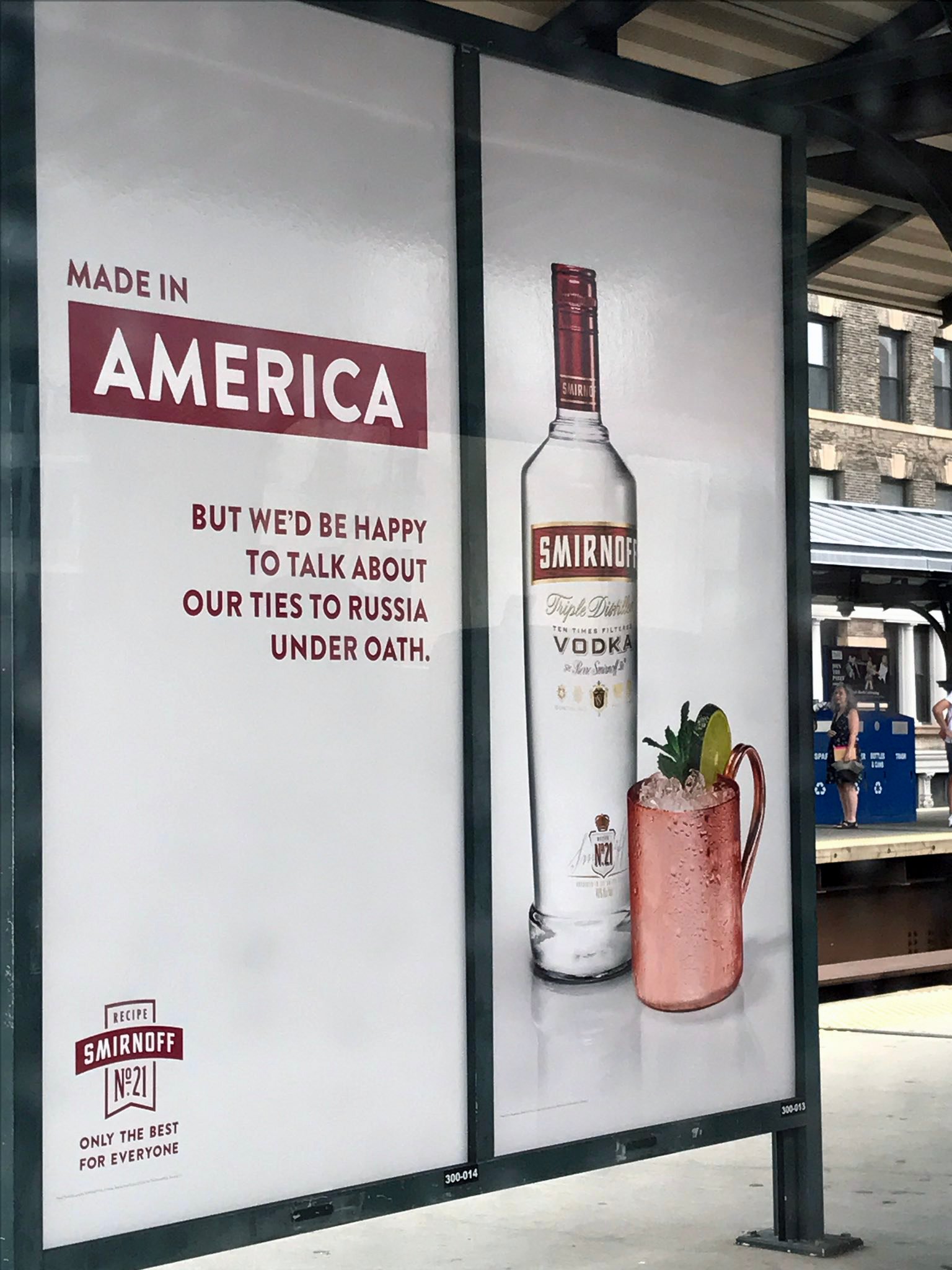 Smirnoff is a popular vodka brand, bit with its latest ads it went political, poking fun at the Donald Trump presidency by declaring it would talk about its ties to Russia — in reference to the scandal between the campaign and Russian involvement.
It's a clever move that aligns itself politically, but also shows it's a modern and fresh brand that knows how to capitalize on the current times. And it's also very smart — because vodka is extremely synonymous with Russia in general.
This simple, clean billboard includes an image of the Smirnoff bottle, befit with a Moscow Mule. It's funny, witty and pointed — and it's not holding back. The simplicity here is extremely engaging, it's not trying too hard — just enough to be heard and throw its two cents in.
Going political can be a big challenge for many brands because it has the potential to alienate a large part of their customer base. But here, it works because the brand itself has ties to the content it is bringing up in the advertisement.
We love this Smirnoff ad because it's bold and it takes a stand — and other brands can learn from its bravery.
What Makes Billboard Ad Campaigns So Effective?
They reach a wide variety of people from all walks of life.
They provide a large medium for brands to promote a singular, engaging message and brand identity.
Don't let anyone tell you that billboard ads and other print campaigns are going out of style. They are still an effective and impactful way to reach out to audiences old and new to promote your brand, products and services.
Just because our world is becoming increasingly more digital, doesn't mean that people don't still get excited about a clever and intuitive print and billboard ad. In fact, these ads are oftentimes more impactful because they take people by surprise and influence them when they're least expecting it.
And this leaves a more visceral impact.
With billboards, brands can let their personalities shine through. They can get their name heard, seen and experienced with ease and efficiency. And they can open themselves up to new audiences which will hopefully lead to more exposure, conversions and ultimately sales.
Billboard Ad Campaigns That Shine
These 12 billboard ads are clear winners in our book — they're bold, engaging and fun, embodying their respective brands and promoting products in a way that turns heads and grabs attention.
These designs are impactful right from the start, using imagery, typography and messaging to elicit a reaction and evoke an emotion. Some are humorous, some are innovative and some are touching — but what ties them all together is their understanding of their targeted audience and their ability to cause a reaction.
Billboard ads come in all shapes and sizes, and they can be placed anywhere — from the suburbs to bustling cities. Placement matters just like design does — and these 12 ads are prime examples of brands understanding their audience, their identity and their overall domination in their industries.
Brands can learn a lot from these advertisements. Because billboards are still relevant, and these ads still have the potential to make an impact on consumers. These ads certainly turn heads, and yours could too.
Our design experts recognize the most innovative and creative designs from across the globe. Visit Design Awards to see the:
Our team also ranks agencies worldwide to help you find a qualified agency partner. Visit our Agency Directory for the top Logo Design Companies, as well as:
Subscribe to Spotlight Newsletter
Subscribe to our newsletter to get the latest industry news