The road to parenthood is paved with rollercoaster emotions, questions, and milestones. Luckily, the digital world offers an array of beautifully designed pregnancy websites that help expectant parents navigate this journey.
These digital hubs are more than just sources of information; they're immersive experiences designed to accompany you every step of the way. Here are the best pregnancy website designs that marry creativity and parenthood experiences!
Also, check out the best website designs on our platform and connect with some of the talented website designers on DesignRush!
Standout Features:
Simple, easy-to-follow layout
Hamburger menu
Realistic photography
The simplicity of Joyce Hoek-Pula's Embracing Birth website makes it one of the best pregnancy web designs. From the uncomplicated layout with a soft color palette, Elan Creative provides an easy-to-follow, straightforward web layout.
While the homepage features the services, blog, and contact page, the hamburger menu houses links to other pages on the website. You can learn more about their services, including after-birth services, training for professionals, and a calendar.
The realistic photos scattered across every section strengthen the website's credibility and add a sense of relatability.
Standout Features:
Direct and conversational
Testimonial section
Great use of positive space
Noah Rahm developed and designed the Options Pregnancy Center of Ava's website, a company that provides compassion and much-needed care to women with crisis pregnancies online.
The website's tone is conversational yet supportive, with select words and phrases in bold to emphasize their intention. The blue accents add a professional touch, so you're assured you're in good hands with them.
The first half of the homepage has plenty of photos. As you scroll further below, you'll see that most sections feature easy-to-read text content laid on vast, clean white spaces.
The supportive tone of the website extends to the testimonial section and a call-to-action with helpful links to their contact and services page.
Standout Features:
Warm and welcoming
Color-coded cards
Prominent About section
Chiropractic & Pregnancy is a website designed to introduce Dr. Nicole Clemente. Do Well Design Studio paid great attention to making it warm and welcoming across the layout.
The website design includes various colors to keep it from looking dull. As you scroll, you can find different shades of purple and blue across the layout. Purple adds a touch of femininity, while blue is commonly associated with professionalism and reliability.
The range of services is presented through eye-catching color-coded cards. Another highlight of the website design is the prominent About section, where you'll see a photo of Dr. Clemente and a brief description, adding to her credibility. (Find more interesting About Us pages.)
Standout Features:
Playful colors
Wavy section borders
Cool dynamic effects
Diéresis Brand Consulting Agency's design for the new FPPBC website features a strong yet playful color palette and lots of positive space. As a result, this website design is cohesive and user-friendly.
The section borders have wavy lines and a purple gradient for a pop of color amidst the white background, adding a touch of playfulness. Colorful graphics also make the website less intimidating.
Website photos are presented in square frames with rounded edges, ensuring a friendly and laid-back vibe. There are also subtle effects like buttons changing colors and text cards zooming in to keep the design dynamic.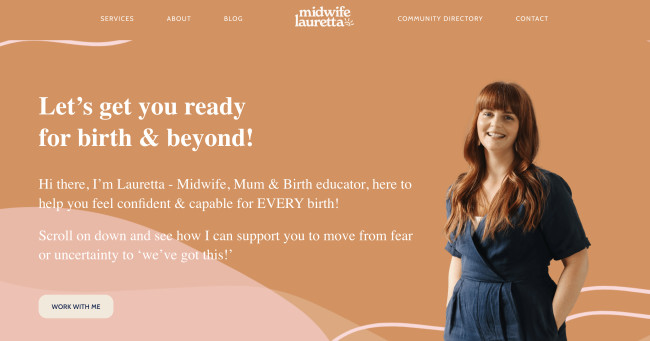 Standout Features:
Soft color palette
Realistic photos
Unique blog section
Midwife Lauretta's website is one of the best pregnancy web designs because of its friendly, warm, and customer-centric layout. To achieve this look, website design agency Cass Aggett combined clean typography with a pastel color palette (Browse through other simple website designs here.)
Together, these elements build a welcoming vibe. Photos of Lauretta herself with her clients add a sense of trustworthiness and credibility, assuring potential clients of her expertise.
Another standout feature of this design is the blog section. The website's blog discusses birth stories that serve as the midwife's diary.
Standout Features:
Increased letter spacing
Modern and elegant
Soothing pastel colors
Hold Space Creative designed the website for Rebecca Newton, LMFT. The agency used muted colors for a relaxing atmosphere, adorned with small graphics and minimal textures. This also reflects the soothing and healing nature of her services as a therapist.
The large font for headings makes them stand out, while the positive space ensures texts are easy to read.
Check out other exquisite modern website designs.
7. Philips Avent by Wiriya Design
Standout Features:
Purple accents
Minimal iconography
Product recommendation feature
Wiriya Design's approach to the Philips Avent website design is an excellent example of delivering an exceptional user experience while keeping it clean and simple. This earns its spot in this list of the best pregnancy website designs.
The hero section features a toddler blowing bubbles, followed by a call to action that sets the expectations from the website. Next is a series of product recommendations based on popularity, price, and exclusive deals.
If you're unsure what to buy, there's a section below for products segregated per category, like baby monitors, bottles, bottle warmers, and more. This user-oriented design makes it easy to navigate and shop.
Standout Features:
Light colors with a twist
Subtle moving graphics
Informative layout
Melbourne Mothers is an Australian family business that relies on their professional and personal experience to help future parents adapt to their new lifestyle. Digital Practice ensures the company has a pleasant, welcoming website design that clearly conveys its mission.
The website design has a light-colored background with subtle moving graphics to accent the headers and select sections. On the other hand, the dark blue typography is easily legible on a lighter background.
Wrapping up the features that make this one of the best pregnancy website designs is the informative layout with easy-to-find links to other pages.
Subscribe to Spotlight Newsletter
Subscribe to our newsletter to get the latest industry news