13 Best Beauty Logo Designs Of 2021 To Inspire Your Skincare Or Makeup Brand
Stats show that a signature color in logo design contributes to 80% rise in brand recognition!

Color is merely one of three logo elements - others are symbol and font. All of them combine to create the most visible imagery of any business that is printed on any product or service.
A beauty logo can say a lot about products, philosophy and values of the brand in the makeup and skincare industry.
It can display history and prestige. It can emphasize a moral value or important characteristic. It can evoke a specific emotion.

The global cosmetics industry is projected to reach $429.8 billion by 2022.
In such a massive market getting an edge over the huge competition is paramount. The first impression about a business including the beauty logo, with the most immediate punch, can make or break a purchase of a product.
These 13 beauty logo designs are perfect examples of logo design mastery. They are stunning, exciting and bold -- and they certainly leave an impact on consumers worldwide.
Sleek And Boss Makeup Brand Logos
Fenty Beauty is a popular makeup brand created by Rihanna. It's one of the hottest brands on this list and has made headlines for a wide range of foundation tones and shades — perfect for almost all skin types.
But it's not just its products that stand out — the new Fenty Beauty logo is equally iconic.
The redesigned logo replaced the old, more classic-looking one, in the summer of 2020. It is decidedly contemporary - and inspired by traditional monograms.

It's strongly geometrical and it was described as "aiming to reflect the complexity of Rihanna's character."

The logotype version (without the name of the brand in sans serif) is used on release announcements and in isolation across product details.
The backward "N" adds a cool, innovative and edgy tone to the logo that elevates the brand's mastery in the cosmetic industry.
The Fenty Beauty logo is modern, fresh and clean — a standout design that is leagues ahead of its competition. Will it be deemed one of the best beauty logo redesigns in recent times?
Nars is a cosmetics, beauty and skincare brand dedicated to exciting, enticing and seductive products. Similarly, its logo design is a real stunner in its sophistication, sleekness and pure seductive nature.

One of their most popular product lines is dubbed Orgasm Collection. The risque title is a general reflection of where the brand is going with their messaging and visuals - logo included.
The Nars logo is an extremely minimal and simple logo. It's made up of a wordmark — but that doesn't mean it's outdated, old or boring.
On the contrary, this exciting beauty logo keeps you on your toes and compels you to take a closer look.
This is a logo that doesn't need any additional designs or elements. It doesn't need a symbol, emblem or compressed image to stand in its place on the packaging or across mediums.
It's a strong, resilient and powerful logo that promotes class, sophistication and innovation in the cosmetics industry.
Luxurious And Iconic Beauty Brand Logos
Estee Lauder is a brand that exudes luxury and sophistication. It's an iconic beauty brand that's been in the business for decades, creating stunning and majestic products from makeup to perfume and beyond. It's known for its class and elegance. It's an industry leader, and it has held onto this vibe for years.
In addition to the powerful legacy that comes from this brand and its products, the Estee Lauder logo holds that majesty, prestige and honor.
The Estee Lauder logo is another that's broken down into two parts — the illustrated monogram and the wordmark.
The monogram is made up of the overlapping E and L of the brand name in a curly, creative and luxurious font.
The letters curl and swirl and glide inside of the rectangular design that holds this monogram together. It's luxurious and regal and stunning. It's bold and inspiring, with a creativity and an honor that is timeless, serene and beautiful.
The wordmark is made up of a capitalized, sans-serif font. It stands strongly, contrasting elegantly with the swirly and fluid nature of the monogram.
It's bold, sleek and modern. It balances a regal history with a modern strength that can't be ignored or tamed. This logo has stood the test of time and will continue for years to come.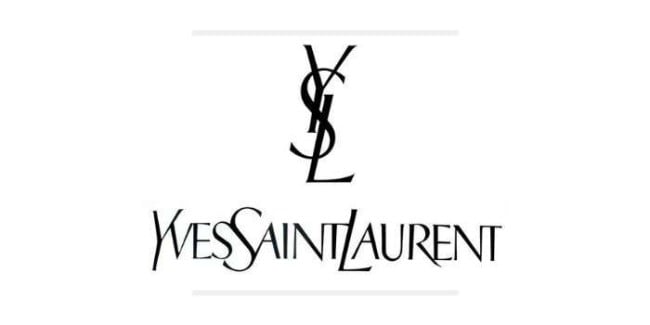 Yves Saint Laurent is a makeup, fragrance and beauty brand that has been around for decades, first beginning as a French retailer. It has held onto that prominence and legacy in its long history and doesn't sacrifice style for form — whether in its makeup staples, beauty products or logo design.
The Yves Saint Laurent logo emphasizes that same heritage, integrity and majesty in its beauty logo design. This is a brand that has been in the business of luxury for decades, and it can be felt through this stunning design.
This is a design with a creative and edgy monogram and wordmark. The monogram is made up of three overlapping, uppercase letters.
The design is edgy, sophisticated and strong. There's a legacy to it and a majesty that can't be ignored. It exudes authenticity and authority.
Edgy Makeup Brand Logos
Urban Decay is an iconic, edgy and modern cosmetic brand that is revolutionizing the world of beauty thanks to its gritty, enlightening and seductive makeup products. It's a brand that knows what it's good at, what its audience wants and gives it to them in a fun and flirty package.
The Urban Decay logo is another one that often plays with colors — a deep, regal and majestic purple that oozes luxury and class.
This beauty logo is almost made up of a monogram illustration and a wordmark. The monogram is made up of a creative and edgy letter combination. The U and D are uppercase and angular, with soft swirls, hard lines and modern flair.
This design overall is sophisticated, sleek and surreal. It exudes resilience, excellence and honor in a sweet and subtle way. It's a logo that can be seen from a mile away and stands on its own in a stunning way.
Started by contemporary goth pin-up icon and TV personality Katherine Von Drachenberg also known as Kat Von D, this line of beauty products gradually rose to prominence in the last several years, having been launched in 2008.

Kat Von D Beauty makeup brand is vegan and cruelty-free and is on PETA's list of cruelty-free brands. However, its defining charateristic are the long-lasting quality of its pigments in liners, eye makeup, lipsticks, highlighters, foundations and various other products.

This brand's logo itself is akin to subculture it was established in. Imagery reminiscent of goth and heavy metal scene is present in logo's complex lines that resemble caligraphy, with a decidedly feminine tone to it.

The logo is a mirror of this beauty brand's products, often described as bold, unexpected and vivid. Its aesthetics is directly derived from Kat's tattoo artistry in its intricate typography pattern even in its retail locations which echo stylistic cues from gothic art and architecture.
Bold and Youthful Makeup Logos
The Benefit brand is friendly, creative and artistic. It's a sophisticated and silly design that is equal parts interesting, minimal and eye-catching.
The brand has an identity that is extremely approachable, engaging and friendly. It markets itself as a retro makeup guru that can elevate your style in a fun and nostalgic way — and their logo holds some of these values.
Modern, edgy and serene — the Benefit logo is made up of a simple wordmark that sits in a lowercase, serif font.
But the excitement in this logo comes in its simplicity — especially in comparison to the surrounding packaging.
This brand uses vintage and retro design elements, along with bright pops of color to stand out from the competition.
It Cosmetics is a beauty brand that dares to be different. It takes a fluid, natural and positive approach to makeup and skincare that encourages inner beauty and self-confidence in an inspiring and enlightening way.
Similarly, the It Cosmetics logo is a stunning display of down-to-earth modernity, edgy simplicity and on-trend logo design.
The It stands strong in this beauty logo design, taking center stage and daring to be seen. It's written out in a big, bold lowercase font. It stands tall, overlooking the rest of the design in a fun, flirty and engaging way. It's written out like a paintbrush, with lines that are fluid, dynamic and fun.
This logo is fun, exciting and minimal — and it certainly makes you stop and stare.
9. Glossier
Glossier is a modern cosmetic brand that is known for its simplicity and minimalism — in its product offering and its product packaging. It utilizes clean lines, bright clean space and subdued colors.
Similarly, this beauty logo design emanates simplicity in its emphasis on clean lines and subtle illustrations.
The logo design seen on the packaging and on the makeup itself is soft, subtle and sophisticated with a modern edge and a soft vibe that is perfectly and elegantly balanced.
This is a brand that understands the consumer landscape. It knows its audience and the kind of products and packaging they're looking for.
And they use their logo to further promote their brand identity and connect on a personal level.
Glossier takes its identity seriously. It keeps it consistent and fluid across all designs and does so with class and grace.
Raw, Natural And Cruelty-Free Beauty Logos
Kiehl's creates naturally-inspired skincare, body and hair care products. It creates routines and regiments that are personalized and customized to specific and targeted skincare needs.
The first store opened 165 years ago as a New York apothecary, but it has evolved into a brand that cares about all-natural products and the consumers that use them.
To capture this friendly, homely vibe, the brand went with a beauty logo design that is fun, flirty and friendly. The design is made up of a wordmark that excited, amazes and draws your attention almost immediately.
This brand is one with a face and a soul — it's not just a lifeless corporate entity. It has a personality that is tangible.
Origins is a skincare and cosmetics brand that pulls from all-natural ingredients and influences to create products that are good for your sense of style, the earth and for your skin.
All-natural and scientifically tested ingredients go into the creation of these products, and you can see it in its packaging simplicity, and its logo design.
The Origins logo is oftentimes seen in a light green font, pulling from natural elements to create a design that promotes the organic nature of the brand as a whole.
It's organic, natural and stunning. It's a creative design that shows the brand's dedication to positivity and all-natural, science-backed products.
But there's a modernity to the design in the subtle empty space integrated into these trees. This colorful design stands out. It makes a point.
It dares to be seen. You can't ignore a brand whose beauty logo is bright, bold and dynamic in the way this brand is — and you don't want to.
Aveda is another beauty brand that puts a focus on all-natural products and plant-based, scientific evidence. In fact, the brand's tagline is "the art and science of flower and plant essences."
Made up of a sleek, minimal and modern wordmark, this beauty logo design stands strong and resolute.
This innovative and futuristic design has elements that elevate the brand to the level of leader. It specializes in science, and you can see that in the design elements that the logo embodies.
This sleek and minimal logo isn't easily overlooked. It isn't easily forgotten. It's a strong logo that cleverly embodies the brand's legacy, values and moral compass.
There's a balance that's struck here that is beautiful, sophisticated and fun. You can trust this brand and its products, and this logo design helps to convey that.
Stila is an artistic and innovative cosmetics brand that puts creativity, out-of-the-box thinking and style first. The brand promotes cruelty-free products and artistry in a way that puts the cosmetic competition to shame.
It's a brand that promotes positivity, happiness and self-love while also allowing consumers the opportunity to master their own personal style.
To promote this, the brand logo is a creative, funky and organic design that exudes happiness, creativity and fun.
The logo is approachable and friendly — there are no harsh lines, angular shapes or corporate vibes to take this brand out of the hands of everyday people. It's an inviting and engaging logo design that compels, inspires and impassions.
The Stila logo is instantly recognizable, but in a soft and subtle way that lets consumers use their own imagination to fill in the blanks.
Top Beauty Logo Design Trends For 2021
Trends for logo design in 2021 will affect the beauty and cosmetics industry as well. These are some of the most notable changes we can expect moving forward this year and beyond.
Vivid Colours
In order to grasp the attention of the audience instantly, advertisers and beauty companies will turn to "louder" palettes and vibrant colors on beauty logos.
Responsive Logos
Since digital advertising spending overtook traditional for the first time in 2019, 2021 will be the year of responsive logos - developed exclusively for mobile platforms where half of all internet traffic is taking place.

Because smaller smartphone and tablet screens are taking precedence, beauty and cosmetics brands must optimize their logos for them. A responsive logo appears as less embellished on the screen and retains readability. On the larger screen, the same beauty logo is more complex and detailed.
Use of Gradients
After years of solid colors dominating logos, gradient hues with multiple shades will be taking off in 2021. Beauty brands are expected to go down this route which is seen as a refreshment after years of minimalistic approach and mostly mono or duo-chrome logo design.
Negative Space Use
FedEx logo is the multi-awarded solution that is best known for its use of negative space in the mythical white arrow in "Ex".
This clever trick is quite untapped among beauty brands that may resort to is quite soon, in the attempt to differentiate themselves from their competitors.
Negative space could be used to enhance certain sections of the beauty logo that need emphasizing, in order to grab the attention of consumers.
Creative Typography And Fonts
Generic, mass-used fonts just won't cut it anymore - logos of top-class beauty brands will need a personal artistic touch.
There is a lot of emphasis in typography in design, which is a field of its own - and after a year of simplistic typography that was 2020, this year will mark a 180 degree turn, with more creative typographies on the horizon to reinforce identities of beauty brands.
Beauty Logos Designs And Their Impact On Brand Identity
These beauty logo designs are full of inspiration for any brand or business looking to see what works and what doesn't. They're full of life, happiness and emotionally-evoking elements that reel consumers in and keep them engaged
There's a lot that goes into beauty logo designs. Logos need to embody the brand and its identity in its entirety. It needs to promote a personality and a set of values and objectives.
Logo designs need to stand out. They need to blend in, follow trends but simultaneously make a statement. These designs are vital for brands that want a successful and happy career.
Beauty brands need logos that stand out from the competition -- considering the hundred of brands vying for consumer attention and loyalty. They need to embody a light and brightness. They need to set a tone. They need to seduce.
That's a hefty order, but these logo designs nail it. And yours can too, you just need a little inspiration.
The Top Beauty Logo Design Agencies of 2021
1. DePersico Creative
DePersico Creative develops captivating designs, compelling brands and product messages that inspire consumers and trigger purchase decisions. The company partners with businesses in the retail sector and has worked with notable clients like Arnold, Durkee and Blue Diamond Almonds.
Some of the key services they offer include naming, logo design, brand identity and brand launches.
Read DePersico Creative's DesignRush reviews here.
2. WANDR
WANDR is an award-winning product startegy and UX design company that specializes in logo design, brand strategy and development, visual design, web design and consulting.
Their primary focus is to understand the customers' needs through qualitative research and deliver outstanding products ande designs that the audience loves.
Read WANDR's DesignRush reviews here.
3. Crafted
Crafted is a creative branding agency that partners with startups and fortune 100 brands across the globe. They have experience in logo design, video production, website development ad content marketing.
The company serves various industries including sports, entertainment, food & beverage, retail and travel.
Read Crafted's DesignRush reviews here.
4. Slice Design
Slice Design is a UK-based branding and packaging design agency that serves both startups and big brands. From logo design to naming and brand guidelines, the company offers full-service branding that helps businesses grow.
Some of the industries they serve are beauty, food & beverage and healthcare.
Read Slice Design's DesignRush reviews here.
5. Red Spot Design
Red Spot Design specializes in logo design, website development, video production, graphic design and more. The agency works with businesses of any size, from small mom brands to multi-million dollar companies.
They serve clients across various industries including gaming, logistics, security, aviation and technology.
https://www.redspotdesign.com/