In this day and age, any business owner that wants to stay relevant on the market should consider investing the time and resources to make a well-designed e-commerce platform.
The world has almost completely gone online, and retail and economics have followed. And that has led to innovations and developments in web design and UX technologies that are geared directly toward online consumers
To put it simply, when we say "e-commerce," the first thing that comes to mind is an online shop. 
Opening an online store for goods and/or services has become an equal part of the classic model for retail success. You can't just have a storefront, but an entire digital destination as well.
E-commerce has allowed us to do so much more when it comes to reaching our customers, acquiring potential new ones, and opening up new channels of advertising.
So it's important that your e-commerce site is up to snuff. Otherwise, you won't keep the same benefits. But what goes into a successful e-commerce website?
A crucial part of a good e-commerce service is, of course, the visual aspect in the form of web and graphic design. Dressing your online shop in a fancy new suit is often as important as the product itself. It lets your visual style communicate a message instead of just bombarding your clients with information.
In the following analysis, we will focus on your overall site as a whole, but mainly the end result of your online presence -- the checkout process.
This is where the magic happens, and where your design and features need to seal the deal. The online retailing system eliminates person-to-person communication, and it's automated to the core, so we better get as prepared as possible to make it work.
Traditionally, if such a term can be used for online activities, the checkout process is the last step of the online purchase.
In this step, the customer reviews the wanted goods, provides personal info, chooses a payment method and finishes the order. Sounds simple, doesn`t it?
Well, as it turns out there are a lot of tricks and tips that can boost sales numbers just by tweaking the checkout process.
Without further ado, let's dive into the process from beginning to end!
6 Tips For A Sales-Worthy E-Commerce Checkout Process
1. Make Sure Pre-Checkout Is Serene And Efficient
Maybe it sounds like common sense, but, believe it or not, many services don't have a well-designed pre-checkout system. 
This includes both the browsing of the site as a whole, but also the initial editing and adding process a consumer goes through when putting items into their cart and searching for new ones.
A good quality of life feature that Amazon, and some other big players, have is the quantification of items in the basket.
While a client browses, he or she may decide to put multiple different items into the basket. Without having to click out of the product page, the cart icon indicates the number of items in it, which improves the feedback the customer is getting from the site.
That's one way you can smooth the process and ensure that users feel in control at every step of the way.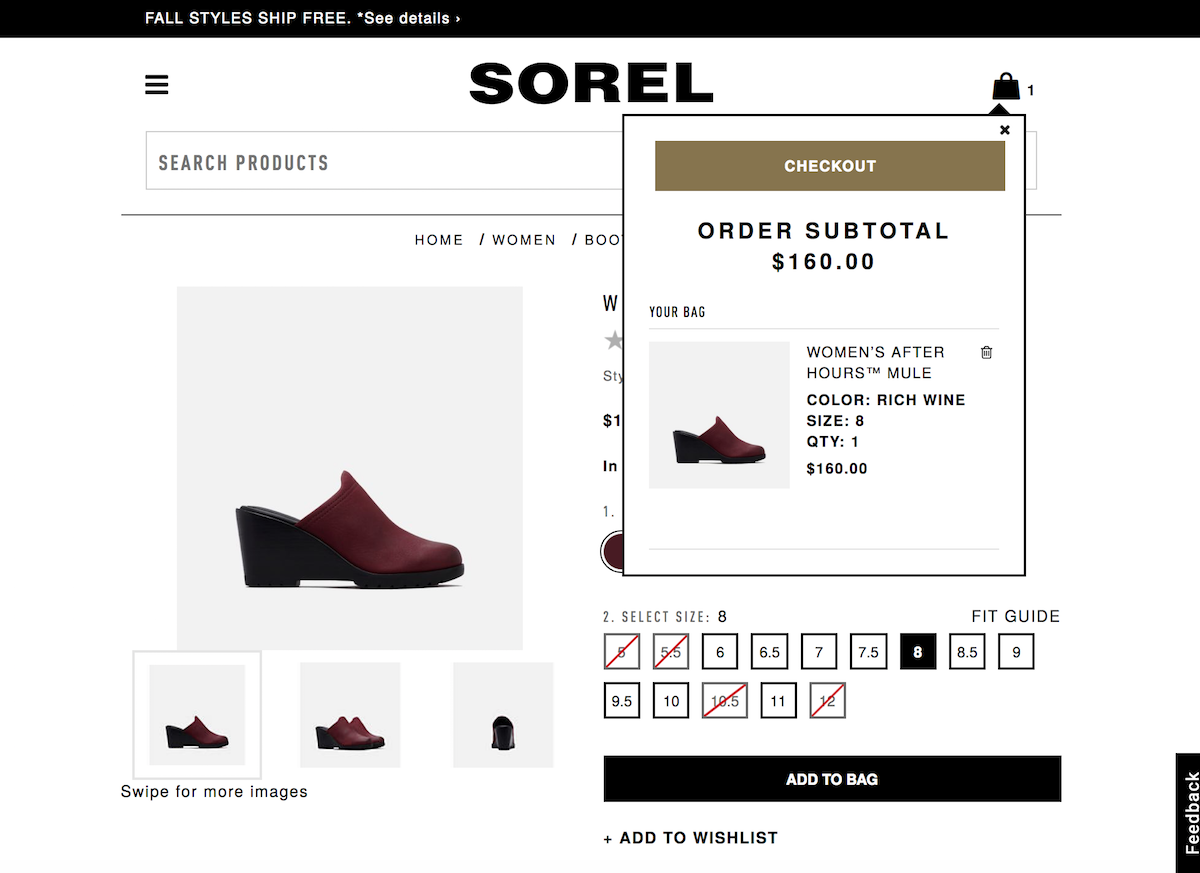 If you want to take a step further, we recommend considering the example of Sorel, a shoe retail e-commerce service.
Not only is their design minimalistic and impeccable, but it even includes an innovative feature in its shopping bag.
Essentially, the added a feature lets the consumer check the cart at any time without leaving the page they're currently on. With a simple drop-down window design, you can view, edit, and delete anything in your order before proceeding to the actual checkout.
Making a customer stay on a product page increases the chance of them considering the item shown, which leads to increased sales.
Just last year, there was an astonishing77 percent online penetration rate in the US.
That tells us that people are buying online more and more by the day.
2. Streamline The Shopping Cart To Reduce Stress
We cannot stress this enough! Lately, one-page checkouts are trending down, and rightfully so.
These types of pages are quite hard to follow, because the info is overflowing, and logically, the customer uses interest. Making a concise, streamlined page broken down into stages is the preferred type by the majority of online shoppers.
From reviewing the cart to inputting vital data, the shopping cart is a vital part of the buyer's journey. And there are many steps involved to ensure that it is clean, user-friendly and engaging. You don't want people losing interest or getting frustrated right when they've gotten to the good part.
For the sake of simplicity, let's divide the shopping cart streamlining process into three steps.
1. Shopping Cart Review
As mentioned in the example above, keeping the shopping cart accessible at all times is paramount.
And when it comes to the conclusion of the shopping process,  you need to dedicate a page to the editing of the cart. You might think that consumers will have already edited since they've had access throughout the process, but you'd be surprised by how much can change at this stage.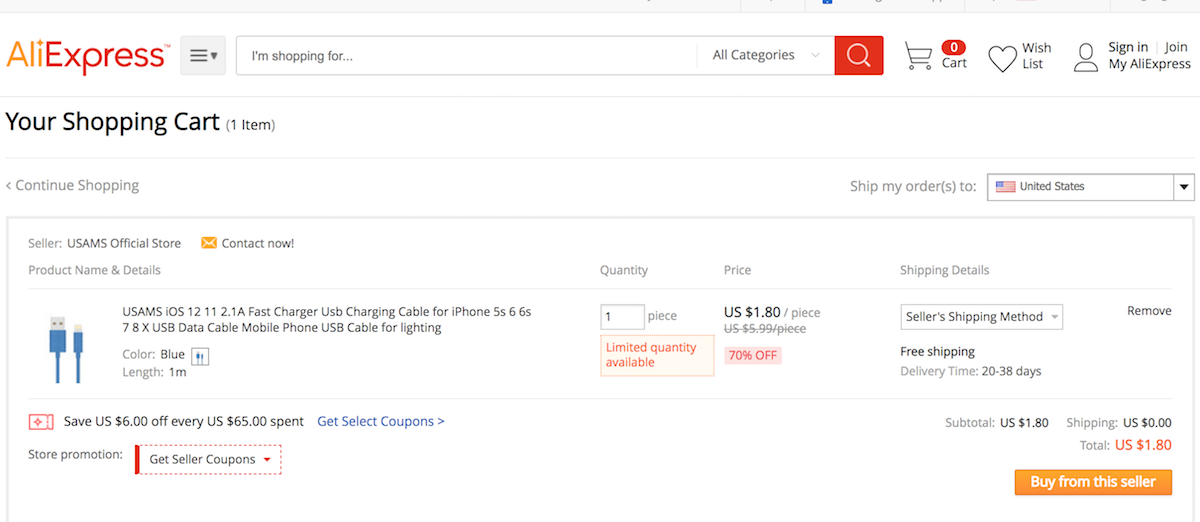 One of the best features for smaller objects is the option to change the amount of the same item a customer wants to order. This is, as seen on sites like AliExpress, most commonly solved with a simple +/- symbol set. Nothing nuanced should be added here, a system as simple as possible for the amount change is key. An additional, minimal feature could be inputting a number box that consumers can change themselves which you can also see here.
The option to remove the unwanted item is obligatory, of course, but you should consider attaching another feature next to it.
A wish list is a great way to keep the customer engaged, and an even better way to potentially make them come back to check their previous browsing of your store.
Being that you are offering ergonomic features in this section, if you have the option of special item packaging, now is the time to offer it. As seen in the very well-done example of Walmart, which added the option to wrap the item for yo at a slightly higher price.
If by any chance you offer any kind of coupon system as they do, this page should be the ideal time and place to encourage the user to utilize the coupons or special discount if available.
This leads us to the next part of the cart review: billing. Ah, the most important part, according to the customers.
According to Smart Insights, only14.5 percentof all sessions come to the Add-to-Cart part.
When it comes to this part, make sure your brand is transparent. Transparency is vital for a brand as a whole, but especially when it comes to pricing.
Include the prices of shipping, taxes, and standard charges up front. And if you can, offer free shipping at certain price points to entice even more sales. This way you can hide all the costs, no matter what they are, and sum them up into that final price. Just keep in mind that the price of the item before and after putting it in the cart should stay the same if possible.
The abovementioned giant, Walmart, took a different leap forward in the pricing department.
They added a section that dissects the price into its components (like taxes) and made it all transparent. Now, keep in mind that this can be a risky move, but the end goal is building trust in the store you're representing online. Either path you decide to take, price consistency is paramount.
2. Customer Information and Order Details
This is the make it or break it part. Why? Well, as it turns out, this is the part where most retailers ask the customer to register.
Now, don't take this the wrong way, getting your customer to register has a lot of benefits:
Better feedback.
Insight into shopping habits.
A clear view of the demographics that are using your service.
Better reach in the form of promotional emails and special offers.
But sometimes it's necessary to provide a little bit of wiggle room for your audience so they don't go running for the hills. You can talk up the benefits of registering, but don't overwhelm them.
Take a page from Apple's book — don't make everyone register or sign in to an account. People don't have time for that. And they'll leave if they process gets too lengthy. Let people check out as a guest to ensure you're increasing efficiency and streamlining the process.
Eight out of top 10 US retailers offer guest checkout!
And another way to streamline this part of the checkout process is by integrating social media sign-ups and logins.
Because social media platforms, especially Facebook, allow a cross-platform sharing of data, this integration is easy and efficient.
And while you're at it, make sure you don't make consumers fill out unnecessary information like additional phone numbers and email address. Use asterisks to notify people what fields to fill in and what is required. Leave the rest optional.
And above all else, please make sure your consumers know what information they're providing and why.
People have learned a lot about privacy and data sensitivity with all the internet drama lately. And you can put your customers at ease by utilizing info buttons for personal data. To further secure your website and customer data, consider partnering with a computer security company. 
Home Depot implemented an elegant solution that a lot of companies are using. A slightly greyed out "?" that, when hovered over with a mouse or by tapping, gives a brief explanation for what the data is used for. For example: "we need the phone number in order to ensure that the delivery will arrive in the right hands."
This helps you build a sense of credibility and trust.
3. Payment Methods and Options
In this part of the checkout, building credibility is paramount.
This is the moment your customer chooses a payment method and chooses to disclose their financial information. You absolutely must make them, and their credit cards or other means, feel safe and protected from any kind of fraud.
An astonishing number of1.66 billionpeople shop online.
And they're all worried about data breaches and credit card fraud.
eBay is a great example of an exemplary checkout cart. In this example, we see that the security sense is achieved through several easy-to-do things.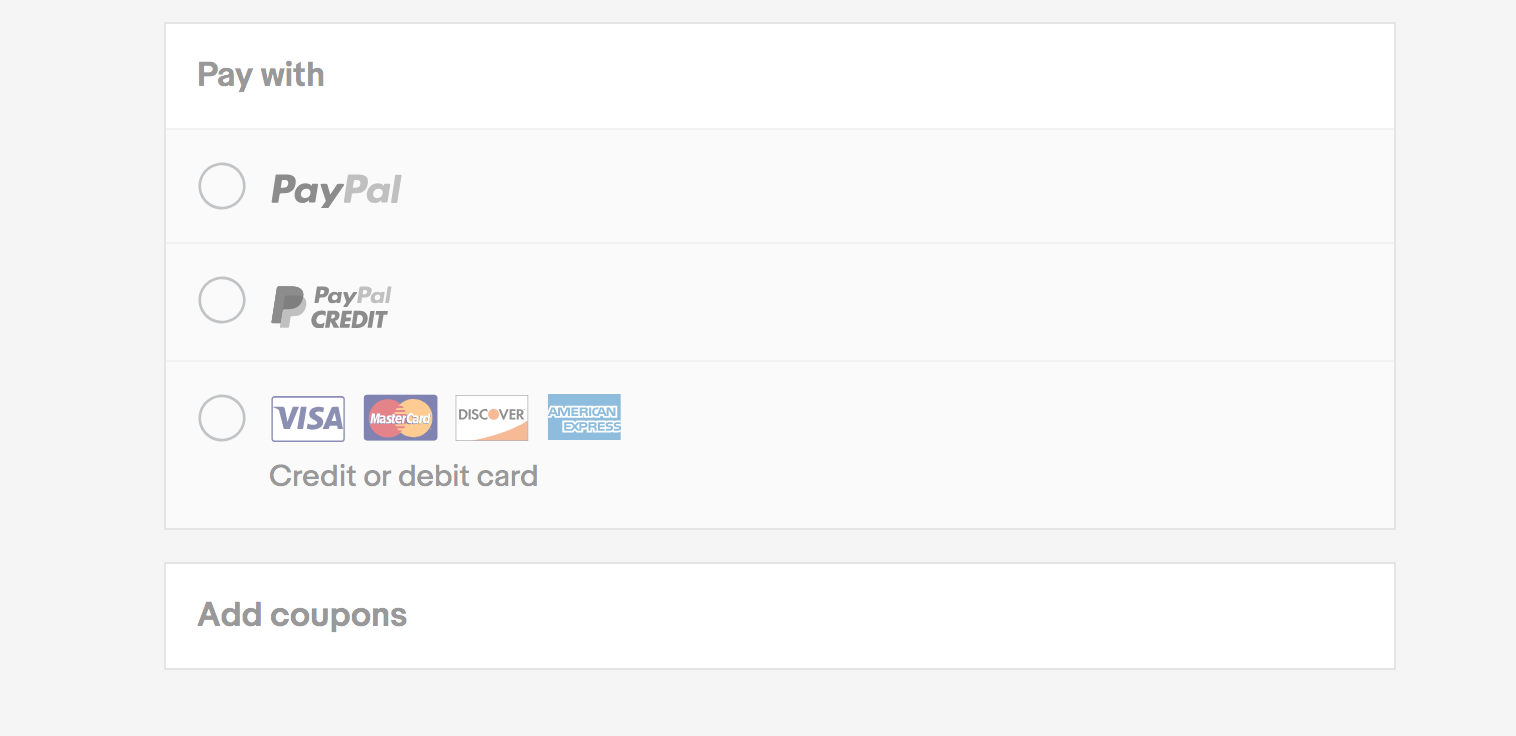 First of all, after they acquired the certificates from the wanted payment channels (banks, online payment services etc.) They made sure to display them loud and clear. Additionally, they've put all the Visa, Master Card, Maestro and similar symbols on a clear and visible spot beneath the field the customer is filling out.
Every online retailer is following this trend and you should too.
Of course, adding the possibility to purchase via popular electronic payment systems like PayPal is a great addition, being that millennials prefer this method due to its accessibility.
These are the three main sections of the checkout process, and you need to master them to ensure that you're giving your consumers the best experience possible. But outside of the physical checkout, there are still more things to consider.
Consumers are complex creatures, after all. And creating a successful and effective e-commerce platform means more than just providing an efficient checkout system.
3. Make Sure Your Site Is Accessible To All
With the ever-growing development of the world wide web, this topic is brought up more and more frequently. How can people with disabilities participate in the online shopping market? Achieving accessibility standards is a complex story, but for the sake of this piece, we'll talk about it in terms of e-commerce.
Ikea is a  Swedish retail titan that prides itself on its e-commerce accessibility standards, achieved through some easy-to-do steps that every big retailer has checked:
They use high-quality product images with great resolution; visually impaired customers will often use technological help to zoom and enhance.
They kept the alt-text on point, short and concise (which also boosts SEO score); text readers provide the support to read it out loud, so they make sense while reading the billing info to the client.
On the registration and login pages, they made sure to leave enough empty space between the lines that need to be filled. Stuffed registration forms are often non-accessible to the disabled, and not that comfortable for the standard user neither.
As an e-commerce brand, you can learn from Ikea and the features they implement. This is because these accessibility features allow for even more audiences to interact with their website. And more consumers equals more sales. It just makes sense.
Learn more about how to make your site more accessible in this handy website accessibility standards guide!
4. Keep Your Visual Design In Mind At All Points
Your website is there to make a sale for your brand so keeping your "salesperson" well-dressed is a must. Everything needs to be aesthetically pleasing — from the landing page to the checkout cart. Imagine the checkout as the signed deal you and your client are signing with each other and your overall website as the in-store experience.
There can't be anything getting in the way and causing any unwanted stress at any point.
People often make the mistake of putting extra promotions on the checkout page, in particular. And this is one way a lacking design can confuse and disrupt. Don't stress the consumer out with a cluttered and tacky design.
This goes for every aspect, just to reiterate. You need a stunning design full of exciting elements and features throughout the process to keep the experience consistent and interactive.
And Sears understands a brilliantly designed layout.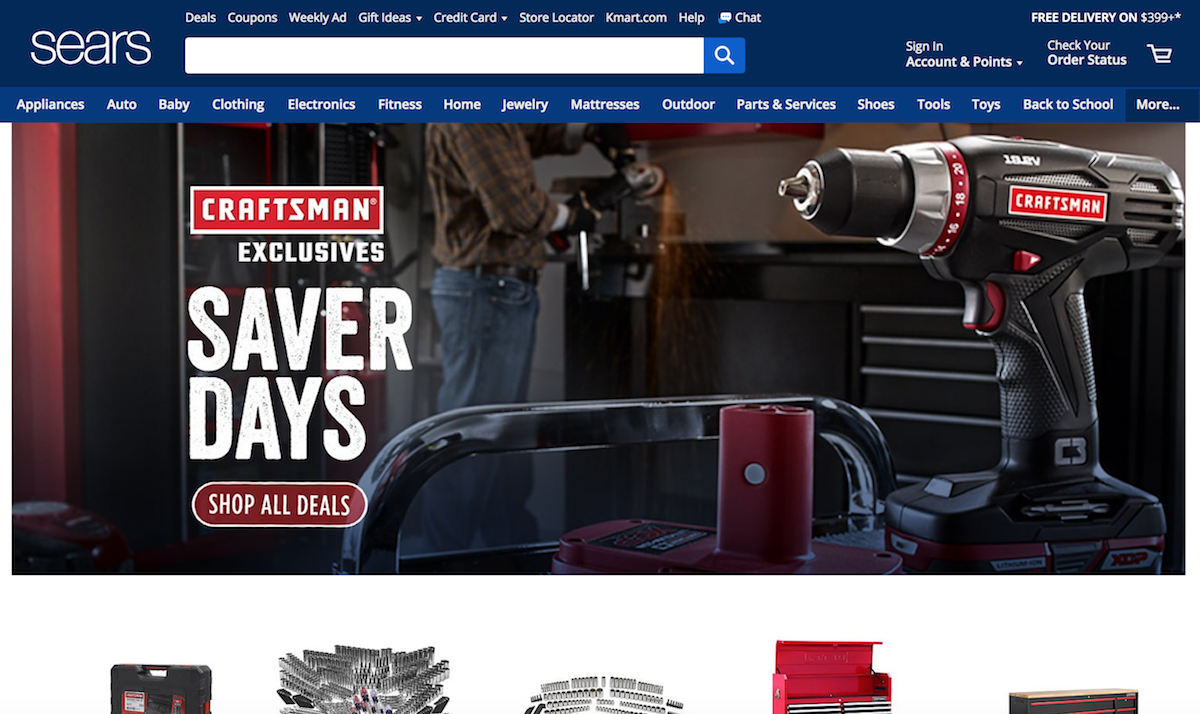 A beautifully executed design method by Sears shows us that even though they sell products from completely different categories, the design can be clean and useful. Besides standard categorization, their website is streamlined to show you chronologically what needs attention.
This brand keeps things streamlined and tight so the site is easy to use, diminishing the chances of causing confusion with their customer base.
In short, don't overdo it. And don't overthink it. Create a website that flows naturally and your consumers will follow along.
5. Ensure Your Site Is Efficient From First To Last Click
When it comes to the ergonomics of e-commerce, there is no golden rule. It's a combination of all beforementioned statistics, examples and solutions.
The whole point is to not be too flashy and let the customer browse online like they would in real life. Keep the shopping cart icon placed at the client's convenience, always visible and accessible.
Don't ever make the shopping cart confirmation window appear out of the blue. This is a proven thrill-kill, and the potential buyers abandon their shopping session at that point quite often.
Additionally, adding a sorting system (usually price sorting) is welcomed in the first stage of the checkout. Your customers will want to compare and decide which item is falling off, which one is going to the wish list, and which one they are going to purchase right now — like you see on Amazon
As a majorly customer-to-customer based service, Etsy made the checkout experience and cart customization beautiful and simple. Their customer base deals a lot with aesthetics, so they added great pictures, a wish list feature, numbering options and an option to make the wanted item a gift (special packaging).
What makes their checkout cart extra special is the option to write special instructions to the seller, with demands that could enhance not only the customer-to-seller communication but give the option to personalize the order as much as possible.
If you're building your own e-commerce site and want to keep ergonomics in mind, there are two features that can help you along your quest: breadcrumb navigation and progress bars.
Breadcrumbs
Breadcrumb navigation is a form of site navigation that shows visitors where they are on a site's hierarchy of pages without having to examine a URL structure.
And this secondary navigation feature is done poorly in68 percentof websites.
Usually, website developers implement this hierarchical breadcrumb style to make it easy to navigate and get a feeling of where you are at a given time. This tool gives the user an option to retrace their steps with ease and continue navigation through your platform, rather than just abandoning it.
One of the best-streamlined combinations of hierarchical and history type breadcrumbs occurs within Best Buy's website, and it's a prime example of how it should be done. The number of categories and sub-categories is enormous, but with their execution of this system, you simply can't get lost. When you, as a customer, change your mind and want to go back, everything is still there, from the filters applied to the text in the search box.
Online shoppers change their mind a lot while browsing, and this system keeps them browsing for hours on end, without getting tired or exhausted from applying the same filters over and over again.
Progress bar
The name speaks for itself. This feature is implemented in almost every major (and minor) e-commerce website there is.
It keeps track of a consumer's progress and keeps them focused throughout their journey. And this is necessary for an efficient and effective user experience.
6. Don't Forget About Mobile Users!
Adapting your e-commerce service for mobile users, through well-developed and well-designed apps is key to capturing this market to the fullest potential.
Nowadays, people spend a vast amount of time looking at their mobile devices sharing, socializing and most importantly shopping. Ordering via Domino's is a fun, effective and simple experience, and is a prime example of catering to a mobile audience.

This is a great example of simplicity and effectiveness. Their mobile platform, app and website look and feel incredibly familiar. The streamlined process allows you to get to your favorite pizza flavors and toppings in a matter of seconds. A couple of taps on the smartphone screen and your order is good to go.
The Power Of A Fully-Functioning E-Commerce Checkout Process
This market is surely growing, and e-commerce brand needs to ensure their websites are ready for the influx. This might entail bringing outside help to support your efforts, whether you need to hire a graphic design agency or an eCommerce development firm.
Don't be afraid to put yourself out there. The world of e-commerce has its beautiful sides —  it's reliable and ever-growing. It's full of amazing opportunities that you can take advantage of to ensure your brand continues to grow and thrive
The future is now, so you might as well seize it!
Subscribe to Spotlight Newsletter
Subscribe to our newsletter to get the latest industry news