2020 has seen its fair share of curveballs. The impact of the COVID-19 crisis and social distancing changed our lives to a great extent.
"The year of the pandemic" has made it clear that apps are at the center of our lives and we have become more dependent on them than ever before.
App Annie reports apps are expected to hit a record of $112 billion by the end of the year.
However, with as many as 6.3 billion mobile app users projected in 2021, the need for investing in trendy app ideas cannot be emphasized enough.
As we are wrapping up the year, the huge potential and the fierce competitiveness of the mobile app industry, make us reflect on the audience behavior and the most dominant app categories.
From how to come up with good app ideas to how to protect them, this is your definitive guide to profitability in the app market.
25+ Cool App Ideas That Can Win The Battle Against The Pandemic
Pastimes And Entertainment App Ideas
Covid-19's impact on the entertainment industry is huge. An InMobi survey on Consumer Sentiment Around Entertainment shows that:
18% of respondents (aged 18-25) are spending more money on entertainment applications
21% of them are using more music apps
40% of all survey respondents claim that they are spending more time on mobile games than before
Here are some cool app ideas that can bring your business profit in 2021:
#1: Karaoke App
We're not referring to a traditional karaoke setting. Singing karaoke and recording your voice on an original music background can be a convenient way to have fun and stay entertained.
Imagine adding filters to sound like your favorite artist and adding effects to produce the perfect video that you can share with a community of music lovers, your friends, family and on social media.
Sounds interesting, doesn't it?
Users can make audio or video recordings alone, in a duet or group of friends. This is a great way to have fun but also an option for amateur singers to practice singing.
#2: Random Chat App
As people are spending more time at home than ever before, doing the same activities and communicating with the same friends every day can be boring.
A random chat app can kill the monotony by allowing its users to talk to random people from around the world every time they sign in on their chat.
They can add the people they trust into trusted friends lists, make audio and video calls, share images and other types of content.
#3: Books Exchange App
Statista reports that as a result of the pandemic, in March 2020, 28% of Boomers, 24% of GenXs and 40% of Millennials were likely to read more books.
A books exchange app will allow book lovers to find and contact people in the same area who would be interested to exchange books from their home collections.
That way they can enjoy reading a new book without having to spend extra cash on another book purchase and without making more space at home for storage.
#4: Movie Scanner App
So many times it happens that we catch some great movie on TV but we don't know its name.
A movie scanner app can help here.
It will help people to scan a scene with just a single click on their mobile phones. Then, the app will reveal the name of the movie, the release year, the cast and more.
Healthcare App Ideas
The global health crisis made people around the globe turn to mobile apps to find peace of mind and manage stress.
According to AppAnnie, China saw the strongest growth in hours spent in medical and health and fitness apps or engagement increased by more than 30% during the first week of March.
The following countries saw the highest growth in healthcare app downloads:
South Korea (+135%)
India (+98%)
Spain (+65%)
United Kingdom (+60%)
Japan (+55%)
The global usage increased to 65%.
Here are some good app ideas for startup businesses in the healthcare industry that they can use to skyrocket their businesses:
#1: Consult A Doctor App
Some sectors do benefit from the pandemic and healthcare is one of them. This is why a consult a doctor app can be one of the best iPhone and Android app ideas that businesses can leverage to start earning money.
The application will allow users to register and consult a licensed doctor for non-emergency issues and whenever they are not able to visit their primary care physician.
They can send text messages, make calls, send images, videos, document files and more.
Additionally, patients can book an appointment and choose to have live video sessions.
#2: Drink Vitamins Reminder App
The usage of vitamins and minerals skyrocketed during the pandemic. In fact, a COVID-19 Consumer Survey on Dietary Supplements reveals that 91% of consumers have increased their supplement usage.
A simple platform that reminds people to take their daily dose of supplements and make them build better habits can be one of the best great web app ideas during and after the crisis.
Users can also make in-app purchases, track their effects and even receive rewards from partner brands.
#3: How To Stay Healthy Indoors App
Fitbit's report on The Impact Of Coronavirus On Global Activity shows that physical activity has lowered during the pandemic.
In fact, European countries saw the most decline in step counts, ranging from 7% to 38% throughout the last week of March 2020.
US residents, on the other hand, saw a 12% decline in step count.
An app on how to stay healthy indoors can be quite useful for Coronavirus infected patients but also for people who spend a lot of time at home and are inactive, like those working remotely.
With daily live-streamed and pre-recorded workouts that correspond to different ages, sexes and body types, the app can improve both people's mental and physical health.
Educational App Ideas
COVID-19 has left a huge mark on education. With schools being closed, this is the best time businesses can generate some web app ideas for students, parents and teachers.
Here are a few:
#1: Tutoring App
Since schools shifted to home-based learning, it comes as no surprise that some students may have fallen behind.
This is where private tutoring can come quite helpful.
The market is estimated to reach $218 billion by 2027, trailing a post-COVID-19 with a compound annual growth rate of 8%.
A tutoring app will let students find licensed tutors based on specific skills. They can schedule online classes or meet in person individually or in peer groups.
The app will also provide exercises and learning resources like slideshows, images, presentations, videos and more.
The tutors will be able to create surveys, questions, exams and other types of assignments as well as provide feedback based on performance.
#2: Exam Study App
An exam study app can be one of the cool app ideas for businesses in the education sector.
It will give students the opportunity to meet virtually and prepare for their exams. They will be able to participate in discussions, share materials, work on tasks and use free study materials.
The app will also allow them to store their homework, get notifications about upcoming tests, unfinished tasks and much more.
#3: School Communication App
A school communication app that will be developed for parents will allow them to receive notifications and communicate with teachers and other school staff members.
It will replace the traditional way of communicating via email and will give parents access to key data like attendance, grades and even photos and videos of their children's education.
They will receive notifications for holidays, upcoming events, urgent updates, social media posts, feedback polls and surveys.
Lifestyle App Ideas
Lifestyle apps continue to be one of the most popular categories in app stores.
Here are some trendy iPhone and Android app ideas that might bring you profit:
#1: Present Suggestion App
Sometimes even the great gift-givers are out of interesting options to surprise their closest ones.
A present suggestion app would leverage machine learning to look over the history of your friends' social feeds to recommend a present based on recent behavior.
#2: Don't Eat Alone App
A don't eat alone app is another example on our list of best web app ideas. It would help a person find the perfect eating companion based on:
Location
Preferences
Timeline
Users will simply enter the schedule, what they would like to eat for the day and where they are situated. Then the app will find the perfect match and pair them with someone who meets the criteria.
This way, people can avoid eating alone and make new friends.
#3: Personal Shopper App
A personal shopper app will connect unemployed people or people who need to earn some extra money with individuals in the nearby area who need someone to do some kind of shopping for them.
From buying groceries to picking prescriptions and making deliveries, they can bring the goods their neighbors need right to their doorsteps.
#4: Call A Beauty Therapist At Home App
A call a beauty therapist at home app is one of the best iPhone and Android app ideas for people, especially women, who want to avoid going to beauty salons or don't have the time.
With this app, they can book different services like massage, hair-cutting, waxing, nail treatments, skincare and more.
At the time that suits them the best, a beauty therapist will visit them in their homes to do what is requested.
#5: Become A Super Dad App
18% of men claim that they handle household responsibilities during the pandemic, whereas 14% of them take care of children by themselves.
So, this is the best time for businesses to brainstorm mobile app ideas for dads.
A become a super dad app, will help fathers better care for their home and children. It will store a huge library of in-depth guides, articles, how-to videos and other relevant content that will assist them with everyday obligations.
The app will also have a community of dads and a chat where they can ask questions, share experiences and advice.
Communication App Ideas
COVID-19 affected the way people communicate.
According to Tim Levine, a professor in the College of Arts and Sciences in Birmingham:
In other words, people turn to technology to maintain relationships.
Having said that, here are a few interesting mobile app ideas that you can take advantage of:
#1: Communicate With Your Grandparents App
With social distancing and older people being a category that is most at risk during the pandemic, face-to-face interactions with friends and family significantly decreased.
This can be harmful to their mental health and lead to loneliness, anxiety and stress.
While they can take advantage of technology to interact socially, most of them lack the skills to use them effectively.
The most popular social platforms like Facebook, Tik Tok and Instagram are a bit too modern for most elderly people.
They constantly get updated with new features and functionalities, but mostly to fit the needs of the modern generation.
In this case, some good app ideas that would connect grandparents with their children, nephews and friends can be quite helpful.
A communicate with your grandparents app will have a simple interface and be easy to use. It will have a simple chat where they can use emojis and references from their generations.
They can also engage with strangers in the app's community, share experiences, ask questions and much more.
This will keep them entertained and happier during such difficult times.
#2: Filter Your Phone Calls App
We get caught up in the million ways there are to communicate that we forget what started it all - the traditional phone call.
What if there was an app you could call from that added noises instead of emojis to make the phone call more interesting or take notes about the phone call by turning voice into written text.
Every time you mention a date it can mark it in the users' calendars, fulfill a to-do list, calculate different measurements and more.
#3: Virtual Team Building App
While partly this exists in separate apps, it would be great to have an app that gives HR departments different options to build and strengthen the team.
The primary goal of the app would be to do team building, keep remote teams and employees working from home happy and entertained during such difficult times.
Some activities may include virtual escape rooms, virtual board games, dance challenges, karaoke contests, virtual happy hours and more.
Work-From-Home App Ideas
An interesting fact says that 88% of organizations have asked or encouraged employees to work from home during the COVID-19 crisis.
Amazon was among the first companies to do so.
With more and more people working from home, businesses should come up with some good app ideas that will target this type of audience.
The following three may be an inspiration:
#1: Random Colleague Chat App
One of the biggest challenges for people working remotely is alienations from their teams and colleagues.
So, imagine there was an application that could randomly pair team members with colleagues for a 10-minute catch up twice a week.
It wouldn't even have to be about work. They could talk about random stuff like life matters, hobbies, funny cat videos, experiences and more.
That way you not only improve the team spirit and camaraderie, but you don't feel lonely anymore.
Additionally, random conversation connects employees who might otherwise never get the chance to talk to each other. So, they can make a company feel less hierarchical.
#2: Team Fitness App
There are thousands of fitness apps on the App and Google Play store.
However, this one would ensure that teams are scheduled for a home workout where everyone participates.
Much like morning standup, workouts will be compulsory. They will bring the team together and make certain everyone is healthier.
The app will also make it possible to run different challenges like who will make the most steps or push-ups. The winners can get some sort of a price or bonuses.
#3: No PJs App
This might sound silly but one of the biggest challenges working from home is the blurred line between personal and professional life. You wake up, you stay in your pajamas and work for the rest of the day.
The app will force everyone in the team to change outfits during the day to ensure a difference in psychology.
Wake up, dress for work, take a picture, post it in the app, create banter and mood for the day and go to your home office to start work.
Utility App Ideas
Here are a few good app ideas on utility:
#1: Pay With Your Fingerprint App
An app for all generations but mostly intended for older people who don't manage ePayments very well.
A single app that can integrate with local utility companies where people can authenticate transactions and pay for electricity, gas or water with just a single touch on their smartphones or tablets.
This way they can pay their bills from the comfort of their homes without having to wait in ques or make the effort to go from institution to institution.
The app will also allow them to pay for their groceries in supermarkets, pharmacies and other types of organizations.
#2: Scan Terms And Conditions App
Many digital and paper terms and conditions documents are quite long with many details that most of us just sign them without reading.
However, at some point, a problem may arise and reading the contract after it is signed may be in vain.
Or, it may happen that some agreements are suspicious and unfair.
An app that scans terms and conditions will highlight key info so that readers can skim through it and will alert consumers about distrustful information to help them stay protected.
Shopping App Ideas
The pandemic changed the way people buy goods and products and we can see a surge in online shopping.
Data shows that in November 2020, US consumers spent almost 63 million on online grocery orders.
In fact, during the same month, 38.7 million shoppers placed at least one delivery or pickup grocery order.
Just because shopping apps may be a good investment at the time being but also in the future as some habits will stay, here are some cool app ideas to inspire you:
#1: Scan & Compare App
There are so many online sellers today that may sell the same goods but at different prices.
How do shoppers find the most budget-friendly option?
A scan and compare app would allow users to scan a specific product and within a matter of seconds, it will show all the online available offers by companies including the prices, reviews and features.
That way shoppers can make a comparison and choose the best deal.
Travel App Ideas
Travel is among the most affected sectors due to the COVID-19 crisis. In fact, between the period of January and August 2020, there were 700 million fewer international tourist arrivals when compared to the same period last year.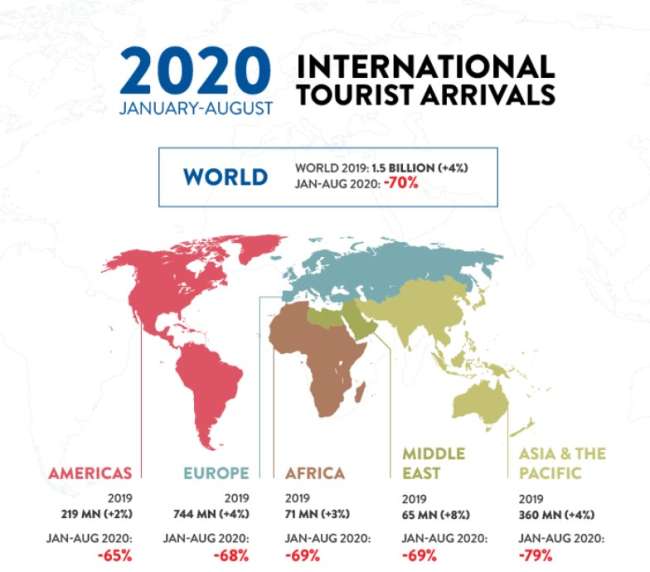 Some new iPhone and Android app ideas for travel will certainly evoke interest among people.
Let's see a few suggestions:
#1: Travel During COVID-19 Crisis App
An app for traveling during the pandemic would help users learn where they can travel and what type of restrictions they might face.
They will get key details about the country they select like the number of active cases, deaths, testing capacities and risks.
The app will also help them find a local doctor just in case of any emergencies. And, it will instruct them what to do and how to behave in case they get infected while visiting the country.
The primary goal of this app is to help people who decide to travel under such circumstances feel more comfortable and safer.
#2: Find A Doctor Abroad App
This app can be of great help not only in critical times like these but even during normal times when people travel.
Based on location, the app will identify licensed doctors who speak English in the area with included cost and directions.
For each physician, tourists can leave comments, some sort of reviews, so that travelers can choose the best candidate based on performance.
#3: Connect With Locals App
While the most popular hot spots in travel destinations are already familiar to visitors, some adventurers want to experience new places through the eyes of natives.
A connect with locals app will allow them to find people interested in connecting with strangers and showing them the areas around for free.
They will let them know about hidden gems, try the most delicious homemade food, get to know their customs and much more.
This way locals can make new friends and travelers get to experience the destination more intimately.
5 Most Common Types Of Apps
Determining where your mobile app ideas fit is an important step toward making them a reality.
Before settling on mobile app ideas - perhaps, even, before beginning to think about them - you should cover some basic app market grounds.
Knowing what are the most common types of apps - in terms of production, popularity and user demand - can bring you a step closer to your niche.
According to Sensor Tower, the 2020 most popular categories in the App Store were:
Games
Photo & video
Entertainment
Utilities
Games were the most downloaded type of apps among Apple users and they reached a record of almost 3 billion.
Entertainment, utilities and social also enjoyed a strong growth when compared to 2019 with 20% YoY.
The most popular 2020 app categories in Google Play Store were:
Games
Tools
Entertainment
Social
Communication
Similarly to Apple users, the most preferred app category among Android users was games which exceeded 10 billion.
There is a wide variety of apps that fit into an increasingly vast array of categories like tech blog apps, social media, etc.
In general, the app market recognizes these five most common types of mobile apps and their categories:
Social media apps:

Facebook
Instagram
TikTok
YouTube

Utility apps:

eWallet and banking
Documents and sheets
Project management
Reminders
Cloud drives

Lifestyle apps:

Music/video
Travel
Food
Dating
Fitness

Media/Information apps:

LinkedIn Pulse
Google News
Reddit
Financial Times
Daily Mail

Game apps
How To Come Up With A Great App Idea In 5 Steps
There may be numerous schools of thought on how to come up with an idea for your app - but there are only several rock-solid pieces of advice that work. We will analyze them here.
1. Identify Market Gaps And Consumer Pain Points
Your mobile app ideas should be developed around the mission of solving users' specific problems and making their lives simpler.
Many applications that are designed around this idea already exist on the market, so your idea should also focus on how you can do it better than them, with your app.
These user pain points and problems can stem from any area and walk of life, from communication to healthcare.
Identifying what user pain points to base your app idea on will help with defining your target audience later.
That's why it is important to understand that you need to find very specific pain points and focus on them, instead of trying to come up with a one-size-fits-all solution.
Follow these steps to identify which user pain points to base your app on:
Look at the apps you use and like with a critical eye: It's advisable to study the existing mobile apps that are about something you understand well. Are there some weak points they don't help with? Are some of them underperforming? What would you change to make them better?
Conduct research: Survey your friends, colleagues and random people online to identify these gaps between what the app market offers and consumers' needs. Conducting research on your users' attitudes before the app development will make sure that you build a product that is different from what your competition offers, addressing real pain points that exist in the market.
Ask the experts: Going directly to app industry veterans and market trends analysts for advice is always an option. These individuals or teams of research specialists have a good overview of what was done in the past and what hasn't, what has worked and what hasn't. Their insight will help you understand users' needs much better.
Resolving each of these steps and understanding what consumer pain points to address with your app will point to a market gap that a well-executed app could fill.
2. Shape Your Business Plan To Establish Your Business's Purpose
For any enterprise, a business plan is the roadmap of its development and eventual success.
It is a basis on which every facet of your business relies upon and within this business plan, you should outline parameters and stages such as:
Initial short term goals
Long term goals
Growth strategies
Business vision and mission
Brand values
Working on these in conjunction with the above-listed user pain points can help identify the business purpose and business goals.
Finding new solutions for achieving your short-term and long-term goals, and looking to implement these solutions into mobile app development is the key here.
Some of the questions you should ask yourself when defining your business plan - and that will aid your idea brainstorming - are:
What should my short term and long term business goals be?
Are these the goals that I can accomplish with an app?
Which facet of my business and people's lives will benefit from my app?
What types of features and functionalities should my app have to help me achieve my goals?
3. Follow The Industry Trends To Anticipate Future Needs
The app industry that was yesterday may have already changed today to fit the wants of its demographics and the needs of the market.
Having well-defined strategies now is great, but they will not be as effective in the future. And their expiry date is growing shorter as the industry and technology develop.
When you generate your mobile app ideas, they should, ideally, be a reflection of your target market's current expectations. But as the pursuit of staying up to date with trends is continuous, so should your generating ideas be.
It's all too easy to find road signs to the latest app trends on the internet.
There is a bounty of information, but - how to avoid being overwhelmed by this overload of insights into industry trends?
Also, not every trend is going to come true or apply to you - so how to make a well-informed decision on which to follow?
Here are a few helpful tips:
For staying on top of global trends, follow media outlets such as Entrepreneur, Forbes, Trendwatching, TechCrunch and Wired and their expert contributors' musings on the app market of tomorrow.
Set up Google Alert for trends that could be more applicable to you and that could have an impact on your own business so you can see how often a trend is mentioned.
Brainstorm yourself on what kind of apps will be needed in five or 10 years' time. Try to comprehend the future needs of customers and anticipate the change in technology based on current hot topics such as the Internet of Things, augmented reality, wearable tech and blockchain.
Follow the professional stats and indicators that can help you choose the app category that will be big in the future - such as SensorTower's findings on the most popular apps in the App Store.
4. Observe What Your Competition Is Doing To Outperform Them And Be Different
Closing the gaps others have made is often the way to generate ideas and solutions. It's not always about coming up with completely new concepts from scratch.
There is a certain business strategy that ensures you are always able to catch up with your competitors and outperform them - by replicating what they are doing good. And it's not about copying someone else.
This tactic is known as a "reactive approach to growth": as your competition stays on top of the latest trends, upgrades their methods and products and implements all their strategies - you should add your own twist to these by refining them.
Simply put, it's using competitors' tactics and methods as a platform upon which to conceive and develop your app idea.
Taking an idea and then morphing it into your own is much harder than it sounds. You need to:
Examine your competition's app business strategy to the "T"
Break it down into smaller components
Reverse engineer your own app solution
To put yourself in a position to apply this technique, think in terms of these questions:
What strategies are my competitors using and which are the most successful?
Which strategies could have worked for them, but haven't?
Can I identify gaps and mistakes in their strategies? What are they?
Can I develop a virtual strategy according to competitors' experiences, make it better and apply it to my app business idea?
5. Browse Through App Stores For Inspiration
Finally, going directly to the source is never going to be a let-down when looking for new cool app ideas. Study the app categories in the App Store and Google Play to find the one where you think you could make a stride with an app solution.
This will help you understand your competition better and what type of solutions they provide.
Another good source is checking out the lists and charts such as "Top Grossing Apps" or "Apps To Look Out For". Have successful apps as a criterion for your own when brainstorming mobile application ideas.
Looking at niche categories will also provide valuable insight into the preferences of their target audience in users' feedback, comments and ratings. Analyze these preferences and expectations carefully - perhaps they're something you could deliver on?
Likewise, checking out apps' lists of features, layout and design in screenshots and videos can provide a good ground for the development of good app ideas.
How To Validate Your Mobile App Idea And Gauge Its Financial Prospects
When you have a general outline for your mobile application idea, several steps remain to ensure it can be brought to reality.
The first step that follows is the validation of your mobile app ideas' merit.
This particular step is to make sure the time, energy and money you invested into your app venture are not in vain.
Checking your idea's viability is especially important knowing that potential downfalls stem from facts that:
It can cost up to several hundred dollars to build an app
Thousands of new apps are added to app stores every month
Here are three effective strategies to evaluate and validate your mobile app ideas' merit:
Define your target audience: Your app, like any other, should be targeted to a very specific audience. At this stage, you should work on answering the question of who is going to use your app. You can define your audience by:

Researching general facts about them, for example, if you are creating a video conference call app, it's safe to claim that your app's target audience would be business people.
Performing secondary research which will help you discover more specific details about your target group like their gender, age, likes and dislikes.

Conduct your keyword research: You should come up with several keywords that best describe your app and use tools such as Adwords Google Keyword Planner Tool, SEMRush or Ahrefs to define:

The search volume or popularity of those keywords - a higher search volume indicates that the keyword is popular and that your idea is viable.
How many searches for your keywords happen per month.
What your keywords' difficulty is, that is how likely it is that people will look for it. The bigger the difficulty, the fewer chances there are of users' finding your app.

Survey your potential users: The most direct approach to validating your idea is often the most efficient: ask your potential users what they think of it. You can survey them using:

Reddit and subReddits such as /startups or /apps where you can ask members for their honest feedback on your idea. Reddit is a thriving online community with millions of members and is a great statistical sample for a survey.
Social media such as Facebook and Twitter pages.
App Business Model: Market Fit And Generating Revenue
After validating your idea's viability and merit, the two next steps to take would be analyzing the idea's market fit and potential sources of revenue.
Analyze Your App Idea's Market Fit
Your business needs a good idea of how the monetization model and features of your app will be welcomed by your target audience.
Understanding the app idea's market fit means comprehending your potential users' behavior - specifically if they would choose your app over any other similar app.
This is where value proposition comes into play. And your app's features are the characteristics of your value proposition.
To determine your mobile apps ideas' market fit:
Create a spreadsheet containing your app's features
Do the same for several apps which you identify as the main competition to compare their features against yours
Your feature columns should be worded so that each entry for each app can specify the degree to which that app satisfies that feature
Include the column for your app and competitors' business models
This process should result in figuring out:
Differentiator features - that is, features that your competitors do not have and your app does and
Gap features - the ones your competitors have, but your app doesn't
When marketing your mobile app ideas, communicate your differentiator features to your potential users.
Also, try to improve your application idea by adding the gap features you lack. Their absence might affect your app's rating in the app store.
Identify Your Revenue Channels
One can argue that the quality of an app idea only becomes apparent if you start making money from it.
While revenue is not the only indicator of the app's worth, it is a valid factor for you, a creator and investor. Your app can generate revenue using these channels:
In-app ads or sponsored content showed to users
Paid app with a fixed download price
Selling physical goods if your app is of eCommerce type
In-app purchases through the selling of digital services in the app
Referral/affiliate revenue by referring other businesses to your users
With a market fit strategy and monetization model in place, you should reach out to your potential users asking them which app would they download - yours or existing ones by your competitors.
By analyzing how your idea stacks up to the competition, you can validate whether your target users value your idea enough to choose it over the competition.
How To Protect A Good App Idea
The final step before proceeding to the next stage - the actual development of your app - is to ensure your application idea, app's future content and brand elements are protected.
Here are four efficient ways to protect your app before it's even out:
Use Non-Disclosure Agreements: Non-disclosure agreements ensure that, when you share your information with another party, the information remains confidential. Basically, it protects your application idea from being shared or abused by others.
Choose professional relationships carefully: Working with reputable individuals or businesses is a no-brainer. Because you will likely have to outsource the specialists for developing your app, make sure you research all third party outside help carefully by reading user testimonials, reviews and anything else that implies their reputation and integrity.
Be careful and selective with who you share your idea with: It is often necessary to pitch your mobile application idea to clients, mobile app development companies and other parties, but try to conceal as much as possible and share your idea sparingly. The more you reveal about your idea, the more likely it is someone may steal it.
Trademark your app's name and logo: Since you can patent the final product, but not the idea itself, a great alternative is trademarking your app's name, logo and other brand elements. According to the law, a trademark protects the source, meaning your app's branding will be used to identify your business with the app when it's published.
Takeaways On Generating Cool App Ideas
Having a clear idea for your mobile app is merely the first step on a long journey of making your app a profitable reality - but it's a crucial step that may determine the fate of all others.
When coming up with an app idea for your business, it's vital to:
Have a clear overview of potential category or categories in which your app could fit
Define your target audience and its pain points
Identify the market gap and your idea's differentiator features
Follow industry trends and predict future developments
Look to always outdo your competitor's strategy
Validate your idea's market fit and overall worth
Protect your mobile application idea by means of NDA and trademarking
In the next series of articles on how to build your profitable mobile app, we will show you how to gauge your app idea's business potential.
Subscribe to Spotlight Newsletter
Subscribe to our newsletter to get the latest industry news