How San Francisco SEO Companies Differ From Other U.S. Competitors
Home of Silicon Valley, the global hub for high technology and innovation, San Francisco attracts top-notch talent from across the country and beyond.
The city promotes a spirit of cooperation where professional networks make the information exchange flow easily. It is the place where cutting-edge research and new breakthroughs happen each day, giving the local vendors a competitive advantage.
The region's legacy in innovation and unparalleled creative environment is a magnet for world-leading talent, including specialists in the marketing industry.
Additionally, other ingredients make the Californian city even more enticing place for skilled workers who want to grow a career:
San Francisco is one of the highest-paying cities in the U.S.
Thanks to its strong job market and high quality of life, it is the 10th best place to live in America.
It houses many giant employers, including:

Google
Salesforce
Facebook
Visa
Accenture
Tesla
Amazon
Oracle
As a result, with 22,020 employees, the San Francisco metropolitan area is the sixth biggest employer of market research analysts and marketing specialists. According to the U.S. Bureau of Labor Statistics, their job is to:
"Gather information on competitors, prices, sales, and methods of marketing and distribution. May employ search marketing tactics, analyze web metrics, and develop recommendations to increase search engine ranking and visibility to target markets."
Considering all these facts, we can easily assume that San Francisco SEO companies employ some of the finest and competent search engine optimization specialists.
Data supports this fact and according to INSEAD KNOWLEDGE, San Francisco is the world's fourth most talent competitive city because of its ability to attract, retain and develop talent that contributes to productivity and prosperity.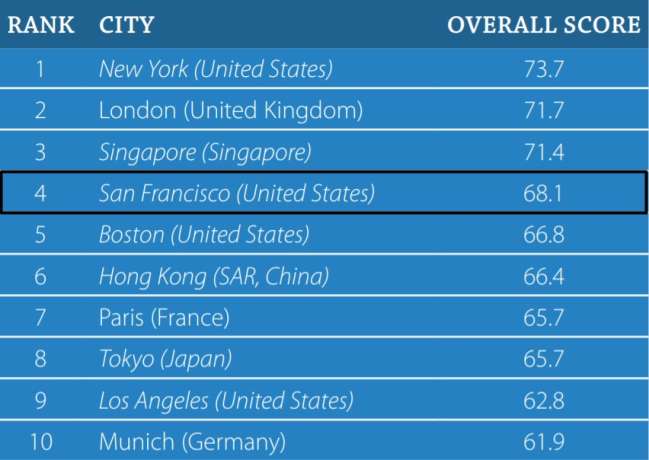 What San Francisco SEO Services Can You Outsource?
You can outsource almost any search engine optimization-related project to San Francisco SEO companies.
However, unlike all other SEO agencies in the country, those operating here tend to developed experience in both emerging and leading industries in the area, including:
Tourism
Technology
Financial services
Therefore, San Francisco SEO companies are very likely to deliver effective strategies for businesses operating in the local ecosystem.
Their core offerings include:
SEO audit: They will analyze your website to spot issues that affect its performance in terms of organic search rankings and traffic. This process will reveal:

On-page SEO issues
Technical SEO issues
Website structure issues
User experience issues
Potential off-site problems
Content gaps and opportunities
Competitive marketplace insights

On-page SEO: A San Francisco SEO company can execute various strategies directly on your website to boost its organic rankings. This includes, but its not limited to, performing keyword research and optimizing:

Content
URLs
Title tags
Meta descriptions
Heading tags
Alt tags

Off-page SEO: These professional agencies can take specific actions outside of your website to boost rankings and increase authority and reputation. These actions may be:

Link building
Guest posting
Influencer outreach
Social media management

Technical SEO: An SEO agency in San Francisco can follow specific guidelines to optimize your website and server in order to allow search engines like Google to crawl and index your pages. Some tasks include:

Mobile-friendliness
Fast speed
Security
Structured data markup

Local SEO: They can execute various strategies to increase your visibility for potential local clients and rank high in local search results such as:

Creating and managing Google My Business profile
Getting positive reviews regularly
Optimizing for voice search
Creating content based on local news and stories

eCommerce SEO: San Francisco SEO companies can also execute eCommerce SEO with the aim to increase conversion rates and sales for online stores.
How Much Does Search Engine Optimization In San Francisco Cost?
Outsourcing search engine optimization to San Francisco can cost you $50-$150 per hour, on average.
Apart from the hourly billing, local agencies may also invoice you by the project. In this case, most projects fall in the range of $750-$2,000/month.
A one-time project, on the other hand, may cost you around $5,000-$30,000.
Some factors that influence the pricing of San Francisco SEO services are:
Company size
Company reputation
Project scope and complexity
Project timeline
Why Should You Hire A San Francisco SEO Company?
You should partner with a San Francisco SEO company to get access to:
Exceptional talent pool: San Francisco has welcomed some of the finest SEO specialists in the nation. The city's developed tech scene and high quality of life make it a top destination for elite talent.
Forward-thinking approach: As innovation occurs at every corner of the city, San Francisco SEO companies operate in a highly innovative environment. The creative ecosystem combined with the cutting-edge research indicate that they foster an innovative mindset and rely on premium tools and technologies to deliver high-quality services.
Local market know-how: San Francisco SEO companies have gained knowledge of the local market so they can provide local businesses with unique insights. This can result in improved rankings in local search results and higher organic traffic.
How To Choose The Best SEO Agency In San Francisco?
Before you start your search for the ideal SEO agency in San Francisco, be sure to define:
Your business goals: Think about what part of your website or online presence you want to improve.
Your budget: Think about how much you are willing to spend on search engine optimization.
Then take these five steps:
Step #1: Look For Proven Experience In The Field
All agencies worth talking about should be able to demonstrate their experience with a strong online presence.
To learn about their credibility, reliability and abilities check their:
Portfolios and case studies: These will clearly outline the type of work each San Francisco SEO company has done and what results they've managed to achieve.
Reviews: These will speak about the agencies' processes, working culture, management structure and more.
Customer testimonials: These will show how satisfied past clients are with their results and professional conduct.
Industry certifications: These will showcase each San Francisco SEO expert's strengths and highlight the platforms they are experienced in.
Step #2: See If They Have The Right Tools And Resources
The best SEO company in San Francisco should have the required resources and tools to get the job done right.
Search engine optimization is a complex process that cannot rely on a one-man-band. Instead, it depends on skilled talent including SEO experts, web designers, content writers, social media marketers and more.
Moreover, the agency you decide to work with should have access to cutting-edge SEO tools like Screaming Frog, SEMrush or Ahrefs, among others.
These matter because they help in developing strategies and measuring results which will help you get a competitive advantage.
Step #3: Understand If They Have Realistic Offerings
Some San Francisco SEO companies will provide their value propositions on their websites whereas others will highlight them during your initial discovery call.
Before selecting the best partner, make sure their offerings align with your unique business goals.
Stay away from agencies that:
Start rattling off a list of what they can deliver without taking the time to analyze your business needs and goals.
Guarantee first page rankings in a very short time.
Say they have tricks to drive success.
Are secretive about their approach.
Offers deliverables that are too good to be true.
Step #4: Find Out How Transparent They Are
A San Francisco SEO expert who takes the time to understand your business needs and goals makes for a trustworthy partner that is able to deliver measurable results.
Bear in mind that there is no secret path to SEO success.
So, stay away from any SEO provider that promises quick results or relies on black-hat tactics. These practices are not in line with search engine guidelines and can end in penalties.
Step #5: Ask About Their Reporting Processes
When outsourcing search engine optimization to San Francisco, you should hire an agency that has clear processes for charting your progress.
In other words, your agency partner should understand your business needs and goals and set the right KPIs.
Your San Francisco SEO company should continuously track progress and data and provide you with meaningful reports that measure the performance of your website as well as the effectiveness of their strategies.
DesignRush ranked the leading business consulting companies.
Find them here!
15 Questions To Ask An SEO Company In San Francisco
Asking the right questions will give you an idea of what processes each SEO company in San Francisco follows and what you can expect them to deliver.
To make sure you've picked the best candidate, address the following questions:
What are your core offerings and what is your value proposition?
What is your philosophy of approaching search engine optimization to drive measurable results?
What SEO practices do you follow? How do you plan to increase our website traffic organically?
Are your SEO tactics compliant with Google and other search engines?
Are your SEO experts experienced in ranking websites in the same or similar industry?
What is your link-building approach?
What off-page SEO strategies can you execute?
How involved should I be in the project?
How do you measure the progress and success of your SEO strategies?
What KPIs will you set for my business? Do you think my goals are realistic?
How often should I expect to receive analytical reports?
What SEO tools and software do you have access to?
Will you perform a website audit? If yes, how will you use the gathered data to make improvements?
What is your pricing model? How much will the project cost?
Will we sign a contract? Can I see it in advance?
Takeaways On San Francisco SEO Companies
San Francisco SEO companies help brands increase search engine rankings and drive high-quality organic traffic.
They offer standard search engine optimization services. However, they stand out for the following qualities:
They employ top-tier talent
They have an innovative mindset
They have local market know-how
Outsourcing search engine optimization to San Francisco can cost you around $50-$150 per hour.
To pick the best agency partner for your business, consider these steps:
Look for proven experience.
See if they have the right tools and resources.
Understand if they have realistic offerings.
Find out how transparent they are.
Ask about their reporting processes.
Ask the right questions.
Best of luck!
…