We often hear success stories of companies that grew like wildfire. But if we take a closer look, we might notice that they're not all traditional. Many successful brands stand out from the pack. How? They do so by employing unheard-of digital development strategies, commonly called growth hacking. 
Companies use growth hacking methods to kickstart their brands and develop sustainable revenue. Interestingly enough, we're not just talking about digital startups exclusively – even today's top Fortune 500 brands utilize growth hacking techniques. Some of the largest brands that have grown thanks to this approach include Facebook, Instagram, Groupon, Google, YouTube, Pinterest, Udemy and Dropbox.
Needless to say, this strategic revolution is one that many expanding professional brands should understand and consider using. And we compiled the most crucial information, best practices and success stories to bring this concept closer to you.
To get you started on your road to rapid growth, we'll take a look at what growth hacking is, and suggest ways you can implement the concept in the most well-known social channels you likely already use.
What Is Growth Hacking?
In short, growth hacking is an approach to product development and digital marketing that puts all of its focus into -- you guessed it! -- growth.
As Wikipedia defines it:
"Growth hacking is a process of rapid experimentation across marketing funnel, product development, sales segments, and other areas of the business to identify the most efficient ways to grow a business."
This is an approach to both product development and marketing that includes a lot of trial and error. After a while doing that, you should come to an optimal solution that will ensure sustainable but rapid growth.
The need for a new approach came from the understanding that growth is the sole factor that makes or breaks a startup. However, startups rarely have the budget for expensive traditional TV or billboard advertising.
Instead, they need to grow their brand through inexpensive (or even completely free) methods. This need is where innovative growth hacking methods stem from. After all, a new brand either grows fast enough or it fails. Growth hacking is an approach that takes this very seriously – growth is the only point of focus.
It's important to note that growth hacking is not marketing – although it does encompass it. Traditional marketing teams get a product and are simply tasked with selling it. But the core idea of growth hacking is that everything about a product and its marketing should be tweaked until the best version is found.
Growth Hacking Is A Mindset
One distinct characteristic of this approach is its reliance on cold, hard data. Growth hacking teams use measurable metrics for every decision. Whether they base their decisions on A/B tests, the viral factor, user feedback, email deliverability or Open Graph, the bottom line is that growth hackers take measurable results as the most important element in decision-making.
As time passes, the differences between marketing and growth hacking become more and more pronounced. An absolute focus on growth has, along the way, given birth to many innovative methods, tools and practices.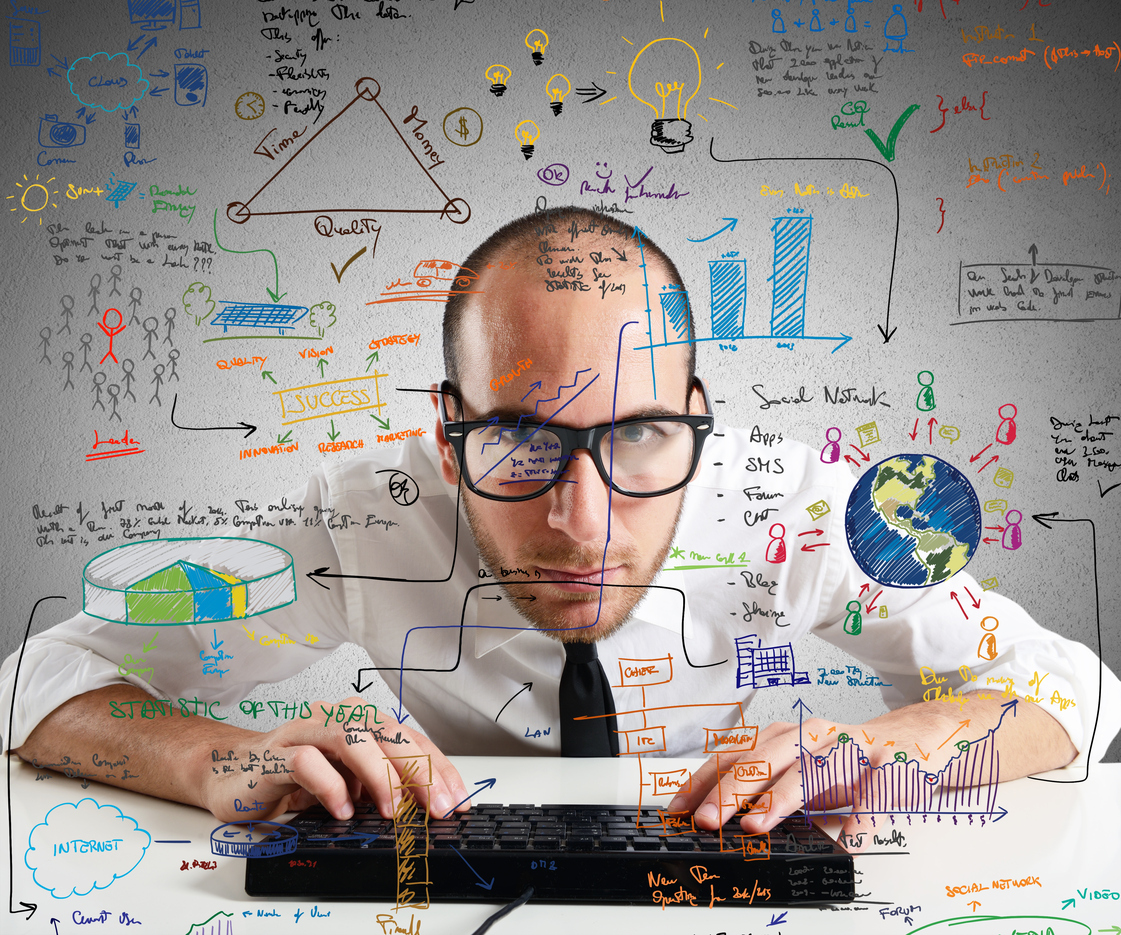 Where Does Growth Hacking Come From?
The term "growth hacking" was coined by Sean Ellis in 2010, but it is certainly newer than the actual practice is.
Ellis is a legendary marketing specialist that helped set many companies up the path to success. In fact, he is the one responsible for the wild growth of Dropbox and many other startups.
But the problem was, Ellis had a hard time finding a replacement to take charge of sustaining the startups once he was done executing the initial strategies. He realized that no matter how good, experienced or educated the marketing strategists were, they couldn't maintain his approach.
This rang especially true when it came to modern software products. New technologies demanded a new way of thinking.
To solve this problem, Ellis stopped interviewing marketers and coined a new job title to look for -- growth hackers. As he himself put it:
"A growth hacker is a person whose true north is growth."
What he was looking for are people who will form every strategy, tactic and initiative with this one goal in mind. Whether the person was an engineer, a coder or a marketer didn't matter. Their absolute focus on growth is the key characteristic he was looking for.
New Product, New Approach
Because the internet has redefined products and has also changed the distribution of them completely, it's time that companies redefine the way they create products accordingly.
Digital products have a unique characteristic that old-school physical products can never obtain – they can be changed easily. Because of this, growth hacking is applied from the sole beginning: Product development.
In fact, the top reason 42 percent of startups fail is because their product is simply not something users want or need.
But many times, a product first sees the light of day when it's already completely developed after the company has already invested big portions of their budgets in it. To succeed in the digital environment, every startup must make sure the product they create is a product people actually want. The best way to achieve that is to get feedback early on, then act on it.
It's absolutely essential for digital products to always obsessively improve -- even better, improve based on feedback. Luckily, a plethora of growth hacking tools can help startups tweak their product to perfection. Understanding what the users want, the ways in which they interact with and use your product, and the factors that influence their decision-making is crucial for all successful digital business strategies.
Feedback forms and surveys are great for receiving feedback directly from customers. However, the market insight tools we have at our disposal today are amazingly diverse and useful, and can range from website analytic tools like Google Analytics to email marketing platforms like MailChimp to click heatmaps made by analysis software like Hotjar. There's something to tackle any type of a metric you might want to employ.
Finally, don't let sentiment get the best of you – cut down and change mercilessly. No matter how brilliant of an idea a feature might seem, if metrics show it doesn't help your user acquisition, it's time to think of something new.
Alternatively, if a secondary feature ends up being disproportionally popular according to metrics, it might be the time to reconsider your focus points. In fact, one of the largest social networks today is a prime growth hacking example of this exact situation!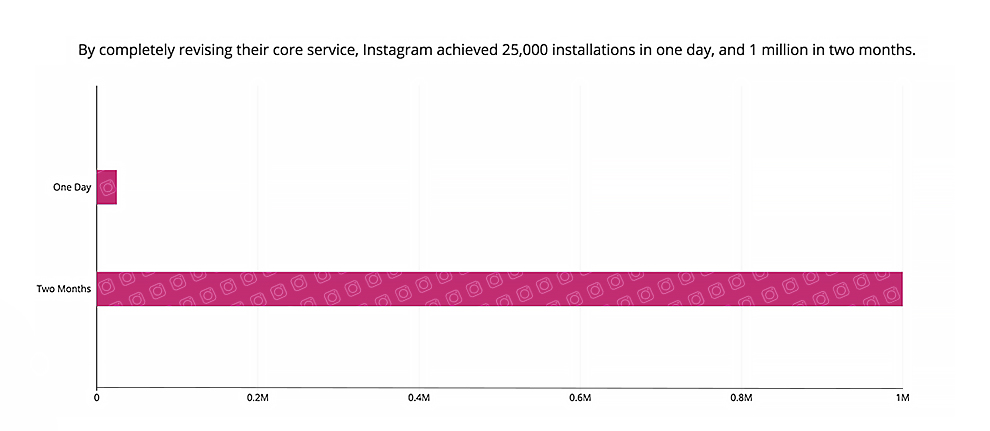 The Case Of Instagram
Have you ever heard of Burbn, the location-based social network?
Neither did we. But we do know about Instagram.
Well, turns out, Burbn is Instagram's predecessor. Burbn offered many interesting social features, but for some reason, then secondary photo editing and sharing service enticed users far more than the founders ever planned.
Previously believing the photography app market to be too saturated, the founders finally took a better look based on user feedback. What they found was that, though many photo-sharing apps existed, they either offered too few options for editing or they were not social enough. They then decided to make the first photo-based social network, complete with good but simple filter and editing options.
And so they did. They scrapped everything but the photo sharing, commenting and liking options of the original app. The brilliant result was an app that allowed its users to upload, edit and share photos in three simple steps.
The outcome? They didn't market a Foursquare-like application that they originally intended to, but Instagram did score 25,000 installs on day one and one million within two months.
The moral of the story is to not be afraid to tweak your product... you just might strike gold!
The Process Of Growth Hacking
So, how exactly do you execute the growth hacking approach? First of all, it's important to understand that growth hacking means experimenting a lot. So much that, according to Sean Ellis himself, companies should aim to do 10+ growth experiments per week.
It sounds scary, we know. However, looking at the process in steps makes it seem far less intimidating and much more achievable:
Define a specific goal
Implement an analytic method to track the metric of your goal
Approach the goal by leveraging your existing strengths
Run the experiment
Tweak and optimize the running experiment
Repeat
Keeping in mind that the focus of everything you do should be growth and your goals will be centered around obtaining more prospective customers. Later on, you can also work on activating and finally retaining users. To make the entire long-term process as seamless as possible, it's important to get the right consumers from the get-go. In the end, it's not only about how wide your reach is, it's about who you reach.
To locate the people that hold the most consumer potential, don't target just anybody. And to convince a person to buy something, you have to know who they are. 
No matter which social channel you use for growth hacking your brand, the first step should always be the same: Create a customer profile.
Take a look at all the different aspects of your product, hone in on your brand's ideal audience, then target them specifically.
Growth Hacking & Social Networks
Social media channels are always buzzing, and interesting or useful content is the main reason most people open the social network applications on their phones every single day. What's better, whenever they do come across something that sparks their interest, they love sharing it with their friend. 
But it's a well-known fact that merely existing on social media is not enough. To grow your audience, you need to give them a reason to seek you out. The best way to find success on social media is to provide what people are seeking out in the first place: High-quality content, whether through your webinar platform, podcast, YouTube channel, or posting on TikTok.
Authenticity and consistency are the most important weapons in your social media arsenal.
The ways various social media platforms sort content on user feeds is tricky. Algorithms change quickly. The platforms evolve constantly and great growth practices might be rendered useless within a couple of months. Plus, once a new practice is revealed, it may become oversaturated rapidly as well.
Stay in tune, and jump on any new features and functions the moment you hear about them. Test and optimize your social media as you go, and you might find some great tricks of your own.
Whether you choose to use paid advertising or try to grow your reach organically, the main goal is to get as many prospective customers to know about you in the shortest time possible. This is often called going viral... and Dropbox killed it when they were starting out.

Dropbox's Ingenious Growth Strategy
The rapid growth of this cloud storage service was no accident. At 500 million users today, the software giant employed an ingenious growth strategy encompassing a mix of scarcity and referral.
So, what did they do? Offer more storage space in exchange for putting in a good word. Dropbox created scarcity by making an account-creation invite only in the beginning, thus ensuring it was hard to sign up.
However, Dropbox also made it easy to share and incentivized referring by gifting additional space to those who send out invites. They offered storage space expansions of 100 to 500 MB for various social sharing activities, like following them on social media and sending out a direct invitation.
The results? These incentives helped boost their sign-ups by an incredible 600 percent without spending a penny on advertising.
Growth Hacking On YouTube
Video is the easiest way to capture a viewer's attention and telling a great story is the best way to keep it. Combine these two, and you have an amazing tool at your disposal: YouTube video marketing.
Arguably more than in any other content format, video has the immense power to draw viewers into the story. It is the most effective technique for creating a strong emotional connection with your audience. Great growth hackers know and use this.
With more than a third of overall internet activity video-watching and 92 percent of video consumers regularly sharing videos on social media, it's no wonder YouTube provides an incredible growth potential.
While the downside of this platform is that A/B testing is not entirely possible, the benefits far outweigh it. YouTube also has native analytic tools, and even more importantly, viewers are very likely to leave direct feedback through its like/dislike and commenting functions.
There are some extremely simple YouTube growth hacks. One of the most famous ones is adding ?sub_confirmation=1 to the end of your channel URL when sharing.
When someone clicks on the link, a popup asking to confirm channel subscription will show up. This old trick is said to increase YouTube subscription rates by 400 percent.
Growth hacking often employs solutions as simple as these. However, the key to an engaged audience is always in tweaking the content you put out.
The most important job of a video is to elicit emotion. That's what makes videos shareable. Highly emotional content is the best way to draw in watchers and to make them connect to your brand. But does this mean sob stories are the only way to go? Not at all.

Content That Elicits Emotion Will Do One Of Five Things:
Challenge assumptions
Provide a unique or novel perspective
Tell a compelling story
Refer to an already viral topic
Provide practical value
While the key to reaching consumers is creating content that's interesting to watch, you must get the audience to press play in the first place. And how can you do that? Well, there are two things you need to pay attention to – your video title and thumbnail image. Making a clear, understandable but compelling title is a step that nobody can afford to miss.
Dollar Shave Club
Now imagine coming across a video titled DollarShaveClub.com -- Our Blades Are F***ing Great. What do you do? Press play, for sure!
Upon first impression, the video is witty, but also very relevant. Michael Dubin, the charismatic face (and the founder) of the company, explains exactly what's wrong with the shaving industry and how Dollar Shave Club tackles the problem.
The one-minute long, story-driven video set the brand up for overnight success with its incredible wit. The best part? The production of the entire ad cost only $4,500. The whole video advertisement was fairly inexpensive and easy to make, but it tackled the exact pain points of their customers, creating a strong emotional connection through an incredible growth-oriented strategy.
How To Implement Growth Hacking On Facebook
With 1.45 billion daily and 2.20 billion monthly active users, this social networking giant is where the action is online! And finding a few communities of people resembling your target audience and providing value to them -- whether through sharing video content, blogs, targeted ads or something else entirely -- is the essence of growing through this social network.
Whether you hope to grow through paid advertising or organic content reach, the key is in your content. It must be compelling. It needs to be valuable and entertaining. And if you defined your audience well, it won't be hard to find out exactly what they want to see through a couple of campaigns.
When creating your Facebook content, aim to draw your viewer in by providing value or entertainment. Also, make sure your content is published on a regular basis, with consistent quality. There are plenty of social media tools that can help brands manage their content publications across several social networks.
A common growth hacking technique used on Facebook is creating a short, relatable "tag someone who…" caption call to action format. For example, a travel agency might post a photo of a romantic getaway and put up a description saying "Tag someone you'd like to take you here." The people will use your post to interact with their loved ones, and in turn, these people will land on your Facebook page. There is a plethora of content people love sharing with their friends that you can utilize to boost your growth.
Apart from great content that ignites organic shares, paid Facebook ads can inspire growth -- especially through their awesome targeting tools. This social network provides an incredibly powerful advertisement platform with many metrics to follow and tweak. Its options allow you to define target audience age, gender, occupation, location, interests, behaviors, events and more. You can also do A/B tests, running advertisements with small differences in the text and visuals.
Pro Tip: You can also leverage already-formed audiences by targeting people who "like" a particular company or product, such as a competitor.
Facebook's targeting options are truly superior, but that also means you will need to test and adjust a lot until you find the settings that work best for you. Check out our Facebook ads guide to learn all the ins and outs of the platform and ensure you're prepared to start growth hacking your audience through this social network.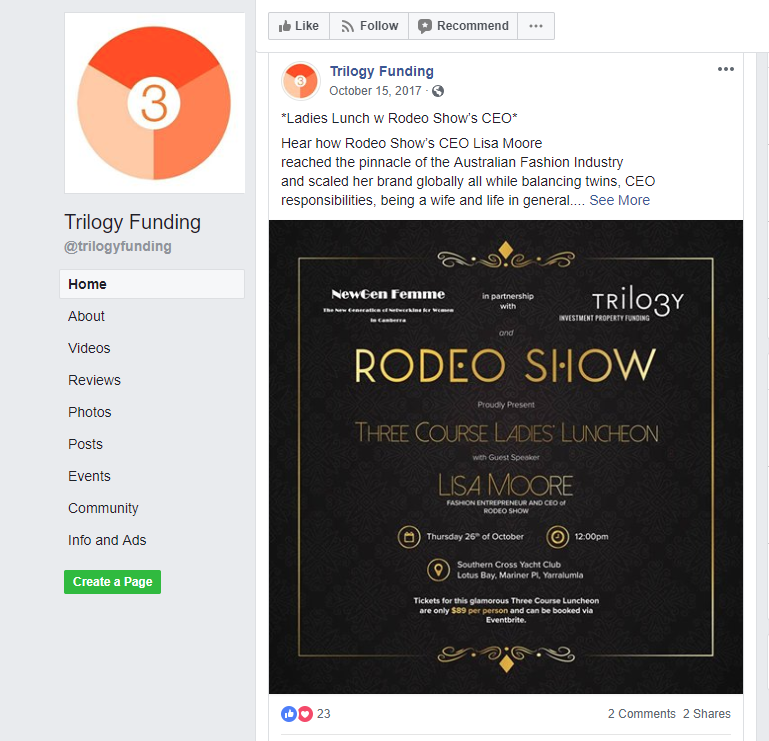 Trilogy Funding & Facebook Ads
One of the most respected mortgage broking companies in Australia might not be a company you'd expect growing its audience on Facebook. But the truth is, considering the scope of the network, any industry can find their ideal customers on it. Trilogy Funding needed investors, and big-shot ones at that. So, they targeted people owning more than three properties and $1.5 million in loans.
Providing different lead magnets that required email contact addresses to a well-defined audience was the key to their success. The catch? In order to receive a report called "The Advanced Property Investor's Guide To Managing Debt For Success," leads needed to provide their contact details. Those that both subscribed and downloaded the report were offered a free phone consultation. Something that their perfect customers would find valuable was offered throughout the campaign.
Following a rather intuitive plan, they managed to gain 1500 email subscribers and 130 new inquiries in a six-month Facebook ad strategy. Not bad at all, considering their strict criteria.
Instagram Growth Hacking
Bringing it back full-circle, Instagram's unique content and social sharing manner are especially compelling and captivating. However, your brand needs great visuals to generate interest on Instagram.
One of the best ways to win on Instagram is to utilize hashtags. This content tagging system is unique but very well developed. However, you have to choose your hashtags wisely in order to grow your reach organically -- and don't be afraid to test out new hashtags to see what works!
Take the time to create content that is likely to engage your audience -- especially because the current algorithm doesn't sort posts chronologically. The more your audience interacts with your posts through likes and comments, the higher your climb in your followers feeds and potential followers discover page.
Pro Tip: A great way to improve engagement on your own posts is to ask questions to your followers in your picture description. 
Following the launch of Instagram Stories -- the 15-second-long photo and video clips -- brands got another fantastic way to boost their growth. Stories are not only interesting to watch – they include amazing growth hacking tools. For example, try linking one story to a web page, creating a poll or conducting a real-time Q&A session to get feedback and encourage interaction.
Finally, a wonderful way for brands to thrive on this social networking platform is through influencer marketing. Brands find influencers and make deals with micro-influencers who post about their products. Influencers are, while not exactly celebrities, people with a large following in a niche area. But just as if a celebrity were endorsing the product, these people can strongly influence their audiences – hence the name.
Daniel Wellington
This popular Swedish designer of minimalistic, elegant watches knows incorporates influencer marketing trends into their growth. The way Daniel Wellington does it is quite simple – the accounts that promote their watches do not only do it through their own influence. Instead, along with the beautiful photos of influencers wearing a select Daniel Wellington watch, they also offer a unique promotional discount code. This allows Daniel Wellington to track each influencers effectiveness and adjust their strategy as needed.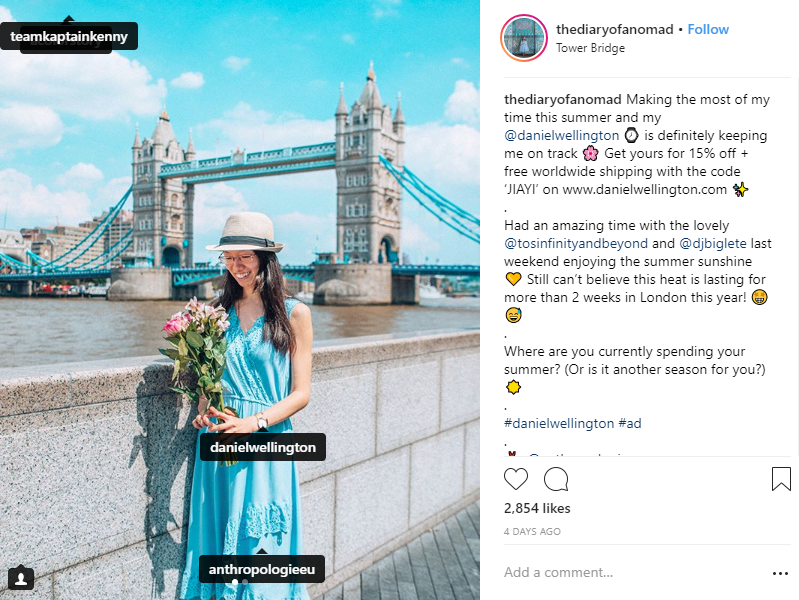 Growth Hack & Thrive
Starting or growing a business up in today's world is not an easy task. There are many obstacles startups must conquer, and the competition is fierce in most niches and industries.
The saturated market is only one of the problems to overcome, while the financial burden of traditional marketing is another. However, ingenuity and innovation continue to shine, pushing the boundaries of our society.
Growth hacking, as one of the cheapest yet most effective approaches to reaching new audiences, is a fantastic example of brilliant, smart solutions to complex problems. By using metrics available and creative ideas, many companies -- even yours! -- can manage to grow and thrive with minimal budgets.
Subscribe to Spotlight Newsletter
Subscribe to our newsletter to get the latest industry news