App design and development is an increasingly difficult and intricate process. With the number of app users growing exponentially across the globe, the competition increases too. This means that the way to the users' hearts is only through impeccable design and unparalleled user experience.
This article lists the best app designs whose engaging, intuitive interface and creative aesthetics blaze a trail for future app development.
Standout Features:
Carefully curated real profiles
No ads
Free!
There are dating apps and there are dating apps. Confused? Don't be, it's just that some pack up more than you're used to. They offer more, they're bona fide and they genuinely aim to help you establish meaningful connections or something more.
WooPlus is a shining example. It's the best plus size & BBW dating app with more than 6.5 million users across, featured by such media outlets like BBC, Forbes, People and more.
The popularity of this dating and chat platform, however, doesn't only rely solely on those who appreciate plus-size singles. Although overflowing with curves there's no learning curve when it comes to joining and once installed you're ready to fly with chubby cupids as long as your heart wants.
Standout features:
UI packed with features
Beautiful, modern typography
Multiple app integrations
My Fave Places iOS app is a "functional way to organize and share your places" that offers categories, maps and notes so that users can always remember the spots they like the most or would like to visit.
This traveler, foodie and blogger-friendly app lets users follow their friends or influencers and see their recommended list of places. It even extends into Uber and Lyft car services, has geolocation, map views and Google/Apple Map directions and articles on recommended places.
The app's design relies on lots of white and yellow spaces, a stylish, modern font and multiple auxiliary buttons and hotspots for handling a big array of features.
Standout features:
Personalized user experience
Ability to track friends
On-brand UI
The Ikon Pass mobile app for Android and Apple, developed by Fueled, makes sure ski resorts sell lift tickets and facilitate on-mountain dining during on and off-season, while also providing personalized user statistics and social features.
The app expands the brand's identity with new assets, such as a custom icon set that creates a clean, unified and modern look across the app, while still ensuring unique branding of the 43 mountains across the Ikon Pass region.
With this stylish app, users can see which of their friends are on the mountain on a particular day. A very complex appearance does not limit the app to a specific color scheme. Instead, each screen, depending on its purpose – from tracking stats like altitude and speed to weather conditions – comes with its specific layout.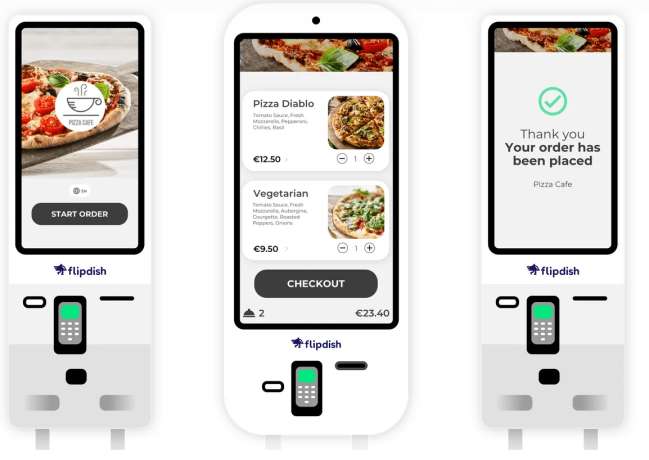 Standout features:
Simple reordering process
Map feature
A template for food businesses
Flipdish by Appuchino is a solution that allows food businesses to take orders directly from their own sites and apps, as well as offer digital ordering from kiosks and phones. It also provides the possibility of growing businesses with marketing and loyalty campaigns.
Suitable for restaurants, takeaways, chains and grocery stores, it facilitates the adding of collections, delivery, growing revenues and implementing click-and-collect delivery.
The users don't need to type in their delivery address, as the app has a map that identifies their location and shows the nearby restaurants and cafes. Also, the users don't need to go through the dish selection over and over again, as they can reorder with only two taps.
Standout features:
Simple UI
Unique functionality
Suitable for remote logins
This app designed by X2 Mobile lets interested parties login to ClassLink Launchpad from their mobile phones — either for themselves or all the children in the classroom that uses this service.
It's particularly useful for teachers whose students forget their logins, as they can sign them in with the ClassLink Remote Login app. It also lets those preferring not to enter their username and password on a public computer login safely.
The UI interface itself, in all-teal, lets users sign in using QR codes, face or fingerprint identification. The application is very simple to use, as it only contains several options needed for the users to perform the safe login procedure.
Standout features:
Playful, tech-inspired design
Two-tone layout
A very unique app niche
UXpert's app for Young Driver, a service providing an affordable alternative of activating their insurance only when they need it (since they drive only occasionally), has an elegant and innovative UX that uses a techy design and sophisticated animation.
In line with the app's young audience, the app design company has created big, prominent buttons with a cool On/Off animation to not only keep the process focused but also make it playful and engaging. Meanwhile, the "Travel History" option lets users know if they are being charged correctly or not. 
The app also encourages users to improve their driving skills by presenting a "Driving Score." The system connects to the car and monitors speed limits, acceleration, sudden brakes, drastic turns, etc. A feature that doesn't only benefit the user but road safety overall.
Standout features:
Highly personalized UX
Flexible search option
Stargazing index and weather forecast
Vito Technology designed Sky Tonight, an astronomical map that helps stargazing-interested users identify the stars in the sky, observe current astronomical events and find the celestial object they're curious about.
The app is customizable according to a specific user's needs and wants. The user can adjust the constellation's appearance, set a reminder for celestial object's configuration, explore the observer trajectory, set up a magnitude limit to filter out space objects and so on.
As is fitting to this theme, the Sky Tonight app uses dark blue color as its main hue with light grey accents for the selected menu items and features in action.
Standout features:
Spam-blocking capacity
AI-powered call screening service
Customization abilities
CallHero, an AI-powered app for iOS and Android by Qubstudio, answers questions, books meetings, blocks spam and answers calls so you never miss a client or a prospective inquiry. The intuitive interface lets users choose whether the app answers unanswered calls, after-hour calls or unidentified calls.
The users can even customize what the AI agent says to the customers and define automation rules, as well as prioritize important calls. Its quite simplistic interface uses custom illustration for a bit of playfulness and a simple two-tone, white-blue color palette.
Standout features:
A clean design with lots of white space
Custom illustrations
Unique pain point visualizations
sYstango's app design for Pathways Pain Relief app is an "alternative to treating chronic pain and is the first digital tool of its kind to comprise pain relief programs" and meditation techniques. The app allows users to track pain factors over time, focus on pain relief techniques and provide pain management programs.
To do all this, the app integrates audio clips and in-app purchases, as well as visually engaging methods to educate users on the science behind pain. The lovingly illustrated visualizations, surrounded by plenty of white space, lend info on diaphragmic breathing, stress-reducing exercises, improving positivity and confidence, as well as music therapy and physical exercise.
Standout features:
Tracking user's emotional status
Dark-mode appearance with effective accent colors
Customizable interface
A women's wellness and health app by Codewave, Period Tracker - Wise, enables female users to keep track of their cycles, flows, fertility window and pregnancy planning. The app has the ability to monitor the user's emotional status in order to recommend helpful, customized content.
The app uses a black background with red and purple accent colors for a very classy and aesthetical appearance. Its slick and fast UI is easy to understand and lets users do most of the functions such as logging their symptoms, the start and end date of menstruation, flow intensity, ovulation test results and adding notes for anything of importance.
Standout features:
Control your subscriptions with the app
Referral program and REVU tokens tracker
Non-custodial Cardano crypto wallet
Revuto is a subscription management app designed and developed by Async Labs that allows users to "block, snooze or approve" subscriptions to any service. It offers features such as payment blocking services, including a prepaid debit card, subscription payment management, native Cardano crypto-currency payments, Defi services and exchange.
The app's cyclic process and visual identity begin with a style guide for the brand and user interface. Revuto logotype, along with typography and colors supports the established fintech style — emphasizing simplicity, transparency, and professionalism while adding a personal touch through custom illustrations and branded interactive elements.
With an intuitive interface a referral program resulted in more than millions of signups, and an app has raised more than $10 million from investors through the token sale.
Standout features:
Visually-focused health tracker
Brief, concise messaging
Bright colors
Designed by Ripe Media, Lynx is an app for tracking sexual health goals by letting users use a diary and see the trends and insights into their activities. It has a visually rich interface that relies on graphs, charts and blocks of very brief messaging to direct users towards the desired health goals.
It provides the option of adding new test results so that the user can easily track their health history, as well as get actionable tips for health improvement via colorful illustrations.
13. Shoed by Spec India
Standout features:
Contemporary design
Consistent UI
White interface with colorful product images
Shoed is an app for ordering shoes and sneakers online in a novel way, according to its developer, Spec India. It offers a "fresh, design-oriented look to product detailing" as it displays high-quality graphics and product information in an unobtrusive, distraction-free environment. The users even get exclusive access to popular brands' future releases and can pre-book the order.
The well-designed onboarding screen offers a product overview with images and descriptions that entice the shopping process. Through an intuitive, almost minimalist interface, the users can see their order history and select a subscription plan.
Standout features:
Chat function
Scalable UI
Well-organized layout of every screen
iOS and Android app for Australian telecommunication company SpinTel, developed and designed by FATbit agency, started out with the company's brand identity and style for the delivery of the welcome screen, login screen and other features and functionalities created with scalability in mind.
Slightly corporate looking but sporting a decidedly customer-centric UI, the app lets users to monitor their current service usage and get vital alerts. There is a chat option available if the user needs to connect the support team.
The overal aesthetics is quite consistent with the brand's visual identity, but does feature variations in color and layout from a screen to another screen in order to showcase more diversity.
Standout features:
Two-color look
Customer-centric UI
Plenty of white space
Broker Trust app by U+Design provides the convenience of having all insurance documents in one app via an understandable interface that only features two colors: blue and white. With not a lot of elements on either screen, the app's primary focus is providing enough readability and usability so that users can get to the bottom of vital documentation fast.
White space provides plenty of clearance, resulting in a classy design that puts customer-centricity first. Navigation is quite easy to execute via easy-to-tap menu items that contain all the necessary elements for users to conduct seamless control over their insurance
Subscribe to Spotlight Newsletter
Subscribe to our newsletter to get the latest industry news