Streaming apps connect people with the content they want to enjoy, but finding the right one can be challenging with the numerous options available. Content, user experience, personalization, and intuitive interfaces are key features that set certain streaming apps apart.
If you're looking for new streaming apps, look no further. These ten apps are the top choices in their field not only for their functionality but also for their user interface design.
Table of Contents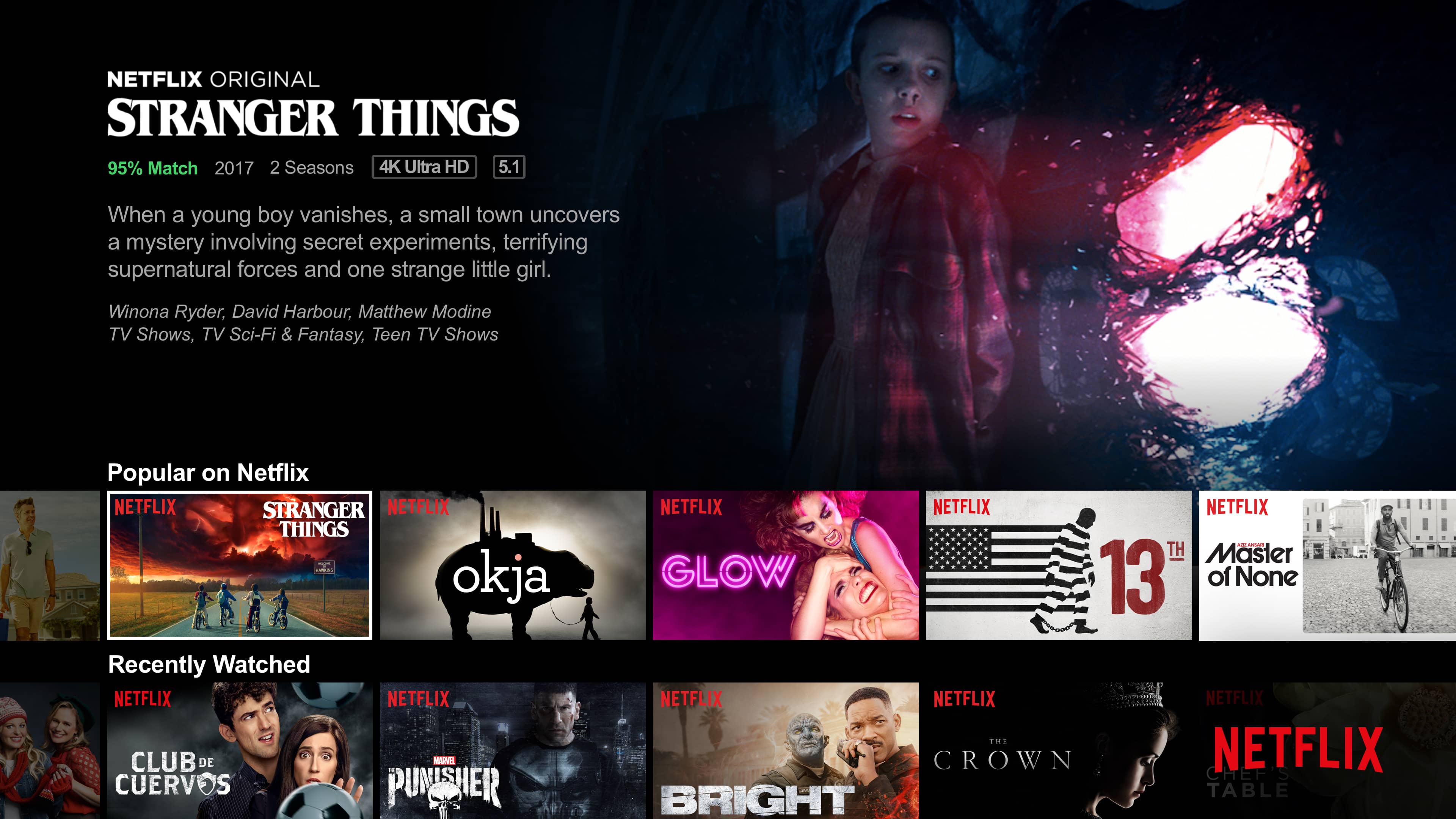 Netflix is easily one of the most popular video streaming apps available today. The beauty of Netflix is that you can use it across all devices — TVs, computers, smartphones, and tablets. You only need the app and a subscription to unlock hundreds of television shows and movies.
Besides the variety of content, Netflix's look and design immediately grabs attention. It's clean, deep, and highly engaging. The dark, moody background is perfect to showcase the title offerings. A clean and clear menu bar at the left of the screen shows different categories.
But on the main screen, images take the spotlight. Video titles, accompanied by an attention-grabbing picture, are broken down into appropriate categories and show a quick glimpse into available content. At the top are shows and movies you've already seen and personalized recommendations.
Overall, Netflix's app design is simple and streamlined. The user experience is highly intuitive and similar across all devices, making this app highly engaging and addictive.
Features:
Content download for offline watching
Multiple profiles per account, with individual watchlists and recommendations
Add subtitles and change the audio language
High definition (HD) and ultra-high definition (UHD) resolution
Dolby sound quality
Customizable parental controls
Voice search
Compatibility with various devices, including smart TVs, gaming consoles, smartphones, and tablets
Pros:
Large content selection (including exclusive content)
User-friendly interface and features
High-quality streaming with minimal buffering or interruptions
Personalized recommendations based on viewing history and preferences
Option to share accounts with family and friends
Ad-free experience
Cons:
Geolocking (content selection may vary by region)
Some titles become available months after their release
Some content may be removed from the library over time
Some content cannot be downloaded
No sports content
Pricing:
Standard (with ads): $6.99/month
Basic: $9.99/month
Standard: $15.49/month
Premium: $19.99/month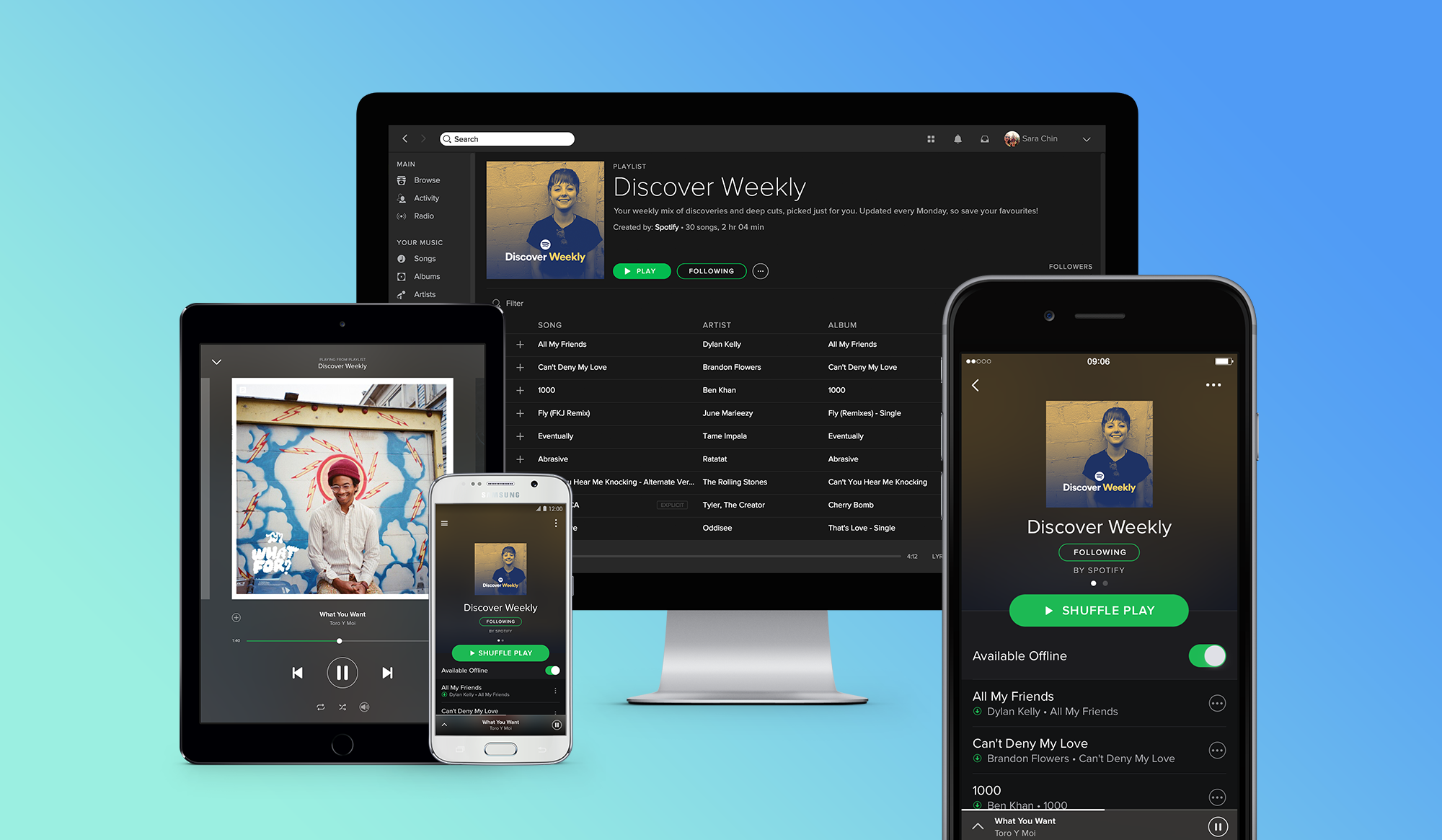 Whether you want to listen to the latest hits or throwback tracks, Spotify has your back. The service offers millions of titles from thousands of artists. The hardest part will be deciding which album you want to listen to next.
The interface is highly organized and simple to use. Subtle color contrasts make the app pop and make navigation a breeze. The color scheme includes a soft black background, bright white font, and their iconic Spotify green.
There are a variety of category options and intuitive playlists to choose from. You can listen based on genre, mood, and activity, create playlists, or search for public playlists.
The Spotify app creates a personalized listening experience that is intuitive and engaging. Spotify is a shining example of the benefits of prioritizing UX — 517 million users approved!
Features:
Large music library with over 80 million songs
Podcasts and exclusive content, such as live sessions and interviews
Ability to create and customize playlists
Personalized music recommendations based on listening history
Cross-platform compatibility with various devices, including smartphones, tablets, computers, smart speakers, and game consoles
Option to download songs for offline playback
Customizable audio settings
Social media sharing features
Pros:
Large and diverse music library with a wide range of genres and artists
User-friendly interface and easy navigation
High-quality streaming
Free plan is available (but it includes ads)
Personalized recommendations
Availability of exclusive content
Compatibility with various devices
Cons:
Plays ads in free version
Only six skips per hour in free version
Poor sound quality in free version
Premium version can be expensive
Some exclusive content is available only to premium subscribers
Requires internet connection
Not available in China
Pricing:
Individual plan: $9.99/month
Duo plan: $12.99/month
Student plan: $4.99/month
Family plan: $15.99/month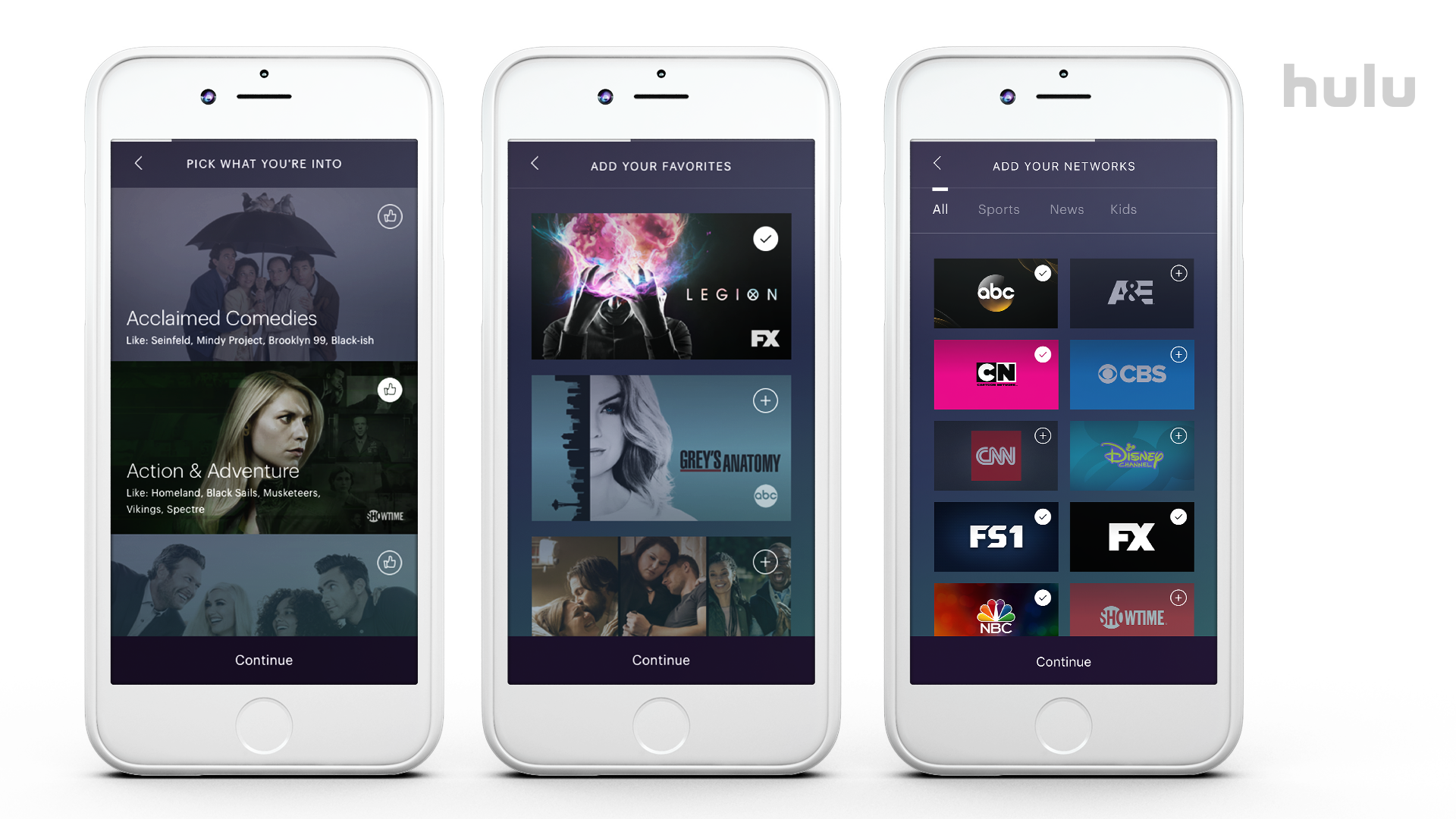 Hulu is a major video streaming app and Netflix's main rival. It lets you stream movies and TV shows like Netflix, but it also offers popular cable shows and videos that aren't on Netflix's offer. Users have exclusive premiers — Hulu updates episodes weekly so you can stay up to date on your favorite shows. Hulu also provides a live television stream, a feature that Netflix misses.
It offers superior personalization options. Onboarding includes filling in content preferences; the app creates customized UX based on these preferences. Of course, users can search the app, but Hulu facilitates the search by suggesting titles that could fit them.
Hulu's color gradient background is moody and sleek. The overall layout of the app is clean, modern, and fresh. At the top of the app, there's a bar that lets users know what they're currently watching and what titles are recommended, broken down by genre and category.
The Hulu app is a modern, clean, customized app designed to help users find and watch shows and movies they'll love.
Features:
Stream different channels on two screens at a time
Keep track of your favorite shows and movies in My Stuff
Enable autoplay when you want to binge
Create up to six profiles for everyone in your household
Watch in up to 1080p/60fps, with select content available in 4K
Listen in 2.0 stereo and 5.1 surround sound
Improve your recommendations with numerous personalization features
Pros:
Free trial (one week)
Watching on multiple devices
High-resolution and excellent sound quality
Original content
Cons:
Ads in the lower-priced plan
Limited content selection compared to Netflix
Some content may be removed from the library over time
Limited downloading
No offline option
Not available outside of the US
Pricing:
Hulu (with ads): $69.99/month
Hulu (no ads): $82.99/month
Live TV: $68.99/month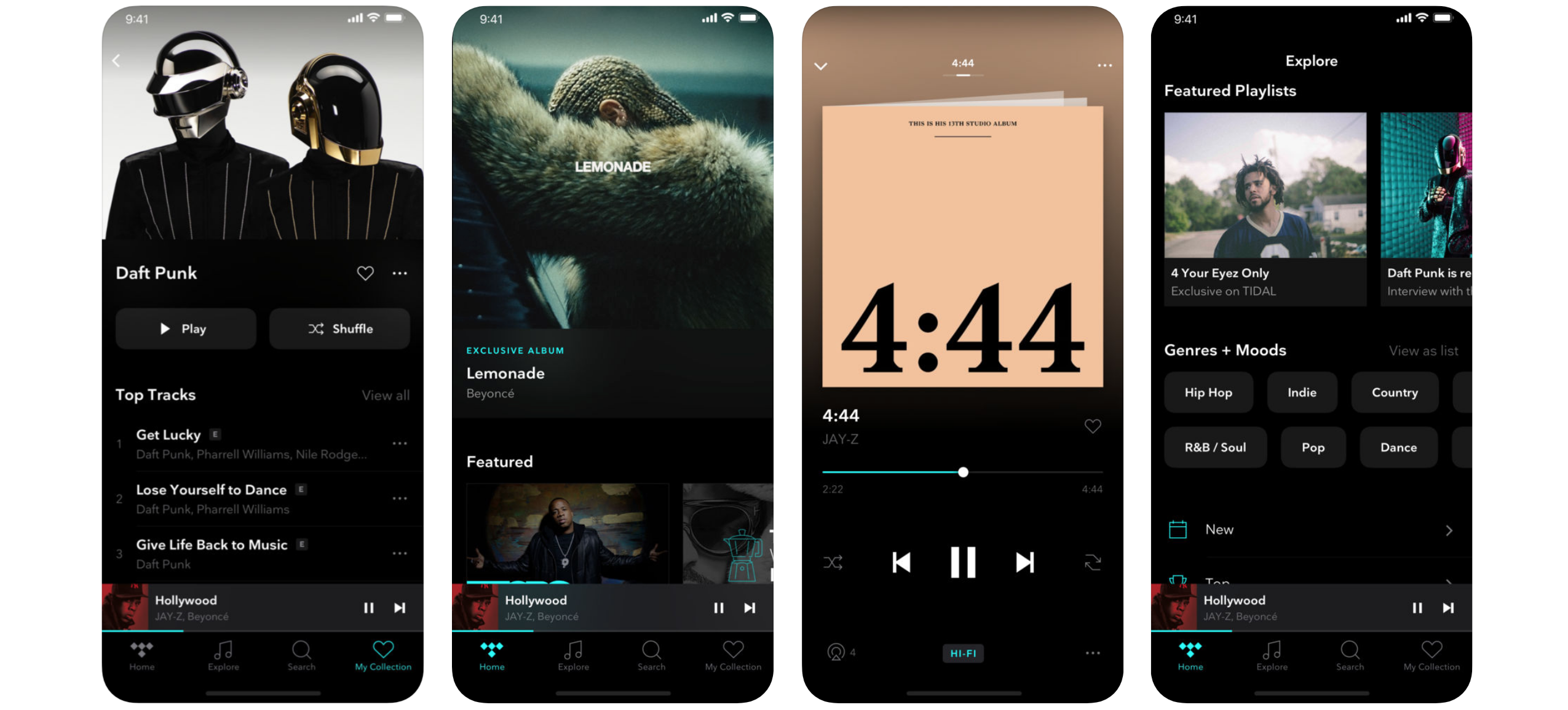 Tidal is Jay-Z's music streaming app, an alternative to Spotify. It allows users to stream music at the highest quality possible. With over 100 million songs database, Tidal is ahead of Spotify, which offers a "modest" 80 million.
The app's layout is natural and easy to use, with smooth album, artist images, and music video integration. Categories and genres are presented in blocks. A navigation bar is at the bottom of the screen, providing easy access to the home screen, personal music collection, search menu, and explore section. The explore section allows users to listen to recommended titles based on their preferences and popular titles that others are currently listening to.
Overall, Tidal's moody and sensual design is a work of art, just like the enjoyment it provides to its users.
Features:
Innovative audio formats
100M+ songs and 650K+ videos
Ad-free
Listen offline with unlimited skips
Live on Tidal listen or play your favorite music with others in real-time
Pros:
Excellent audio quality
Mobile and web app available (for Windows and Mac users)
Intuitive and easy to use
Cons:
No free version
App is not available in all countries
No social media sharing features
Poor technical support
Pricing:
Premium plan: $9.99/month
Hi-Fi plan: $19.99/month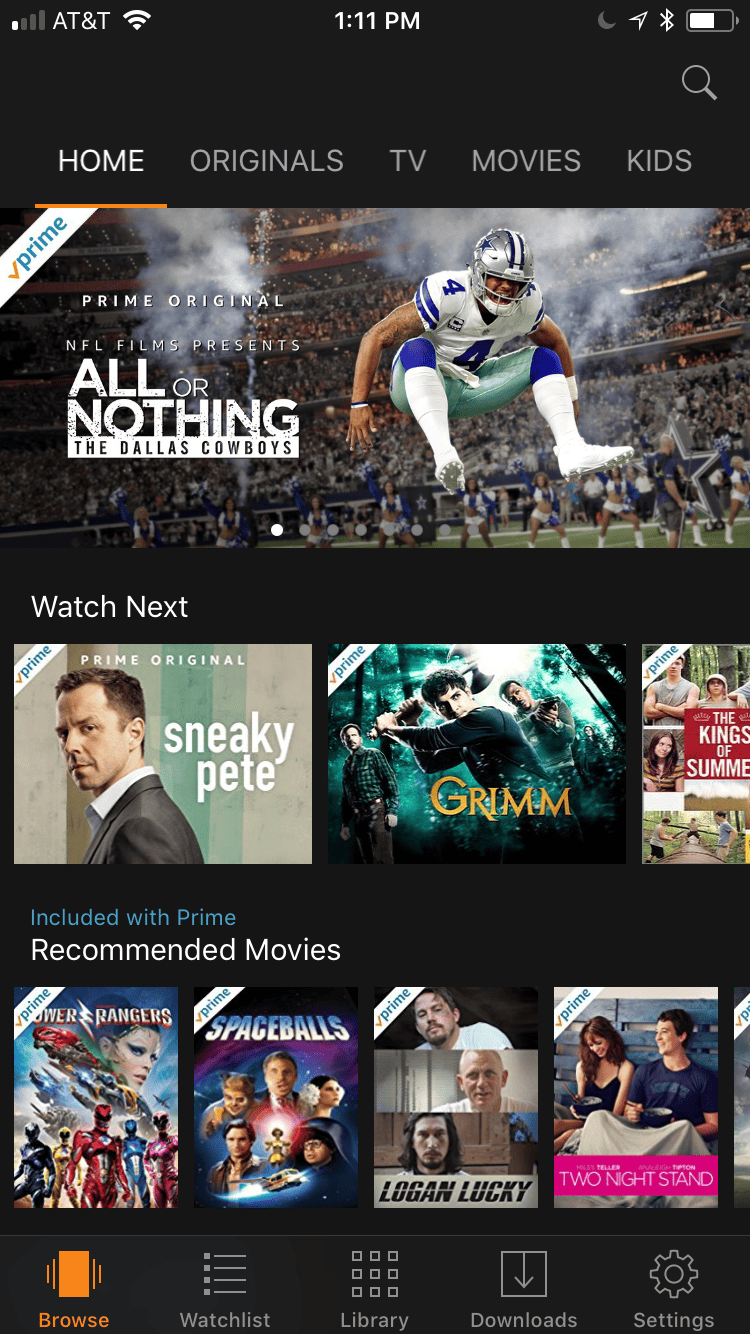 Amazon Prime Video is Amazon's answer to the question of video streaming. It offers content from HBO and other popular networks without making users get a separate subscription. It also has many Amazon exclusives that users can't view anywhere else.
Amazon Prime Video app has very little text, contributing to its clean, simple look and easy navigation and use. There is no drop-down menu to clutter the screen or unnecessary text to distract. The app uses a black background, which is the biggest difference compared to the regular Amazon app, which uses a clean, white background.
Users can browse, add titles to a watch list, look through their library, and download titles. The layout is very strategic, with the title highlights at the top and additional titles in rows below. Users can swipe along the menu to find the categories they want to browse through.
Features:
Ability to rent or buy movies and TV shows not included with Prime
Availability of add-on channels, such as HBO and Showtime, for an additional fee
DVR
Personalized recommendations
Multiple profiles per account
Offline download
Continuously updated library
Option to stream in high definition (HD) and 4K Ultra HD resolution
Compatibility with various devices, including smart TVs, gaming consoles, smartphones, and tablets
Pros:
Easy to use
Large selection of content, including exclusive Amazon Originals
High-resolution streaming
Offline downloads
Cons:
Requires internet connection for streaming
Some popular content is not available
Some content may be removed from the library over time
Pricing:
Prime Video membership: $8.99/month
Receive proposals from top app design agencies. It's free.
GET PROPOSALS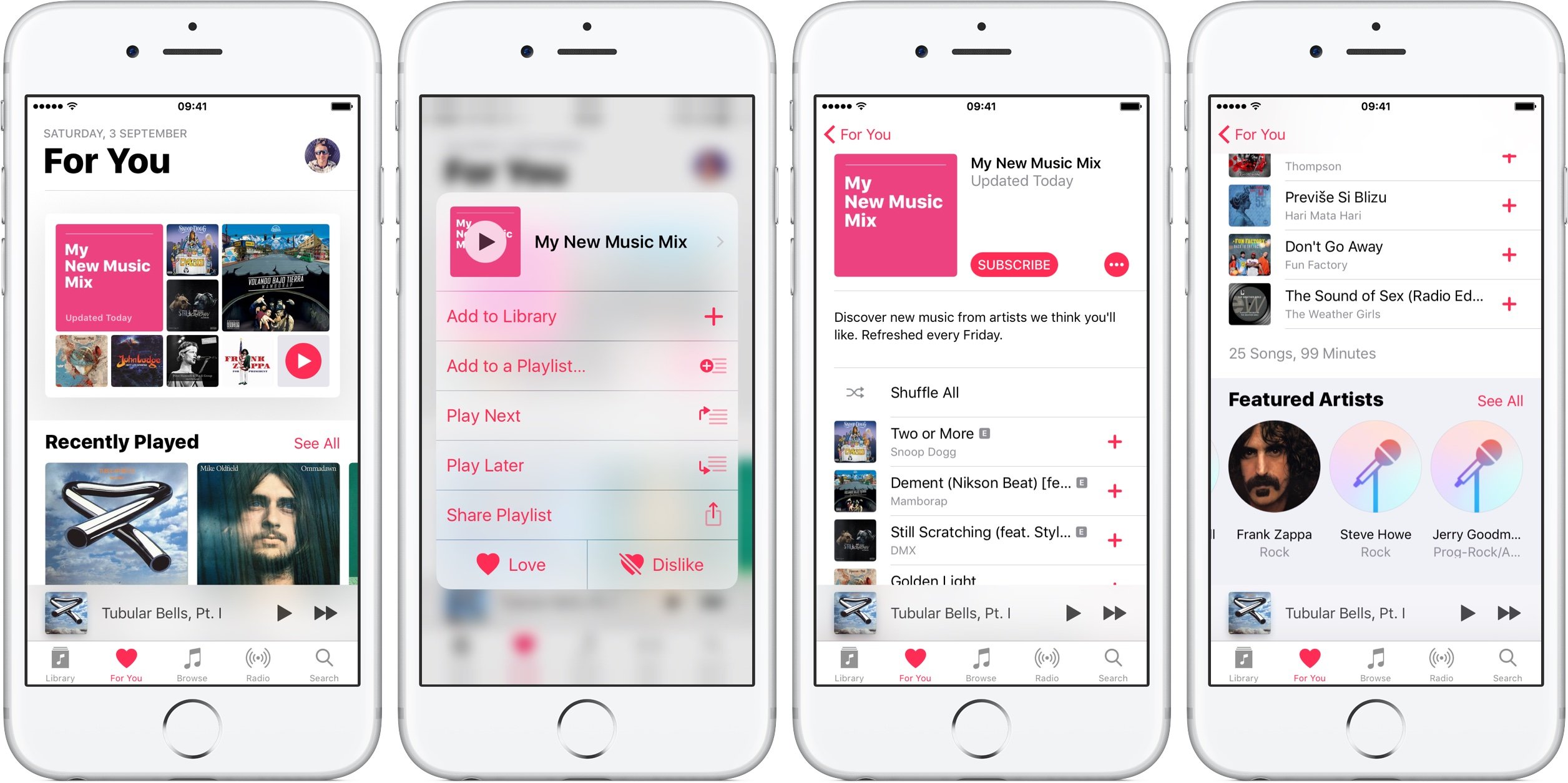 Apple's music and video streaming service allows users to create playlists and download them. A subscription to their streaming app is an alternative to buying albums.
Like all Apple's platforms, the Apple Music app's design looks bright, clean, and airy, providing an effortless and smooth UX. There is plenty of white space in the background, with pops of color that add fun and personality. Music is categorized, with recently played sections and featured artists to help expand your music offerings.
A helpful toolbar at the bottom of the screen guides users from their downloaded music library to the Apple Music services. The icons included are minimal and playful.
Features:
100 million songs and more than 30,000 expert-curated playlists
Any track, album, playlist, or station is available at request by asking Siri
Free trial with no commitment
Ad-free music
Original shows, concerts, and exclusives
Available on Apple and other supported devices
The Apple Music Classical app — featuring the largest classical catalog in the world
Spatial Audio with Dolby Atmos
Apple Music Sing, with beat‑by-beat lyrics and adjustable vocals
Ability to download up to 100,000 songs to your library
See what your friends are listening to
Unlimited access for up to six people
Personal music library for each family member
Feature "Connect" connects musicians and fans
Pros:
Free three months trial
Various pricing plans
Huge music library
Online and offline music listening
Personalized recommendations for each family member
Clean and bright app design
Cons:
No free plan available
All downloads are locked and can be used if user cancels subscription
Pricing:
Voice plan: $4.99/month
Student plan: $5.99/month
Individual plan: $10.99/month
Family plan: $16.99/month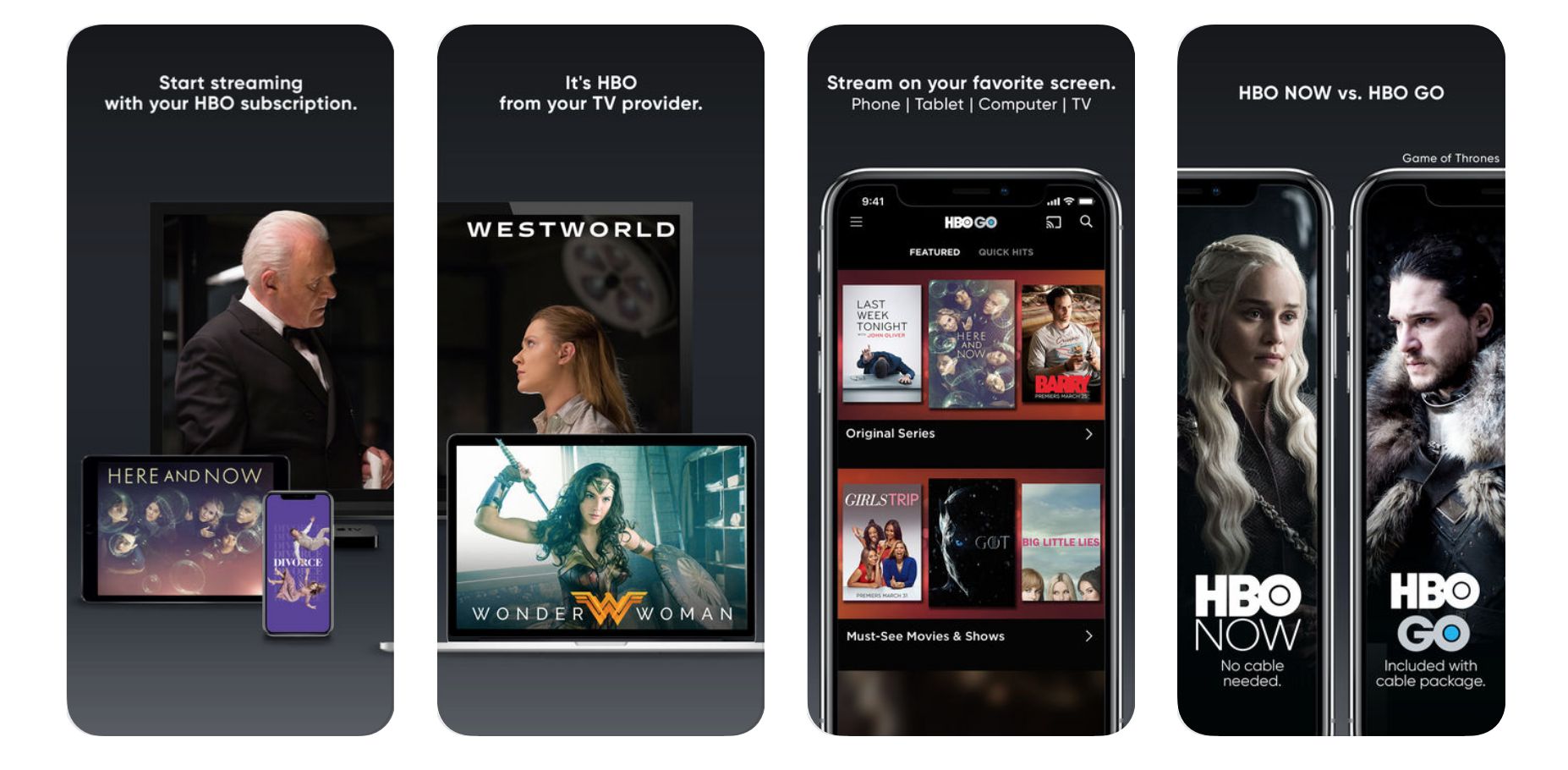 7. HBO Max
By subscribing to HBO Max, users can watch video content on their phones, tablets, computers, and TVs. The app is intuitive and user-friendly, with many movie and TV show titles.
The app opens to a black screen with featured titles. The titles are displayed in attention-grabbing blocks and simple, clean copies. On mobile devices, two titles appear at a time; you can scroll to find more. Users can search HBO Max's database directly or click on the small menu bar in the upper left-hand corner. They will find a concise options list of series, movies, and categories.
Movies are displayed clearly with an image and title. It's a simple and efficient system that makes finding old classics or new favorites a breeze. The main downside of this service is its availability and limited content compared to other streaming services.
Features:
Up to three devices can stream at the same time
Up to 30 downloads for offline viewing (downloaded content expires in 30 days if unwatched or 48 hours if played)
Exclusive content
Parental controls
Personalized recommendations based on viewing history and preferences
Accessibility features for users with hearing and visual impairments
Pros:
Easy to use
Included in the HBO cable package
Available on iOS and Android devices
Accessible without a smart TV via streaming devices like Roku and Chromecast
One subscription can be shared among five users
Timely content updates
Cons:
Requires HBO cable subscription
HBO Max only offers content from HBO, WarnerMedia, and Discovery
Only available in the US, Latin America, and select European countries
Streaming on more than three devices at once may cause the service to hang
Pricing:
Ad-supported streaming: $10/month
Ad-free: $16–20/month

The iHeartRadio app lets you listen to your favorite songs and radio stations. It's one of the rare entirely free streaming apps, which sets it apart from similar music streaming apps.
With this app, you can listen to AM and FM stations from across the globe and stream popular podcasts and radio shows. This intuitive app saves your favorite stations and gathers songs you listen to in a playlist.
iHeartRadio app's design starts with a bright white background. A pop of red color is scattered across the app, which keeps branding consistent. A menu bar at the bottom of the screen helps easy navigation, and the overall layout is minimal and simple.
The app provides more text than images. Small images sit next to popular songs, stations, and playlists; otherwise, you must use the icons and read through the offerings to navigate the app. The design makes sense since this app is geared more toward listening to the radio.
Features:
Live radio stations across the globe
Variety of podcasts
Customizable stations
Personalized recommendations based on a user's listening history.
iHeartRadio is available on various platforms, including desktop, mobile, and smart speakers.
Pros:
Free to use
Access to over 850 live radio stations and a wide selection of podcasts
Users can create their custom radio stations
Personalized recommendations
Available on various platforms
Cons:
Ads between songs and during podcasts.
Limited on-demand options
Selection of songs is limited compared to other music streaming services.
No offline listening
Pricing:
iHeartRadio: Free
iHeartRadio Plus: Free 30 days trial; Google Play Store sign up: $4.99/month; iOS App Store sign up: $5.99/month.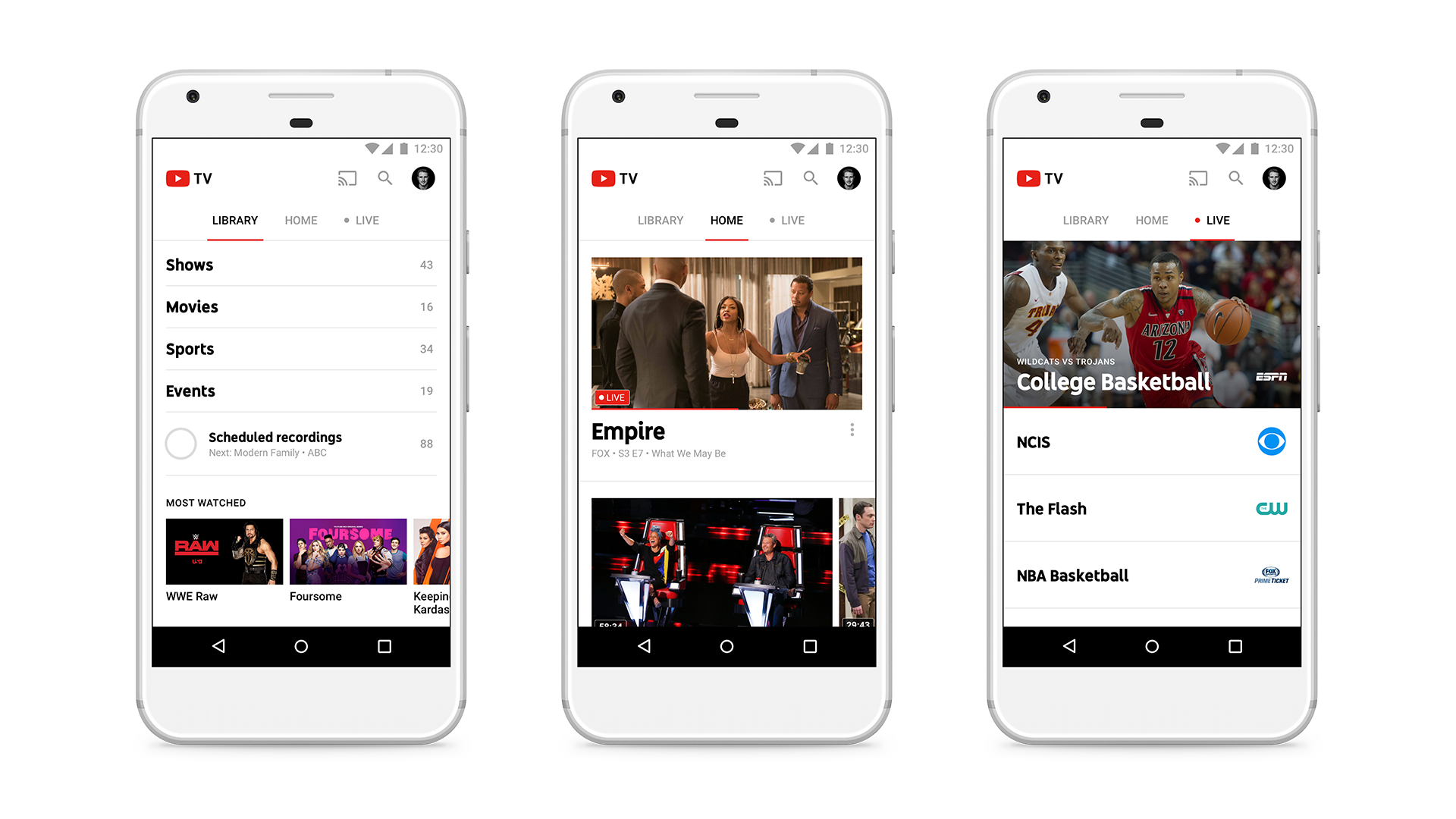 The YouTube TV app lets users stream live television from over 50 popular cable channels. The service is available on smartphones, tablets, laptops, and TVs.
The app's design aligns with YouTube's branding. Users can start their journey in the library, home page, or watch live TV. Once the desired option is chosen, the user is brought to a screen with a column of title options. The app also suggests networks with specific programs.
The background is white, the menu bar is black, and YouTube's signature red logo sits at the top left-hand corner. Users can navigate to their account using their personalized icon in the top right corner or cast to a TV Screen. Menu bars are clear, and options are bold — making them easy to find and click. Navigating this app is an easy and enjoyable experience.
Features:
100+ Live TV, including CBS, FOX, NBC, HGTV, and TNT.
Unlimited cloud DVR storage (recordings kept for up to 9 months).
Available on various platforms, including desktop, mobile, and smart TVs.
Up to six household accounts per subscription.
Each account gets personalized recommendations and DVR storage.
Users can download select recordings to watch offline.
Pros:
Numerous watching choices, including local channels, sports, news, and entertainment.
Unlimited cloud DVR
Multi-platform availability
Multiple profiles
Offline playback
Cons:
Expensive compared to other live TV streaming services.
Limited international channels
Limited customization options
Requires internet connection
Pricing: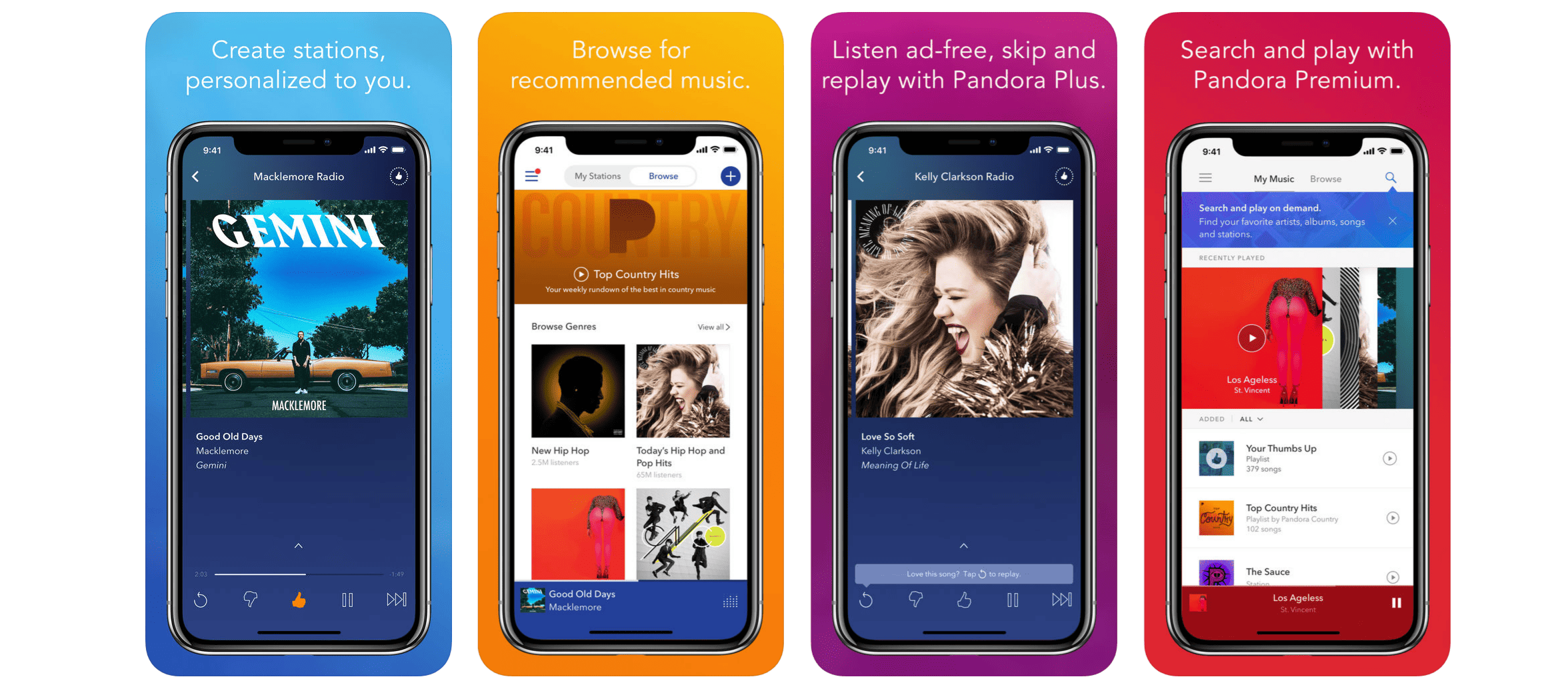 Pandora's music streaming app is the most colorful and lively. It's also the most creative in organizing its library of tunes. Pandora aims to give users a personalized music experience, providing a design that gets you in the mood to get funky.
Pandora recently rebranded and now has an even more modern, cool, and fresh look. There is a lot of movement in this design — with pop-ups that guide you throughout your journey, to the dynamic nature of the songs sliding in and out. The deep blue and white color gradients add a calming note to this design, relieving stress and anxiety.
Pandora is an intuitive and engaging app that provides a custom listening experience you can't resist. Create your stations based on your favorite songs and artists; the app does the rest. It curates a playlist based on the music you listen to, skips, and searches.
Features:
Personalized radio station based on a user's favorite artists, songs, and genres.
Customized playlists
Download and offline playback
Podcasts
Ad-free option available
Pros:
Easy to use
Personalized music streaming helps users discover new music
Large music library
Unlimited skips and offline listening with premium plan
Available on a variety of devices, including smartphones, tablets, and smart speakers
Cons:
Limited skips in free account
Limited song selection compared to other music streaming services
No live radio
Available in US only
Pricing:
Plus plan: $4.99/month or $54.89 annually
Premium plan: $9.99/month or $109.89 annually
Premium Family plan: $14.99/month or $164.89 annually
Takeaways on the Best Streaming Apps
Both music and video streaming apps must balance design simplicity and attractiveness, advanced features, and diverse content to provide a seamless user experience and stay competitive in an overcrowded market.
Whether you're a developer looking for inspiration or an entrepreneur planning to launch the next best streaming apps, use these ten examples as your guide. They are all an what app should be — efficient, engaging, intuitive, user-friendly, and fun. They keep people coming back for more. And with them as your inspiration, you can create an app that does the same.
Our team ranks agencies worldwide to help you find a qualified agency partner. Visit our Agency Directory for the Top App Design agencies, as well as:
We'll find qualified app design agencies for your project, for free.
GET STARTED
Subscribe to Spotlight Newsletter
Subscribe to our newsletter to get the latest industry news