Apple's HomePod Commercial by Spike Jonze Embodies Stunning Visual Storytelling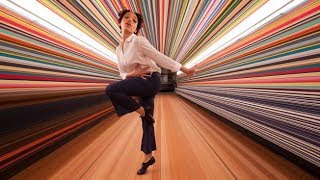 Experimental Apple HomePod Video Advertisement Captivates Viewers
Apple teamed up with renowned director Spike Jonze to create a fun and dance-worthy video for Apple's new speaker system — the HomePod. In it, singer and dancer FKA Twigs shows off her moves in a way that fills you with energy and gets your feet tapping along to the beat.
This video is a powerful display of visual excellence — the story is enticing, the main character is relatable and the narrative is one we can all see ourselves in. We could easily be this woman dancing away after a long day at work.
Music is powerful, and this video for Apple's HomePod takes full advantage of song and its ability to transcend.
Spike Jonze was the creative mind behind the story from its inception. His own personal style of storytelling is on full display in this impactful video.
Spike Jonze's Implements Visual Storytelling
Quirky, unique and whimsical — those are just a few of the words often used to describe the visual work done by Spike Jonze. Jonze likes to tell powerful stories through intricate characters and impactful situations.
Top Video Production & Marketing Companies
But it's not just his stories that pull you in -- his signature videography style is also particularly unique.
Through the use of lens flares, fluid camera shots and movement, close-ups and wide-angle shots, Jonze walk you, quite literally, throughout the entire experience. You become immediately immersed in the stories he creates through raw emotion, unforgettable dialogue, and eye-catching imagery.
Spike Jonze tells stories that inspire because they are about ordinary, everyday things. He takes the normal and mundane and turns them into extraordinary works of art.
His videos are often enigmatic, intoxicating and impossible to resist. He focuses largely on the unthinkable, on the simple and on the abstract. And it's this focus that makes his style of videography so alluring.
It's no surprise, then, that that tech giant chose him to direct such a stunningly simple video dedicated to their new product.
Get connected with the right video design agency for your project.
GET STARTED
Apple Pulls Viewers Into B2C Commercial With Upbeat Music And Realistic Characters
This video opens up with a woman riding home on public transportation. She looks exhausted and beat down — more than ready to go home and destress after a long day at what we assume is work judging by her professional attire.
Walking in the dreary rain and pushing past oblivious elevator riders, viewers are getting a gritty and powerful look into this woman's psyche — these are such ordinary acts, but the stunning videography and focus on simple elements evokes a deep somber emotion that you just can't shake.
Upon entering her home and dropping her stuff, the woman breaks the silence and speaks: "Siri, play me something I'd like." That's when the otherwise silent video springs to life, with Anderson Paak's newest track — "Till It's Over" — hits the screen
From this point on, things start to get quirky, cool and weird.
The laws of physics begin to stretch, the woman at the center of the video suddenly moving to the music and changing the landscape of her apartment with the wave of her hands and body. Walls are stretched, rooms are opened and furniture changes shape and size. Colors begin to blend and shapes begin to morph and suddenly we're in a completely different world.
Top Logo Design & Branding Firms
We started in a dull and lifeless everyday apartment, and throughout the video, we're transported into this multicolor dimension full of vibrant shades and sharp geometric shapes. Lights shine, camera shots zoom and FKA twigs is dancing through it all.
But instead of letting her image tear her down, she takes full advantage of it and works her magic even more.
Two and a half minutes into the video, the dancer stops in her tracks, as does the music. A mirror slides into the frame and she is confronted with her image which seems to sober her up in a melancholic way.
From here, the mirror becomes an open door and now there are two identical dancers having a fun and lighthearted dance-off.
The video comes to a close with our dancing woman falling into her couch and seemingly waking up with a smile on her face. The camera then pans to the Apple HomePod.
This video incorporates powerful shots, a focus on simple elements and captivating music to pull users in and force them to get involved. Considering the Apple HomePod is a speaker system, it makes sense that they went with a video that highlighted the power and influence of music itself.
But this video is so much more than an ad for the Apple HomePod. It's about the transformative power of music itself and its effect on the human condition. This powerful display of visual storytelling makes this video design one to be emulated.
Submit your best designs for a chance to be featured on DesignRush!
GET STARTED