For decades, posters have been a crucial component of visual communication. Poster designs can grab viewers' attention, elicit strong emotions, and communicate vital information for everything from promoting events and companies to propagating social messages.
But what makes an excellent poster design? Besides trusted print designers, we mean? it depends on many factors, like the industry, color choices, font, imagery, and composition.
Whether you're a designer or appreciate effective visual communication, this article will inspire you with some of the best poster examples of design available on the web.
Standout Features:
Gradient-mapped
PS Symbols
A red line breaks the monotony
PlayStation works hard, so we can play hard. Fuzzer designed a couple of creative posters to help the brand boost its workforce while maintaining its gamer lifestyle.
The posters are gradient-mapped and feature a standard male and female gamer in a hoodie, holding a PS controller. The blue monotony is contrasted with a neon red marker that stretches on the right side of their faces.
Each poster contains a short copy and the iconic pixelated symbols found on the PS controller set, two of them serving as "pickable" options and two acting like CTAs at the top and the bottom of the posters.
Standout Features:
Abstract and modern
Ticket-like perforation line
Colorful and minimal
The Bridge Theatre asked Coollab Studio to help create several posters that reflect the organization's diversity. The result attracts different parties through a cool, holistic concept.
As there's no specific target audience, the poster design had to encompass diverse imagery and messages while retaining its branding and association with the theatre. So, the design team connected the dots through a perforation line found on any ticket for this type of venue.
The posters are modern and often abstract, with several colors sharing the spotlight. Whether the posters aim to invite, inform, or address a specific gathering, each features a perforation line that symbolizes a "bridge," reinforcing the brand name.
Standout Features:
A free-flowing sash
Freedom ahead of captivity
Repetitive, boring sentences
Angel Faith Mendoza developed a series of posters for the campaign that illustrates the significance of moving freely to communicate that Risky Play is A-OK!
The posters feature a series of repetitive worrisome messages accustomed to parents who are stressed over their children's risky playing around. However, these messages are repressed by blue and orange sashes representing the freedom and courage necessary for the children's development!
While it's natural to think, "Oh no," these posters aspire to keep worried parents from acting on instinct and promote the learning journey for curious children.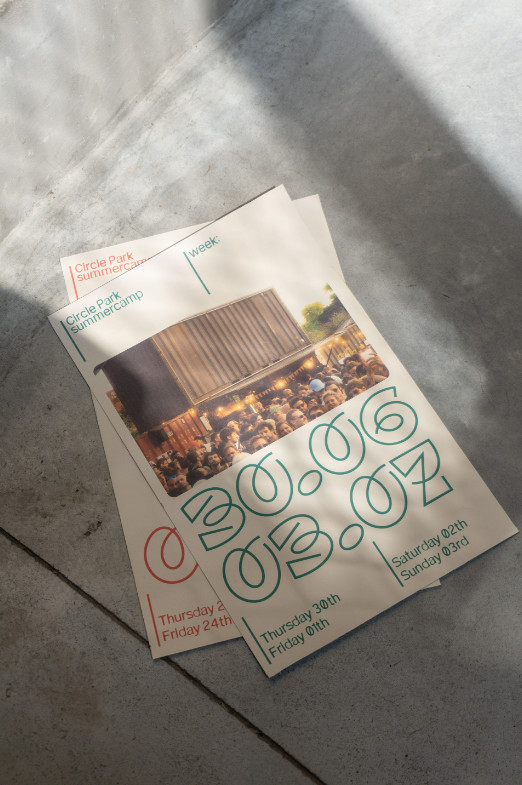 Standout Features:
Minimal and clean
Street art numerals
A combination of fiction and real
Zeevaarder created poster designs for the Circle Park Brussels – Summercamp supporting the audience's outdoor nature and artistic freedom.
The posters are unicolored and most frequently white, accompanied by limited heavy typography that communicates the date and name of the event it's promoting. The numbers are presented in a graffiti-like, free-flow customized font, whereas the textual content is presented in a similar but more legible funky font style.
The colors are vivid and aggressive, and there's a central, realistic element that contrasts the fictive atmosphere – a real-life photo from the past year's event.
Standout Features:
Urban and futuristic
Monochromatic elements
Powerful, energetic contract
Urban Cryptoposters I poster designs by Benedicto Cernal IIII communicate important life lessons through modern and urban symbolism.
Each poster is set on a monochromatic stage with a solid yellow element that provides the needed contrast. Each of the three posters takes a central term and presents a unique perspective revolving around it.
The posters feature modern, urban people captured in the present moment while thinking about the future. Despite the primarily colorless visual aspect, the content and the animated features of the contrasting elements send out a positive message in a creative, futuristic way.
Standout Features:
Grim and macabre atmosphere
Unsettling and mysterious
Artistic, fairy-tale-like approach
The Bulgarian State Puppet Theater – Stara Zagora asked Domingo Pino to develop poster designs for two of their performances.
While the theme differs, the grim, unsettling atmosphere is ubiquitous across all the posters. These posters are done in a fairy-tale-like approach with a lot of artistic darkness embracing them.
On one poster, we see a dreadful scene of an older man pressed with weights on his left side and equipped with many keys on his right. There's an innocent chicken next to him, and he appears to be greedily looking at an egg in front of them through a magnifier pressed against his left eye.
The other show is in a misty night setting with several bold-headed characters looking towards the audience. Two bold mysterious men are in front of them, facing each other, and we see a vast shadow of a child just beneath the full moon.
Standout Features:
Minimal
Doodle art
Colorful and playful
There are countless fans of the Japanese anime Studio Ghibli worldwide. As one of them, Gabriel Castilho Mendes created an homage to some of the most memorable characters and featured them through these wonderful poster designs. 
Each of these minimal posters revolves around a single entity, accompanied by all the other essential characters and features from the movies in a doodle art style.
One poster places Kaonashi, the no-face entity from Ghibli's "Spirited Away," in the spotlight, surrounding it with symbols of Japanese culture and animals like bears, frogs, and unicorns.
Another poster highlights the friendly Totoro, embraced by an umbrella, water lilies, flowers, and other relevant visual aids.
The final poster features Teto, the fox squirrel from the "Nausica of the Valley of the Wind," with leaves and other, more abstract elements around it.
If you like custom fan posters, check out more stunning movie posters here.
Standout Features:
Geometric minimalism
Ornate headlines
Fresh jungle vibes
Dolce & Gabbana is a beloved fashion giant that inspires people to create cool concepts. And designer Hasan Kozoglu stepped up to help the brand produce some of the best poster designs ever, featuring one of D&G's collections.
The poster is laden with geometric minimalism – with two semi-parallel wavy lines, small triangles, and circles spread throughout it.
The poster features two models with black and green leaves growing out of them. The natural wilderness element is supported by several branch-like visuals in the bottom right corner. The ornate headlines make the typography funky and add another layer to the jungle theme. If you want to incorporate the right typeface for your design, here's everything you need to know about choosing your brand typography. 
Standout Features:
Futuristic
Portraying motion
Urban vibe
Mohamed Basil designed several product-oriented posters to promote the Alpha Fly – Nike shoes. Each of the five posters represents a different idea of promoting the product distinctively.
While one poster is a futuristic take, showing the hovering pair of shoes and a thick pink line below them, the other positions the shoe pressed onto a rough surface, instilling its marathon-worthy durability.
The third poster is meant to showcase the comfort of wearing the shoes. With the organic, free-flow shapes and lines in the background, we see the Alpha Fly floating seamlessly.
Poster number four is all about the details, showing the pair of shoes vertically, alongside numerous closeups of their fabric, and alluding to various qualities.
The final poster aims to represent motion or speed. The background is blurry, and the only focus point is the sneakers set to make the next move.
Standout Features:
Distorted and incoherent
Controversial takes
Experimental and chaotic
This unique and bold concept explores life after death through innovative posters. Xtian Miller created multiple posters that exhibit controversial takes through chaotic and experimental compositions.
Rather than making a holistic approach to the theme, the posters are unique yet subtly reminiscent of one another. The repeating pattern is a distorted visual element with seemingly random word placements. A beautiful mess, indeed!
However, each poster carries a discernable message that prompts the viewer to stop and think about it instead of glossing over it. Some posters are colorful, most employ geometry, and all have limited wording.
Overall, this is a fascinating, abstract project that never fails to offer new interpretations.
Standout Features:
Minimalistic
Product-oriented
Vivid pastel color palette
Nexfon is an electronic products store focused on peripheral items for mobile devices. Also covers computers, tablets, and video. Perkapita created several promotional posters that can capture the eye of passers-by and promote the brand's products.
Modern and minimal, these posters are highly product-focused. Each poster encompasses a closeup of a featured product and a vivid, pastel background embracing the rest of the screen and surrounding the product.
Near the bottom, a large logotype alludes to the brand. The logotype is either white or contrasting the background color, like with the purple one on the yellow headphones' poster.
Does your brand focus on tech and electronic products, too? Get inspired by the best technology branding examples for your next design. 
Standout Features:
Color variations
Implied, flag-like movement
Prominent typography
First established back in 2014, Next Wave Awards is the top-level student documentary competition in China that has attracted hundreds of colleges and unis at home and abroad. This project by Tom Kwok is a rebrand for the competition that celebrates the new waves of rising stars.
The first thing that comes to mind when looking at these colorful posters is the bold colors and how the design suits each one. Simultaneously, posters seamlessly incorporate wavy movement with minimalistic tendencies and an abundance of elements with a clean, on-point layout.
Intentional or not, this smooth amalgamation of different trends showcases the character of the event - a unified celebration of contrast, a collage of individuality.
Our design experts recognize the most innovative and creative designs from across the globe. Visit Design Awards to see the:
Our team also ranks agencies worldwide to help you find a qualified agency partner. Visit our Agency Directory for the top Logo Design Companies, as well as:
Subscribe to Spotlight Newsletter
Subscribe to our newsletter to get the latest industry news