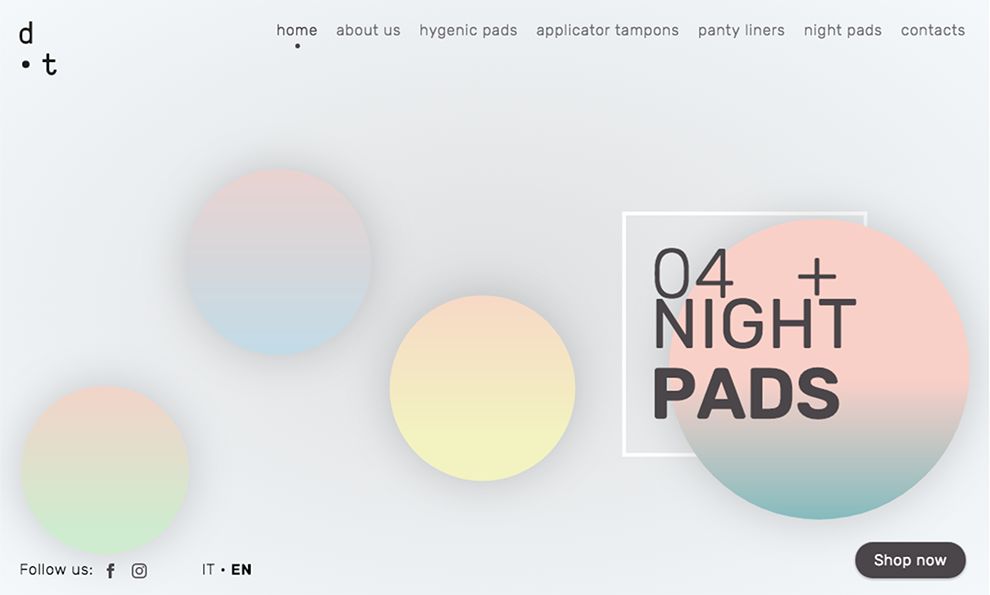 Though they make up about half of the global population, their needs aren't always considered with the same priority as the other half. Their education, opportunities, rights, and health are too often ignored. They are: Women. But, one business is trying to change this trend in history by focusing exclusively on helping women have safer, more hygienic menstrual cycles. By paying special attention to the needs of women, Stop the Dot is using technology to produce hygienic pads, applicator tampons, and panty liners with materials designed especially for women's bodies and physical chemistry.
What is often a subject relegated to hushed whispers between women or to crude locker room jokes is made clean and normal through this inventive interface. It relies on minimal shapes and color schemes to connect easily with audiences. Gentle hues fill each page with gradients of pinks, blues, yellows, purples, and greens. Different sized dots raise against the background by drop shadows, and faintly contrasting pastel fill colors give a subtle multidimensional feel to the site. Black and white text in rounded type keeps the theme consistent, simple, and fresh.
Users can click or scroll to move between pages in the site, giving the design interactive functions. Education is a central goal of the site and helps consumers understand the importance of the product. As users land on a page, they can scroll down to read short paragraphs about the aims, science, and descriptions of the products. Text appears only a bit at a time with delayed reveals in between scrolls to keep the user experience interesting and simple.
Other features maintain the colorful and minimal scheme while also ensuring users can easily navigate various pages. A dot stands between up and down arrows on the far left of site pages, and numbers display where users have landed in each section. Icons on the bottom of pages gives users access to multilingual versions of the site and social media contact. A small, rounded black button with white script appears at the end of each page, encouraging users to shop selections that are right for them.
Once users feel confident about the company, they can shop from a variety of women's products. The colorful dots float onto the page, followed by text and title headings. A digital animation of the product flies in from the top of the page as it fully loads, and it lands in the center with a small shadow underneath for visual depth. Text rotates between bolded and traditional font designs to draw the eye to the most important parts of each product description, and dots and illustrations demonstrate sizes, materials, and versions of the product.
Clicking on the "Shop Now" button takes users to another site page where they can scroll through images of each product with pricing and other descriptive information. Selecting an option for product details gives users a thorough education on the materials, content, length, and quantity of the product, so they know exactly what they are getting and if it's right for their needs. The same simple fonts, color schemes, and icons appear on these pages for site consistency and user clarity. This site design successfully introduces a new product to the market, specially designed to fulfill women's needs with care and quality.
Stop the Dot is a gorgeous website design in the Distribution, E-commerce & Retail and Technology industries.
More Best E-commerce & Retail Website Designs
More Best Health & Wellness Website Designs