Everyone loves shopping.
Over the years, people worldwide have enjoyed going to their favorite stores and buying whatever they want, need or both. With the rise of online shopping and eCommerce, fashion websites have increased in popularity.
The global pandemic has also demanded many people to stay at home and make online purchases, boosting the growth of these clothing companies and fashion houses.
The best fashion websites show you can still feel and experience all the glamour in just a few clicks. Let these examples inspire you!
Standout features:
A Visually appealing color story
Gorgeous typography
Accessible sections
Geles are the traditional West African headdresses for women that can be worn daily or for special occasions. These protect the head from heat and are great fashion accessories to any woman's outfit, from traditional to cosmopolitan.
Angelina Swann offers geles for all style preferences and occasions, guaranteeing an authentic African style without compromising comfort. Owned by a West African woman, the brand prides itself on having the best quality geles anywhere in the world.
Get Great Site has developed a functional website design that provides Angelina Swann's customers with a great online shopping experience. The colors they chose are black, gold and mauve. These colors exude an air of luxury as visitors browse various product collections on the website.
These colors feel royal, giving their buyers a sense of luxury. Gold has never failed to make any fashion visual feel expensive and elegant, including this fashion website.
Their use of serif fonts has also been a focus of this website. These font styles give the website another layer of wealth, consistently enforcing the brand's luxurious aesthetic.
Buyers can quickly check the various collections Angelina Swann offers, thanks to the website's accessibility and easy navigation. The overall user experience is smooth and streamlined.
Standout features:
High-quality photos
Legible typography
Great color blending
Violet Feredo, or V, is an Austria-based beauty brand that offers high-quality cosmetics to women worldwide. They are proud of showcasing the natural beauty of women, with their years of research in coming up with the best products for all parts of the face.
Their fashion website, designed by Italian designer Filippo Vezzalli, gives visitors a fantastic browsing experience. The website feels like a substantial editorial spread for a top-notch fashion magazine.
The photos they used are of the highest quality, emanating a polished and professional aura. Reading the various sections feels like flipping through the pages of Elle or Vogue on a sunny day with their magazine-inspired layouts.
The text blocks are easy to read, as they use font styles that are friendly to the eyes. The color choices are also commendable since they do not overpower the products.
No one would feel down while browsing this fun-looking fashion website!
Standout features:
Sleek typography
Appealing color story
High-resolution images
LATITID offers gorgeous swimwear and women's underwear for those who want to look and feel confident with their bodies. The Brazilian company aims to promote body positivity through comfortable, fashionable clothing.
They want a fashion website that looks and feels good. Fortunately, Nossa delivered just that.
Their choice of high-quality product photos allows the buyers to see every detail in total clarity, which is a plus for online shopping.
People cannot touch or see the products in person, so having the best photos assures your customers that your products are of excellent quality.
The designers grouped the collections based on various summer destinations, a clever way to introduce each product and set them on top of one another. The colors are also inviting and calming.
Lastly, sleek font styles and sizes provide easy reading while keeping the brand classy and sophisticated. This gives the audience confidence to buy whatever they want without any eyestrain.
Standout features:
Accessible layout for easy browsing
Great product focus
Chill color profile
For fashion designers, collaborating with a vast brand means a lot. So, when Hiroshi Fujiwara had a chance to work with the elite Italian fashion house Loro Piana, he wanted a fashion website that accentuates his collections with the same prestige that Loro Piana has.
This fashion website designed by Bitmama Reply has successfully highlighted both Fujiwara's creative vision and Loro Piana's age of glamour into one fashion website that is both functional and aesthetically pleasing.
Even though this is a collaboration, no one gets overpowered by another. There is a beautiful balance between the two designers.
The color choices are also great because they lend a warm and soothing tone to the website's overall look. It makes buyers feel like they are trying on the coats and jackets themselves.
Also, the sections are easily identifiable, allowing buyers to access what they want quickly.
All in all, this fashion website design has successfully provided an aesthetic treat for shoppers and visitors.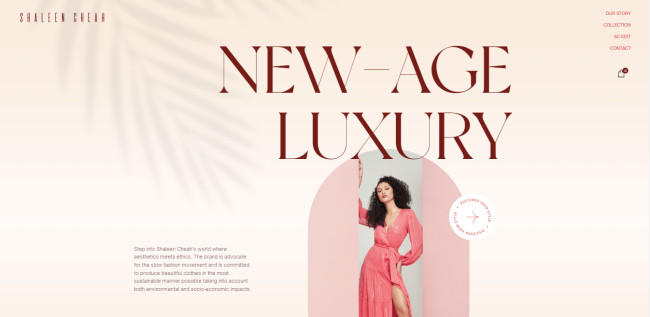 Standout features:
Aesthetically pleasing visuals
On-brand color story
Excellent layout
Inspired by her travels worldwide, particularly in the Andes Mountains of South America, Shaleem Cheah offers gorgeously designed pieces that make everyone feel like a natural woman as one song goes by.
She prides herself in designing pieces that accentuate a woman's assets while making them feel stunning and expensive. Bike Bear has encapsulated style, grace and femininity in this fashion website design.
Checking the whole website feels like you are flipping through a mod fashion catalog from the 80s and 90s. The overall color story is feminine. Pops of color are strategically placed to highlight specific collections.
The web layout allows customers to easily see the pieces, what it is made of and so on. This is important because, in online shopping, you don't have sales attendants to ask about the products.
The fashion website feels like a Barbie fantasy for grown-up women, and we're here for it.
6. Whiteplan by Pham Gia Digital
Standout features:
Unique layouts
Exciting images and transitions
Streamlined assets
Whiteplan focuses on providing the best designs in neutral colors such as white, gray and other similar hues. In a world full of vivid prints and flashy colors, Whiteplan has made its mark on the market for embracing muted shades without question.
Pham Gia Digital has designed a unique-looking fashion website for them that looks like the backstage of a fashion show. It mixes a mood board and a journal, which is not typically used in website design.
The design makes customers feel like they are not scrolling through a fashion website to buy. The sections look like writeups for magazines, a relaxing vibe that gives site visitors a happy feeling.
The choice of colors gives them a sleek outlook, which is what clothes in their specialty colors typically exude in real life.
Even though it looks like a bullet journal, the creativity level is unmistakable. It looks very professional and aesthetically pleasing.
Subscribe to Spotlight Newsletter
Subscribe to our newsletter to get the latest industry news