The concept of storytelling has been around for thousands of years, hence that "tale as old as time" sentiment. While we're typically used to conventional story vehicles like books, films, music... art in general, the digital revolution drastically expanded the offering, so to say.
Computer games aside, it is storytelling websites that turn heads and convert them into a loyal audience. By its very nature, amazing storytelling website design attracts visitors with an impactful narrative and a perfect showcase for your brand, company, product, service and more.
Guiding visitors through a story needs to be visual, compelling and/or interactive in some way. It usually includes impressive, single-page designs, beautiful animation, rich visuals and large textual bits that grab the readers'/viewers' attention from the minute they start the ride.
Are you ready to embark on this journey?
These are the best storytelling website designs that are sure to become the talk of the town in years to come:
1. The Boat by Matt Huynh
Standout Features:
Exciting animation
Enthralling sound design
Custom typography
"The Boat" is an innovative gem of the so-called 9th art merged with masterful web design. It's an interactive graphic novel based on the acclaimed short story by Nam Le of a 16-year-old Mai, sent alone by her parents on a boat after the Fall of Saigon.
The project helmed by SBS Online and SBS Australia was launched in recognition of the 40th anniversary of the fall of the capital and 40 years of South Vietnamese resettlement in Australia.
Nam Le's 49-page short story was adapted into an interactive story with 222 hand-painted illustrations, 59 animated sequences, 11 photos and one video, all painstakingly crafted by the artist and designer Matt Huynh.
Standout Features:
Interactive
Clean and minimal design
Parallax effects
Living with OCD is a brief and interactive introduction to Obsessive-Compulsive Disorder (OCD) created for Mental Health Awareness Month, meant to educate, share resources and real stories to create awareness and reduce stigma and misconceptions around the condition.
The website, courtesy of Design by LA, has two main goals: to properly resolve any misunderstanding about a disorder (ranked seventh on the World Health Organization's list of most disabling illnesses) that is often misdiagnosed, misunderstood and trivialized even today. Secondly, the site aims to become a safe space where people can share their OCD journeys and bring themselves some relief and help anyone that struggles or feels left alone.
The design itself is meant to reflect and alleviate the effects of OCD. The clean design, well-planned architecture and easy-to-read content are the key features to achieving this purpose. Easy navigation and the separation of ideas is masterfully laid out.
Additionally, the on-brand, 3-D illustrations make the website feel fresh and they help communicate abstract ideas in unexpected ways while giving a distinct character to the entire narrative.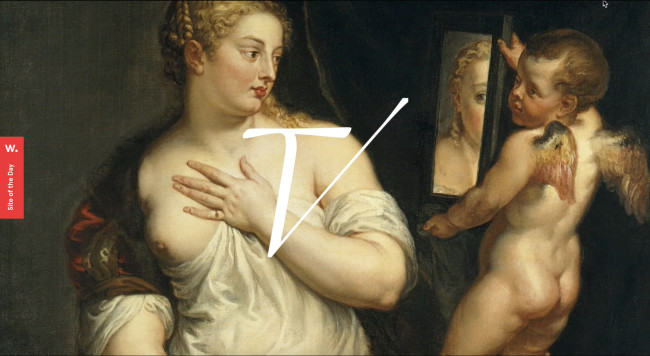 Standout Features:
Motion graphics
Striking imagery
Horizontal Scrolling
Venus Story is a non-commercial project by Loonars Studios inspired by the beauty and sexuality of the Roman goddess and the art's universal muse - Venus. By doing this expansive visual research the aim was to show the other side of copying.
Looking at the subject topic, one can notice that the same idea can be realized in tens or even hundreds of variations, with each artist finding their own sense of meaning and embodiment.
Copying in fact isn't necessarily equal to plagiarizing. It can be beautiful and evolve from the initial idea and this website celebrates that complex dynamic effortlessly.
Alas, without copying Homer's great epics, we wouldn't have Virgil's great "Aeneid", the story about the mythical father of Rome, son of Troy and most importantly, son of Venus.
The luxurious website opts for delicate and beautiful motion effects and eye-pleasing imagery to guide you through Venus' evolving history in art, history and pop culture.
Standout Features:
Motion graphics
Usage of Van Gogh's works
Classy typography
Going from the ultimate muse to the humble genius himself, The life of Van Gogh website, designed by Marina Averina, aims to bring audiences closer to the legendary artist's mind, his life and works with beautiful animation and evocative storytelling.
The website literally brings the Dutch post-impressionist paintings to life (pun intended!) while giving them a playful twist that emphasizes the story of his life and artistic approach.
The elegant and authoritative typography ideally bridges the tragic life story with the somewhat quirky, albeit delightful online experience.
Standout Features:
Frisky animation
Colorful and psychedelic
Insightful
There are artists and then there are Artists. More often than not (and judging by the previous entry), artists are troubled individuals, whose, well "troubles" become the primary engine of their creativity.
Louis William Wain website embodies this occurrence perfectly. It is a visual experience that not only showcases the artist's work but, in a way, enhances it.
The site, designed and "painted" by Yuliya Desiatova is dedicated to the work of the English artist, known for his many images of anthropomorphic cats, cats and kittens. A bit later in his career, with the help of his furry muses and personal struggles he produced an ideal answer to the renowned "Dogs playing poker" series.
Witnessing such imagery and story transcends your typical user journey, it becomes a lasting memory.
Standout Features:
Mission-oriented
Masterfully crafted UI/UX
Balanced information-heavy and light, visual elements
Dive into underwater archeology, literally! The Shipwreck Survey is on a mission to explore Earth's last great unknown - the ocean and their website is here to offer you the first-row seat and educate you about the mission along the way.
Before visitors can undergo the adventure of a lifetime, the visitors must first immerse themselves in the Shipwreck's story.
The new and fresh design for the website by Studio Ubique embodies the Shipwreck Survey's mission effortlessly. Its visual storytelling elements turn the old "show, don't tell" rule on its head as they do both beautifully and quite eloquently.
Studio Ubique implemented a slew of maritime elements such as ancient world maps, compass rose and diving helmets to really make visitors feel like they're underwater, strategically positioning background visuals that show real expeditions.
Standout Features:
On-brand color scheme
Parallax effects
Striking logo design
The website for the LOOP clothing line, designed by Andreas Beugger, is the only circular economy-based corporate wear on the Swiss market. What does that mean?
Basically, the circular economy is a model of production and/or consumption, which involves sharing, leasing, reusing, repairing and recycling used, existing materials and products for as long as possible.
What makes LOOP Textiles' website stand out, both in the industry and other entries on the list, is the right balance of the narrative (i.e., extrapolating on the aforementioned business model and the brand's history) and on-brand visuals. The mission-oriented design is streamlined, clean, legible and ultimately, a pleasure to look at.
Standout Features:
Horizontal scroll
Parallax effects
Evocative
Maciej Maćkowiak is an addiction therapy specialist running his practice both in the office, by the Baltic Sea and online. After living and spending time in various places around the globe he found peace in this secluded, nature-surrounded location. In the years prior, he battled discrimination, depression and addiction firsthand, when nature came to the rescue and offered him a place to heal properly. This safe space is exactly what he wanted to share with his patients, so it needed to be expanded online.
Wtem created a website that focuses on telling his story with words, images and the overall design. It places Maciej himself as the so-called "hero figure" or a "vessel" for the visitor to place himself. The overall approach was "try walking in my shoes." Maciej came through the dark times, and his patients can count to come through as well.
The on-site visuals lead from the dark, dense textures of the deep forest onto the bright, spacious beach. In the desktop version site scrolls horizontally to evoke a sense of physically moving through the forest. The parallax effect was used, not so much to wow the audience, but to showcase the physical and mental walking between the trees where one can perceive the movement of different landscape planes at different speeds.
Standout Features:
Since Keeks itself is a storytelling and design agency specializing in creating extraordinary, intelligent and immersive print and digital experiences it's no wonder their website flexes these two aspects the most.
Right upon landing you can tell the website is visually impressive. It's easy to get lost in dynamic intro animation and the appealing storytelling elements. What is Keeks' story? Creating your own!
Storyteller is often interesting as the story he/she is weaving but Keeks achieves the impossible by drawing visitors in the dream-like visual sequences and the promise your personal dreams are in the grasp - you just need to reach out.
Subscribe to Spotlight Newsletter
Subscribe to our newsletter to get the latest industry news