We've made another full circle with the 365 days all checked out. It's a wrap in 2022; make room for 2023!
But before we get to the new exciting beginnings, we need to pay homage to all the hidden gems of the past year and shed some light on the best website designs of the year 2022! And while it was difficult to devise this list, as there are some exceptional web designs out there, we've narrowed it down to a number of those that outshine the competition.
Whether it's due to their eye-candy visuals, the user-friendly interface, or overall user experience, these are the best website designs of 2022.
Standout Features:
"Arbitrary" positioning
Stripey aesthetics
Informative homepage
Voksevaerk did a terrific job in conveying the nature of this website through their website informative and fun web design that leaves no stone unturned for an interested party.
The entire website is full of playful golden-white stripes that indicate the building blocks of these modern housing and their top quality, all originally and attractively. A similar variation of these stripes found its way into the typography, with most headlines written in custom, double-lined gold characters that complement the website's walls.
The web design leverages the positive space through a combination of arbitrarily-placed, color-coded content blocks describing the pictures. Rather than seeming messy, this "chaotic order" secures your focus and remains intact, providing a unique virtual journey resembling your first drive around the Karres neighborhood.
Standout Features:
Gravity pick lottery machine aesthetics
Bright, cute and colorful
Multiple interpretations
Oskar Koli is a Helsinki-based developer and designer who excels in building the best digital experiences. His portfolio website proves that CVs don't have to be a monotonous chore for recruiters – it is a fulfilling and generous experience that showcases Koli's understanding of the audience's demand.
His intriguing web design, like great art, is open for interpretation. The visuals encompass tiny colorful balls hovering around the screen and forming a circle. These visuals can be seen as a microscopic view inside a chemistry lab, where the "atom splits" represent the attention to detail that entails Koli's work.
However, now and then, one ball is "drawn" to the middle, just like with the gravity-pick lottery machines. The unique ball is enlarged and provides a platform for communicating Koli's approach to his solutions.
But this bright, colorful ride doesn't end there. As you keep scrolling, you follow the narrowed window of these meaningful balls (or messages) and follow their growth – from simple concepts and ideas to realization and life.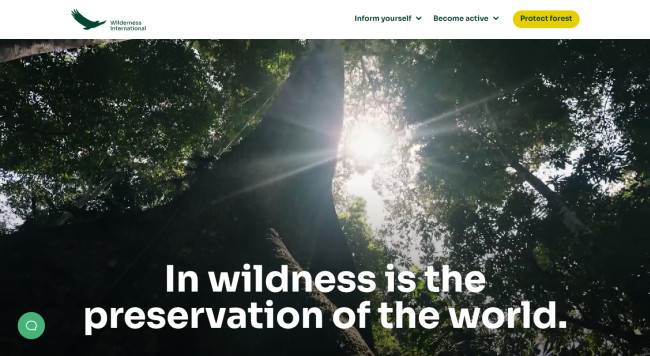 Standout Features:
Powerful and wild video intro
Educative, fun and (environmentally-)friendly
Cute, minimalistic doodles
WILDERNESS INTERNATIONAL is an organization devoted to preserving the wildlife of our beautiful planet by gathering funds that will allow them to purchase and protect endangered wilderness areas worldwide. Their website was designed by App bis web, and the agency paid homage to WILDERNESS INTERNATIONAL's efforts through a beautiful concept that connects their goals and modern visuals.
The website's homepage prompts you to watch a powerful video that will leave no nature-lover untouched. Once the video leaves the viewer with a basic comprehension of the organization's aims, it's time to dive deeper. The following section contains four short content blocks explaining your potential role in their goal, accompanied by cute, minimalistic black-and-white doodles.
At this point, you are familiar with the concept, so the website takes you deeper into the forest through minimalistic visuals resembling the lush green life we've seen on National Geographic. The content blocks, cool doodles, and simplistic, soothing visuals take a serious concern and present it in an educative, fun and environmentally-friendly way, making this web design one of the best of the year 2022!
Standout Features:
Straightforward
Content-only homepage
Clear-cut hamburger menu
Isabel Bogarin is a designer proving that good taste and intelligent use of traditional tools can feel and look modern and efficient. Her portfolio website design refrains from using all the, often unnecessary, visuals that are hard to follow and laser-focuses your attention on the crucial aspects.
Her web design is straightforward, starting with a distinctive unicolor blue homepage with headlined white content block taking up most of the screen.
The homepage header features her nametag on the left and a sweet, comprehensible hamburger menu on the right, both in pink. The omission of other elements lets you digest her short and sweet introduction, ensuring you don't miss any of the three hyperlinked pathways.
Despite the homepage's simplicity, the web design does not lack diversity. In fact, both the "About" and the "Work" sections are presented differently, emphasizing the variety of approaches Bogarin can work with.
5. Bielenda by mDevelopers
Standout Features:
A pamphlet-like carousel
Ample negative space
Highlighted products
Bielenda is a natural cosmetics producer with a prominent, three-decade-long history of helping their customers feel and look good. This eCommerce website design takes a step up from its over-saturated market thanks to the work of mDevelopers.
The homepage features an extensive pamphlet-like carousel that showcases all their top products and offers, establishing the atmosphere of billboard advertising. The use of negative space improves the readability and enables the highlighted products to remain relevant enough rather than easily missed.
Further below, conventional featured products are listed through an image that "escapes" the frame and video content, giving the design an interactive atmosphere through multiple media.
Standout Features:
Decluttered and clean
Balanced
Classy, old typewriter font
Josiah Goldsmith is a British designer working from South Korea with clients worldwide. Goldsmith's unique approach to art and design can be seen best through his website design.
The homepage is divided in two, with the left half featuring a combination of images and content blocks and the right half highlighting only the menu in the top right corner.
The rest is comprised of the blank space that forms a canvas for all of Goldsmith's future endeavors. This decluttered and clean layout is a piece of art itself because, in a way, the left half can be viewed as his thought process for a new project (the right half of the screen).
The choice for the typography landed on a classy, old newspaper print font type, indicating the hard work behind typewriter-written texts. This idea is enforced further through a key message in the footer, "With one's own two hands."
Standout Features:
Dynamic elements
Great design and copy balance
Color-coded sections
Secret Stache is a web development firm established by adventure-loving engineers. Their website design is the work of FlowState Branding, which emphasizes the fun and playfulness behind every project Secret Stache works on.
The website design is full of dynamic visual elements with great storytelling ability. The homepage depicts a "creative space" that embraces the company's work style. The scrolling experience is unique as the background color shifts to complement the highlighted image and content block representing each section.
Rather than relying on the more conventional square or rectangular frames for the typography, the copy is placed in a free-form black blob next to the illustration – providing a significant focus on the grey text.
8. Back Forty by House of Giants
Standout Features:
Video-led content
Heavy sans serif typography
"noisy" background (grainy effect)
Back Forty is an artist management and music supervision company that places art above everything else. House of Giants helped them convey that message through the authentic firm's website design with a simple but effective, beautiful solution.
This website design revolves around a range of high-quality videos that go hand in hand with dynamic headlines, opting for a direct, assertive atmosphere. While the textual content is scarce, headline-only typography effectively communicates Back Forty's services.
The "About" section is the only one that relies on larger chunks of text, and it's presented through heavy sans serif typography – preserving the aggressive atmosphere. A final touch that turned up the volume of this beautiful web design is the grainy effect used for the background that provides a sense of non-stop motion.
Standout Features:
Modern art imagery
Dynamic copy appearance
A blue-orange color palette
Echt Social is a digital marketing agency revolving around the core principle that uniqueness is a cause for celebration. Their authentic approach to every project can be seen through their modern and soothing web design.
The entire design embraces innovation through simplicity. This is best felt through the modern art imagery found across the website, encompassing various elements and art styles into a beautiful, meaningful whole. By relying on multiple shades of blue, orange and some white to fill the gaps, the website can communicate all the vital aspects of the agency's offers while simultaneously letting you feel its personal touch.
As you scroll around, the dynamic copy will shift into existence just by the time the design's tickled your imagination through these cool visuals. The content blocks' spacing helps improve the readability, and you can always jump straight to your points of interest through the fixed navbar, never leaving your side.
Subscribe to Spotlight Newsletter
Subscribe to our newsletter to get the latest industry news