And just like that, 2022 has come to an end.
We have featured a lot of impressive logo designs for those looking for inspiration and creative motivation to revamp or redesign their logos for a better purpose, and we are happy to have helped you with that.
From the hundreds of logo designs we've featured, we picked out the best logo designs of 2022 according to creativity, relevance and impact on marketing and branding.
These logos have continued to challenge the norms and conquered limits. See them for yourself.
Standout features:
Recognizable brand name
Easy-to-read typography
Cool color temperature
Canopy of Neighbors' old logo needed an update since it heavily relied on symbols to communicate its message. The brand decided a redesign was needed to be more innovative and dynamic and to catch up with the competition.
This new logo design, courtesy of GCL Creative, clarified that they mean business and nothing else. They enhanced its existing elements, increasing brand awareness effectively.
If there is one thing companies need to learn from big brands, it's that font size matters. The agency spelled out the company name in big, bold letters. This made the brand more recognizable from a mile away.
Green is always a great choice for logo design colors, as it signifies freshness and vitality. We all want to look vivacious without even trying, so the cool color temperature works on this one.
Lastly, their use of legible font styles has added brand recognition to their company, especially for those who are seeing them for the first time.
2. Metropolitan by Geometric Digital Agency
Standout features:
Minimalist logo design
Direct aim on the design
Structured visual elements
As a real estate and property management company, Metropolitan wants a logo that can represent them professionally and help them build a reliable image.
Geometric Digital Agency has designed the brand logo with these qualities in mind, ensuring its aim of becoming a respected company in the field won't be forgotten at first glance.
And the result? A stunning and relevant logo worth remembering.
They employed a more minimalist design approach to this logo design project, which blends well with the company's goals. The choice of visual elements is commendable.
Instead of using frivolous icons and fancy typography, they used sans serif fonts, adding a layer of professional polish to the logo design.
Seeing this logo would mean that this company does not deal with curves and swerves as it wants to get straight to the point, which is a good quality a brand should have.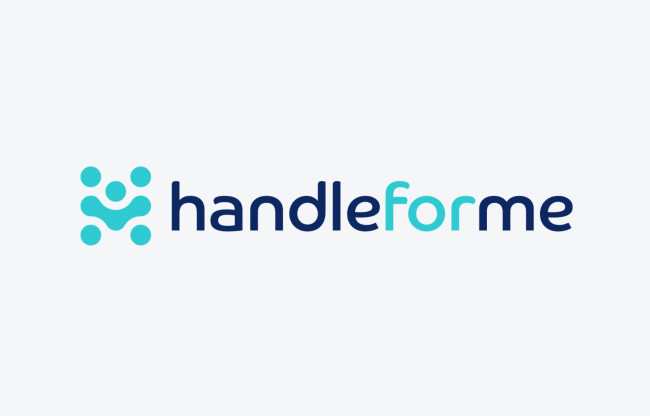 Standout features:
A unique use of abstract icons
Calm and collected feel
Harmony of visual elements
This is an excellent example of an abstract logo working well without confusing its target audience. Many avoid such logo design styles because they fear getting lost in a sea of quirky-looking ones.
When done right, an abstract logo will work perfectly and make your brand more recognizable to the general public.
This logo design by BONB has employed various abstract icon elements, each showing relevance to the company.
They also used blue and black, which are great because blue means peace while black signifies stability. This simple color story lets people know they are a stable company, able to give their clients peace of mind.
Standout features:
An exciting blend of colors
Recognizable icons
Straightforward design
For an institution that helps people with language disabilities communicate and network more efficiently, they need a logo that clearly conveys its purpose -- one that doesn't require further explanation.
Regole Design did a great job combining symbols and letters to create a logo design that everyone understands without needing a long-winded explanation.
The icons are easily recognizable, and it helps people to interpret the message correctly quickly: different people unite under one aim and mutual understanding.
The colors signifying the different values of the group are also perfectly chosen, with the color temperatures not too glaring nor too bland.
Its straightforward design is what this institution needs to send its message across and avoid misinterpretation.
Standout features:
Simple design approach
Bold typography
Warm color story
Day by day is an app that helps people organize by providing them services such as calendar scheduling, to-do lists and so much more. In this fast-paced world, apps like these are a lifesaver to many professionals and students.
Since they live by their aims of organization and relevance, they want a concise logo that is not too plain, and eme.studio has done a great job capturing that essence for the brand.
You can only see four elements in the logo design: the letters DBD and a checkmark, all in bold font styles. Typically, designers use boldface styles in fonts to give the impression of security and reliability.
Using this particular font style has managed to send that message across effortlessly.
The colors they also used are friendly to the eyes, which is great because they are all after the efficiency and efficacy of the app, so using such warm colors is helpful to their purpose.
Standout features:
Soothing color story
Effective use of abstract symbols
A great blend of letters and art
A typical characteristic of logos is the use of letters in the design. That means sometimes, designers use the letters of the company's name in the logo design and incorporate it as part of the concept.
This is a fantastic idea because many have only looked at letters as letters and without artistic value. Putting the focus on the letters themselves is a unique point.
This design by Social Firm is one such great example. They incorporated the letters of the company name into the design and gave it a breath of fresh air.
In addition, the color story is also remarkable; it helped visualize that they are drawing a picture of a sturdy and durable house – precisely what they are selling to people.
All in all, blending the visual elements is effective and works amazingly.
Standout features:
Easy icons
No-frills design approach
Sturdy typography
Food and beverage companies always require logos that are easily recognizable and friendly to the eyes. Big brands like Lays and Hershey's are known to be not too frilly in their logo design, and that recipe works.
Similarly, Blackthorn Publishing has designed this logo for a casual dining restaurant extraordinarily.
The first thing people would notice is the fire icon that they placed right in the middle of the logo design layout. This is a good and effective symbol for a food and beverage business aside from the typical chef's hat or the chef itself.
The design is minimalist and easily understandable, with all its great color choices and legible font styles. Seeing this in a brown bag or a napkin would make this easily recognizable by anyone.
Standout features:
Similar yet iconic design
Use of rainbow colors
Readable font style
Medical and health companies need a logo that says they can be trusted by people in matters of life and health, so a reliable logo design is in order.
With that in mind, Web Design Phoenix created an attractive logo design that is unique and does not stray far from the field.
Their logo design looks similar to the related companies in the field, which should not be a minus point. Even though you want to stand out, you still want to ensure that you are not a sore thumb.
A design that shares a few similarities with others in the industry is okay. It helps people identify your niche correctly and easier.
One notable feature of this design is the use of rainbows. This quickly signifies that healthcare is for everyone, which is what they want to convey.
Lastly, the serif font styles are typical for medical and health companies, which means they blend in so effortlessly. Still, they managed to keep their character and values intact.
9. Arise by Artisticore
Standout features:
Straightforward design approach
Tranquil color palette
Minimalist design
Artisticore did an amazing job retaining the flavor of youth in Arise's logo design, thus producing one that has the potential to last a long time.
They used a darker shade of moss green in the logo, which is excellent because green is considered a cool color and many people like seeing greens and blues in their surroundings.
The minimalist design appeals to those who want to keep things simple and easy to digest visually.
Logo designs like this have the potential to be used for a long time because it does not adhere to any trend that can go out of fashion in a few years. That helps because brands can maintain the same logo design and lessen the risk of losing brand recognition.
10. maitoys by PhamDtran
Standout features:
Use of both sans serif and serif fonts
Warm color palette
Recognizable design aesthetic
Everyone loves helping to conserve the environment in any way they can, no matter how big or small these are. Using eco-friendly toys for your little ones is a good way of doing so, and maitoys want to send that message to their buyers.
Designed by PhamDtran, the logo features a harmony between sans-serif and serif fonts. Typically, designers only use one type of font style for their logo designs to ensure consistency.
However, they made it possible in this logo design to blend two different font styles, creating visual contrast that complements one another.
Their choice of brown as the logo highlights their commitment to protecting the Earth, one toy at a time.
11. Sudh Bhoomi by Jootoor Designs
Standout features:
The symbolic use of visual elements
Harmonious color story
Expressive design concept
One indication that a logo design is successful is when the symbols in your design work without any worries of getting misinterpreted or misconstrued. Sudh Bhoomi's Indian origins can be too elaborate for some people, but this logo design made it work.
Jootoor Designs has kept the Indian identity of the brand intact by incorporating some of its elements and fusing them into Western logo design styles, such as the font styles and the sizing. The result is a logo design that is undeniably Indian with a global touch.
The colors are visually appealing and pay homage to the Indian national flag. This is one way to keep your brand's identity without being too blatant.
The symbols worked perfectly alongside the color choices set in white font. The choice of font color is ingenious and symbolic, as white is also a color on the Indian flag.
Thus, this logo design definitely checks all the boxes.
Standout features:
On-brand design concept
Use of serif fonts
Simple and cohesive icons
Schools and other educational institutions expect a spotless and distinguished image that is typical of their reputation. Thus, they need a logo that expresses their mission and vision without being too explicit on the symbols used.
Willows Preparatory School requires a logo that adheres to those qualities while promoting itself as a school that can come by with the times without trying too much. Creative Chameleon Studio did a great job of placing those values into its stunning logo design.
The first thing you would see in the logo design is the initials of the school (WPS), and a stick figure of a willow tree depicted right in the middle of the logo. They have willow on the name, so why not use one in the logo?
The design concept is very on-brand, which is what they want in the first place. According to the brand, they designed the logo as distinguished by the level of education it provides to its students, which makes perfect sense.
Using icons and shapes works so beautifully that this logo is proven effective in all aspects.
Subscribe to Spotlight Newsletter
Subscribe to our newsletter to get the latest industry news