Do you get easily distracted? Does multitasking seem like a mission impossible for you? Do you often wish there was more time in a day? Do you dream of ticking all the boxes on your to-do list even before a deadline approaches?
If your answer is "Yes" to one or more of these questions, worry not, because you are not alone.
Many people struggle with similar inner battles. Effective time management in a fast-paced work environment and a healthy work-life balance may seem like challenges that are impossible to resolve, but they're not.
The solution may be as simple as a good time management app to help you track your progress, boost your productivity and accomplish your daily, weekly and monthly goals.
We found the best time management apps and divided them into four categories to help you find the right fit for your needs and your budget.
In the interest of saving time, let's jump right in.
Receive proposals from top app development agencies. It's free.
GET PROPOSALS
A time schedule app is a software that helps people manage the time they spend on work and personal tasks more effectively and efficiently. 
Here's a quick insight into the importance of time scheduling apps and how they can help you with time management.
According to Erich C. Dierdorff, a professor of management and entrepreneurship at the Richard H. Driehaus College of Business at DePaul University, there are three skills that can help you successfully manage your time:
Using a time scheduling app can be a highly effective way to become aware of the time you spend on tasks and to arrange your schedule to be more efficient and help you quickly adapt to unexpected changes.
Time schedule apps can help you:
Plan in advance
Schedule every task
Monitor your productivity
Track time spent on specific tasks
Evaluate your efficiency
Manage your projects
Minimize distractions
Prioritize daily activities
Focus on what matters
Lower your stress level
Balance your work and home life
Prevent burnout
Various time management apps come with different features, so let's take a look at what the best ones have to offer to help you find the perfect fit.
These companies can help your growing business access corporate-level HR benefits
See PEO Companies
Top 3 Overall Best Time Management Apps
1. Toggl: An All-In-One Time Management App
With three separate tools – Toggl Track, Toggl Plan and Toggl Hire – Toggl is an all-in-one time management app suitable for project managers, creative teams, marketers, designers and developers, as well as full-time freelancers, agencies and larger organizations.
You can use Toggl to:
Track the time you spend on each task
Plan your days and weeks ahead
Organize your projects by a team, client or a tag
Add notes to entries to recall them later
Manage your team workload
Recruit and onboard new team members with ease
And more
To sync your data across all devices, there's a Toggl web app, desktop app, mobile app and a browser extension.
You can use Toggl for personal projects or for work. Either way, you'll get detailed reports to show you where you spend most of your time.
Available on: iOS, macOS and Android
Price: There is a free version of every Toggl tool while the Premium plan ranges from $9 per user per month to $259 per month, depending on the tool
2. Calendar: An AI-Based Solution To Combine All Of Your Calendars
Calendar is a scheduling and time management app that offers a personalized experience based on artificial intelligence and machine learning.
It enables you to bring together your Google Calendar, Outlook Calendar and Apple Calendar (iCal) into one customizable dashboard.
This is a unique solution that can ensure you never double book again and help you analyze the time you spend on tasks, meetings and projects.
Its AI-based software even offers you a virtual assistant that can learn your habits and start planning your schedule for you.
If you upgrade to a paid version, you can also get meeting transcripts and analytics reports to learn how much time you spend in meetings, but also to help you save time, be more productive and start prioritizing your tasks effectively.
Available on: iOS and Android
Price: The Basic plan is free for both individuals and teams, while the Pro plan for individuals costs $10 per month and for teams, the cost is $8 per user per month
3. Clockify: A Simple Tracker To Improve Your Work Routine
Clockify comes with a simple and easy-to-use time tracker that allows you to track and adjust your work hours across projects and across teams.
You can use this timesheet app to supercharge your productivity, improve your work routine and advance your time management skills.
It's one of the most popular time trackers in the world. It's free for an unlimited number of users and it's already used by millions of people and several well-known companies like HP, Amazon, American Express and others.
Some of the features include:
Idle detection
Offline mode
Reminders
Pomodoro timer
You can switch between Timer Mode and Manual Mode and once you complete your work, you can generate summaries, along with detailed and monthly reports.
Available on: Firefox, Chrome, Android, Windows, macOS, iOS and Linux
Price: Free
Top 3 Time Management Apps For Work
1. Timely: Compare Your Estimates With The Actual Time You Spend
Timely provides automatic timesheets and scheduling for remote teams, digital agencies, consultants, accountants and freelancers.
This app enables you to plan your tasks in seconds and manage your work with innovative time-tracking solutions.
You can set a prediction of how much time you think you will need for a certain task or project and, after the work is done, you can compare the time it actually took.
This is an excellent way to become more aware of the actual time you spend on tasks.
Timely can also help you:
Visualize every project up to 60 days in advance
Collaborate with your teammates more accurately
Compare schedules across teams and allocate
Edit and reassign tasks with a simple click-and-drop function
Available on: iOS, macOS, Windows and Android
Price: After a 14-day free trial, the Starter plan costs $10 per user per month, the Premium pack is $18 per user per month, the Unlimited plan is $26 per user per month and the Enterprise plan has a custom price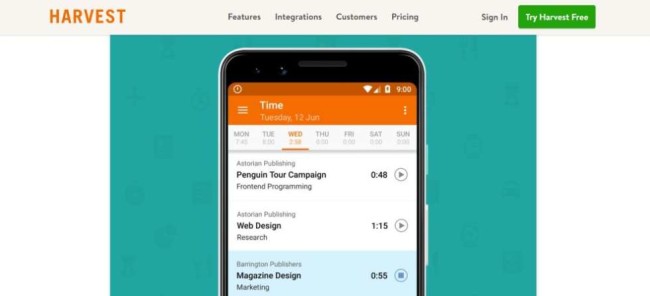 2. Harvest: 100+ Built-In Integrations
Harvest is a simple online time tracking tool used by more than 50,000 businesses.
If you run a business or manage a team and you value work-life balance, you might want to know whether someone has too much on their plate. Harvest can help you with that.
With Harvest's time and expenses tracker, you'll know where your time is going, how much your projects cost and how much money they bring in. You can also pull visual reports from timesheets to manage your time and your team more efficiently.
The built-in integrations with Slack, Asana, Jira, Zapier, Zendesk, Xero, Google Calendar, QuickBooks, Stripe, GitHub and 100+ other apps can help you easily connect with every tool you already use.
Or, you can create a new integration with the Harvest API.
Available on: Android, Windows, iOS and macOS
Price: Free for one user and two projects, while the Pro plan costs $12 per user per month (after a 30-day free trial)
3. Time Doctor: Saves You Time And Boosts Your Productivity
You've likely heard the saying "time is money." According to Time Doctor, people using the tool can save an average of $37,000 a year in lost time. In other words, this app can increase your productivity by 22%.
Increased productivity and money saved are only some of the benefits that this app can offer.
It also provides you with automated screenshots to track activities, a Clients feature to track time on projects, along with detailed reports and a web tracker to show your usage of web apps.
Time Doctor works on any device. It integrates with all leading project management tools and it sets off alerts to remind you to stay away from Facebook and other distractions.
Available on: iOS, macOS, Android, Windows, Chrome and Linux
Price: After a 14-day free trial, the price is $10 per user per month
Top 3 Personal Scheduling Apps
1. TeuxDeux: A Simple App For Your Daily To-Do's
TeuxDeux offers a simple solution for planning personal and professional to-do lists. Its clear interface resembles a paper calendar, which makes this app intuitive and easy to use.
With this app, you can easily schedule reoccurring to-do's, customize your calendars with the color of your choice, export data at any time and rely on daily email reminders. Plus, unfinished to-do's will automatically move to the next day, at midnight.
TeuxDeux is a perfect choice for everyone who wants to be more organized throughout each day or make categorized "someday" wish lists.
Available for: web and iOS
Price: After a 30-day free trial, the price is $2 per month
2. MyLifeOrganized: Organize Your Daily Plans With Smart Lists
MyLifeOrganized is a personal organization software, task manager and scheduling app that enables you to organize your daily plans with ease.
You can star, flag and break your tasks into subtasks. Plus, you can easily drag and drop them to reorganize your to-do lists.
The paid version also includes so-called smart lists – automated lists that alert you of the tasks that require your immediate attention based on the deadlines and priorities you set.
It also offers alerts triggered by geo-location — once you get close to an event venue noted in your calendar, for example.
You can use this app to create simple checklists or to beak complex lists into hierarchical tables with dependencies between the tasks.
Available on: Windows, iOS and Android
Price: Depending on the device and the service you choose, this app can be free or it can cost from $9.95 to $59.95
3. Clear Todos: An Intuitive All-Gesture Interface For Swift Control
Clear Todos is a simple mobile app with a unique look and feel. What differentiates it from other apps is its buttonless interface which works with touch, swipe, pull, pinch-in and pinch-out gestures.
You can pull down on the list to add a new item, swipe to the right to complete a task or swipe to the left to delete it. Each of the entries must fit within 30 characters in length, which helps you to be concise and swiftly manage your tasks.
Besides the effective time management controls and clear to-do lists, the all-gesture interface and color-coded entries with rainbow-hued lists also make this app fun to use. The colorful system enables you to quickly detect which tasks are urgent and which ones can wait.
Available on: iOS and Android
Price: $4.99
Top 3 Free Time Management Apps
1. Workflow: A Customizable App Designed To Make Your Life Easier
Workflow is a customizable time management app that groups all of your apps together and helps you automate tasks you do every day. It uses simple drag-and-drop commands to help you organize your life and stop wasting time.
By creating shortcuts on your smartphone home screen, Workflow enables you to automatically pull up directions from Google Maps, for example, or add a note to yourself, send messages, backup your photos, start a playlist and more – with a single tap.
You can also use Workflow with some of the most popular apps and use it to post on Twitter or Facebook, make PDFs, save files to Dropbox or integrate it with the IFTTT app to connect your devices in a way that suits your needs.
Available on: iOS
Price: Free
2. Shift: Streamline Your Tasks Using 500+ Apps At Once
Shift is another time management app that helps you move within various apps without switching between accounts.
You can choose between 500+ apps that you can connect to Shift to streamline your workflow and daily routine in a smooth and elegant fashion.
Shift has a built-in search system that allows you to search across your email, calendar and cloud-based storage apps without logging in and out of them.
You can use Shift to manage multiple Google accounts as well, including Gmail, Google Drive, Google Calendar, Google Ads and more.
This app helps you detect a method in chaos, connect the apps you use the most and manage them from a single dashboard. You can use it to manage your work tasks, organize your personal events and create a work-life balance.
Available on: Windows, macOS and Linux
Price: Free
3. Microsoft To Do (ex-Wunderlist): Helps You Stay On Track With Your Plans
What was once known as the Wunderlist app is now called "Microsoft To Do," but it still includes some of the same features as before. You can use this time management and scheduling app to add tasks and subtasks, create color-coded lists and choose between pre-set list themes to personalize your experience.
It offers a daily planner within the My Day section and it provides you with suggestions to review what's the most important each day. You can also set reminders and deadlines, create recurring tasks, attach files, add notes and prioritize tasks.
Microsoft To Do syncs across all devices and helps you stay on track with your daily to-do's. If you use it for work, you can create group lists and share them with your teammates for streamlined, real-time collaboration.
Available on: Windows, macOS, iOS and Android
Price: Free
How To Use Daily Schedule Apps As A Time Organizer
Once you choose the apps that suit your needs, you can use them to improve your time management skills and organize your calendar.
Schedule apps can help you analyze the time you spend on tasks and be more intentional in managing your projects and daily routines.
You can also use these apps to detect your peak performance time, reduce distractions and time-wasters and adjust your to-do lists to become more productive on a daily basis.
To organize your time even more efficiently, you can use these apps to prioritize activities, schedule protected time for your personal obligations, schedule buffer time in case of delays and unexpected events or you can simply use them to recognize areas where you need to improve.
Takeaways On The Best Time Management Apps
If you are constantly juggling multiple tasks and struggling to stick to your plans and accomplish your goals, both personal and professional, perhaps one (or more) of the best time management apps we presented here can offer you a solution.
For example, if you run a business, you can use an all-in-one app like Toggl to manage your team and plan months ahead or you might find a simple time tracker like Clockify to be more efficient for you.
Or, you can choose Timely to learn how much time you spend on each work-related task and try Clear Todos to have fun while you organize your personal time.
If you are on a budget, you can try free apps like Workflow or Shift to streamline your everyday tasks and start accomplishing your goals.
Each of these best time management apps are specifically designed to help you become more efficient, productive and focused in your day-to-day activities.
To get the most out of them, find the app that suits your current needs and start organizing your calendar!
We'll find qualified app development agencies for your project, for free.
GET STARTED
Subscribe to Spotlight Newsletter
Subscribe to our newsletter to get the latest industry news