Monogram logos have the power to imprint themselves on the minds of consumers.
Think of big players like HP, Volkswagen, Louis Vuitton, Warner Bros, and the New York Yankees. These brands have logos that are merely combinations of two letters, yet somehow, they've managed to become iconic images that most people resonate with.
And isn't that the primary goal of branding? To create a lasting impression that eventually translates to a stronger brand affinity and loyalty (Learn more about branding).
A well-designed monogram logo can help you achieve this. It's one of the most effective ways to create a visual identity that's memorable, unique, and easy on the eyes. These professionals can help you with that.
A clean and streamlined logo design will make it easier for you to capture your customers' attention from the get-go than a complicated and heavily embellished illustration.
So, here are the eight best monogram logo designs that can help ignite your creative genius. These simple yet memorable works show how a no-frills logo design can elevate your brand identity in a snap!
1. HK Clothing by Brait Consulting
Standout Features:
Large and bold typeface
Two-toned color palette
Center highlights detailing
HK Clothing makes high-quality and custom-made clothing for the modern man. Aside from their well-known dapper suits with perfect fitting and style, their ability to mix and match colors that blend well is applauded.
And design agency Brait Consulting perfectly captured those unique traits in this one-of-a-kind logo design.
You'll notice how the colors pop. The pairing of primary colors blue and red immediately catches the eye and creates a strong brand persona. Plus, the contrast between dark and vibrant shades is visually satisfying.
One thing about a monogram logo is that it has to be clear and legible. HK Clothing nailed this. The designers used a large and bold font style for the brand name's initials, so it's hard to miss!
Lastly, the arc-style highlight in the middle brought the two initials together and made for a cohesive monogram layout.
Standout Features:
Monochromatic aesthetic
Contemporary symbol + logotype design
Integrated brand name initials
Minimalist monogram logos can be a hit or miss. They could either look chic and contemporary or plain and uninteresting. This monogram logo design by Thefingerprint for London-based photographer Matthew Alexander is a HIT!
The layout features a sleek and streamlined layout of the photographer's initials molded into a singular logo icon. The letters "M" and "A" have been stylized with the same curved shape, making the illustration clean and coherent.
And that's not all – the curved styling of the icon matches the font style of the brand name, too! (Discover the best font style for your brand).
This look certainly fits the brand since the photographer specializes in editorial, sporting events, PR, and corporate commissions.
The neutral, monochromatic colors added a contemporary touch to the logo design. The black, white, and grey color story gave the brand a professional character without looking too straightforward.
Standout Features:
Clean and professional logo illustration
A modern and industrial aesthetic
A neutral and adaptable color story
One of the best monogram logos is a Welsh & Taylor Wealth, financial management company that opens its doors to everyone.
Its branding and marketing efforts target the older and younger generations, so it needed a professional yet approachable visual identity. And Fifty Fifty Design delivered with this stunning monogram logo design.
The main illustration for the logo features three pointed pillars that form the brand name's initials, W and T. The icon is reminiscent of that classic corporate look in business and finance visuals without looking too generic and repetitive.
This combination of logotype and symbol into one streamlined icon is a great way to introduce the brand to its modern audience.
Neutral colors dominate the logo design. The black and white color palette gave a premium business feel to the brand. Also, this palette makes integrating the logo into various branding assets easier. Win-win! (Explore the advantages of choosing the right color palette).
Standout Features:
Single-letter monogram
Spiral logo design
Visually striking brand name initial
Do you want to execute a simple yet sophisticated monogram logo design? Take notes from Bjorn Berglund's logo creation for Bartolo Entertainment (BE).
BE is a talent management company aiming to provide opportunities for young and aspirational musicians and artists wishing to unleash their creative potential. This logo design encapsulates that mission and identity so well – with just one letter.
The letter "B" takes the spotlight in this logo. No other distractions! It's been stylized with spiraling outlines that go inward, adding flavor to the symbol. And as you stare long into the illustration, you'll see that the shapes slowly form the letter "E" right at the very core.
This is an excellent example of turning a logo from a mere illustration into an interactive experience. It proves that even with a static image, you can still create an illusion of movement!
Standout Features:
Athletic logo typeface
A fresh and light color palette
Single-letter logo symbol
What do health and wellness enthusiasts look for in a brand? Its commitment to an active lifestyle and eagerness to achieve fitness goals.
The modern, refreshing, and energetic visual character of this logo for Body Script designed by Florida-based design agency ElephantMark is the proper representation of that.
Body Script is a piece of fitness equipment that provides accurate body analysis through gold-standard measurements for muscle, fat, and water. The style choices for the logo reflect this function – the light blue color, the modern sans serif font, and the star of the show: the brand name's initial.
The letter B in Body Script has been reworked and stylized with a distinct athletic feel usual to sports and activewear brands. What made it extra special? The icon is slightly skewed to visualize an accelerating motion. Very fitting for a fitness brand!
The single-letter icon will also be easier to integrate into other platforms, like an app or software.
Standout Features:
Clockwork-inspired logo symbol
Outlined letters
Interconnected brand name initials
Now that remote work is the new norm, more outsourcing companies are stepping up their branding game. Exhibit A: Outsourced Back Office's modern and industrial logo designed by digital marketing agency Very Vivid.
Going for a monogram layout was a smart move for this brand because of its long brand name, which can really be challenging for most designers.
The brand name's three initials take center stage, each bearing a unique visual character. The letter O has a simple spherical shape, the letter B has an outlined figure, and the other letter O looks like a clockwork piece.
Altogether, these connected elements create an attractive image that conveys the brand identity effectively!
The color turquoise is a pleasant surprise in this logo design. Aside from making the whole illustration pop, it also made the brand's character more approachable and easygoing.
Standout Features:
Low-cap typography
Simple and minimal
Subtle 3D element
One would think that we continuously overemphasize the importance and value of simple, clean and ultimately, minimal design. But every once in a while comes a healthy example that proves our statement is reigning true.
wiki wheels' logo, designed by veteran agency, Vista Logos, is one such beacon. It is clean and simple, legible and appealing. By themselves, none of its elements turn heads when plucked from the whole, but their union is seamless and alluring.
Low-cap, sans-serif font, its bolded part, and an emblem emanate contemporary authority, without resorting to industry conventions, or flashy design trends. They simply "are" and they "work".
The color scheme, as well as the cleverly hidden element in the "W" symbol, are what draw the onlookers' eyes and inspire them to find out more about the brand. Easy truly does it!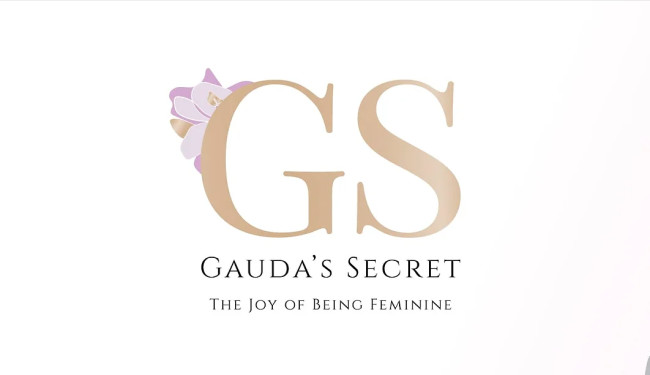 Standout Features:
Floral accent
Classy typography
Emphasized feminine strength
Gauda Secret is an online wellness shop that brings high-end cosmetics products to women looking to accentuate their natural beauty, those who want to feel special and express sensuality through body and soul.
Contese Agency designed a logo that defines, no, embodies delicacy and femininity through classy typography, a unique tagline, and a color palette that expresses flourishing through an abstract design.
Similar to big brands like Victoria's Secret, GS's branding emphasizes and merges intricacy and delicacy with intricate feminine strength
Subscribe to Spotlight Newsletter
Subscribe to our newsletter to get the latest industry news