From family sedans to those built for speed, cars are branded machines that advertise their manufacturers wherever they go. Car company logos not only increase brand awareness, they embody the company's mission, heritage, tradition and values to consumers.
What makes car logos so persistently successful is the notion of subtle elegance and luxurious appearance, as well as original emblems that signify strength, power and anything else relevant to manufacturers and customers. With that said, we're shifting gears to introduce the best automotive logo designs in 2023:
10 Best Car Company Logos Facilitating Strong Brand Loyalty
The best car company logos in 2023 epitomize this strong brand recognition and loyalty through visual identity. We rounded up the best symbols, the stories behind them, and why they are so darn successful.
1. Toyota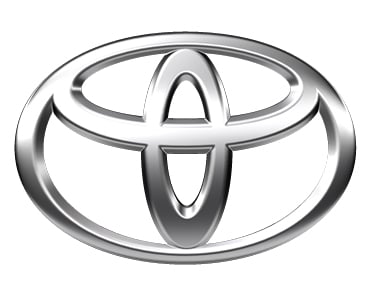 Toyota is a Japanese brand that's been dominating the small-to-medium-sized car market for years.
However, Toyota also offers a line of jeeps, sedans and limos. The Toyota car logo is simple and very recognizable. The current symbol was redesigned for Toyota's 50th anniversary in 1989.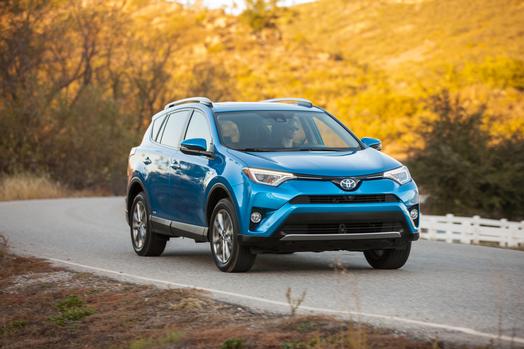 Toyota's logo has a main, but not widely-known, meaning. It's clear that in the middle, there are three oval shapes that combine to form a letter "T," but what most people don't know is that in the beginning, the Toyota company started out as the industrial loom maker.
That is why the most inner oval shape represents a needle.
Toyota's logo doesn't have aggressive lines or rough edges; it's very soft and rounded, like the majority of their cars. This is a great example of how the logo embodies the same values as the car design – Toyota has very curvy and sleek cars, without brash edges.
2. Saab

You might be wondering why would we analyze a simple text logo, but the story behind Saab's rocky journey is an interesting one, to say the least. First, let's dive into Saab's background.
Originally manufactured in the Swedish province of Scania, Saab decided to pay an homage in 1984 when they introduced Scania's emblem elements – the griffin, adorned with a crown and outlined in gold.
In 2000, Saab was sold to General Motors and redesigned the logo, keeping the well-known griffin in some form.

After analyzing the original logo, we can clearly see why it was so popular. The color palette honors Scania, but it's also very attractive and demands attention.
A blood-red Griffin on a blue background and gold outlines symbolize power, wealth and high quality.
The Griffin, a mythical animal, plays with the idea that the car is daring and bold. Thick white typography sits below the Griffin and increases the brand recognition as a whole.
This way, in unison, both typography and the mascot logo build the brand's identity together.
Unfortunately, Saab went bankrupt and was purchased by the National Electric Vehicle Sweden, but since the manufacturing wasn't in Scania anymore, the province decided not to let the new owners of Saab keep the famous Griffin.
3. Abarth
Abarth is one of the more intricate logos on our list, with many different elements mashed together. The outcome is breathtaking, even though the horoscope played the role in the design.
The Abarth brand started in Italy and was founded by Carlo Abarth in 1949, which allows us to clearly see the homage paid to the country of origin.
The colors on Abarth's logo, green, white and red represent Italy. The yellow and red colors in two halves of a shield are the colors of the racing industry.
When we consider the era when Abarth was "born," it's evident that this logo was much ahead of its time.
But Carlo was on a mission and he clearly stated that he didn't want just another logo – he wanted something wild, recognizable and hard to imitate.
Scorpion certainly isn't an obvious choice when it comes to choosing animals that would represent the brand's power (horses and horsepower are obvious and that is why we have brands like Mustang, Porche. and Ferrari who use it).
So, why did Carlo chose a scorpion? It was personally motivated – Carlo Abarth was born on November 15th, and his sign is – you guessed it! – a Scorpio.
The shield symbolizes the fight, defending one's honor, passion, victory and security. Basically, every adjective you'd want to be associated with this risky and thrilling sport.
Racing is dangerous, but the shield implies the quality of materials from which the Abarth was made.
From the design perspective, Abarth logo is a bit too much, but when we consider that this logo represents a prestigious line of Italian racing cars, the many elements suddenly seem to work well.
It's in line with the brand vision, and by now, the design is so embedded in people's minds that changing it would simply take away from the user experience and satisfaction.
Overall, the logo is zesty, attention-grabbing, loud and very appropriate for the industry it serves.
4. Maserati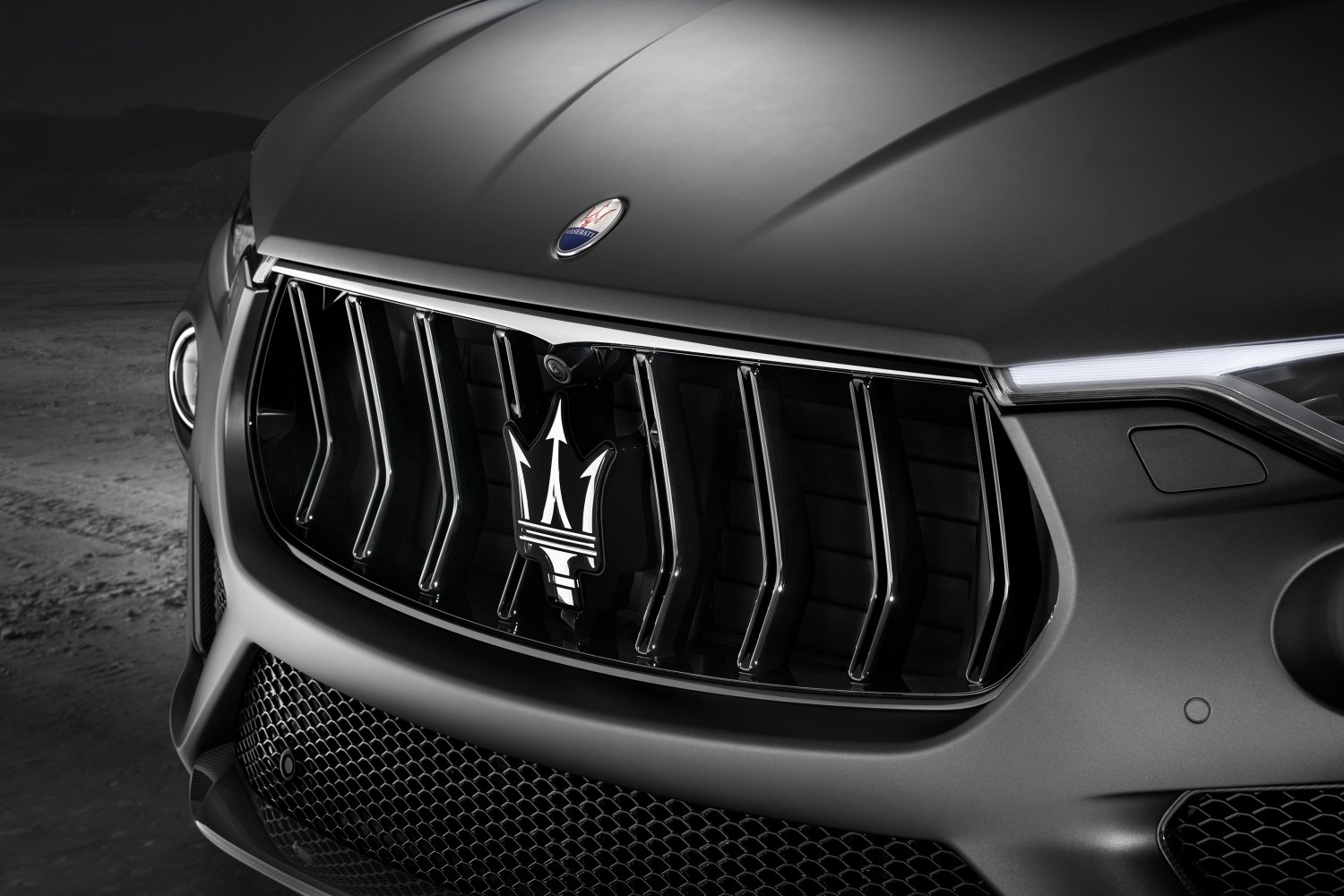 Powerful. Bold. Prestigious. Sharp. Cutting-edge. Elegant. Wild. Can you guess if we are talking about Maserati cars or the logo itself? Well, there's no difference because both the car company brand and logo are perfectly in tune.
Maserati started out as a family business – three brothers, represented by the trident. It's not widely known that the fourth brother actually designed the brand's logo.
He based it on Neptune, the Roman God of Seas, and since the statue was displayed in Bologna, he has woven hues of red and blue to honor that city.
This is a logo that isn't encircled by any shape or border; the trident is the only symbol on the car, without even the wordmark.
The lack of text just emphasizes the brand's idea to be recognizable solely by their logo.
It adds the overall feel of exclusivity, and given how cars range from $100,000 worth, it's easy why they don't care about boasting – customers come to them.
Analyzing the logo further, it's clear why the trident works as a symbol.
Three brothers, from the same background, the same unit of life – family, working in unison, but each providing a different perspective. That is why the trident's tips are showing separate directions.
5. Ford Mustang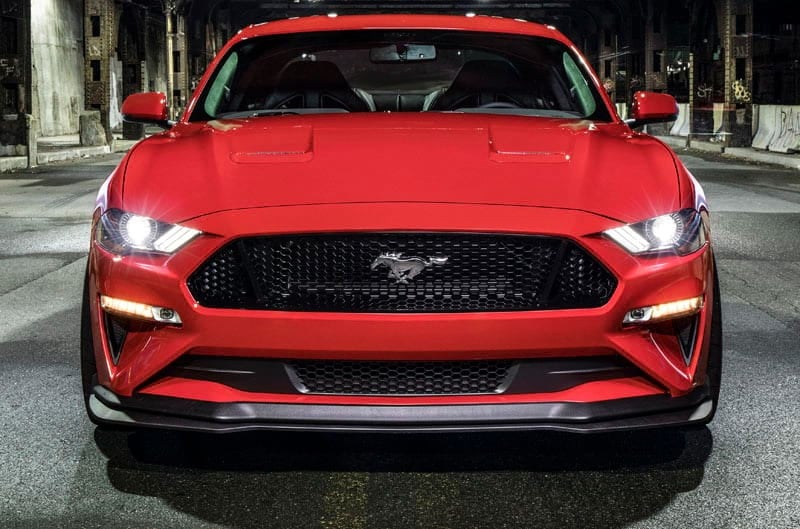 Even though Mustang is a specific car model logo and offshoot of Ford, it certainly deserves a rightful place on our top 10 car company logos' list.
So, what makes the Mustang logo stand out? While the other manufacturers used horse mascots for horsepower metaphors, Ford went out and chose the free-roaming horse typical to the North American West territory.
The message is simple yet powerful – they chose a mascot that not only is known for its strength but, most importantly, its freedom.
The Mustang is Ford's way of attracting daring customers who value that independence and free-roam spirit.
Mustang belongs to the pony car group – a pony car is a sports car with an elongated hood (for stacking all that horsepower) and short rear decks.
When compared to other contemporaries like the Chevrolet Camaro or even the Javelin from AMC, many pony cars have undergone numerous changes when it comes to their logo design.
However, Ford chose to stick to the original design, which remains unchanged for the past five decades. That instills a sense of dependability and secures the true nature of the brand.
When we look at the logo from the design perspective, Ford's Mustang simply does it better than the rest of the horse car logo mascots.
As opposed to their prancing horses and silhouettes, Ford uses a Mustang in full-blown charge. Without the other unnecessary details and colors, this horse stands out.
This was a smart route to take in the launching of the brand because you can't go wrong with simple and effective. Customers' love of the car logo is supplemented with their love of the vehicle itself.
6. Rolls-Royce Motor Cars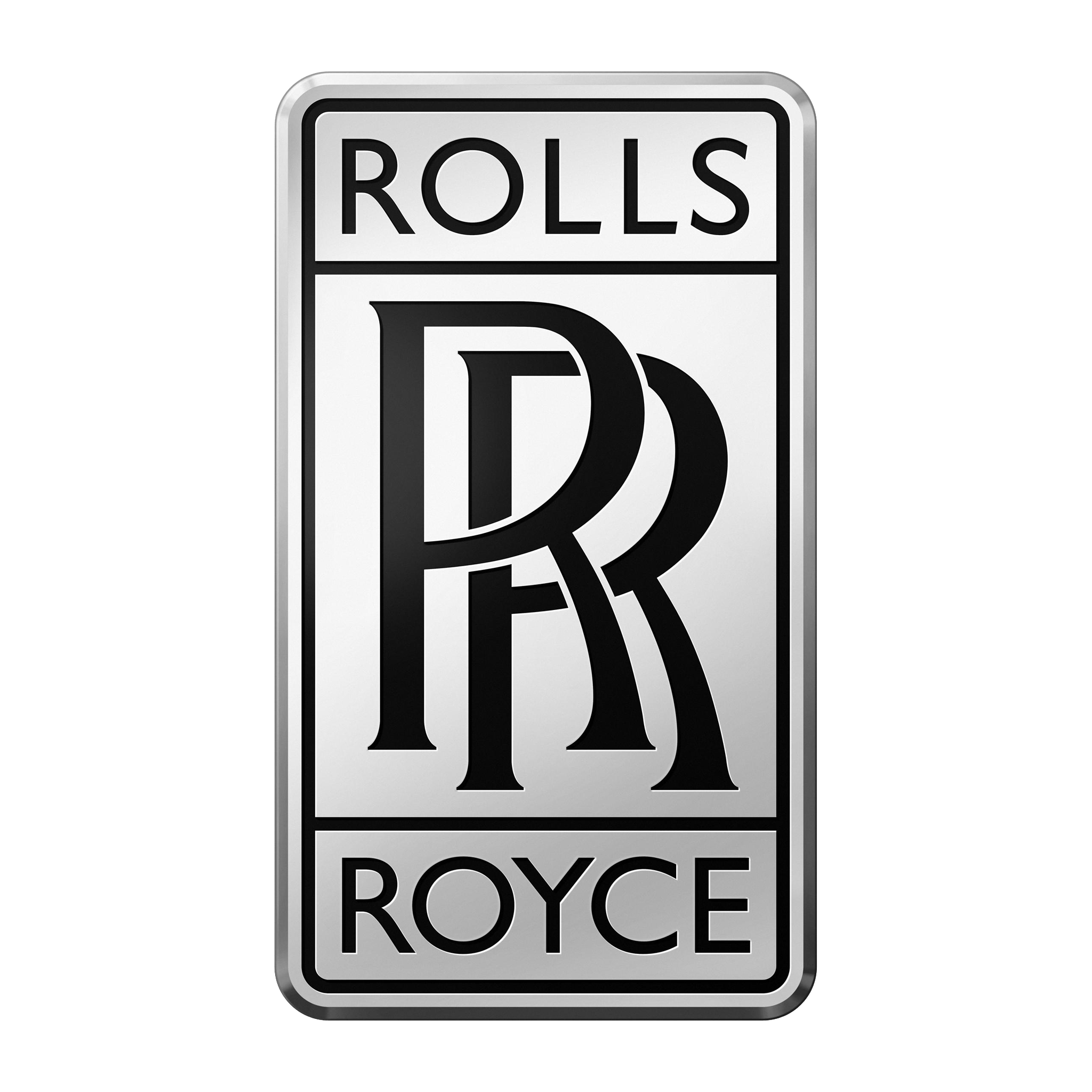 Rolls-Royce is a British luxury brand of evergreen limos – classical in their appearance, but prestigious and dependable. Each part of the vehicle is handmade and assembled, and that is why the price reflects the manufacturing process as well.
There is nothing overtly flashy or over the top about either the car or the brand's logo. Subtlety goes a long way with Rolls-Royce.
Rolls-Royce's logo design is simple and effective, with just wordmark company name on a silver plate and a monogrammed symbol of the double R's.
Initially, the company owners, Charles Stewart Rolls and Sir Henry Royce, used red lettering for their plated logo, but they changed it to black because they considered it to be more luxurious.
Even the mascot, the "Spirit of Extasy" is elegantly displayed on the front grille of the cars. There's an interesting story about the sculpture that adorns every Rolls Royce.
Lord Montagu ordered a car from his friend and co-founder Charles Stewart Rolls, but he also wanted to add a sculpture of a gracious and elegant female presence.
Then, Lord Montagu commissioned a sculptor called Charles Sykes to model the mascot in an image of "the Whisperer" sculpture, but to use the famous actress Eleanor Thornton as the inspiration. Miss Eleanor, Lord's secretary at the time, was rumored to be his mistress.
The sculptor Sykes even wanted to sculpt the lady with one finger across her lips, paying an homage to Miss Thornton and Lord Montague's extra-marital affair he had with the actress.
More than 100 years later, the "Spirit of Extasy" still adorns every Rolls Royce.
Claude Johnson, the managing director of Rolls Royce at the time, stated that he wants a mascot that will embody the absence of vibration, and "the mysterious harnessing of great energy and a beautiful living organism of superb grace."
The typography used was classic and, at that time, modern. However, the brand kept the logo so contemporary it just turned into an evergreen classic with the company's growth.
The emphasis was firstly placed on the mascot, "the Spirit of Ecstasy" because it draws attention – like a sculptured masterpiece on wheels. This is a perfect example how a mascot can do more for the brand than their logo.
7. Mercedes-Benz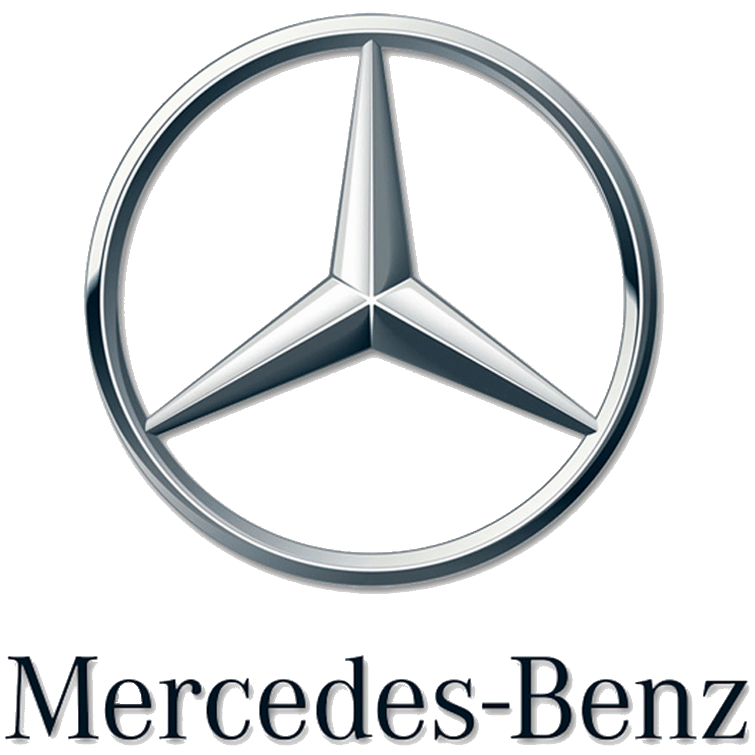 Mercedes-Benz has had several logo redesigns since 1902, but the three-pointed star-like symbol appeared in 1909 with the logo's first redesign.
That is when the company saw the potential they wished to explore – there was an overall drive for the Mercedes-Benz company to achieve a universal motorization.
The three points stood for the sea, land and air, where their motors could dominate the industrialization.
If we observe the logo today, we can clearly see that they encircled those three points because they wanted to portray a wholesome strategy and stick to their roots.
The name Mercedes signifies the type of car design and was named after a man who was racing under the DMG - Emil Jellinek. Emil's racing pseudonym was Mercedes, which was actually his daughter's name.
Mercedes-Benz has a strong social media game. In terms of social interactions, the Mercedes-Benz page has nearly 30 million interactions in terms of engagement, while BMW has only around 11 million.
From a design perspective, Mercedes has an elegant, powerful logo that's been slightly modified throughout decades, but always keeping its recognizable shape.
8. Audi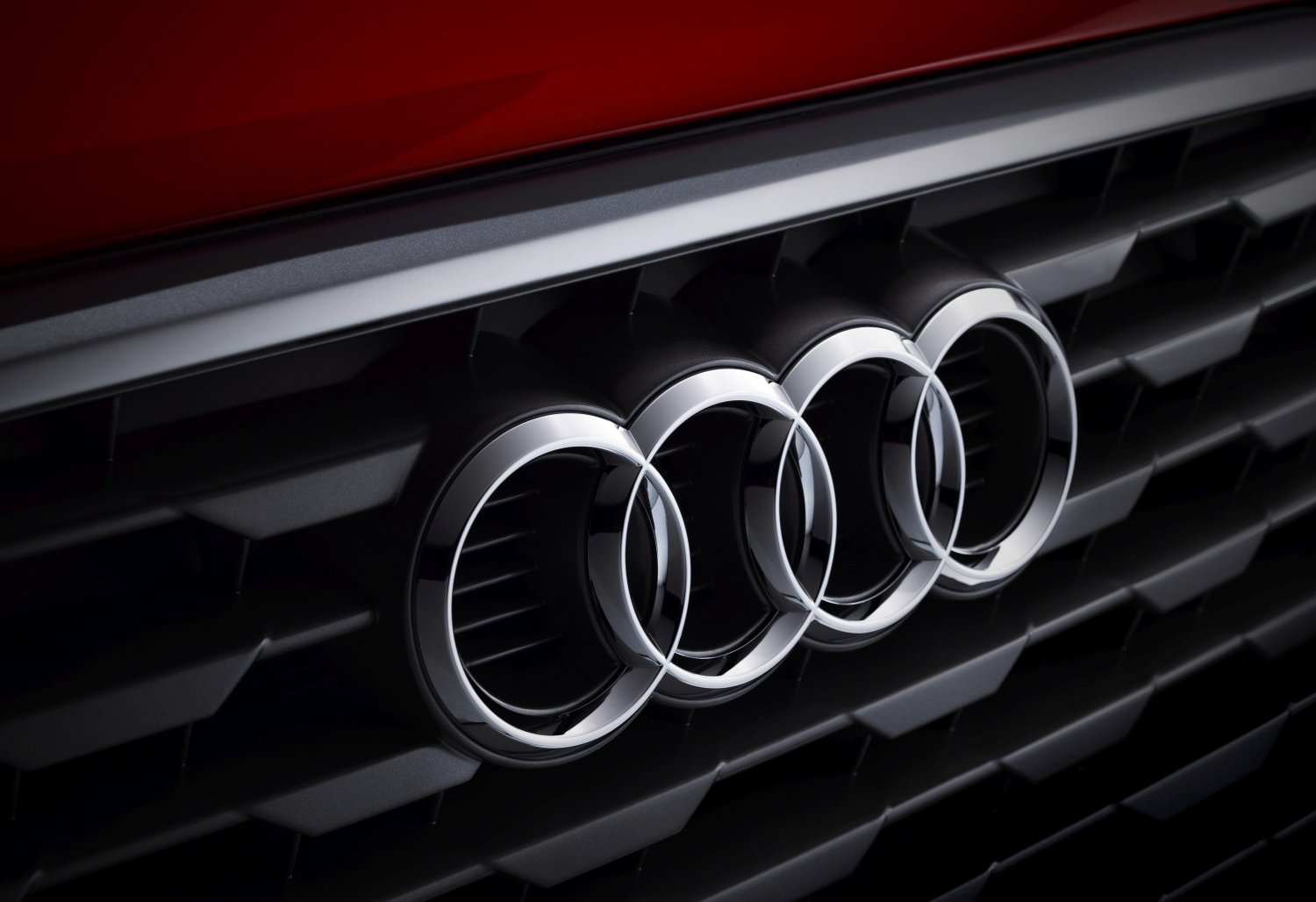 Audi is the perfect example of a logo entirely without the wordmark symbols. Instead, we have four silver rings intertwining together and acting as the brand ambassador.
What would the Audi wordmark look if it were a text-based symbol? Chances are, we will never know, since the brand has seemingly accepted their rings as the only driver of brand recognition.
How did it come to life? There is a rumor that the rings were supposed to signify the Olympics, but it has never been confirmed.
But the brand's story began in 1932 when four vehicle manufacturers – Audi, Horch, Wanderer and DKW – joined their forces to create a brand new company.
In the first iteration, Audi's logo had the rings and the first letter of each company's name inside. Even though the logo was redesigned several times, they never abandoned their four rings, thus honoring Audi's heritage.
When analyzing the logo from a design perspective, we can see that Audi likes to employ a unified and holistic approach.
This flat design allows Audi to use it and place it freely over their stationery design. Simple, powerful and elegant sleek lines make the logo a great brand advocate.
9. Tesla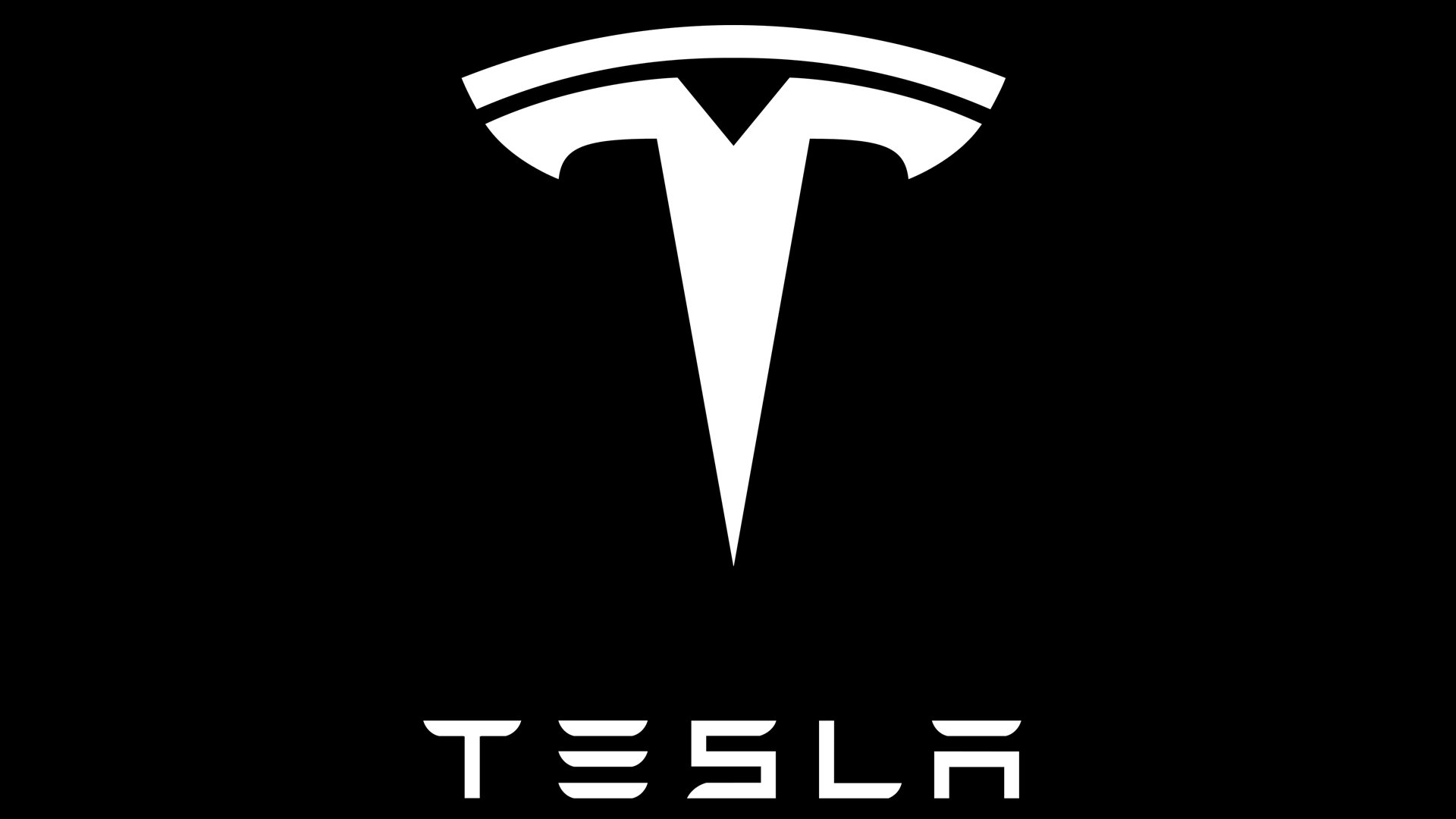 It's hard to find new examples of logo design if they aren't actually redesigns, since there aren't new players in the automotive market. Except for Tesla, of course.
Elon Musk's Tesla is a pioneer in driverless cars and car automation, and it deserved a modern logo that will embody the company's spirit.
At first, people believed that the modern typography and letter-centric logo was just a letter "T."
However, it has long been speculated that Tesla's logo also depicts a cross-section of the electric motor, first devised 100 years ago by a Serbian engineer Nikola Tesla.
Naturally, the motor has been redesigned, but the same principles were applied. This year, Elon Musk finally confirmed the theory about Tesla's car logo design's origins and heritage.
But in addition, upon observing the logo, it's clear that Elon wanted Tesla's logo design to showcase the innovation, the fast pace of their research and pioneering technologies.
Sharp lines cut through the air with ease, and aggressive edges give off a powerful vibe to everyone who sees the logo. They want to be associated with ground-breaking emerging technology and trends.
Even Elon Musk's social media presence aims to display the sarcastic and contemporary brand messaging, giving off a brash feel in public. They are changing the rules of what driving looks like.
They are driving change and they know it.
However, the design is still simple enough to be elegantly and freely placed on stationery design materials. Initially, the letter "T" was placed in the shield emblem but the company founders decided to lose it and just keep the letter.
10. Lamborghini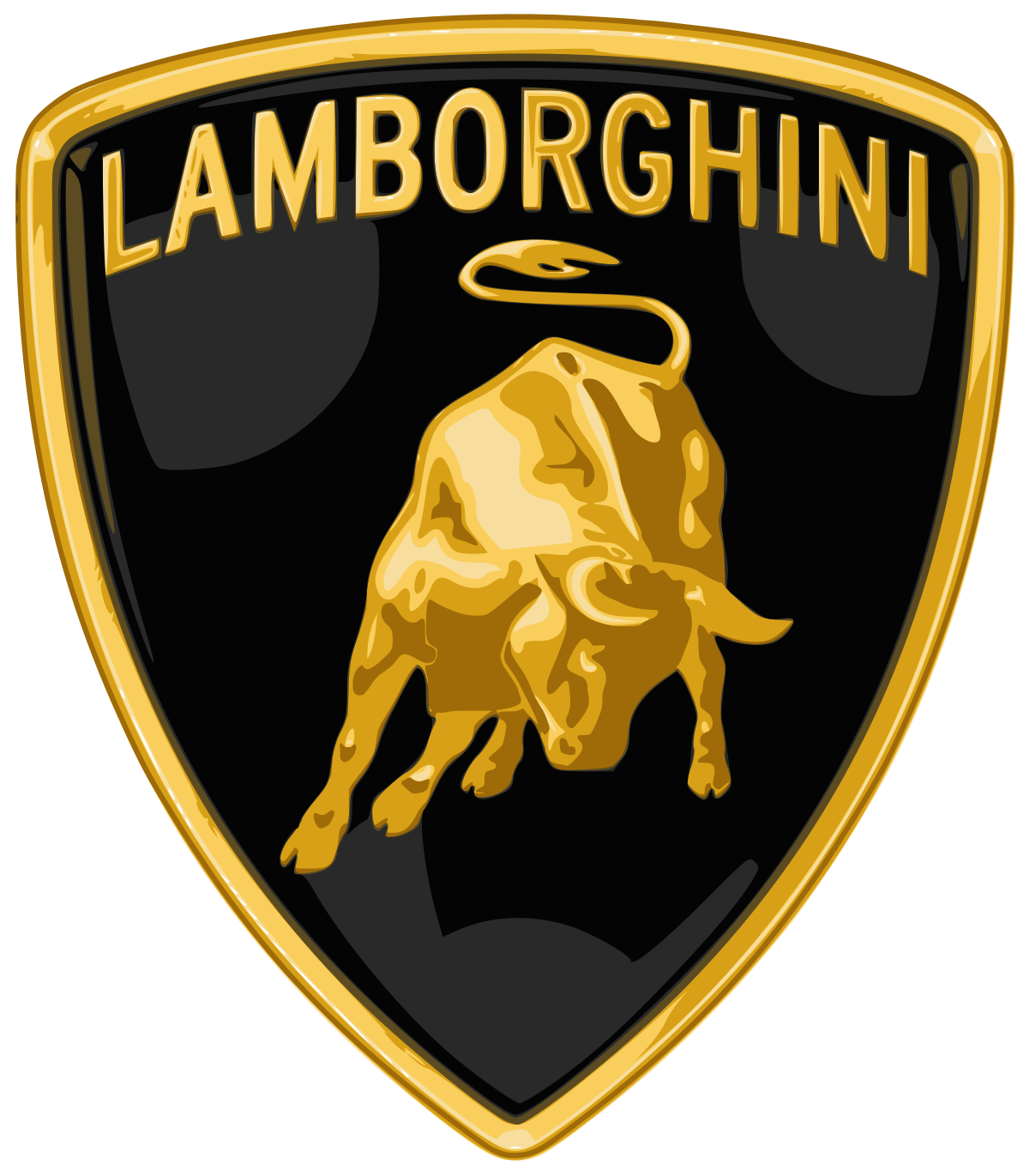 A typical tale of branding rivalry took place in Italy in 1963, when Ferruccio Lamborghini started his own car manufacturing company.
Just like today, when we have the wars between Samsung and Apple, McDonald's and Wendy's, an automobile industry rivalry existed from the very beginning between Ferrari and Lamborghini.
The founder of Lamborghini created the logo for his cars, purposefully stealing the design ideas from Ferrari and then turning them upside down.
The predominantly black and gold hues on Lamborghini's logo are inverted from the Ferrari's gold and black colors, to nurture the rivalry.
Even the bull as the main mascot was carefully chosen. It's simple – with what do you go to war against the horse mascot? A strong, fierce, and ferocious bull.
When comparing the two logos, Lambo fans can get the sense that Ferruccio just wanted to prod the Ferrari's ego, and show him that whatever Ferrari does, he will do better.
That includes a cleaner and more prestigious logo, with a golden bull that represents stamina, luxury, dominance, dependence, a strong car build, and the ability to endure anything thrown in his way.
Lamborghini chose the bull as the main mascot for several reasons.
It was also Lamborghini's horoscope sign, but it also depicted the owner's passion for the Spanish bullfighting – so much that Lamborghini used famous bull names when naming his cars.
One of the cars, the Miura, was named after Eduardo Miura, a famous Seville bull breeder whose animals were known as brutal and ferocious.
Before starting the car manufacturing, Ferruccio visited Eduardo's farm and was instantly enamored by these majestic beasts so he took it as a sign of fate to use the golden bull for his logo.
The logo is easily recognizable among other sports car manufacturers and is really refreshing in a manner that Lamborghini doesn't use typical Italian colors in its logo, as many other Italian manufacturers do.
This makes this logo a lot more elegant and fit for the luxury car marketing that costs hundreds of thousands of dollars. It also helps that the black and gold color palette is associated with elegance, style, and outstanding luxury.
What The Best Car Company Logos Can Teach Other Industries
If there's one thing that car companies do right, it's this: They capitalize on rich histories, honor heritage through various design elements and charm consumers with captivating stories.
For example:
Many car manufacturers choose to incorporate the colors of the production country or where the car brand was born to create a solid brand identity
Luxury and sports car brands choose to emphasize luxury with modern, sleek and elegant design to create a recognizable brand and attract more customers
Family cars and more affordable options use strong mascots, bold designs, lean lettering and carefully chosen color palettes
As we mentioned earlier, every car on the streets is a brand ambassador. So, every car manufacturer knows the importance of a strong and recognizable logo.
When creating a logo and the visual identity for your company – no matter what industry you're in – take the time to showcase your brand values, history, heritage and vision through a recognizable emblem that your consumers will recognize and remember.
Ready to create your own?
Subscribe to Spotlight Newsletter
Subscribe to our newsletter to get the latest industry news