Creating a successful visual identity for a company is no easy task nowadays. And as you probably already know, a solid logo design is paramount for creating an identity that truly shines.
Nevertheless, a lucrative visual moniker for a company must be followed by an adequate campaign. We're sure that you're familiar with the whole process and that you might already know of successful examples of strong branding in action. But if not, we're here to offer some insights and shed some light on a few particularly noteworthy rebranding and logo redesign strategies - especially those that broke the bank.
There are some things to keep in mind from the start -- like what industry you're in and what design elements are commonly used in your field.
For example, it's important to understand the industry your company or service belongs to. There are patterns you can look out for in certain industries -- for instance, fast food chain visual identities. Color patterns, font choice and even spacing between letters can sometimes be crucial in the message you want to send.
Investing in respectable and solid branding is never a bad idea, let alone a waste. In fact, it's one of the smartest investments your brand can make. No wonder some of the most famous companies invest around half of their revenue into clever advertising and brand confirmation.
As you've probably concluded by now, smart logo design and solid brand campaigns are a huge endeavor. A lot of money gets thrown around, and people who invest in such initiatives should get their money's worth. 
And, as it turns out, it is a far more demanding task if the business at hand is active and/or successful.
Rebranding, however, is often a quite riskier venture than making a brand from scratch. Keeping your already achieved client base or audience in mind, you have to stay familiar. In that same vein, you need to stay attractive as a brand and even lure new customers in. The mastery lies in the balance between the two. And that's why it's always as important to speak about rebranding as it is to talk about fresh starts.
Not sure if rebranding is right for you? This Weight Watchers case study will prove the benefits it can bring!
Additionally, one of the main reasons for rebranding is often modernizing the brand at hand -- making your brand desirable and keeping it competitively aligned to a new generation of clients. Studying the cases of these so-called 'rebirth' is a valuable lesson, being it a fail or a success.
If you're a designer, a company owner, a PR professional or of any similar background, these cases will certainly come in handy. The logo and branding redesigns in the following section should serve as a reminder that rebranding can swing a business in any direction. Analyzing them can help us predict and affect the direction of the swing.
They say that a man learns from his mistakes, but we say that a smart man instead learns from the mistakes of others.
10 Expensive Logo Designs That Cost A Pretty Penny
Estimated Cost: $55,000,000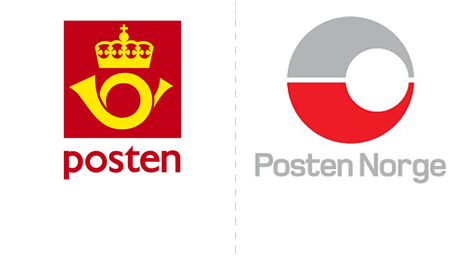 To start things off, we'll take a look at this example from the Norwegian National Post Service, Posten Norge. This case centers around rebranding, and visual logo redesign. The reasoning behind the change was modernization. And as you can see, the old logo is quite traditional and outdated as far as design goes.
Upon examination, we can see that the color scheme was changed from a royal red-gold to a more modern silver-red. The reason behind this rebranding move is not only visual, however. The Norwegian Post acquired twelve other companies from the same industry and needed to freshen up.
The famous 'Pokeball' was about to be a visual part of Bring, another daughter company of the Norwegian Post.
This included a new brand identity for Norway Post and Bring, which included 10000 vehicles, 80-tons-worth of staff uniforms, 300 IT systems, 1398 post offices and 275 containers for 20000 employees. The sole scale of it shows us that it was an important update.
The total cost of $55 million seems ridiculously high, but it turns out that it helped strengthen the bond between Norwegian Post and the people of Norway. The process started in 2008 and lasted for several years, with Bring having the silver-green combination for its corporate colors.
This case should be taken as a successful example of rebranding. But, it can also be considered an easy rebranding, with the national service already enjoying the respect of its citizens, especially Norwegian people, who are famous for being loyal.
There wasn't much at stake, but luckily it worked.
Estimated Cost: $200,000,000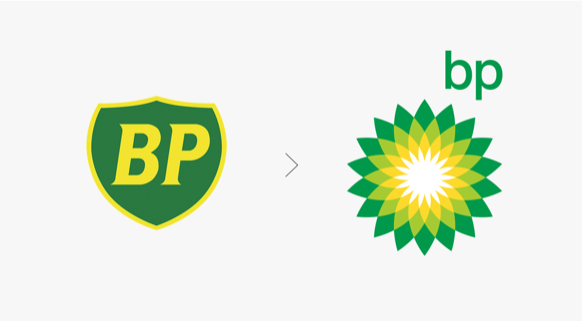 In 2000, BP debuted a radical redesign of its logo. The original logo, a crest bearing the company's initials in capital letters, was replaced by a sunflower shape (called the Helios mark) done in a modernized palette that nevertheless held true to the brand's original colors.
The updated logo is much friendlier, sunnier, and more modern than the one that preceded it. In collateral introducing the logo, the company wrote:
We're the helios mark, whose interlocking parts represent the diversity of our people, products and services. Its radiance is a constant reminder of our aspirations and purpose: to affect life on earth in positive and profound ways.
According to The Telegraph, the logo, created by Landor, cost about £4.6 million, but including the rollout of the logo across properties and collateral, the total cost was £136 million over two years. Though the costly redesign was criticized by some for being overly expensive and even disingenuous, from a marketing perspective it was considered successful in rebranding the company as more environmentally-friendly.
That is at least, until the 2010 Deepwater Horizon disaster, which has forced BP to once again focus on rebranding themselves to escape the negative associations of the past. As we can observe, the business model can impact the visual aspect of the company, not only vice-versa.
That being said, BP gave themselves a fresh redesign and saved face while they were at it.
Estimated Cost: $625,000

The next example up is kind of a strange one: the rebranding of a city. How come a city can brand, or even rebrand itself, one might ask? Well, as it turns out, towns and cities were amongst the first `companies` to have a brand, in the form of a sigil or a crest.
And the city of Melbourne jumped on this task, deciding to take action by popularizing several of its key attractions back in 2009.
The old city logo was not from that long ago, but it was robust nonetheless, and it needed a change. Being a booming business center, city officials decided to hire Landor to redesign the well-known city logo. And they delivered.
The new Melbourne city logo had to go hand in hand with the existing city departments` visual identity while giving off the vibe of a modern business and tourist city at the same time. The designers went with a modern, yet minimal blue-green colored solution, created in a geometrical style.
This made the update quite popular, and it was even reported by several agencies that it helped bring the city to the public attention of Australian people, and tourists all around the globe. 
This particular case should be taken as a prime example that visual identity matters regardless of industry or niche. 
Estimated Cost: $16,000,000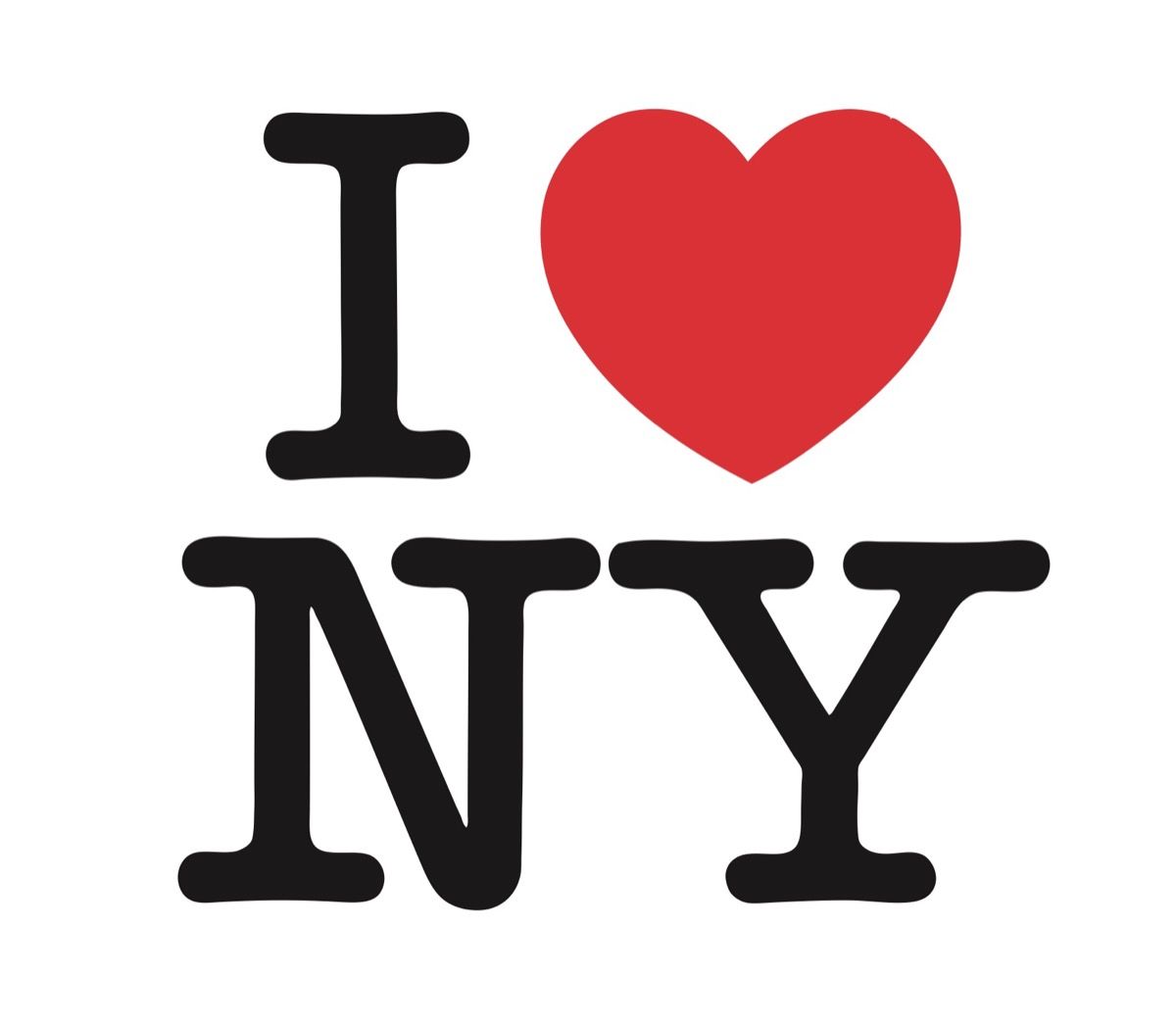 Speaking of cities that pay well for a job well done, this next case takes the dollar amount up a notch. The I Love New York logo is right up there when it comes to iconic logos. It was designed by Milton Glaser in the late 70s as part of an initiative to increase tourism in the state of New York. Anyone who's familiar with the history of NYC knows that in the seventies the city didn't exactly have a reputation as a fun, family-friendly vacation destination. And the I Love New York logo, which endures to this day, had a hand in changing that reputation and making NYC a top tourist attraction.
In 2007, Saatchi & Saatchi won the contract to take over the I Love New York campaign, with a budget of $16 million. By this point, NYC was already a world-class destination that attracted major tourism every year. The goal of the new campaign was: "To make I LOVE NEW YORK speak to the entire state. To show that the passion and energy present in the city is pervasive throughout every exquisite acre that is New York State."
As part of the campaign, the I Love New York logo received new treatments that were designed to "breathe life into the iconic logo and showcase that New York is more than just New York City." The logo treatments were used across print and digital collateral marketed towards specific seasons and New York activities.
Estimated Cost: $100,000,000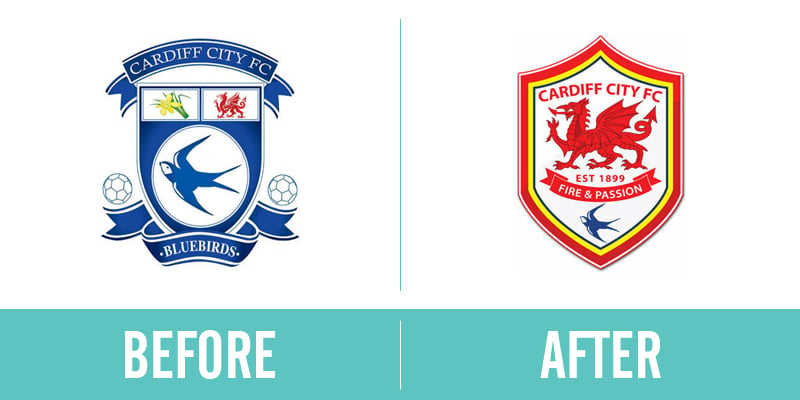 Now onto a more controversial story of a soccer team from Cardiff, Wales: The Cardiff City Bluebirds. This case is considered a design failure, and we will analyze the whys and the hows of it. Even though this particular case has less to do with selling, the vast amount of money invested is no joke.
Back in 2012, the newly appointed CEO, Vincent Tan decided to change the soccer team`s crest and color scheme. As you might have deduced, the team had a bluebird on its sigil, and the official color of the team was blue. Tan decided to change the crest animal to a red dragon, and change all the team colors to plain red.
But what makes things worse is the reasoning behind the change, which was to "bring good luck to the team." This decision was met with more than a few frowns within the team communication and the fanbase.
Now, to get things clear, changing the crest and colors meant also changing the stadium colors, getting new sports gear, and basically changing everything even slightly related to the team. And all of that comes with a hefty price. The cherry on top was the decision to keep a small blue bird beneath the dragon, so the nickname Bluebirds was still relevant.
Needless to say, all of the changes were reverted a few years after, because they were causing confusion with people already familiar with the brand. And that was being generous. The club lost a lot of fans, and all that due to bad (and expensive) design calls.
Estimated Cost: $1,800,000
The British Broadcasting Corporation (BBC) hasn't made any dramatic changes to its logo since the late 50s, but the logo has been revamped many times since then. The most recent redesign was in 1997, and even though the logo in its current iteration is now 20 years old, we have to say, it still looks pretty fresh.
The 1997 redesign, which is reported to have cost $1.8 million, marked a move away from the italicization that had existed since the three-box logo's earliest days. The new logo features simpler, lighter typography against a bolder black. If nothing else, the current BBC logo design is clearly one that can stand the test of time.
This case shows us that rebranding is a part of the game, but it doesn't have to be drastic. Minimalism is fair game when it comes to redesigning because the rule stands: less is more. Even though minimalism is everywhere and stuffed down our throats for some time now, it is the safest card to play in the design world.
Estimated Cost: $280,000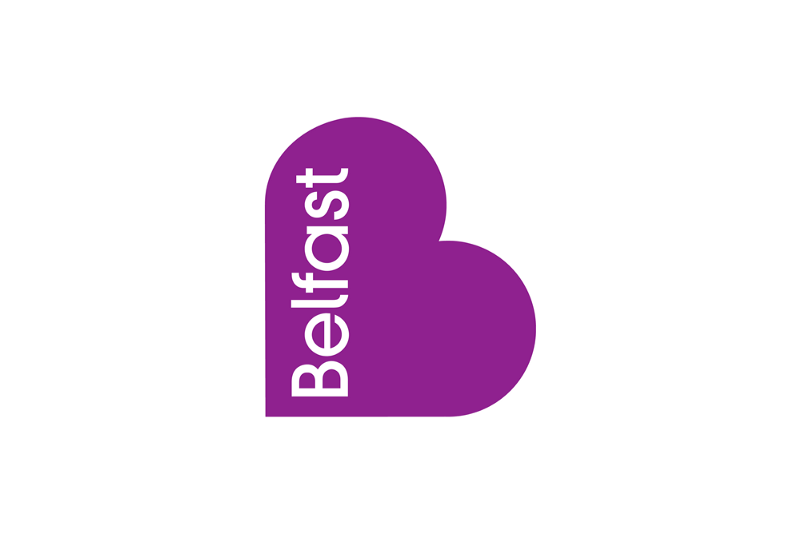 As a city with a notorious and violent reputation, Belfast needed something to attract fresh faces. And what better way to do it than with a fresh, new, and modern logo to represent this up-to-date metropolis that has a lot to offer. The simplicity of the easily-recognizable heart shape with "Belfast" written inside gives it an enthusiastic new look.
Additionally, there is a version with just the letter B in the heart-shaped box which is instantly captivating and tugs at your heart.
This campaign included a huge amount of promotional material in several colors (lime, blue, fuchsia, maroon, and aqua etc.). To add to this, the city of Belfast invested in micro-promotions, like stickers and free colorful balloons in the streets, the day new design launched.
Some sources report that Belfast experienced a consistent rise in tourist visits as a result of this campaign, and a significant part of this advancement is thanks to a well-executed logo redesign, along with a solid follow-up. Being consistent with the changes you implement in your visual design is almost as important as deciding to make the change in the first place. And this city proved that rule with its own example.
Considering the size of this campaign, the price of $280,000 can actually be considered quite cheap, and "on budget". The fact that it succeeded tells us that a good logo and good visual identity needs a good follow up to make it land naturally.
These might be expensive - but it's not all about the money. Read on for our article on Best Digital Marketing Agencies that will save your pennies!
Estimated Cost: $1,000,000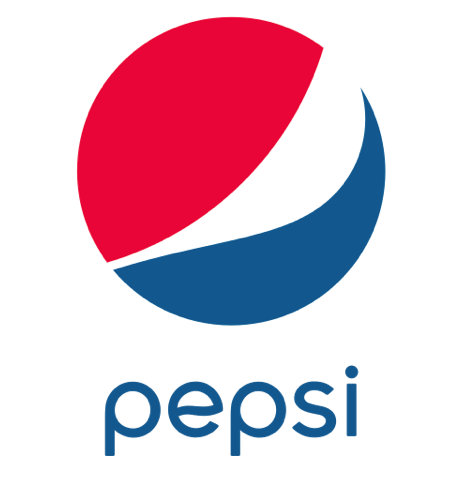 The Pepsi logo, with its iconic color combination and swooshing lines, is considered one of the most recognizable logos in the world. The red, white, and blue logo has been around since 1940, though it has gone through many evolutions since then.
In 2009 the logo was redesigned again, resulting in a flatter, more minimalist look for the iconic Pepsi globe. The shape of the elements within the globe also underwent changes, reportedly to conjure the idea of a smile -- a friendly and approachable look for a brand looking to appeal to consumers globally.
Arnell Group was behind the 2009 redesign. According to AdAge, the design work itself probably cost upwards of $1 million.
But that's just the beginning. The real cost, said an expert, is in removing the old logo everywhere it appears and putting new material up. When you add up all the trucks, vending machines, stadium signage, point-of-sale materials and more around the world, it could easily tally several hundred million dollars, the expert said.
With any high-profile logo redesign, there are bound to be haters, and many in the design world were quick to criticize the $1 million price tag for a logo they said didn't really change all that much. Looking back at the logo from the early 2000s though, it's clear that a revamp was desperately needed. Despite what the detractors say, the redesigned logo does give Pepsi a more modern appeal.
Estimated Cost: $35,000,000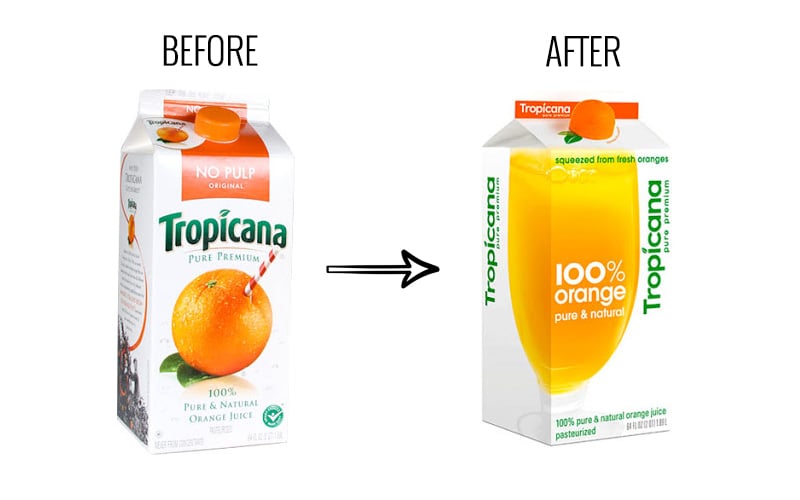 Tropicana is one of the most well-known juice brands in the world, and its packaging has always been clearly recognizable in the supermarket aisles.
What's not to love about the bright colors, the tropical typography and the evocative image of an orange with a straw in it?
But in 2008-2009 Tropicana decided the old packaging wasn't cutting it and the company spent $35 million for a new design and a campaign to support it.
The only problem was, consumers hated it. The new packaging eliminated the image of the orange in favor of a glass filled with juice. It also revamped the Tropicana logo, which was suddenly flipped vertically, diminishing its prominence on the packaging. The Tropicana logo change was so radical that customers didn't even recognize the brand on the shelves anymore.
All in all, the redesign and ad campaign cost Tropicana $35 million, but the brand reportedly lost 20 percent of its sales over the months that followed the launch, meaning the total cost of the whole debacle was ultimately much higher. The company quickly reverted to the original packaging after less than 2 months.
The reverting process took its toll, and the company admitted that rebranding was maybe not the best idea at the time. Here we can learn that tradition has its own great value and sometimes is what brands should stick to.
Estimated Cost: $1,280,000,000

Yes, you read that right, and yes, that is the correct number of zeroes. The story behind this extremely expensive rebranding venture has a business background, of course.
Symantec is a giant in the cybersecurity market. As you probably know, the game of cybersecurity is a popular one whether it`s logo design or full-on business ventures. And after Symantec acquired the VeriSign company, a serious competitor, they also purchased all the rights to their visual identity.
What VeriSign brought to the game as a new part of the family is the famous checkmark design. But this symbol is no ordinary check mark. The pixelated version was recognized as a symbol of security among the majority of client groups. And being recognized, especially in the cyber-security game is a valuable asset that should be exploited. So, Symantec, after the merger, decided to add this famous sign to their old logo.
Not only did they decide to add the checkmark, but they also eliminated the spherical shape, and made the color scheme simpler. With only two colors, black and yellow, combined with the famous symbol, they arrived at the logo used today.
Even though this is a prime example of utilizing every opportunity a company can get, this particular move rallied up a lot of skeptics in the field of design asking the same question: "Was it worth it?".
The point of this type of criticism is aimed at reckless spending, which is frowned upon, especially in the world of visual identity. 
Truth be told, this billion-dollar merger was a good design solution. Though, whether it paid off or not is kind of hard to conclude, considering the economic factors and vast business sectors this company indulges in.
The Best Logo Design Companies of 2019
Paragraphs is a strategic design firm and business consultancy. They are experts at corporate identity and branding, and help clients rethink and reimagine how they go to market. They function as "internal team members" helping them grow by looking at their business differently – this could be their business structure, how they go to market and/or how they position their products and services to their key constituencies.
Paragraphs then translates what is unique about their business in creative and unexpected ways to deliver their brand vision and brand persona across all media. They execute everything from research and strategy to concept and implementation, have won over 1500 awards and are a certified WBE.
Bitsens is an ambitious digital agency located in Vilnius, the capital of Lithuania in Northern Europe. Based on their vast experience involving a multitude of digitally-based projects, Bitsens has gathered a large team of professionals ready to meet their clients' needs and develop ideas.
Within Vancouver, BragDeal Inc. is one of the leaders in web design, branding, marketing, and SEO solutions as well as business consulting and improvement. With over 40 years of combined staff experience in the design, web development, and marketing fields, they are proud to have a workflow system in place that is both efficient and reliable.
They work closely with each of their customers and create a plan that brings results. They provide one-on-one customer service where they learn about your ideas, needs, and specifications. Their goal is to create custom designs, which are both unique and modern, and strive for a delivery that exceeds expectations.
Brand and Mortar is a full-service marketing agency that specializes in brand marketing, social media, digital marketing, web design and development, PPC, SEO, video production, public relations and technology, and application development. Their brand is founded on strong communication, transparency and long-term relationships with clients.
Their marketing and advertising agency focuses on drastically improving clients' ROI through increased lead generation, increase brand awareness, improved customer service and a pristine reputation. They have in-depth knowledge and understanding of the strategies, tactics, budgets, and timelines required to create campaigns that make an impact. 
The Business Clinic has a unique business model that exists at the union between a business consulting practice and a digital marketing agency. They understand the health and wellness industry in Alberta, as well as patients, products and services, and the regulatory environment through extensive research and experience.
The Business Clinic's unique marketing services have been custom designed and created to support business owners in the health and wellness industry in Alberta. Their research team has surveyed thousands of patients of health clinics in Alberta and they understand their needs, challenges, preferences, and buying behavior.
They're passionate about health and wellness. They're passionate about business and marketing. They're passionate about helping others. Welcome to The Business Clinic.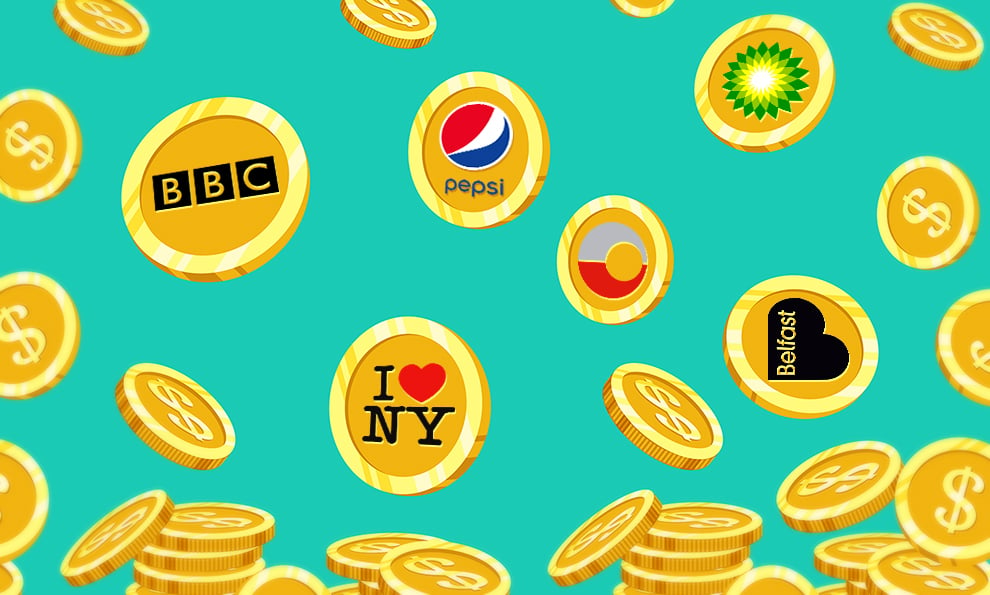 Conclusion
So, there we have it -- brands paying a small fortune to hit the winning combination in order to strengthen and/or reinvent their name as a whole. The most expensive logo redesign campaigns offer valuable insight into the importance of a brand's visual identity and the impact it can have on a company's success.
The funds invested and the efforts made often turn around and pay off, but sometimes they can cost if you don't know what you're doing. The real importance of branding resurfaces when the process of rebranding takes place -- forcing brands to ask themselves who they are, who their audience is and if a change will make a positive impact on their base.
It's important to remember that there is no clear pattern to aid you in the pursuit of modernizing your brand appearance and logo. The only 100 percent certain thing is that the more time we invest in extensive research, the less the process will cost us. Safety nets are usually not there, like in the cases of already well-developed companies. And without a safety net, there is always a risk of ruining a good business.
There is always the question of, "is rebranding really necessary right now?"  But if a positive consensus can be reached, then it's important to have the abovementioned examples in mind.
After all, a logo can cost between a dollar and a billion dollars, but the rewards reaped from a well-executed rebranding campaign can be invaluable!
Subscribe to Spotlight Newsletter
Subscribe to our newsletter to get the latest industry news