While many of the best packaging designs opt for bold visuals to capture attention, a select few immerse consumers in the delicate allure of nature. One captivating technique is to embrace beautiful floral motifs.
This article highlights outstanding floral packages that evoke nature's elegance on store shelves. If you aspire to craft works that resonate similarly, discover the prowess of packaging design experts today!
1. Miss Bloom by Todd Anderson Design
Standout Features:
Intricate floral illustrations
Artistic painted effect
Eco-friendly packaging material
In the "Bloom Box" packaging for Miss Bloom, Todd Anderson Design's design expertise meets Leigh-Ann Lucini's vision. They bring to life a packaging that's as close to nature as the brand.
The intricate floral illustrations take on a hand-painted quality, making each box feel unique and artisanal. These visuals are paired with the raw brown material reminiscent of cardboard, harmoniously evoking an eco-friendly touch.
This choice of substrate isn't merely a nod to sustainability. It also forms the perfect canvas for the vibrant colors of the flowers to shine!
2. Focus Blend by Premium Label Design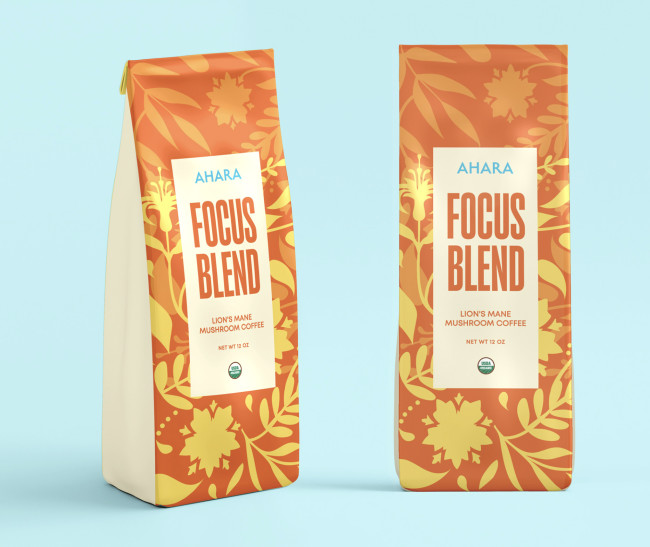 Standout Features:
Radiant warm color palette
Lush foliage and florals
Bold typography
Focus Blend's packaging by Premium Label Design is a sunlit celebration on a shelf. The design captures attention and warms the senses, thanks to its vibrant hues of orange and yellow-orange.
The meticulously detailed foliage and florals accentuate this warmth, drawing the eye with their intricacy. The brand name's bold typography anchors the design and gives it a powerful presence. It ensures visibility and creates a compelling contrast with the delicate illustrations, allowing Focus Blend to stand confidently.
Explore some of the best coffee packaging designs.
Standout Features:
Dainty floral design
Pristine white canvas
Minimalist box packaging
The Nutriangle packaging design by Sana Karnawat hinges on subtlety and elegance. Delicate floral illustrations dance gracefully across a pure white backdrop. Every detail shines and captures the eye.
The brilliance of white foregrounds these florals and proves a strategic choice for housing comprehensive product labels and iconography. The box's minimalistic structure complements this softness, devoid of distractions and letting the design speak. Every piece of information is easy to discern and read, enhancing the user experience!
Standout Features:
Eco-friendly pouch packaging
Handdrawn flower illustration
Prominent serif typeface
Léa Moquet's design for Bundgaard is a masterclass in the seamless blend of eco-consciousness and aesthetic appeal. The eco-friendly pouch packaging design embraces sustainability without compromising style.
The brown pouch serves as a muted canvas. It allows the meticulously hand-drawn flower illustration to claim its rightful spotlight. Complementing the image is the prominent serif typeface. Its pronounced features lend an air of sophistication and authority while ensuring the product information is legible.
Standout Features:
Slim box design
Colorful floral print
Thin sans-serif typography
Tathy Otero's vision for Siempre Verano comes alive in a svelte box packaging, showcasing vivid floral motifs solely on one side. This asymmetrical design choice offers a dramatic juxtaposition. It allows the vibrant blooms to pop against the otherwise understated backdrop!
The delicate sans-serif typography is a seamless counterpart to the packaging's slender design. This packaging strikes a delightful balance by alternating between minimalist design elements and bursts of floral exuberance. It perfectly captures the brand's essence with flair and finesse.
See more impressive cosmetic packaging examples.
6. Olivia Mix by Melnik Akim Sergeevich
Standout Features:
Textured bottle packaging
Photorealistic accents
Sleek transparent bottle
Melnik Akim Sergeevich masterfully balances modernity and tradition in the Olivia Mix packaging design. The bottle's textured criss-cross pattern enhances grip and gives the sleek, transparent vessel a tactile dimension.
A picture of daisies and lush greenery sits elegantly on the bottle. Using a realistic image instead of a graphic illustration links the design with nature. It also conveys a sense of genuine quality and purity. These florals emerge as a calm and captivating focal point, infusing a tranquil and sophisticated charm.
Standout Features:
Warm and earthy tones
Outlined rose illustrations
Clean and uncluttered layout
Pat Côrtes has crafted a minimalist and exquisite design for the Rose Candle | Home Décor packaging. It leverages a pristine white canvas to beautifully contrast warm and earthy tones. This neutral background accentuates the intricacies of the outlined rose illustrations. Together, they add a touch of elegance and romanticism.
This packaging harmoniously fuses sophistication with the timeless allure of roses. Its premium feel and detailed design mean it's gift-ready, eliminating the need for additional elements that might obscure its beauty.
Standout Features:
Vibrant nature illustrations
Serene color story
Resealable pouch packaging
Irene Perez Studio gives consumers a taste of the rich African culture (Ethiopia, Rwanda, Burundi, and Kenya) through Incapto Coffee's packaging.
The design showcases floral, wildlife, and dense greenery illustrations. Awash with greens and vibrant tones, the color story evokes the organic purity and richness of the coffee contained within.
A standout element is the series of four collectible pouches that form a singular, cohesive illustration. Beyond the visual appeal, the resealable pouch serves a dual purpose. It maintains the coffee's freshness and underscores sustainability, resonating with the overarching nature-inspired theme.
9. Gardênia by Pingo de Tinta
Standout Features:
Art Nouveau aesthetic
Vector design elements
Unique cylindrical container
Pingo de Tinta captures the allure of vintage elegance in the packaging design for Gardênia, a premium candle brand.
The design draws inspiration from the brand's vintage colognes and adopts a sophisticated Art Nouveau style. Delicate vector illustrations of gardenia flowers grace the label, signifying purity and grace. (Check out other excellent candle-label designs.)
Packaging techniques like embossing and foil stamping elevate the design's tactile experience. The contemporary cylindrical design brings a fresh edge to this classically inspired packaging.
Subscribe to Spotlight Newsletter
Subscribe to our newsletter to get the latest industry news