What Makes Austin Advertising Agencies Unique?
What can advertising agencies in Austin do that their counterparts across the US can't?
While they offer the same or similar services as other US-based advertising companies, there are a few reasons that make Austin ad agencies unique:
Reason #1: Austin Is An Attractive Place For Advertising Specialists From Around The US
Austin holds the eighth place on Forbes' ranking for the best places for business and careers. Some of the key factors that placed the city among the largest US metro areas with great business climate are:
Living costs
Economic growth
Job growth
In fact, US News ranks Austin third on the list of best places to live in. It outranks Colorado, Portland and San Francisco because of its:
Better quality of life index
Desirability index
Affordability Index
According to the same source, the city also ranks:
#29 in best places to retire
#1 in best places to live in texas
#10 in fastest-growing places
While the city's cost of living is 119.3%, which is higher than the national average of 100%, Austin is still less expensive than some other popular US hubs.
For instance, according to Salary, its cost of living is 43.3% lower than in NYC and 45.0% lower than in San Francisco.
Additionally, Austin had a low unemployment rate of 3.5% and added 29,800 new positions in December 2019.
These are just a few of the reasons why the city is like a magnet for ad specialists from across the nation.
What's more, Austin is also home to leading companies and top employers like Facebook, Google, Dropbox and Dell.
Working with brands like these, they put huge attention into their marketing efforts which has shaped them into some of the finest professionals in the area.
Reason #2: Austin Is Home To Multiethnic Population And Employs Bilingual Talent
With a population of 988,218, Austin is the fourth largest city in the state of Texas. Out of these, only 67.79% are English speakers.
Other non-English language spoken languages are:
Spanish (23.55%)
Asian and Pacific Island (4.1%)
Indo-European (3.5%)
According to DATA USA, 32.7% of the city population is Hispanic. With a high number of 200,236 Spanish speakers, the capital of Texas is a truly diverse hub.
It means that advertising agencies in Austin employ bilingual talent who understands the multicultural markets and can create strategies for a wider audience.
Reason #3: Austin Is The Live Music Capital Of The World
Austin is very well known for its music scene. Holding the nickname of The Live Music Capital of the World, Austin hosts more concerts than anywhere else in the US.
The city is home to some of the largest music events and festivals in the world including:
Austin City Limits Music Festival (ACL)
South by Southwest (SXSW)
This indicates that ad agencies in Austin, TX are exposed to an elite level of music advertising campaigns.
In addition, this is also the reason why they are widely known for their creativity and innovative skills that allow them to deliver remarkable advertisements.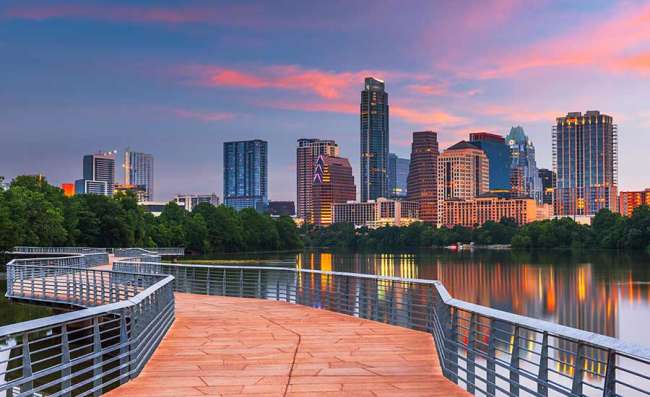 What Services Can You Outsource To Ad Agencies In Austin, TX?
Generally, there are two types of advertising agencies:
Full service: They are a one-stop shop for any kind of advertising needs, from traditional to digital. They employ different experts and may take end-to-end projects that go beyond creating and running ads. Their responsibilities may also include market research, creative services like web design, logo design and package design, video production and more.
Specialized: They have expertise in one specific area.
Depending on your unique business needs and goals, specialized Austin ad agencies will offer the following services:
Public relations agencies: These take care of the brand's reputation. They help businesses maintain a positive image through improving media relations, streamlining communications, boosting social media and more.
Social media advertising agencies: Their job is to understand the brand's target audience, identify the best social media channels and place ads consistently.
Digital advertising agencies: These types of advertising agencies in Austin focus on developing advertisements for different online platforms. They have experience with SEO, SEM, email marketing, social media marketing and more.
Media buying agencies: These specialized companies place their efforts on media planning and buying. Ther core offerings include recommending a budget, identifying the most optimal ad locations, determining time frames and more.
Traditional advertising agencies: As the name itself suggests, these agencies have experience with traditional advertising models like print, TV, radio and billboards.
How Much Do Austin Ad Agencies Charge For Their Services?
Austin advertising agencies typically price their services on time estimates and hourly rates. In other words, they would bill you based on the hours they will spend on your project.
This type of fee ranges between $25 and $250. Some factors that dictate this pricing are:
Project complexity and deadline
Type of services needed
Company size and stature
The cost per project is another billing option and these professional companies accept projects estimated at $1,000-$50,000+. In this case, they usually offer a flat fee for specific services.
Some ad agencies in Austin, TX may also offer a result-based billing. The cost will depend on the client's requirements and the agency gets paid only if they deliver the desired results.
These results may include:
Higher social engagement
Boost in search engine rankings
Higher website traffic
More conversions
And more
Why Should You Hire An Advertising Company In Austin?
These are the key reasons why you should consider partnering with professional advertising agencies in Austin:
World-leading talent: Being one of the best cities to live in and offering great conditions for business and careers, Austin attracts highly skilled talent from across the nation. The low unemployment rate, lower cost of living and great employers like Facebook and Google, make the city a welcoming and enticing place for advertising specialists who contribute to the industry in the city.
Bilingual workforce: Austin is a global city and home to a multilingual and multiethnic population. The local advertising agencies employ bilingual talent who understand multicultural markets including languages, traditions and other concepts well. This allows them to take advantage of their competitors and help their clients to maximize exposure, reach out to, communicate and persuade consumers with different cultural backgrounds.
Creative professionals: Living and operating in the Live Music Capital Of the World, ad agencies in Austin, TX have been exposed to a lively scene and a huge number of cultural events. This has allowed them to gain deep experience in the industry and turn into some of the most creative experts on the market. This is a key characteristic that allows them to deliver fail-proof strategies that generate business growth.
How To Choose The Best Advertising Agency In Austin
Consider these key factors when researching the best advertising agencies in Texas:
Past work: Go through these companies' portfolios and case studies to measure the quality of their services. Their previous work is also a sign of the relevant industry expertise, the ability to deliver outstanding work and results.
Tools: Effective advertising very much depends on different tools for in-depth market research, competition analysis, automation and more. Make sure you only consider advertising agencies in Austin that have access to key apps and software that will streamline their processes and ensure measurable results.
Reviews: The feedback of past clients is proof of the company's existence but also its reliability. Reviews will show you how capable the agency is of delivering results. They will speak a lot about the company culture, flexibility and transparency both in terms of pricing and planning.
Team size: When screening the best Austin ad agencies make sure you check their size. Bear in mind that small companies can offer more closely-knit teams and local expertise while large companies have a huge relationship network and a wider scope of services. The agency you hire depends solely on your unique business needs.
10 Questions To Ask Austin Ad Agencies Before You Hire The Right One
Ask prospective advertising agencies in Austin the following questions to make the right choice:
Have you ever created advertisements for businesses in the same or similar niche?
Based on my business goals, how much money do you think I should spend?
What tools and platforms do you use to create, test, launch and measure ads?
What metrics will you track? Will you send me analytical reports? If yes, how often?
What is your strategic approach to creating ads?
Will you conduct market, audience and competitor research?
What type of advertising channels do you have experience with?
Do you have a team that can create the marketing collateral? Or do you outsource these tasks to other agencies?
How much will the project cost and will there be any additional fees?
Are we going to sign a contract? What are the terms?
Takeaways On Advertising Agencies In Austin
Most businesses outsource their projects to Austin ad agencies because they:
Employ top-notch talent
Have bilingual resources
Are proficient in the local cultural sector
The cost of their services starts at $25 and can go as high as $250 per hour.
To choose the best partner for your business needs, consider these key factors:
The quality of their past work
The tools they use
Their reviews
Their team size
Best of luck!
…