What Differentiates Atlanta Website Designers From Their Other US-Based Colleagues?
Here are the top three reasons why you should outsource your project to an Atlanta-based web design company:
Reason #1: Atlanta Employs Some Of The Best Website Designers In The Nation
On the one hand, Georgia ranks seventh on the list of best countries for ease of doing business. (WorldBank)
On the other hand, Atlanta has a cost of living that is 1% lower than the national average.
These are the primary reasons why many leading companies move to this city. As a result, Atlanta is home to 30 Fortune 500/100 companies including AT&T Mobility and Coca Cola and it is one of the top cities that add the most jobs as the US economy advances.
So, it not only employs corporate headquarters but also highly skilled tech talent including web designers.
Reason #2: The Local Web Designers Offer Cost-Effective Services
While you may know that Atlanta is cheaper than some other US cities, you probably didn't know that NYC, which is a true tech hub, is actually 74.1% more expensive.
And that's just one side of the story.
What's more, Atlanta website designers get -18.2% lower salaries than NYC-based designers.
What does this mean for you?
Simply put, it would mean cost-effective services.
Reason #3: They Have Experience In Promoting The Industries In The Area
The leading industries that drive Atlanta's economy are finance, technology and TV and film.
Atlanta web design companies have worked with clients in these sectors. So, they have a deep understanding of the local ecosystem, market trends, opportunities and challenges.
They understand the audience's needs and pain points and have unique insights into the competition.
This is why they are uniquely positioned to design high-performing websites for both local and global clients in these industries.
What Services Can You Outsource To An Atlanta Web Design Company?
Atlanta web design companies, likewise other similar agencies in the US, specialize in developing websites, mobile applications, intranets, software solutions and other products that help brands manage their businesses more effectively and efficiently.
Their primary responsibilities include discovering the needs of their clients' customers and delivering products that engage and convert them.
Some of the services that you can outsource to Atlanta web designers include:
Performing market research and competitive analysis
Discovering clients' needs
Translating these' needs into concepts
Creating website databases
Developing layouts
Developing navigational elements
Creating intuitive interfaces
Designing visual elements
Optimizing websites for search engines
Hosting websites
Maintaining and updating websites
And more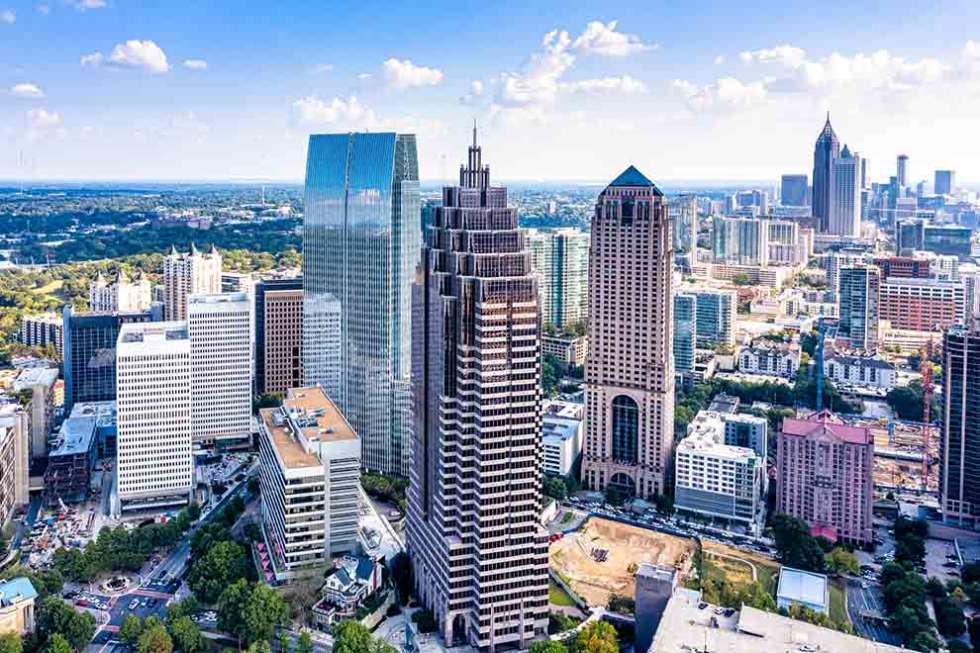 How Much Do Atlanta Web Design Companies Charge For Their Services?
The cost of Atlanta web design services varies from company to company. And while they may offer different pricing structures, the most common one is the fee per hour.
It starts as low as $50 and can go as high as $200, sometimes even more.
Some of the factors that will influence the cost per hour are:
Project complexity
Project deadline
Company size and stature
Some agencies may also require a flat fee. Then, you would pay a fixed amount for specific services like:
$60 to $300 per page for copywriting
$1000 to more than $100,000 for web design
$2000 to $10,000 for SEO
And more
A result-based fee is also an alternative and in this case, you would pay your Atlanta web design company based on the results it delivers.
Why Hire An Atlanta Web Site Design Agency?
While all website design agencies come in different shapes in sizes, these are the reasons why you should particularly invest in an Atlanta web site design company:
High-quality services: Considering the fact that Atlanta has a low cost of living, offers great conditions for doing business and has consistent job growth, it entices and employs tech companies but also skilled IT talent from the whole country. So, here you will find some of the most skilled web designers who offer high-quality services.
Cost-effectiveness: Unlike their other US-based competitors, Atlanta web design companies will charge less for their products. However, this doesn't come as a result of a lower quality of services but rather a lower cost of living that allows these companies to offer budget-friendly rates.
Industry expertise: Working with local clients and businesses, Atlanta web designers have gained a deep knowledge of the locally dominant industries. They understand the market's challenges and opportunities well. This is why they are uniquely positioned to help clients, especially in the finance, technology and TV and film sectors achieve business success.
How To Choose The Best Atlanta Web Design Company For Your Business
Before you start screening the top Atlanta web site design agencies, make sure you go in for an interview prepared.
The three key steps to take are:
Set a budget
Define your goals
Determine your project requirements
Then, once you've clarified these, you can inspect each potential partner and:
See what past clients say: Client reviews are a valuable source of information that will give you an insight into these companies' credibility, flexibility and transparency. They will help you envision your partnership with potential partners, learn more about their company culture, their values, strengths and weaknesses.
Check their past work: Past work in the form of portfolios and case studies are proof for these companies' core area of expertise and industry experience. A recommended step to take is to explore and test some of their products to see whether they are able to deliver designs that are fully functional and visually appealing.
Ask about their strategic approach: While some companies take some proven strategies and apply them to every client, others take the time to do thorough research and get meaningful data that will help them deliver strategies tailored based on the unique needs of their clients. You would want to partner with the latter ones since they would create a product that is particularly designed to engage and convert your audience.
10 Questions To Ask Atlanta Website Designers Before You Hire One
What services do you offer besides web design?
Have you ever designed websites for a similar industry?
Do you have an up-to-date portfolio?
Can you explain your strategic approach?
Who will create the content for my website?
What security practices do you have in place?
What steps do you take to ensure an outstanding user experience?
Do you do QA testing before launch?
How much will the project cost?
Do you offer after-launch support?
Takeaways On Atlanta Web Design Companies
Businesses outsource their projects to Atlanta web design companies because they:
Employ some of the most skilled talents in the country
They offer budget friendly services
They have unique insights into the local market
Most of these agencies price their projects by the hour and you can expect to pay between $50 and $200.
To make sure you've picked the right partner for your business:
Set a budget
Define your goals
Determine your project requirements
See what past clients say
Check their past work
Ask about their strategic approach
Best of luck!
...