Dive into a world of eye-catching aesthetics as we unveil the most captivating and dynamic bright-colored app designs. From energetic oranges to electric blues, these projects are a testament to the power of color psychology, standing toe to toe with some of the best app designs altogether.
If you want to develop the next-level platform, check our curated directory of the top-performing app design agencies and gain access to DesignRush's most creative minds!
1. sprout by Madison Read Designs
Standout Features:
Fresh and clean
Soothing gradients
Educational content
After analyzing the competitors, Madison Read Designs ensured an improved user experience for Sprout's app design. The platform offers a clean dashboard with non-intrusive features.
The agency decorated the app with a soothing gradient ranging from darker shades of blue to light, natural green hues to complement the visuals.
For the typography, the designers combined two legible font styles. This typographic blend presents educational content about keeping a clean budget easily digestible for the users.
2. Giftly by ALEXANDRA TSE
Standout Features:
Engaging pastel color palette
Soothing animations
Clean and modern
If you're looking for a perfect gift for your loved ones, Giftly has got you covered. Not only does it have everything you need, but it also simplifies the process greatly thanks to its beautiful design, created by ALEXANDRA TSE.
The app features a pastel pink and yellow color palette that's easy on the eyes. Aside from its modern and clean layout, the app reminds users of upcoming events. Additionally, they can use notes to organize ideas and add photos or links to the planned presents.
And to top it all off, the soothing, slow animations complement the lenient, laid-back nature of the design.
3. CirCle App by Charles Nwafor
Standout Features:
All-around menstrual cycle app
Soft gradients
Comforting minimal illustrations
The CirCle app, designed by Charles Nwafor, presents a calming design that helps women worldwide track their menstrual cycle, reach out to a gynecologist, and shop for related necessities on the go.
As users browse the app, the platform flaunts a feminine design evident in the soft gradients, illustrations, and animations.
The design's main feature is its thorough calendar that color-codes all the significant dates and helps you archive the length of each phase. With these indications, women can choose to contact a gynecologist or read articles with just a few taps.
Standout Features:
Intriguing clay visuals
Cool color palette
Bundle of appealing features
Studio Piccolo developed Cascade's app design to help users give donations to causes they care about!
The design opens by introducing itself in a three-piece manual led by intriguing "clay" visuals across the app.
As you open a new account, the app uses its cool color palette to help you pinpoint the causes you're most passionate about, streamlining the donation process from the get-go. The reasons are divided into classes, guiding you seamlessly to find your interests.
Users also gain access to recommended charity organizations operating in the chosen branches. The app's impressive features include an option to set monthly donation goals. Then, you can input how much and how often you want to donate. You can also spread awareness about your chosen cause through the app's social media integrations.
Standout Features:
Refreshing and clean
Neat vector visuals
Impeccable color-coding
Lagodzia's app design for Pathway Plan is a revolutionary solution that lets young people connect to social workers hassle-free.
This refreshing and clean app provides a calendar view that simplifies the tricky route to adulthood through reminders of necessary activities with fixed dates, ensuring they all get completed.
The prominent color palette comprises impeccable color coding to help segment tasks into categories, making tracking your progress in each field easy.
In addition, the design entails neat vector visuals comprised of modern, minimal illustrations that complement the colorful screen. This subtle yet impactful design move encourages users to maintain their progress.
Standout Features:
Delicious product images
Exemplary UX
Intuitive navigation system
Indulge in the ultimate convenience and sweetness with Mark Vince Dela Cruz's cake delivery app design, and discover how to get delectable delights in your vicinity by using the Komis Cakes and Bakes app.
The design features exemplary UX through its simple, three-step purchasing process: browse, check cart, and purchase.
The first phase has enticing product images to make your mouth water, set in square frames with rounded edges and positive space.
The check cart phase lets you ensure you've got everything you wanted, with the images simplifying the tedious reading list process. Also, it enables you to choose between having the items delivered and picking them up at the store.
Finally, you finish your order with a standard checkout section, with a Google Maps view trailing the path to your sweets.
Find other app designs with impeccable user experience here.
Standout Features:
Well-balanced color scheme
Cute illustrations
Food reminders
Freshly App, designed by Priyanka Mandal, helps users track grocery usage and suggests healthy recipes.
The well-balanced color scheme places green at the forefront, while the cute meal illustrations feature ingredients and prepared meals.
The home screen segments the added ingredients according to their freshness and quality. It lets you know what's new and what's about to expire through a helpful notification system, ensuring nothing gets wasted.
8. SwypeBuy by Sofie Nguyen
Standout Features:
Bold, attention-grabbing color palette
User-friendly
Non-mandatory signup
SwypeBuy's app design was crafted by Sofie Nguyen. The designer delivered a stress-free shopping experience for people prioritizing convenient online purchases.
Through the app's bold, attention-grabbing palette (red, orange, and blue), the design is able to communicate excitement, urgency, enthusiasm, and trustworthiness. in a cohesive, well-balanced color scheme.
The design strives to provide a user-friendly experience that guarantees easy access and intuitive navigation. Lastly, the all-inclusive platform lets users buy without creating an account through its non-mandatory signup option.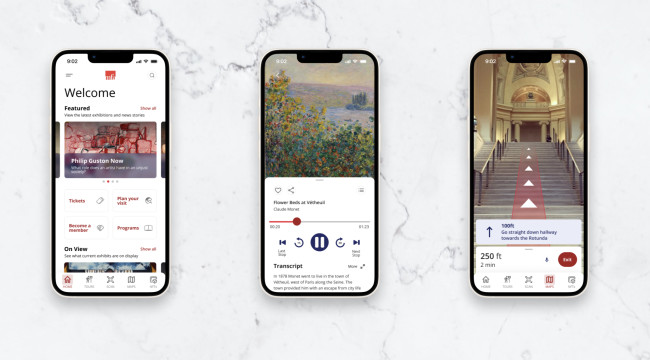 Standout Features:
Self-guided audio tours
Updated, modernized maps
NFT feature
Museum of Fine Arts Boston asked Wyatt Sanders to create a virtual visit along its halls and rooms.
While the museum already had an app design, the designer contributed to its functionality, improving user experience at every step.
The user can now select as many artwork rooms as they want, and the design would create a unique, intuitive pathway supported by self-guided audio tours complementing the view.
The 2D map of the museum was updated into a more modern one, stylistically resembling Google Maps view, which would create a more cohesive, holistic experience for the user as it would feel like they're stepping towards their next point of interest.
Finally, another standout feature that helped the users and the organization is the addition of purchasable NFTs. This way, the users could contribute to the funding and preservation of the museum.
Check out this article to find more app designs with exciting standout features.
10. Seety by NININ ADIQUE
Standout Features:
Map-view of nearby events
Elaborate events information
Follow feature
Seety is an event discovery app that encourages socialization with people in your area. Designed by NININ ADIQUE, this app encompasses a series of entertaining features that would help people relax and find new friends in their local community.
The design features an embedded Google Maps view showing events and activities, teaching them about the cool places in their vicinity.
Once an event has piqued their interest, the app presents extensive details and lets them browse reviews from past attendees. They can also use this page to ask questions about the event, prompting communication with new, like-minded people.
The app enables you to follow people and see the events they've been to and the ones they'll attend shortly. Users can use this information as an instant icebreaker to connect with others, a unique way to make friends!
11. muslimeen by Ruhel Ahmed
Standout Features:
Wide range of events
Helps users form their Muslim community
Clean, modern dashboard
Social media platforms have a diverse user base. So, to streamline a more like-minded audience, at least according to joint religious views, Ruhel Ahmed designed muslimeen's app.
The app's dashboard mimics your casual user feed, with personal updates listed below a horizontal preview of the upcoming featured events in the Muslim community. Each card in the preview includes a category tag, as well as the time and location of the event. (Check out other event app designs here.)
Apart from simply asking to connect with random strangers, the design encompasses several message prompts to encourage users to reach out and say hello. These prompts are based on shared beliefs or interests and the events they've attended, making it easier to start speaking to a new friend.
12. Yenta by Nina Khoury
Standout Features:
Olive green
Original concept
Friend date suggestions
Not everyone is good at picking the right person for them. So, why not let your friends decide? Nina Khoury's Yenta app design brings this unique concept to life, ensuring you and your friends have fun finding your perfect date.
The design conveys a friendly, conversational tone, prompting users to complete a short questionnaire about themselves. Once they do, they add their Yenta – a friend who gets to vet their dating candidates, guaranteeing they're the right fit.
This original concept allows the Yenta to chat with the candidates interested in their friends and offer dating ideas if they like the person.
The design features several colors, but olive green is the dominant shade on buttons and surrounding forms.
13. abuzz by Moon March
Standout Features:
Beehive-inspired design
Solid color palette
In-app alerts
Moon March's app design for Abuzz enables students to relax and post whatever's on their minds.
abuzz features a solid color palette, with a bright yellow emphasizing a youthful energy. Bees and beehive visuals evidently influence the design. It has hexagon shapes, referring to the interconnectedness between students' interests and activities.
Aside from your usual social media platform features, this design also entails other excellent additions, like discount alerts for food and drinks.
Another helpful feature of abuzz is its in-app alert system that helps its users stay updated with all the upcoming events and changing regulations or other urgent matters.
14. HYPE App by Sunsun Wattanasiri
Standout Features:
Rich visuals
Streamlined UI
Minimal, easy-to-use design mentality
While somewhat popular in the past couple of decades, in recent years boardgames emerged from the stuffy basements and underwent a renaissance. Such a magnificent resurgence and rise in popularity came with its own set of challenges for enthusiasts worldwide...
Enter the Hype app! Created by Sunsun Wattanasiri, Hype aims to bridge the gap between boardgame aficionados and help them connect and organize events with ease. With flying colors, if may add!
Unlike the convoluted D&D rules or Monopoly's complex economy, Hype is streamlined, easy to use, and above everything else, pretty to look at! With its simple sign-in form, and colorful presentation it can help you jump straight into any session, connect with (new) friends, and organize parties (pun intended) like never before.
15. Corner App by Nick Pugliese
Standout Features:
Clear layout
Intuitive user journey
Prominent CTAs
Each of us aspires to be the best version of ourselves, hence the flood of goal-setting apps on the market, however, Nick Pugliese's latest prospect aims to elevate the usual and refine it, without cutting corners(!).
Aimed at young professionals, Corner adds a layer of accountability to your typical goal-setting process. When other team members count on you, you're bound to start following their lead and count on yourself as well.
In the creator's own words: "One or two skipped days in building a new routine with no accountability lets our goals become easier to fall apart. There has to be a better way to enable ourselves to reach our full potential."
Corner is intuitive and easy to use, simple as that. Alas, goal-setting shouldn't morph into tedious task by itself. It motivates users on both personal and professional levels, adding just enough responsibility to others to let them push forward.
Subscribe to Spotlight Newsletter
Subscribe to our newsletter to get the latest industry news