Marvel at our list of extraordinary chat app designs that connect functionality with breathtaking aesthetics.
We've collected some of the best app designers' works that bring beauty and joy to every conversation, making messaging an immersive and delightful experience.
Chatting has never been so visually appealing. Explore other great examples of app designs on DesignRush!
1. Anonymous Communication App Concept by WebDesk Solution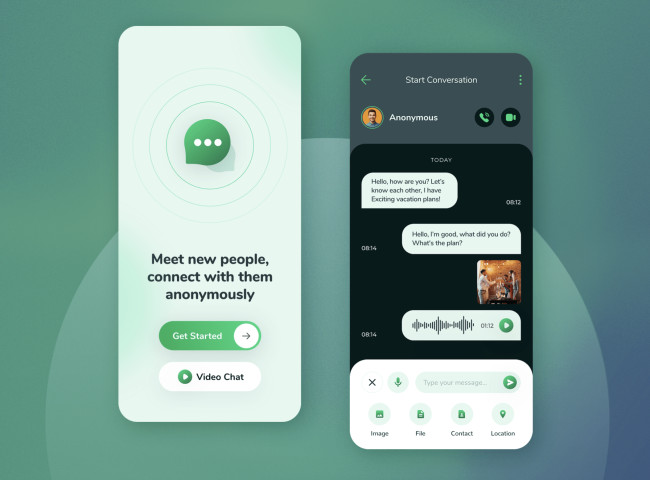 Standout Features:
A dark theme
Rounded elements
Increased icon spacing
We're starting our list of best chat app designs with WebDesk Solution's Anonymous Communication App Concept.
The concept adopts a dark theme that combines two shades of gray with contrasting white and light teal that marks communication.
The concept ensures swift multimedia communication. The buttons are presented through vivid green icons with increased spacing, which are easy to spot and difficult to misclick.
The login/registration panel is light-themed, featuring rounded visual elements and buttons.
2. oxo by BLOG N WHITE
Standout Features:
Dark and elegant
A new way of sharing tunes
Engaging gradients
Another best chat app design on our list is BLOG N WHITE's oxo design. This distinctive app bridges two worlds as it combines music and communication features in a single design.
The interface is dark and clean, bringing elegance to the browsing experience. The typeface is either white or light gray, and the Montserrat font style maintains the sophisticated yet laid-back feel of the UI.
The artists' cards are equipped with a relevant cover photo, and they either complement the composition with a monochromatic image or stylistically contrast it through colorful photos.
Once the user finds their favorite tune for the day, they can swiftly share the song with their contacts and listen to it together. The collective listening experience is promoted through a beautiful gradient-colored button that takes up the bottom of the screen once you start listening to a particular song.
Apart from chatting, this app is also fun and artsy. Check out this article and find other intriguing entertainment app designs.
3. MEOW by Wedo Studio
Standout Features:
A cute and memorable logo design
A clean chat list
An articulate story feature
Our third pick on our best chat app designs list is MEOW. Developed by Wedo Studio, the app embodies a fresh, modern design.
While the design is clean and resides on extensive positive space that supports and distinguishes the users through emphasizing their colorful profile pictures, the logo design is ubiquitous in the center of the navigation section.
The emphasized emblem looks like a common chat box icon, but it has triangles on top, so together with the three dots in it, it resembles a cute cat looking at the user. Another stylistic touch is the divided bottom frame that makes it seem like the cat folded its paws.
Another distinctive feature of this design is an articulate story feature that marks the other users' rounded profile picture with a gradient checkmark.
We'll find qualified app design agencies for your project, for free.
GET STARTED
4. Kibbbitz by Nikhil H Nair
Standout Features:
Neon blue on a dark theme
Enriched navigation system
Mimics phone properties
Nikhil H Nair's Kibbbitz app design features a dark-themed interface with a few complementing shades of gray. The section names and contact list are presented in a thick white rounded font style. And the gray is countered with a beautiful neon blue that extends across icons and buttons.
The design features an enriched navigation system with an included "Contact" screen that mimics your regular phone's contact book, separating favorite numbers and alphabetical arrangement.
Featured Custom App Designs by Top Digital Agencies
5. Messenger App by Pramodini Subramanya
Standout Features:
Rescaled elements
Increased spacing between profiles
Clean and modern
The next concept that made it to our list of best chat app designs comes from Pramodini Subramanya. The designer earned his place with a clean layout.
The redesign includes rescaled elements, primarily the online button, which is more prominent and placed inside a white outline. Another tweak shows us that the spacing between profile pictures has slightly increased.
Overall, the remodeling helps the design achieve a new, modern look that retains the look of the old one.
You can find more fantastic mobile app designs here.
6. Daily UI Challenge 013 by Kirstyn Van Patten
Standout Features:
A dark pastel theme
Optional communication
Increased spacing between messages
The next item on our list of best chat app designs is Daily UI Challenge 013. Kirstyn Van Patten's imaginative concept represents an uncommon look combined with distinctive features unknown to other chat apps.
The design combines pink, violet, and purple, providing a dark, vibrant theme. The purple hue is used for buttons and chat names, while pink is the background color for the navigation menu.
Aside from the increased spacing that improves readability, the design contains another intriguing setting. Rather than immediately typing your message, you first get to pick whether you want to make a call or write a text through a superb navigation system.
If you're into this one, check out other best app designs with cool features.
7. ChatBunker by SzStudios
Standout Features:
A pastel color palette
Soothing minimal illustrations
Exceptional UX
ChatBunker's app design by SzStudios is a stunner in our list of best chat app designs. The platform focuses on functionality while retaining a fabulous look.
The design represents exceptional UX. It provides secure text traveling, encrypted file sharing, daily history deletion, customizable notifications, and more.
It relies on a pastel color palette, using purple as a primary color. The darker shades on the sidebar are complemented by the lighter shades in the filtering navbar.
The color palette is elevated with delicate and soothing illustrations like buildings for locations.
8. Messenger Mobile App by Taylor Romney
Standout Features:
A distinctive dark color palette
Easy-to-notice orange elements
A rounded headline font style
Our next talking point is Taylor Romney's UI kit development for a Messenger Mobile App.
The designer opted for a distinctive color palette that combines black screens with complementary light gray elements that help other UI elements gain a touch of sophistication. These colors are contrasted with a bright orange hue that points out the momentarily active features, as well as notifications and your messages.
This shade is easily noticeable and, with a rounded headline font style, brings the needed sense of optimism and energy to this predominantly dark palette.
9. Small Talk by Katarzyna Hasnik
Standout Features:
Simple and clean
Minimal iconography
Special signaling features
Katarzyna Hasnik built a simple and clean UI with a prominent yet subtle color palette that pinpoints various options on the Small Talk app design.
The palette explores light blue as a primary color contrasted with soft peachy colors. The warmer hue coats sent messages, while the cool shade represents the received messages.
The iconography is also presented in these hues. The minimal, outline-based artwork complements the simplicity of the design and adds a touch of feel-good gentleness.
Another standout feature of this chat app is the additional, unique signal next to the profile picture bubble. In addition to the classic status circle, you can insert another symbol referring to the nature of your relationship with the contact.
Our design experts recognize the most innovative and creative designs from across the globe. Visit Design Awards to see the:
Our team also ranks agencies worldwide to help you find a qualified agency partner. Visit our Agency Directory for the top Logo Design Companies, as well as:
Subscribe to Spotlight Newsletter
Subscribe to our newsletter to get the latest industry news