This is, at its core, what makes community websites so important. But in the vast online space, the chances of them succeeding in their mission and contributing to society rely on how well-designed and developed their websites are.
The best community website designs, created in collaboration with professional web design companies, featured in this article understand and deliver the power of emotion, storytelling, and great usability. These websites are designed to gather people together around various causes by creating an engaging and user-friendly online community.
With a focus on creating an emotional connection and effective storytelling, these web designs help foster a sense of community and inspire individuals to actively participate and contribute to the shared goals and missions.
Standout features:
Sticky navigation
Prominent CTAs
Multi-colored website
N Street Village is a community helping homeless women in Washington, D.C. Their website, courtesy of Sabra Creative, delivers an abundance of information in a well-organized fashion and uses bright, vivid colors to signify their role in improving the lives of their protegees.
Right upon landing, above the fold, several large hi-res images rotate in sequences and deliver messages concerning the team's mission, successes and plans. The combination of fonts relies on a fun and zany typeface for headlines and a more traditional sans-serif font for the main text.
Scrolling down the homepage funnel, the user encounters all kinds of information, blocks of text, CTAs and other helpful elements. The layout is uneven and broken into distinct areas combining multi-column grids and shapes.
The organization's primary brand colors are magenta and dark teal, although the website goes beyond these hues and uses orange, green, yellow, pink and others for a cheerful effect.
2. I Am Not A Virus By Ken Mah, Ihsan Atkia & Kevin Bathman
Standout features:
A collage of striking videos above the fold
Detailed mission messaging
Minimal use of visuals and graphic elements
I Am Not a Virus is an initiative for better treatment and a call to end the discrimination against Asian Australians and Asians living in Australia in the times of COVID-19. Web designers Ken Mah, Ihsan Atkia and Kevin Bathman have created a striking website that informs the public of this negative social occurrence, confronting stereotypes and long-standing racism.
The website pulls no punches and deliberately disturbs the audience to shake it out of its complacency. A video collage above the fold mixes displays of Asian contemporary art, promotional videos that address this social malaise and real-life videos of racial abuse and attacks.
A lengthy message about the website's mission and the reasons behind it use large black fonts against a white background with certain elements in popping vermilion. Big CTAs in the same hue, with a mouse hover enlargement effect, point the visitors to view new works in development or report their own incidents.
The sticky main menu navigation shrinks as soon as the user scrolls, freeing up more space for content while still being prominent.
Standout features:
Great use of colors
Multiple visual elements
Mix of different types of content
My Health, My Choice is a public Dutch initiative for estimating the habits of young people when it comes to gaming, alcohol and drug use. Twisted Stranger creative agency is behind the cutting-edge and streamlined website design.
Sporting purple and teal as primary colors, along with yellow and magenta as secondary hues, the website uses large fonts, big and enhanced photos, graphs, figures, arrows, squiggly lines, colorful icons and multiple other eye candies.
The main navigation is located in the top-left corner in the form of a hamburger menu. Clicking on it opens the list of links and pages across the entire screen.
The website's layout is broken into different categories in terms of style and content – adding videos to the usual mix of text and images. Calls-to-action are the yellow boxes with a string of yellow arrows, standing out sufficiently against the white background.
4. Snowday Dallas By Anderson Collaborative
Standout features:
Plenty of engagement options
Smooth loading of visual elements
Simple CTA messaging
Snowday Dallas is an immersive holiday experience for families. It offers private events, "trips" to the North Pole and other children-friendly happenings. The appropriately festive website is a creation of Anderson Collaborative agency.
The snowy main menu bar consists of evenly-spaced navigation items and a prominent red CTA on the right. Christmas imagery, falling snow effect and cheerful colors all fit within the website's subject matter.
Despite the abundance of colors and images, the website's layout is clean and quite easy to get around. Videos in the background, floating images and well-integrated play buttons add to the diversity of content and elements that foster user engagement.
Standout features:
Detail-oriented design
Gradient color as an accent hue
Plenty of negative space
The American Society of Mechanical Engineers (ASME) Manipal Student Chapter organizes events, workshops, competitions and webinars that contribute to an individual's holistic development. Their website is developed by Naman Sharma.
Using a dark mode-like appeal, the website uses plenty of white space around the content and messaging elements. A gradient shade of blue and green serves as the accent color and the main menu navigation in the top right corner opens across the entire screen.
This community website design is very detail-oriented. Every user action is well-considered and anticipated. For instance, selecting text on a page creates a stunning visual effect.
Featured Custom Website Designs by Top Digital Agencies
Standout features:
Concise messaging
Symmetrical, user-friendly layout
Google Maps integration
The website for Markets of Nottingham, designed and developed by Framework Design agency, is remarkably simple in its layout and usability. Large, prominent fonts and symmetrical grids align all elements.
The super-menu opens full-screen navigation that contains links to the website's pages on the right and illustrated links to the market's various locations on the left. Above the fold, an image from the market and a simple message with a CTA greet the visitor.
Scrolling down, the user discovers more about each market and reads the latest news and sellers' impressions. An integrated Google map of the market's location provides a more convenient user experience, while the mostly white design with a select array of accent colors keeps everything well-grounded.
Standout features:
A fun and creative, multicolored layout
Top-class photography
Sliding main menu
Orlando's thriving scene and rich social life are showcased on this website courtesy of Designzillas agency. It collects entertainment events, living and working opportunities and education options available to residents of this Florida city.
A splash of color is evident in the above-the-menu bar, in the dotted brand visuals on the left and in the emphasized words in the website's copy that also use a different script-type font. The sticky menu navigation is transparent at first, but it turns solid white once the scrolling commences.
The rest of the homepage reveals a plethora of bright colors, use of top-notch photography and well-written copy for all purposes of helping visitors find a job or events of interest.
Standout features:
A good placement of vital info
Live chat option is always visible
Voice search feature available
Fosterline is an organization helping people who want to become or are already foster parents. COAL web development agency has delivered a website design whose mission is to accelerate the process of informing about becoming a foster parent and providing much-needed guidance for those who have just become one.
The purple logo and CTAs stand out in stark contrast to the rest of the website's mostly white layout. The phone number info is prominent from the get-go and in multiple places, ensuring a solid UX. At the bottom-left corner is the live chat support option that boosts the engagement and trust of users.
Images of the idyllic family lives help create a welcoming atmosphere, while helpful copy covers all the bases and concerns a future parent may have. The homepage user journey ends with the field for a Newsletter subscription.
9. Shout By AQuest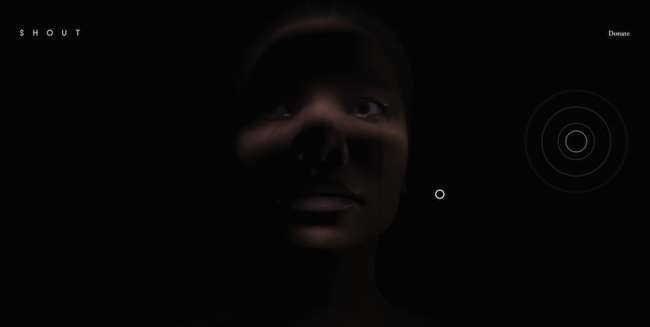 Standout features:
Stunning interactive animations
Prelude video before entering the main site
Emotional storytelling
Shout, an experiential website with the goal of highlighting the importance of combating violence against women, uses the emotional power of storytelling and interactive user experience envisioned and delivered by AQuest agency.
Sporting mostly bleak and dark colors, the website experience kicks off with an animated story before the user interacts with the website, triggering emotional responses with a 3D model of a victimized woman. Her facial expressions were created with "blendshapes", while the other body parts were developed with the rig technique. To add to the difficult atmosphere, the sounds of clinging chains, heavy door opening, and water droplets permeate the UX.
Scenes, interrupted by eerie writings on the darkened room's wall, continue until the visitor reaches the main portion of the website. The Project page uses lengthy copy to explain the purpose and importance of this community and invites visitors to donate to the cause.
10. Hoboken Yogi By Buzzworthy Studio
Standout features:
Floating and animated elements
Fluid, immersive storytelling
Pastel colors
Hoboken Yogi is a website by Yoga teacher Jill Stout that organizes Yoga retreats for the community in her area. The highly creative website is designed and developed by Buzzworthy Studio agency.
Gentle floating effects are present throughout the website. The copy, the photos, the CTAs – all animated and "float" onto the page when loading. The motion effects are quite diverse and rarely repeated, making the website less predictable and more interesting.
Custom-made typography in varying large sizes contributes to immersive storytelling and efficient message delivery. The CTAs use an earthy brown tone and come in rounded and squared shapes.
Subscribe to Spotlight Newsletter
Subscribe to our newsletter to get the latest industry news