Today, every business needs a robust online presence. Regardless of the industry, they serve and what they sell or offer, having an effective business website is a crucial step on the road to success.
But to capture the right audience and grow the business, a corporate membership site must strike an equilibrium of user-friendly functionality and appealing design.
"Perfectly balanced, as all things should be."
These 10 best corporate website designs are a masterclass of drawing prospects in with attractive layouts and keeping them engaged and well-informed throughout the conversion funnel.
1. Clumio by Baunfire
Standout Features
Smooth, responsive UI
A professional color palette
High-quality visuals
Clumio, a Santa Clara-based computer software company, helps ventures of all sizes streamline their data protection. Its secure air-gapped SaaS solution enables organizations to achieve stringent compliance requirements, backup and restore data and gain better visibility to optimize cloud storage costs.
Their official website made by Baunfire features a design that is sure to pique the interest of their target audience. Its clean, on-point and professional look makes taking any action a cakewalk, whether it's reviewing the company's services, learning more about the brand or starting a free trial.
With the help of its sticky menu, the whole website is easy to navigate, allowing visitors to skim every page quickly and intuitively.
The combination of its ample negative space, dark backgrounds and stylish blue highlights makes the large white sans-serif typography stand out, perfectly emphasizing content-rich sections. Clumio's messaging is punchy and straightforward. It reshapes a fairly technical lingo, making it a breeze to read and understand the company's services.
However, the website's main, head-turning feature is the high-quality videos that help users get a clear idea about the brand, services and benefits it offers. These are also straight to the point, ensuring every second brings value to the viewers.
Standout Features
Highlights brand-related keywords
Clean, minimal design
Smooth transitions
Baubauwerk, a branding and design studio from Berlin, did an excellent job designing its official site. Aside from its captivating colors, one of the first things visitors will notice are the highlighted keywords on the site's landing page. Hovering over them reveals the blocks of photographs that change depending on the highlighted term.
Clicking on the accentuated texts leads users to another page that contains the company's portfolio. Each featured material sports on-point tags and high-quality pictures.
While fairly clean and simplistic, the website leverages its minimal approach, modular design and smooth transitions that when combined, create an illusion of effortless movement, adding to the overall appeal effortlessly.
The website design agency didn't skimp on the quality of their photos, which speaks volumes about the studio's consistency and attention to detail.
Users might find this site simple, but it's a concept that fits Baubauwerk well – conveying its message and approach through engaging visuals. The website doesn't focus on over-the-top aesthetics and cluttered design, but on streamlined navigation and clarity, making it easier for users to understand the agency's offering.
Standout Features
Animated homepage
A bright color palette
Fun design elements
MeanPug Digital is a New York-based, ROI-driven marketing & advertising agency with deep experience in the legal vertical. They handle everything from branding and web development to complex CRM implementations, document management solutions and intake pipelines.
Right from the get-go, users can feast their eyes on bright colors and a playful, animated homepage. Designed by the agency itself, the website entices visitors to stay and learn more about the team and the types of services they provide.
Sure, they're maybe specialized in working with law firms, but the sheer amount of engaging, high-spirited elements, Tetris-inspired symbols and micro-interactions reveals a dynamic brand and energetic approach atypical for this particular niche.
Rather than steering clear from such exuberant elements, MeanPug understands the demands of a modern client, as well as the unlikely common thread between your typical law firm and gaming itself – problem-solving.
The website's overall fun design coupled with candid messaging showcases MeanPug as a digital marketing agency for professionals who have no time to waste and are not afraid to stray from the charted path.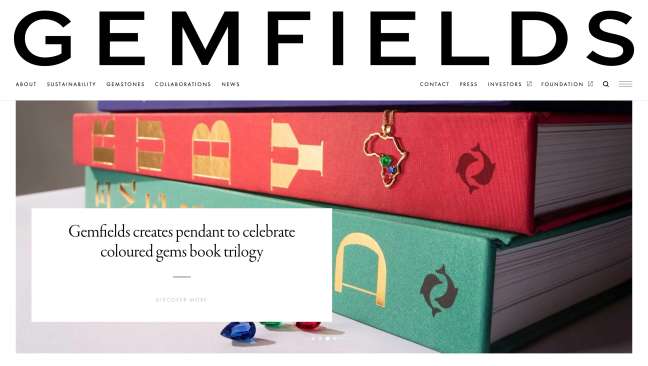 Standout Features
On-brand typography and design elements
A custom cursor tailored to specific areas on the homepage
Interactive elements to describe their gemstones
Gemfields Group is a world-leading supplier of responsibly sourced colored gemstones. Their website, masterfully crafted by DD London, features an artful "alloy" of sophisticated beauty and simplicity.
Upon landing, a luxurious photo gallery followed by the voguish Garamond Premier Display typography and design elements that align with the brand's timeless image identity and personality welcomes the visitor.
One of the more interesting features lies in the website's interactive nature — a hovering action on the landing page morphs the mouse pointer to match the content and different multimedia elements.
It doesn't take long to see that the agency did an excellent job of making the website as immersive as possible.
The copious number of paths to learning more about the gemstones, reading about their traits or place of origin or watching high-definition videos enhance the visual appeal and create an aura of inviting exclusivity that feels almost palpable just by scrolling through the website.
5. Gardalisa by Caroselling Digital Studio
Standout Features
A rounded pointer
Large-scale images
Strategic use of negative space
Gardalisa is more than a simple real estate company. It offers something else, almost uniquely Italian: a seamless blend of beauty and style — their website, a flawless embodiment.
Designed by Caroselling Digital Studio, Gardalisa's website takes users to the beautiful Lake Garda in Italy, all while browsing from the comfort of their own homes. Picturesque landscape photographs, with interspersed bits of copy and a rounded mouse pointer, welcome the visitors before they even set their online foot to one of their prestigious properties.
Additionally, in order to cater to their global clientele, Gardalisa gives its guests four language options, including English, Italian, Russian and German. Similar to the previously listed websites, it flaunts a stylish intuitive drop-down menu to streamline navigation and educate visitors along the way.
While generally, we would advise against using long blocks of text, Gardalisa was able to pull it off by highlighting the key points in every paragraph and utilizing ample negative space to frame the content, resulting in a postcard-like design.
Standout Features
Custom cursor on certain pages
Easy-to-navigate site pages
High-quality photos
Luminur Group, an Australian boutique design studio specializing in luxury homes & multi-residential dwellings, focuses on creating unique architecture feats. Not only are they passionate about innovating and establishing stylish designs, their website, courtesy of Blank Theory does exactly the same.
Yet another example of sophistication and simplicity combined into one, the website has easy-to-navigate pages that don't give users a hard time looking for the information they need. They are clean and sleek, mitigating any chance of misdirection.
Moreover, the bits of content are concise and engaging, enticing users to stay on the website for longer, successfully denying food to the beast we call bounce rate, keeping it tame and in check.
Every detail is thoroughly explored. Luminur did an exceptional job of not bombarding its users with vast amounts of information at once.
Luminur Group's website looks simple because the designers managed to deliver what the company offers via a polished presentation, never skimping on the quality of individual elements.
7. beez. by April Studio
Standout Features
Easy-to-navigate site pages
Quality animations & videos
Fast-loading pages
Beez's website designer, April Studios, made the business consulting company's website fun and simple. They opted for a clean, monochromatic aesthetic that uses a contrasting color scheme to focus on the user journey.
One of the first design elements that capture the user's attention are the playful background animations representing Beez's various offerings.
This type of website design focuses on the wide array of consulting and operational services presented clearly on its landing page via large, legible typography. This ensures that visitors don't miss out on anything.
Meanwhile, hovering over the company's selling points underlines them with a welcoming yellow hue and clicking on them reveals buttery-smooth text pop-ups.
Lastly, opening a drop-down sticky hamburger menu encompasses the whole page and its polished transitions make navigating the site a very pleasurable experience. The prevalent negative space also helps the explainer video feel seamlessly integrated into the best corporate website design, exciting visitors and driving sales further.
Standout Features
High-quality visuals
On-brand design elements
Smooth UI
Nascent is a brand innovation & digital design agency that works internationally across design, entertainment, fashion, lifestyle, luxury and technology. A quick peek at their website's landing page shows that innovation and creativity run profusely through their digital bloodstream.
It sports a hypnotizing, dynamic collage of high-quality, on-brand clips and animations that you actually want to get lost in.
The design of the cursor is another attention-grabber. Holding on to it and scrolling down, visitors are met with large and striking messaging and typography that immaculately balances the initial presentation.
Each page element has a smooth transition, making the user journey comfortable.
If a user isn't satisfied with the website's dark mode, they have the option to invert the colors and go for a full-blown light display experience.
With such a busy, content-rich homepage, Nascent made sure that every action brings value and the menu navigation is easy to use and understand.
9. TEKNE by The-Chinos
Standout Features
High-quality visuals
Smooth animations and contrasting transitions
On-point typography and design elements
Creativity meets technology perfectly describes Tekne's website. Created by The-Chinos, it is another example of driving innovation through a stylish presentation.
One of the first design elements users will notice is the introductory video placed into the brand's logo. Playing it takes you on a quick tour through the agency's impressive portfolio.
The scrolling action commands attention with interchanging transitions from dark to light mode. Visitors can also see a list of the brands they've worked with and accompanying case studies. Each page contains high-quality visuals and exciting descriptions about specific projects.
Tekne's website is a zestful place. Vertical layout, interrupted only by the horizontal overview of various services (accentuated with minimal, animated icons), offers a smooth slide down to contact footer that will wake your inner child and make it shout: Again!
Users might find the website's design intimidating at first because of its imposing presentation. But just like with any new technology, navigating through it quickly becomes addicting — proof of an incredible user experience.
10. Ellwee by Klugberg
Standout Features
Strategic use of the landing page
High-res photographs
User-friendly navigation
Ellwee is a Sweden automotive company based in Trollhättan, the home of SAAB Automobile.
They aim to become the future of electricity-powered transportation and a market leader in lightweight, multipurpose electric vehicles.
Having the company's forward-thinking philosophy in their scopes, Klugberg designed a website that not only embodies the company's values but showcases every vehicle, its features and seductive outlines with a modern corporate website design.
The website welcomes heavy visitor traffic with its uncrowded landing page. Klugberg filled every space with clear-cut elements, high-res photos and blueprints that speak about the company and its products.
Beyond its engaging visuals and messaging, the website draws users in with a template that gradually changes to black once they scroll down, prominently highlighting every element. As the background transitions, so do the texts.
Clicking the drop-down menu will also allow them to shop for products with ease. If the visitor decides to click on each sub-menu, they'll reach pages for specific products.
The agency did a magnificent job making the brand stand out by using the right combination of colors, fonts, images, and design elements, making the user journey simplified and focused.
Share your best designs for a chance to be featured on DesignRush!
GET STARTED
Subscribe to Spotlight Newsletter
Subscribe to our newsletter to get the latest industry news