Revenue from retail e-commerce in the United States was estimated at roughly one trillion U.S. dollars in 2023. Statista Digital Market Insights forecasts that by 2027, online shopping revenue in the U.S. will exceed 1.5 trillion dollars.
Now more than ever, businesses need to step up their game in creating a website that not only looks good but has the power to convert good leads into closed deals.
A well-designed website attracts more site visits, clicks, and checkouts, which translates to higher ROI for your business!
So, to get you started, we've compiled 8 best online store website designs that visually and functionally represent the best practices of these online shopping portals: great branding, easy navigation, and a seamless shopping experience.
1. VP Nutrition by Rezolutions Design
Standout Features:
Sidebar navigation
Organized product categories
Clean site layout
Since the pandemic hit, many have realized that wellness should always be a top priority. With VP Nutrition's website design courtesy of Rezolutions Design, committing to a healthy lifestyle has never been easy!
As a one-stop shop that offers a wide selection of brands, VP Nutrition could easily lend itself to a clunky product page. But that's not the case here. The agency arranged its products into the Digestive, Cardiovascular, Glandular, and Packaged categories.
The hamburger menu opens up a sidebar panel housing the navigation menu, giving the site visitors a clear view of essential pages to browse. Parallel to this are three icons: a search icon, the customers' account window, and their shopping cart.
All these site elements lay on a white canvas for a cleaner and more streamlined look. And if you think that's too plain and dull, prepare to be surprised by how the designers made the website look exciting still! They played around with typography and displayed vibrant lifestyle and product images across the website design, balancing the white space.
2. LACE by MOTIF
Standout Features:
Webform popup upon site entry
Sticky navigation menu and logo
Strategic use of CTA buttons
LACE is a luxury brand that translates its architectural design sensibilities into high-fashion 3D-printed jewelry. Such intricate craftsmanship is embedded right into their website created by MOTIF, an agency specializing in eCommerce design.
Several high-contrast images showcasing the brand's fine jewelry are designated on the website. Upon site entry, visitors can see a Shop Now CTA button over a full-screen lifestyle banner. Several banners are scattered on the website, featuring some of the best jewelry sold by the brand -- an elegant way to inspire action!
And speaking of good openers, the web designers also integrated a discount webform that pops up upon arrival. Customers can get discounts when they subscribe to the newsletter.
Also, the sticky logo and main menu make it easier for customers to navigate the website. Some menu buttons expand to a dropdown list for quicker access to the inner pages.
Standout Features:
Animated site elements
Interactive product slider
CTA-style messaging
Chocolates are irresistible treats, and this online store website design for Max Chocolatier by tastisch, a Switzerland-based web and graphics agency, has some delectable features.
The designers presented the site's categories with highly enticing calls to action. For example, the headline "Create Your Dream Ice Cream with Us" is an enticing invitation for visitors to check out the store's ice cream workshop.
This type of CTA-style messaging is a recurring theme for the rest of the site's offerings, which is a fun way to reel in your customers!
Next, the site has a product slider that allows customers to flip through Max Chocolatier's best sellers. And the best part? The chocolate bars and boxes featured in this section have an "unwrapping" effect when you hover over them.
Ultimately, several animated elements like the arrow guides and slide-over navigation bar make for a highly interactive browsing experience!
4. HORAGE by ANAKIN
Standout Features:
3D product banner
Great use of white space
The blog section displayed on the homepage
Dedicated to "engineering the future of Swiss watchmaking," HORAGE offers some of the most timeless and stylish watches on the market. With this mission, ANAKIN designed a website that reflects the brand's modern excellence and future-forwardness.
Upon entry, site visitors get treated to a gorgeous slider that features enlarged shots of the company's top watches; sharp, intricate, and visually striking. They also included a 3D snapshot of the premium watches, giving the viewer a realistic and larger-than-life visual experience.
Even with such extravagance, the store website design doesn't look too busy or crowded. The designers did a great job leveraging the white space by laying out images and text blocks on a clean canvas. This design move resulted in a neat and balanced presentation of the brand's offerings.
They also incorporated a blog section on the homepage, encouraging viewers to read about the products before adding them to their shopping cart.
5. Cuut by Ronald Truvee
Standout Features:
Clear and simple typography
Candid studio photography
Embedded Instagram grid
Suppose you're planning to launch a website for your small business. In that case, you can take notes from this web design for Cuut, a family-run business producing eco-friendly and sustainable houses and accessories for dogs.
The website designer, Ronald Truvee, made sure to create a webpage that reflected the brand's identity: light, approachable, and easy to get along with.
The homepage is an instant attention-grabber, thanks to the studio shots featuring a little Pomeranian dog enjoying his tiny little home. The images were also stylized with geometric elements in pastel shades, adding extra visual quality.
The typography design made everything easy on the eyes, as well! It helped emphasize key advertising messages and distinguished them from the more detailed product descriptions.
At the bottom of the page sits an embedded Instagram grid where users can find product snapshots in real-life settings. By clicking on any image, they can explore the brand's feed for more!
Standout Features:
Product videos in the background
Full-screen navigation page
Testimonial section
Omega Yeast prides itself on offering pitch-ready liquid yeast for pro-brewers and home-brewers alike.
Their dedication to their craft is undeniable. And design agency Knoed jumped in to bring this dedication to life. Through visual storytelling, the agency created a website highlighting the brand's solid credibility and commitment to maintaining its excellent product quality.
The homepage introduces Omega Yeast's unique propagation methods and a short walkthrough of how they develop their products.
A testimonial section follows through. It shows success stories from the brand's partners, a creative way of building brand reputation and trust among first-time visitors!
However, stories can sometimes be boring, too, a route the agency refused to take. They decided to keep texts at a minimum and balance them with good visuals. The bubbling beer videos playing on a loop in the background are enough to keep visitors entertained as they explore what Omega Yeast has to offer.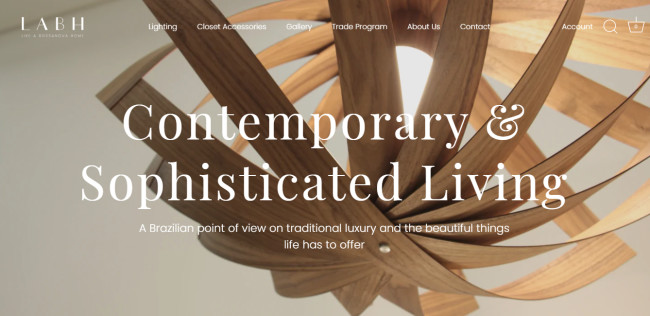 Standout Features:
Dedicated "Featured Products" section
HD image gallery
Elegant typography
Like A Bossanova Home (LABH) is a haven of curated lighting, wardrobe and kitchen accessories. Like its contemporary and sophisticated aesthetic, its website, designed by Larkspur Creative, satisfies the modern urban dweller.
The core feature of sales websites is to bring focus to the products. The designers did an excellent job by presenting an interactive slider where customers can browse through LABH's wide selection of products. And this is what makes it more appealing: When a user hovers over a product, it changes to another color variation!
The interactive element of this website design doesn't stop there. Home accessory products are displayed in an eye-catching photo gallery filled with ultra-realistic illustrations, letting you imagine how those stunning pieces will look when installed in your space.
Lastly, the elegant typography adds an extra layer of sophistication to the site layout. Using a blend of serif and sans serif fonts, the designers told LABH's story centering on traditional luxury and all the beautiful things life has to offer.
8. INOVATIV by Rocketship
Standout Features:
Discount popups
Enlarged product photos
Reviews and testimonials section
Equipment manufacturers like INOVATIV need online portals that are techy, info-rich, and user-friendly. And that's what Rocketship created for this brand – a future-forward and easy-to-navigate.
Its key elements perfectly translate to a user-centric experience. Discounts pop up upon arrival, special promos and key offerings are displayed up top, and most importantly, large product snapshots are showcased front and center.
But that's not all. To give consumers an immersive experience with INOVATIV, the site designers integrated a first-person POV video montage of the brand's mobile workstations on the banner.
And since customer reviews influence buying behavior, the designers included a slider section to feature all testimonials. It isn't your typical slider, either. The slider control takes the form of a ruler to stay in sync with the brand's visual identity!
Subscribe to Spotlight Newsletter
Subscribe to our newsletter to get the latest industry news