What Makes Advertising Agencies In Los Angeles Unique?
Advertising agencies in Los Angeles offer standard advertising services. However, when compared to their US-based competitors, there are several key facts that make them unique.
Fact #1: They Employ Top Grade Talent
The Los Angeles metro area has the second-largest marketing workforce in the US. It employs 36,520 market research analysts and marketing specialists.
This indicates that LA is becoming a marketing hotbed for talent.
The primary reason behind this are the great conditions the city offers for career growth.
Firstly, according to Glassdoor, LA is one of the major US metro areas regarding job openings and pay rise.
Secondly, the average salary in the city is $68,118/year which is higher than the national average of $66,665.
Los Angeles is the largest city in California and the second-largest city in the US with a population of 4,085,014. As such, it offers limitless opportunities for professionals in various fields.
The City Of Angels is a professionally competitive place. With hefty salaries and a fast-paced market, the area is a land of grand ambition.
It entices top-grade talent that is driven and highly motivated.
Fact #2: They Operate In The Epicenter Of Entertainment And Media
LA's entertainment industry brings together talent and creativity.
Thanks to its proximity to Hollywood, Los Angeles is the number one destination for a workforce in the creative sector including the advertising services.
The media, filmmaking and music recording industries are booming. This is why Los Angeles has become synonymous with chasing dreams and achieving goals.
The local advertising specialists live and operate in an area that creates a one of a kind atmosphere.
This results in unique skills and creative genius.
Fact #3: They Work In A Multicultural Environment
As an attractive city for talent from around the nation and beyond, The City Of Angels is one of the most culturally diverse cities in the US.
According to the World Population Review, the Los Angeles Combined Statistical Area (CSA) is the third-largest in the world which outranks New York.
LA is a global city and a home to people who:
Come from 150 countries
Speak 224 languages
In fact, only 40.7% of citizens speak English. Others speak:
Spanish (42.4%)
Asian and Pacific island languages (8.5%)
Indo-European languages (7.0%)
And other languages
This demonstrates that advertising agencies in Los Angeles understand the multicultural and multilingual markets well which gives them a competitive edge over their US-based colleagues.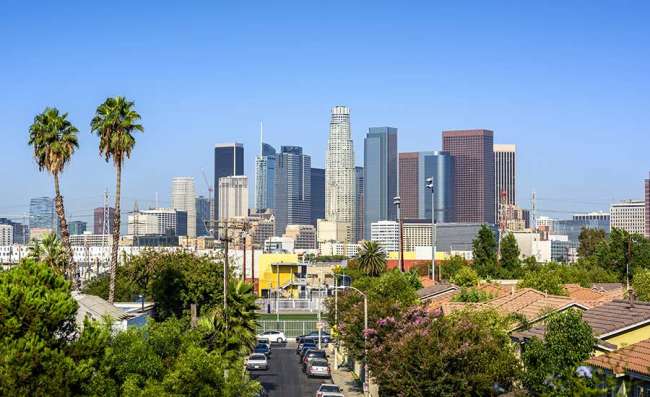 What Services Can You Outsource To Advertising Companies In Los Angeles?
The services you can outsource to the top Los Angeles advertising agencies typically depend on the type of agency you hire.
Based on their skills and expertise, they can be:
Full services advertising agencies deal with all stages of advertisement that address the traditional and digital marketing aspects.
They employ different experts for different departments like PPC specialists, social media experts and PR managers.
These type of companies may also offer a list of non-advertising services including:
Research
Planning
Creative services
Print
Broadcast production
Specialized agencies, on the other hand, focus their efforts on a specific area and can be further classified into:
Traditional advertising agencies: They specialize in traditional advertising models like TV, radio, print, newspaper and billboards. Most often, they are the best choice for businesses that want to reach their local audiences.
Digital advertising agencies: These advertising agencies in Los Angeles place their efforts towards creating ads for different online channels. Their core offerings include SEO, SEM, social media marketing, email marketing, content marketing, marketing automation and more. They can help businesses target and reach a specific audience and generate leads.
Social media advertising agencies: As the name itself tells, these experts handle ads on different social media platforms like Instagram, Facebook and LinkedIn. They are always on top of social media algorithm changes, channel updates and emerging trends. The focal point of these agencies is to generate brand awareness, increase engagement and loyalty.
Media buying agencies: These type of advertising agencies in Los Angeles specialize in media planning and buying. Their job is to help businesses place appropriate ads in the most optimal locations, recommend a budget, identify time frames and more. Brands looking to advertise on specific channels should consider the help of media buying experts to get maximum exposure.
Creative agencies: These types of companies employ creative talent who develops the design and copy for the ads. However, they don't create the advertisements but actually, outsource them to other marketing partners. They are proficient at logo design, business cards, printing materials and other marketing collateral. Creative advertising agencies are well suited for brands that don't have the creative talent to develop appropriate designs for them.
Public relations agencies: Their core expertise includes managing brands' public image. They create strategies around brand awareness, crisis management, vents marketing, public affairs, employee relations, media and spokesperson training and more.
How Much Do Los Angeles Advertising Agencies Charge For Their Services?
Advertising agencies in Los Angeles will typically offer the following pricing structures:
Hourly pricing
Project-based pricing
Pricing based on results
The average cost per hour varies between $50 and $150. The main factors that will influence this pricing option are:
Client requirements
Project complexity and scope
Project deadline
Company size and stature
When it comes to the cost per project, an advertising agency in Los Angeles will offer a flat rate or a linear structure for specific service.
These experts normally accept projects estimated at $10,000-$50,000+.
Result-based pricing depends on the clients' requirements. They discuss their business goals with their agency partners who then agree to deliver specific results.
Only when the company achieves these results, the client issues the payment.
These results may include:
Generating brand awareness
Increasing the number of social media followers
Boosting engagement
Getting higher website traffic
And more
Why Should You Hire A Los Angeles Advertising Company?
This is why you should partner with an advertising agency in Los Angeles:
World-leading expertise: The City Of Angels offers limitless opportunities for career growth. Thanks to its high job and pay growth, which is higher than the national average, many driven and motivated advertising specialists move to work there. As a result, the LA metro area employs the second marketing workforce in the nation which is why the city has turned into a world-famous hotbed for advertising services.
Internationally competitive services: There are two key factors that make Los Angeles advertising agencies deliver high-quality services. First their proximity to Hollywood that results in innovation, unique skills and creative genius. Second, the competitiveness of the city which makes these companies use premium tools and stay on top of marketing trends at all times.
Bilingual talent: LA holds the reputation as one of the most ethnically diverse cities in the US. Employing bilingual talent, the local advertising agencies have unique insights into the multicultural market. This allows them to get a leg up on their US-based competitors and help their clients reach a wider audience successfully.
How To Choose The Best Advertising Agency In Los Angeles
Before you start your search for the right advertising agency in Los Angeles you should determine the type of services you need first.
The following questions can help:
What are your business goals?
Do you need assistance with marketing collateral?
What is your advertising budget?
Then, consider the following factors:
Cultural fit: Hiring an agency that shares the same values as you is especially important if you plan to invest in a long term partnership. Once your attitudes, beliefs and behaviors align, your communication and collaboration will be more easier and effective which will ultimately contribute to project success.
Team size: A useful rule of thumb when selecting an advertising partner for your business is to pick an agency that matches the size of your business. On the one hand, SMBs should opt for smaller agencies because they may offer personalized attention, access to closely-knit teams and local expertise. Large companies who see global reach, on the other hand, should partner with large agencies because they can handle a variety of ad services and have a huge relationship network.
Reviews: The feedback of past clients is proof of the company's existence. It speaks volumes about its credibility, reliability and flexibility. Reviews will showcase these agencies' ability to deliver results, meet deadlines and execute successful projects.
Portfolios and case studies: The previous work of the best advertising agencies in Los Angeles will showcase their industry expertise and tell you if they have an understanding of your sector. Looking at their past work you will also find out how creative they are, what types of ads they run and what types of clients they partner with.
10 Questions To Ask Los Angeles Advertising Agencies Before Hiring One
Ask every potential advertising agency in Los Angeles the following questions to make sure you pick the best fit:
What is your industry expertise? Have you ever worked on a project that reached similar goals to ours?
Will you conduct market research to define our audience's needs?
How will you create advertising campaigns that work?
What types of ads will you run for us?
Do you have a team that can create the marketing collateral?
How will you measure the ROI of our marketing spent?
What unique tools do you use to execute and measure your strategies?
Will you provide us with analytical reports on campaign performance? Will you present each report carefully to me and my team?
What is your pricing policy and how much will this project cost us? Also, which team members are we paying for?
What are your contract terms?
Takeaways On Advertising Agencies In Los Angeles
Advertising agencies in Los Angeles are among the most sought after in the US because of the key qualities that possess including:
They employ top-grade talent
They are widely known for their creative skills
They understand the multicultural markets well
On average, they might charge you between $50 and $150 per hour.
To choose the best advertising agency in Los Angeles, make sure you define your business goals first.
Then consider the following factors:
Cultural fit
Team size
Reviews
Portfolios and case studies
Best of luck!
…