As more people embrace indoor plants for comfort and connection, plant care apps are blossoming in popularity.
The best app designs aim to make life easier and more convenient. These mobile tools simplify plant maintenance. They create meaningful experiences for seasoned plant enthusiasts and budding green thumbs alike.
In this article, we'll explore outstanding plant care apps crafted by the most innovative app designers. Discover how these apps redefine how we care for our leafy friends, from lush visuals to user-friendly interfaces!
1. Plant Care by Izabela Hernas
Standout Features:
Intuitive plant uploading system
Informative progress bars
Fresh color palette
This plant care app designed by Izabela Hernas is a fine example of clever design meeting excellent functionality. It is a handy tool for any plant lover!
The app's user-friendly interface lets users easily upload their plants by taking pictures or selecting from preloaded categories. This personalized approach helps users track each plant's specific needs.
Check out other app designs with great user experiences.
The progress meters provide clear visual cues about when to water or fertilize plants. The data indicators are easily decipherable, keeping users informed and engaged.
The refreshing color palette infuses the app with vibrancy and life. It adds a visual appeal that resonates with the app's purpose and complements its functionality!
2. Plant Care App by Annie Yang
Standout Features:
Instant plant identification
Comprehensive flora information
Clean and uncluttered interface
Annie Yang masterfully designed a plant care app that offers an innovative and educational approach to plant maintenance.
The app's point-and-shoot uploading feature is a standout. It enables users to identify their plants with a simple click. This convenience simplifies plant care and adds fun to the process.
The app is a valuable information source about various plants. The intricate details effectively enrich users' knowledge about their green companions. This educational aspect elevates the app as a learning platform, especially for new enthusiasts.
The clean interface offers clear buttons and well-organized content blocks, ensuring a smooth navigation experience. It reflects thoughtful design, prioritizing user-friendliness and aesthetic appeal.
3. Planta by Ehrenstråhle & Wågnert
Standout Features:
Helpful task categories
Functional iconography
Nature-inspired color palette
Planta's rebranded app design successfully captures the essence of home plant care, combining functionality with beauty.
Crafted by Ehrenstråhle & Wågnert, it is a marvelous example of a unique and compelling app experience. The design focuses on the diversity of homes and how plants thrive within different living spaces.
One admirable feature is its efficient task organization. Managing responsibilities like repotting, watering, and fertilizing plants is effortless. It's like following a trackable to-do list!
The outlined icons also contribute to the app's smooth experience. They are instantly recognizable, complementing the plant's concise information.
The app's multiple shades of green suit the theme very well. These colors add visual interest while enhancing the navigation experience.
4. Nurtured by Paul Larkin
Standout Features:
2D plant care illustrations
Accessible task summary
Guided app onboarding
Nurtured's app design presents an appealing, functional, and user-centric solution for anyone seeking assistance in plant care.
Designer Paul Larkin beautifully integrated 2D illustrations to provide an approachable visual identity. It transforms plant maintenance from a mundane task into a delightful activity!
The task summary is central to the app's functionality. It ensures users always catch up in caring for their plants. Whether watering or repotting, every essential activity is readily accessible and trackable.
The guided app onboarding takes user-centric design to the next level. The app tailors the experience to individual needs and preferences by asking curated questions. It makes the onboarding process smooth and engaging.
Moreover, the bold typography in modern sans-serif font enhances legibility and adds a contemporary touch.
5. Plants by Johnny Gu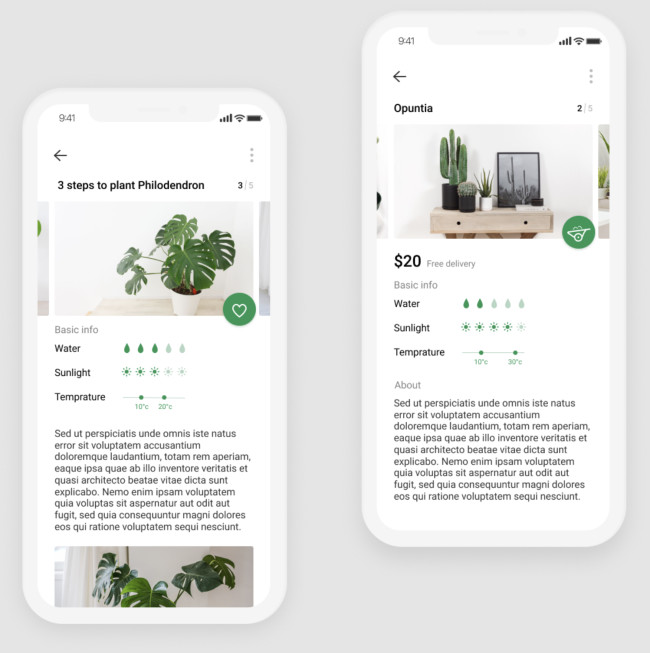 Standout Features:
Community-oriented functions
Comprehensive Explore section
Effective use of negative space
Johnny Gu's app design for Plants is a gardener's best friend. It offers a simple, intuitive interface to help users care for their plants.
Preloaded plant categories make it easy to start. The scan-and-upload feature ensures that proper care is accessible even to the most uncommon plants.
The Explore section presents all-encompassing information about various plants. From watering schedules to sunlight requirements, everything is laid out step-by-step. This guided experience makes plant maintenance easy for novices and seasoned gardeners.
But what elevates this app is its clean UI design. The agency applied the best mobile app design practices by using negative space and well-organized content blocks. This style choice creates an uncluttered look.
This app is excellent for users who want to expand their knowledge or need reminders to water their green friends. Its functionality ensures a delightful experience that nurtures the user's love for gardening!
6. Flora by Bharath Kumar
Standout Features:
Networking features
Clear plant categorization
Modern and legible typography
Bharath Kumar created an app design that offers a unique social experience for plant lovers. It isn't just a tool for plant care reminders and tips. It is also a place for sharing ideas and building connections!
The app provides a space for people to share their plants and connect with like-minded individuals. The communication features nurture a community among plant enthusiasts.
The color scheme embraces the plant theme, with green as the primary color. Various colors for the app's icons and buttons contrast this green palette.
Additionally, precisely categorizing plants into outdoor/indoor sections and framed content blocks make navigation a breeze.
The app's concise information simplifies the user experience. The Roboto font makes it easy to read and offers a streamlined look, ensuring legibility across all devices, especially on smaller screens.
Standout Features:
Personalized plant guide
Earthy color palette
Organized inventory system
Plant Aid's app designed by Gabby Tran offers the tools and guidance needed to cultivate a thriving indoor garden.
The app's standout feature is the tailored guide that offers advice and reminders for each plant. Users will avoid missing plant duties by setting push notifications for watering and other tasks.
Plant owners can also manage their current inventory seamlessly. Uploading photos and notes enables a personal connection with each plant, keeping track of their growth journey.
Data visualization is utilized well in this design. The informative graphics and beautifully crafted diagrams turn intimidating plant care routines into seamless experiences. These tools enhance the learning process and make tasks easy!
The app's earth tones and minimalist typography create a calming and approachable experience. This user-friendly approach elevates the app beyond a mere utility and turns it into a trusty companion.
Standout Features:
Lush botanical imagery
Interactive user spaces
Detailed plant descriptions
Carolina Aguirre's app design for Plant Therapy transcends being a maintenance app; it is a digital haven for plant owners!
The app welcomes users with a tranquil and calming ambiance. Curated images of lush botanical scenes and serene plant care visuals fill the screen.
Plant identification is a breeze on this app. Its fast and accurate scanning lets users instantly recognize their green friends. The app's content-rich database simplifies identifying thousands of flora.
The app's interactive virtual spaces allow users to explore thousands of beautiful plant pictures from other users. This community-focused function is an excellent way to connect with other plant enthusiasts across the globe.
Explore more app designs with standout features.
9. Flori by Charlotte Uddfors
Standout Features:
Digital and realistic imagery
Plant diary feature
Community-driven marketplace
Charlotte Uddfors created a calendar app covering every plant care aspect, from quick identification to efficient task management.
Upon opening Flori, users can marvel at the digital art and realistic plant imagery. It sets a vibrant tone and enhances the visual experience.
The Diary feature allows users to log and track their plant behavior and progress. The feature encourages personalized care and adds a unique touch to the user's connection with their plants.
Flori goes beyond just caring; it is a community. The in-app marketplace lets users buy, sell, and trade plants with other owners. This community-driven approach creates a dynamic and interactive experience.
The Suggestions feature enhances this by recommending the best plant food, soil, or pots, ensuring optimal plant care!
Subscribe to Spotlight Newsletter
Subscribe to our newsletter to get the latest industry news