Wine packaging is as crucial as picking suitable grapes for each bottle of wine. Aside from looking grand and sophisticated, it must be informative and interesting enough to pique the buyers' attention.
The product itself is a complex and culture-laden experience inspired by everything showcased by its packaging, from the color of ambient down lighting to the combination of its contextual colors.
The choice of different themes and colors for each wine also has another benefit: branding. Setting a powerful brand for wine products helps consumers identify and recognize the wine without tasting it. The label created becomes a designated hierarchy to help your brand tell the tale.
Moreover, these different wine packaging designs, created by some of the best professionals in the industry can set one brand apart, making it seem more luxurious or sophisticated. We present you with the 17 best wine bottle designs in the viticulture industry that can surely give you that refined experience!
1. N de Cuco by estudio300sesenta
Standout Features:
Modern and monochromatic
On-brand classic color scheme
Packaging that perfectly reflects its contents
N de Cuco is an Oregon wine line by Cuckoo's Nest Winery. Inspired by the origin story of a Cuco safeguarding the farm during the nights, they aim to show a historic and soulful bottle of wine.
To achieve this goal, estudio300sesenta elevated the packaging with a clean bottle and an on-brand classic color scheme that reflects the brand's commitment to quantity over quality.
The agency banked on a gold and black motif, targeting and making it stand out with wine enthusiasts around the wine market.
2. Apoteo by Stefano Bracci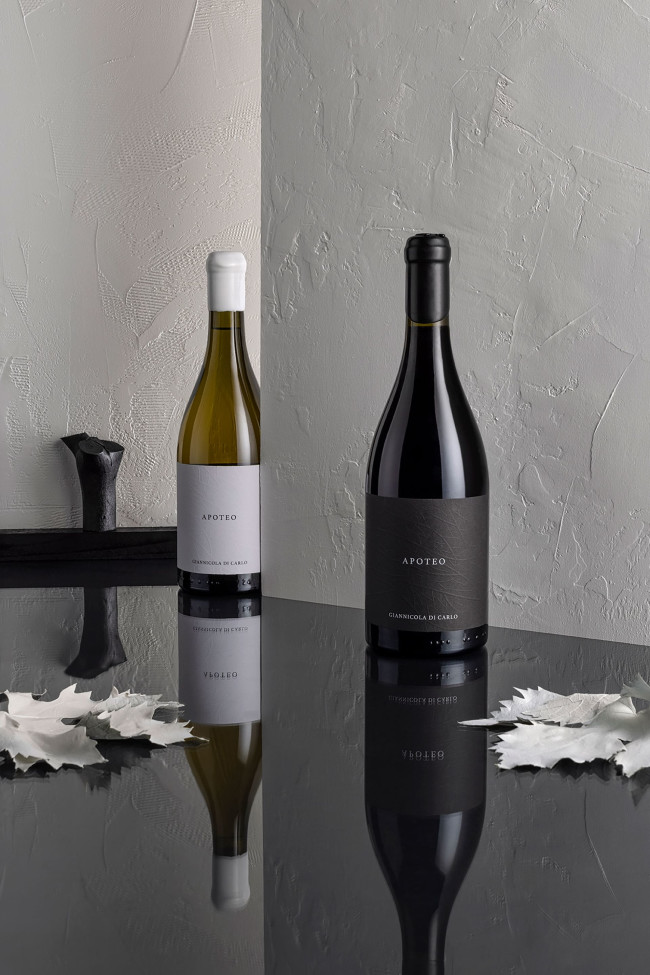 Standout Features:
Minimalist
Modern design
Textured matte packaging
Apoteo's wine packaging designed by Stefano Bracci is simple and significant. The product comes in a black or white label decorated with a vine-inspired texture, making it look exquisite even from afar.
This design move gives the product a high-quality image that elevates it from the competition. The amber glass bottle transcends a striking definition of a perfect balance between simplicity and elegance.
Stefano Bracci aims to establish a minimal yet impactful design across his projects. And he did it magnificently in Apoteo.
3. Polymi by Outtolunch
Standout Features:
Minimalist approach
Symbolic
An homage to tradition
Polymi is a brand that places emphasis on the wine-creation process in Greece. They touched base with the design agency Outtolunch to devise packaging that presents this story.
The result? A symbolic and beautiful packaging.
Sitting in the front center of the product label is a minimalist design of a glass of wine that also looks like a smile. This simple design gives a positive feeling upon seeing the bottle while depicting the traditional winemaking process.
This clever use of branding and logo design brought the story of Polymi to life, immersing the customer in the old times while they sip on their glass of wine.
Standout Features:
Family generation-theme
Inspired by history
Meaningful design
The Domaine produces some of the most acclaimed wines in the world, and its portfolio of red, white, rosé, and sparkling wines has won dozens of consumers' tastes for years. However, they struggled to create a strong brand identity.
They teamed up with designer Max Lippolis to create a design that would align with the winery's vision.
The agency transformed the brand grandeur into simple yet enchanting icons of the sea, vineyard lines, the domain, and the hills.
Using connotative symbols, Max Lippolis created an instantly recognizable brand that would resonate with its customers. He perfectly portrayed the French family-owned winery through the black, white, and gold color story.
Standout Features:
Roman-inspired
Clean and minimalist
Symbolic
Named by the ancient king bitten by a poisonous snake and healed by washing his wound with red wine, Philoktitis deserves an equally interesting packaging design.
And design agency Deworks.co delivered!
They incorporated the label design from ancient Greek pottery and featured a minimalist illustration of a snake wrapped around a wine glass. They then used a muted color palette to create a sophisticated and elegant look that would appeal to wine lovers.
The new packaging has helped the winery stand out on shelves and has been well-received by customers immediately!
6. Arvad by Rita Rivotti
Standout Features:
Traditional themes
A nod to the Phoenician culture
Symbolic illustrations
Arvad's branding is rooted in the Phoenician ancestors' trading stories in the Mediterranean Sea. The brand has lived up to its name, molding a safe and calm experience for its consumers.
The packaging design created by Rita Rivotti screams authenticity to the brand story. The agency concocted a wine packaging inspired by the rich art and culture of the Phoenicians. They used their alphabet to create beautiful, unique labels that will set Arvad wine apart from the competition.
The bottles are capped with clay to eternalize this ancient civilization and bring their riches into the present.
Overall, this playful yet intricate design has given Rivotti and Arvad recognition beyond expectations!
Standout Features:
Musical inspired theme
Cultural
Distinct design
The new wine from Bodega Bigardo is called Maldito Parné and bears derived from the lyrics of a famous copla song María de la O.
To represent this, Javier Garduno incorporated elements that match these old-fashioned songs. Inspired by Maria de la O's melodies, the main label has an entire die-cut red stamping comb with its shape and inside parts.
There's also a lace around the top edge, giving attention without being overbearing or too flashy for those who prefer less showy designs.
The agency added a collar with an elegant carnation as the final touch to give this unique bottle plenty of personality!
8. Malbec by Dispenser Studio
Standout Features:
Lines and Illusions
Monochromatic color story
Modern design
Dispenser Studio perfectly executed illusion-themed branding on Malbec's wine packaging through the playful use of line art.
Malbec is a winery originating from the Côteaux du Tricastin in France. Their wine is extracted from the purple-colored grape variety called Malbec.
The agency used optical illusions to make it appear like the wine bottles were floating in mid-air. This type of line playing creates a unique and memorable experience for consumers and it helps to differentiate the wine from other brands. Dispenser Studio's work demonstrates the power of creative packaging to engage consumers and create an emotional connection with a product!
9. Navarra by Leonardo Recalcati
Standout Features:
Good storytelling
Idealism
Identity-driven line
The visual identity project for Tenute Navarra was born out of a dream.
Since its inception in 1936, Totò Navarra has envisioned an elegant bottle to represent his successful life as a businessman-entrepreneur.
Leonard Recalcalti wanted to create something that represented earthly perfection, beauty, and humanity.
His idea behind today's new branding effort enables them to see and feel what it means "to be tenutivo" (good hands).
10. Vinum by 43'oz
Standout Features:
Elegant
Feminine
Contemporary
Vinum Estate sparkling wine is a premium product. Design agency 43'oz lived up to the brand image and created a luxurious design for this wine product.
Since Vinum Estate is known for sparkling wines, the agency took this inspiration for this rebranding project and used a unique dot symbol as the label design. The shape of this product takes on a particular form when viewed from above as it mirrors not only its logo but also creates an endless loop as if looking at yourself through rose-tinted glasses.
This design move has emphasized the sophistication and exclusivity of this luxury drink.
11. Vermouth by Al Margen
Standout Features:
Creative use of lines and shapes
Culture-centric
Historical design
Al Margen's vermouth wine packaging is based on traditional Spanish design with a modern twist. The bottles are made of glass with metal labels and stoppers. These labels are printed with intricate designs, and the corks are sealed with wax. Each bottle is unique, drawing inspiration from .0Spanish culture and architecture.
Vermouth's wine packaging is minimalist, modern, and eye-catching. Its sleek lines and simple colors of the wine bottles make it stand out on the shelf, and the labels are designed to be easy to read and understand.
The wine is available in three varieties: white, red, and rosé. Each wine is made with a different blend of herbs and spices, resulting in a unique flavor profile. White vermouth is light and refreshing, with notes of citrus and herbs; red vermouth is rich and full-bodied, with spices and floral aromas; and rosé vermouth is fruity and aromatic, with hints of vanilla. No matter which variety you choose, Al Margen's vermouth is sure to add a touch of class to your next gathering. Cheers!
12. Stina by Bruketa&Zinic&Grey
Standout Features:
Classic
Nature-themed design
White and Cold color story
White and stone are the two elements that inspired the creation of the classic Stina. Bruketa&Zinic&Grey did not disappoint in the packaging design department. The agency created a modern, clean look by sticking to a traditional wine glass bottle combined with white packaging.
There are two classic looks for wine packaging that always stand out: glass bottles with white labels and stone-colored boxes. The latter is usually associated with expensive wines, while the former has a more down-to-earth, approachable feel. The Croatia-based design studio went with the luxurious packaging design for this project.
They kept the label simple and clean, using a classic wine glass bottle combined with white packaging. The result is a modern take on a classic look that will stand out on store shelves.
Standout Features:
Colorful labels
Playful Illustration
Embossed typography
Packaging design for Thalassinos Microwinery, courtesy of Naivdesign, is a thing of beauty. The Greek, white, and rose wine opts for a subtle, simplistic label that hides sophisticated elements that make it truly stand out in the industry.
In fact, each Mikros Taraxias wine is adorned with a charming, on-brand illustration of a young boy (stickman) full of joy and a custom, embossed typography in order to join an optical and tasteful sense.
Standout Features:
Characteristic design
Gold accents
Ambiguous
When you think thinks of a parliament, he thinks of the Plenary hall, or "the room of decisions". While each one (in Europe that is) opts for a similar design, the plenary of the Hessian State Parliament has a distinctly recognizable shape. It is round, according to the principle "Democracy needs transparency".
The concept of the. Hessischer Landtagswein or Hessian State Parliament wine label, designed by Ela Gabriela is based on its architectural namesake. The circular seating arrangement with a characteristic ceiling made up of many layers of circles is combined in a graphic, resulting in an interesting, eye-catching effect with different printing methods.
It's simple, evocative, minimalistic, and most importantly, a pleasure to look at while sipping its delicious content.
15. Brutia by Miguel Diez
Standout Features:
Characteristic design
Gold accents
Ambiguous
Brutia is a special kind of wine from Pinea Wine. Its name was inspired directly by the pines (Pinus Brutia) surrounding the vineyards and the winery in the heart of Spain's legendary Ribera del Duero region.
Pinea founders realized that their true calling was to use nature and the magnificent characteristics of the land to produce one of the best wines in the world. For Brutia to become worthy of this title, they approached Miguel Diez to "vinify" the perfect identity poured into striking packaging that pulls from the same renowned roots.
The agency imagined and designed a crafted "B" letter by cutting and molding small pieces of pine bark. The crafted design of the label communicates the raw essence of the pines and the spirit that intoxicates every single grape.
16. Romate by Typesense Graphic Design
Standout Features:
Sash-like label design
Classy typography
Original bottle shape
Bodegas Sánchez Romate unveiled the new packaging for the "Reservas Especiales", designed by Typesense Graphic Design, aiming to refresh the superior sherry range with a new look, evolving from "classic" to "classy."
With eight wines in total, the agency redesigned the bottles and labels, by introducing a unique take on the archetypical Madeira-style "flask", merging the local Spanish viticulture with a contemporary, albeit elegant aesthetic.
17. Panceri Wine by Estudio Arth
Standout Features:
Textured label
Symbolic illustration
Gold accents
Vinicola Panceri, a Brazilian Winery based in Santa Catarina, produces wines with the latest viticulture technology and tradition, reflecting the most about their precious soil and climate.
Their new, limited-edition batch required a distinct packaging or rather bottle label that captures the winery's latest gem. Estudio Arth crafted the Panceri Barbera packaging as a visual representation of the crucial role played by time and the seasons in the creation of this premium wine. The label features a clock, depicting the four seasons, Pri, Est, Aut, and Inv in their Italian abbreviations, set against a picturesque mountain landscape that represents the area where the vineyard is located.
The textured, sapphire label uses screen printing to add value to the deluxe wine. The back label is designed using the same material and finishes as the label, keeping the same look and sophistication needed in a premium product.
Subscribe to Spotlight Newsletter
Subscribe to our newsletter to get the latest industry news