Cardboard packaging is known as one of the most popular packaging materials in the world. Despite the rise of plastics and other packaging options, cardboard has remained a top choice due to its affordability and ease of use.
Through the years, cardboard packaging designs have flourished from simple, brown cardboard to aesthetically pleasing boxes. Because of this, cardboard packaging still dominates the shelves today.
Check out these ten attention-grabbing cardboard packaging designs that will inspire you to develop unique packaging for your product.
Standout Features:
Whimsical color palette
Elegant typography
Overall sophisticated feel
Magtie is a niche-fragrance collection of different ethereal scents inspired by precious stones. Based in Dubai, the United Arab Emirates, the brand aims to give its customers the complete jet-setter fantasy interspersed with glamor and elegance, which is what the city is known for.
Mahmoud Alsayed perfectly captures the essence of luxury and whimsical air with this stunning cardboard packaging design. Looking at this avant-garde design gives off a premium feel to the product.
The colors used in the cardboard packaging exude an air of opulence. Anyone can easily overdo luxury, but this cardboard packaging design has hit the sweet spot: beautifully blending brand values with creativity.
The font used in Magtie's logo is reminiscent of Arabian architecture in the Middle Ages – an intelligent nod to the brand's origins. Fun fact: the Arabian peninsula is a prominent part of the major trade routes in the olden times and where fragrances have prospered.
Overall, the Magtie Fragrance cardboard packaging design is sophisticated – and we're here for it.
Standout features:
Playful fonts
Witty slogans
Exudes the vivacity of a child
For those who are having problems putting names to faces, Facile Visage is the answer to your problems. It's a survival kit for those who struggle to remember people's faces. USA-based graphic designer Isabelle Snyder encapsulated a youthful feel into the survival kit's packaging design by marrying lively visuals and purpose.
For starters, the colors used in the packaging are simple yet striking – blue, yellow, and red look great with a white background.
The squiggly lines and comic letters make the design look friendly and less intimidating. The font used is also playful and reminds everyone of chalkboard drawings. Lastly, the fun chalk faces printed all over the packaging also point toward the purpose of the product – to aid people in remembering names and faces more effectively.
3. Lupinion by Franziska Bottcher Studio
Standout Features:
Straightforward typography
Minimalist design
No-frills presentation
More than just a drinking option, Lupinion is a coffee brand with strong opinions.
And Franziska Bottcher Studio captured this brand image in their designs. The agency devised a cardboard packaging design inspired by expensive boutique cafes on the streets of Paris!
The typography is neat and simple. No ho-hums, no gibberish. -- a straightforward font style helps the design send the message across efficiently. Also, this clean typography highlights the product so well.
The design also looks polished. The minimalist design worked like a charm.
This lighthearted yet meticulous approach to the cardboard packaging design lets the buyer draw their attention to the packaging first, then get intrigued by what a cup of Lupinion coffee tastes like. Overall, the design fits like a glove, and we are sold.
4. Sanitea by Work And Company
Standout Features:
Sensible wordplay
Bold color choices
Fun and comical graphics
Sanitea is not just your ordinary tea – it is tea with a personali-tea. This tea brand offers a variety of ready-to-drink teas, each with an individual flavor profile that customers will surely love.
How they presented their products to the consumers is something an expert can only pull off, and Work And Company managed that effortlessly. This cardboard packaging design is fun, enthusiastic and full of personality, reflecting what the company wants from the design.
The cardboard packaging design seems like it was torn off the pages of a comic book – with the witty puns and funny wordplay, the exciting graphics and the strong, bold color palette, telling customers that they mean business.
With such a fun-looking cardboard food packaging design that sparks conversations and establishes connections, it's no wonder why Sanitea is the drink of choice for most creative people out there.
Standout features:
Organized layout
Inviting color story
Expensive-looking design
Biota Fermentation offers fermented food products that are not only vegan but also packed with nutritional content. The company believes that eating healthy is not always about eating salads. They want to serve something different for health-conscious individuals.
Packaging Arts has mastered delivering an upscale look for a luxury product without using real gold or silver. They created a modern, fun take on Biota Fermentation's packaging design with pictures of hand-painted fruits and vegetables scattered throughout the layout.
The color story is also interesting because they used a white backdrop, making the pictures and logo in the center stand out. This shows how they want their products to be the center of everyone's attention.
The pictures are arranged nicely, exuding an aura of understated wealth that only food connoisseurs can appreciate.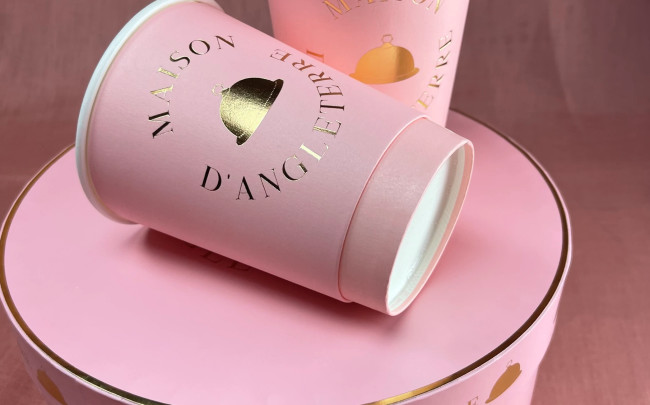 Standout features:
The vibrant yet classy color palette
Posh typography
Gold lettering and logo
Maison d' Angleterre is a cafe that offers exquisite treats that indulge their customers' expensive tastes.
Their products are packaged in stunning caviar boxes made by 05Copenhagen, a Danish design company specializing in packaging designs. The client wanted the design to look as exclusive as it could be without overdoing it, and they delivered just that.
The color story is indeed promising and pleasing to the eye. We all know how gold and rose pink go so well together; with these colors, the elegance pops out without being too imposing.
The fonts used in the cardboard packaging added a layer of richness to the overall design aesthetic, with serif fonts such as Times New Roman typically associated with the aristocracy even during the Renaissance.
Finally, adding a splash of gold makes everything look more elevated. The agency used gold as the font and logo color, making it more stylish than ever.
Standout features:
Expressive graphics
Welcoming shades for the color profile
Unassuming typography
Ninuccio's cardboard packaging design is one prime example of how fun can be injected as a part of one's brand identity and succeeds in making people smile and react to it. Ninuccio's overall aesthetic appeals more to the youth, and this cardboard packaging design supports that goal.
SoCity is an Italian company that also operates in the UK and France. This great cardboard packaging design they made for Ninuccio succeeds in preserving what the brand is as a personality and adding more elements that complement each other very well.
The first thing that catches your eye is the impeccable graphics that instantly transport you to the colorful murals of Mexico City. The Latin flair is unmistakable, adding another character to the design as something dynamic yet not too exhausting to watch.
This design has a flair that everybody loves! No one wants boring, old cardboard packaging, anyway. Stacking the boxes together would form a bigger picture -- great for product presentation.
Also, the clear and simple fonts help balance the energetic display of graphic design throughout the cardboard packaging.
Lastly, the designers used a color of joy and celebration: Yellow. It's the perfect shade for the brand!
Standout features:
Minimalist color selection
Effortless typography
Calculated overall design
When you think of watch straps, Artem Straps should be at the top of the list. The Australian brand sees itself as the Aston Martin of watch straps, and we all know how the famous automobile brand is synonymous with quiet luxury – the highest of its kind.
Luxury brands don't need to be loud to show everyone they're expensive. For them, less is more.
Created by Studio Otherness, they prioritized their client's preferences of maintaining the luxury look while still staying relevant to the modern landscape. The result is this exquisite work of art in the form of a cardboard packaging design, and they hit the nail right on the head.
The font they used in this cardboard packaging design is noticeably boxy with rounded edges, which shows how attentive they are to the details.
The colors used are black and white, universally known to be the colors of choice when people think of sophistication and sleek elegance. The Artem Straps packaging design deserves praise for all these elements coming together!
Standout features:
Lively color palette
Handwritten typography
Excellent product placement
Cookies are the best snack in the world for most people, and Levain Bakery Cookies knows that. They offer a variety of home-baked favorites that transport their customers to their childhood with every bite.
In a nutshell, the client wanted to make their customers feel comfortable when eating their products. Good thing, The Creative Pack's expertise has successfully combined the warmth of home with the client's vision.
The colors are not flashy, but they definitely made the right point. Blue, red, and white are the best colors for cardboard packaging designs because these colors register the best when printed.
They also used handwritten fonts for the product name, which is an intelligent move in driving the point across. This font reminds us of the loving notes our mothers used to include in preparing our lunch boxes, filled with sweet words and affirmations that keep us motivated throughout the day.
The product display in the center of the packaging is excellent, too! You can see how moist and fresh the cookies inside the cardboard packaging boxes are, and the generous amount of chocolate chips is enough to make people's mouths water.
Standout features:
Great readability
Animated designs
Friendly color story
Bicklepegs has made it an integral part of its brand identity to be as friendly and relatable to the kids as possible. They serve up many different snacks that kids at heart will surely love, one munch at a time. Besides, children are some of the most loyal customers a brand can have.
Creating a cardboard packaging design that appeals to the kids is challenging, but Episode Two effortlessly pulled it off. The British design company has kept the essential elements in mind and added some of its own.
From the easy-to-read texts to the pleasing color story, every element of the cardboard packaging design is well thought out. Add to that the vibrant designs that are not only fun but also amusing, and this is a masterclass of how one can have fun while keeping the brand identity intact.
Standout features:
Balanced color story
Perfect typography
Sturdy feel
Andy Warhol is known as the Father of Pop Art, and this collaborative effort by Andy Warhol x SK-II through their cardboard packaging design hits the spot.
Designed by LOVE., a Manchester-based design and brand strategy firm, the packaging design takes us down memory lane from when we were used to watching movies through VHS tapes.
The font and the color story work so well that you will be instantly transported into your living room couch during the 1990s. That's how nostalgic this cardboard design is.
Furthermore, the cardboard packaging has a smart backdrop, completing the design. It is sturdy and will last much longer.
12. Honig by PB Creative
Standout features:
Delightful color palette
Boxy typography
Excellent product placement
Honig wants to provide hearty and home-cooked meals to every kitchen; thus, their cardboard packaging is everything a home cook would love.
Designed by PB Creative, the cardboard packaging design is legible, straightforward and eye-catching. This feels like you are preparing goodies for your loved ones in Martha Stewart's kitchen.
Orange is a popular choice for food packaging, thanks to its vibrancy and warmth. The white letters balance the strength of the color. The design feels like a steaming bowl of pumpkin soup with a dash of cream – comfort food for most people.
The boxy font style is easy to read, and the product placement is impeccable no one would mistake it for another dish. Everything here works; we're already full just by looking at it.
Subscribe to Spotlight Newsletter
Subscribe to our newsletter to get the latest industry news