Data visualization tools offer an easier understanding of information loaded with facts, trends and patterns.
Technical bits of data like statistics or figures are often hard to comprehend. The solution? Visualize them through charts, graphs, maps and icons! These visual elements make information much more digestible, especially for a non-technical audience.
A data visualization tool is handy for employees or business owners who want to present data and ensure their stakeholders understand every detail without confusion (Explore other marketing analytics tools here).
And from a design perspective, it's a marvelous opportunity for designers to create visual art that satisfies not only the eye but also the mind.
So, look at these data visualization tools that beautifully interpret in-depth nuggets of information through stunning illustrations, infographics, animations and more!
Standout Features:
Narrative video introduction
Interactive information map
Clickable geographic locations
The tragic events and figures surrounding The Holocaust continue to be the subject of interpretation by many experts today.
"Statistics and Catastrophe: Questioning Eichmann's Numbers" is one great example – it exposes the Nazis' murderous plans on a Pan-European scale through a systematic data visualization tool designed by Superskrypt.
Before uncovering the facts and statistics, the illustration starts with a video walkthrough of Adolf Eichmann's life and the events leading up to the Holocaust. Then, it transitions to a full-screen map that indicates the areas covered by the mass destruction plan.
Each geolocation is labeled with the area's name and the number of victims. Some locations are stamped with portraits of key people as well.
Plus, all elements are clickable. One click and users get a detailed report and history about the area, along with a brief analysis of the numbers involved.
Standout Features:
Real-time impact calculator
Animated graphics
Organized data presentation
Want to know exactly how you can contribute to improving our environment? Use Brontide's Sustainability Calculator designed by Storm Brain!
Brontide uses renewable raw materials to create high-purity ingredients for personal care products and cosmetics. Their website has a real-time calculator that site visitors can use to measure their environmental impact, specifically reducing our planet's greenhouse gas emissions.
The calculator displays information-rich data and numbers that show precisely how using Brontide, a sustainable ingredient, directly impacts the world we live in. The more megatons of Brontide used as a plant-based alternative to petroleum, the more we can minimize carbon emissions.
And the visuals didn't disappoint, too. The animated illustration of clear skies and greenery adds an aesthetic value to the tool.
What a great, informative and interactive way of convincing customers to switch to more eco-friendly materials (Discover the best eco-friendly packaging designs)!
Standout Features:
Detailed descriptions and colorful illustrations
Lots of CTA buttons
Simultaneous scrolling effects
In-depth reports about key industries like technology can be hard to digest. So, what did GoodLove do to make the State of European Tech 2021 interesting enough for viewers to read?
They created an interactive landing page that also serves as a data visualization tool for all the essential points covered in the report.
It instantly hooks the audience, thanks to the colorful European Tech Flywheel. From there, viewers immediately get an idea of how technologically progressive the region has become! It's an illustration of a highly-developed Europe.
As viewers scroll through the page, the screen opens up a panel where they can skim through the most critical points. As this happens, the flywheel zooms into a particular illustration section that aptly represents the point of discussion.
Adding CTA buttons is also a great way to engage the audience and prompt them to read the full text, which this tool was able to maximize.
Standout Features:
Art gallery-inspired data visualization
Column-style layout
Side-scrolling and zooming navigation
Art junkies are sure to marvel at DivineComedy.digital. It's a gallery-inspired data visualization tool that celebrates the work of renowned poet Dante Alighieri, created by The Visual Agency.
It's a slow-surfing site that walks visitors through Dante's legacy and his works' massive influence in the world of Comedy.
In viewing the data, users have the option to scroll through the page or drag sideways. Either way, interacting with the content is easy and intuitive!
The different content blocks are separated by thin lines, arranging the data in columns for a more effortless viewing experience. But the highlight of this tool has to be the gallery, a collection of artworks depicting scenes from Dante's most revered work, "The Divine Comedy."
The artworks are presented as individual portraits, which users can zoom into to see the intricate details and learn about each piece's history. Zoom out and all the pieces come together, forming a stunning mosaic.
Walking onto the page is like entering a premier art exhibit!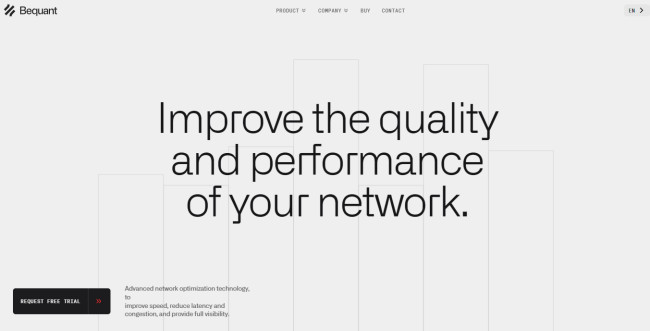 Standout Features:
Animated lines, graphs and charts
Outlined icons and images
Short but comprehensive text descriptions
Bequant is an advanced network optimization technology designed to improve speed, reduce latency and congestion and provide complete visibility. Oimachi created a website rich in data visualization tools to show its system's intricacy and effectiveness.
And here's what makes them extra special – animation.
Bequant's features are represented by progress-indicating visuals, such as line and bar graphs, charts, etc. These illustrations move as users scroll through the page, giving life to the site and making it much more interactive.
Besides, who doesn't like animated visuals, right?
But that's not all. Bequant also illustrates its network optimization process through outlined icons interacting with one another. Paired with the moving text descriptions, it's a home run in terms of visual design!
They also nailed the readability of the data by keeping the descriptions short and sweet but scattered all over the page so site visitors won't miss a detail.
Standout Features:
3D simulation of buildings
User-controlled data visualization tools
Visual slider controls
If you want to see what your virtual billboard will look like in the actual Shibuya, go ahead and try the Media Facade Simulator designed by The Shift.
This demo website displays a 3D animated mockup of the buildings in Shibuya. Site visitors can change the contents of the virtual images and the recorded sounds.
And the best part?
Users have the freedom to choose between three visual types. They can also switch the perspective from a bird's eye view or low-angle shot and change the appearance from light to dark theme.
Additionally, three visualization editors come in the form of slider controls. The Hue slider lets users change the colors of the billboard visualizer. The Speed slider lets them control the animation movement. And lastly, the Dimmer slider allows them to adjust the brightness of the visuals.
Standout Features:
A side-by-side panel of beautiful sceneries
Minimal text blocks and descriptions
Drop-down table of contents
Who says data visualization tools only come as infographics and animated visuals? They can also take the form of bite-sized stories told in realistic and picturesque images.
Look at the Banyan Tree Group's 2021 Report designed by Singapore-based creative agency C+C&Co!
The designers created a mesmerizing landing page with images of natural landscapes and sceneries. The photos, arranged in a side-by-side gallery layout, serve as a stunning backdrop for the company's 2021 review.
Instead of presenting the report in a full spread, the designers broke them down into one-liner previews with a CTA button, allowing the readers to scan through the information at their own pace (Learn how to design a CTA button that converts here).
The drop-down slider up top opens up a full-page table of contents. Here, readers can have a more in-depth review of the report through accessible menus. It makes the browsing experience more engaging and intuitive!
Standout Features:
Stats-fueled website content
Animated figures
Interactive icons and bars
11Sight is an inbound video conferencing and customer engagement platform designed to help teams convert more qualified leads.
Product design agency Lazarev designed a fully-loaded website with data to show that the company truly means business. They added industry-related facts, key program features and more!
And even with the wealth of information, the site is still very user-friendly. The secret? Website animation!
Almost all data visualization tools on the webpage are interactive – from the analytics mockups to the dashboard illustrations. Numeric figures are animated too! Plus, they made the numbers large and then shortened text descriptions to make the facts easier to digest.
Scrolling down, site visitors can interact with the popup icons, loading bars and other illustrations explaining the tool's features. Scroll even further; they can learn more about the platform's functionalities and benefits through visualized data.
Subscribe to Spotlight Newsletter
Subscribe to our newsletter to get the latest industry news