Logos aren't just business badges – they can be genuine masterpieces. When artistry marries brand identity, you get the best logo designs that are memorable and downright captivating.
After all, it's not just about name recognition; it's about leaving an indelible imprint on the viewer's mind.
This article explores some of the most remarkable artistic logo designs created by top-notch logo designers today.
Standout Features:
Geometric logo design
Elegant earthy hues
Sleek and sophisticated typography
Opening its doors in 1982 in Zakynthos, Greece, Yria Hotel turned to designer Regina Souli for a logo that's more than just eye candy. Drawing from the hotel's past and Art Deco influences, it marries the old with the new.
The logo flaunts an elegant and minimalist layout, providing an immediate luxe feel. But the geometric design steals the show — twisting the initials "Y" and "H," then capped off with an arch.
The cherry on top is the Orchidea Pro typeface and a palette of warm, grounded colors. Together, they fuse historical elements and modern sophistication.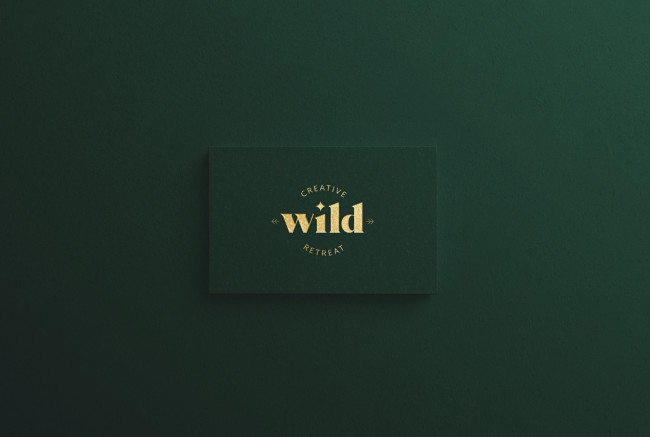 Standout Features:
Bold serif typography
Spherical layout
Multiple versions for versatility
Joanna Kosinska has rendered a timeless and versatile logo for Creative Wild Retreat. The design is an instant eye-catcher, featuring bold serif typography. The font exudes confidence and authority, making a striking first impression.
The gold and emerald color story amplifies the brand's luxurious and refined appeal. But what sets this design apart is its adaptability. The multiple variations ensure the logo remains impactful across various platforms. They showcase the brand's dynamic nature while retaining its core identity.
Explore other stunning logo designs with bold letters.
Standout Features:
On-brand athletic illustration
Multicolored design
Modern and minimalist typography
This artistic logo design by Tailfeather for the Global Impact Gymnastics Alliance (GIGA) showcases a dynamic representation of gymnastics and movement.
Six human figures connect in a circular layout, emulating a cartwheel and symbolizing motion. Each figure stands out in its color, championing diversity. A central circle underscores the themes of unity and impact. (See more examples of multicolored logo designs.)
The typography doesn't play second fiddle, either. The "GIGA" text cleverly incorporates the number 10 and mimics the figures' curvature. This vibrant and athletic design hits the mark in conveying the alliance's innovative and inclusive spirit.
Standout Features:
Interconnected letters
Striking black and yellow colorway
Integrated icon and logotype
Bruce Noronha's logo design for NEC, Nonoo Exchange Co., is an impactful representation of meaningful branding. The interconnected letters signify cohesion – fitting for a money exchange company.
The design cleverly integrates arrows within the letter 'E,' pointing both ways to represent exchange and fluidity.
In terms of visibility, the black and yellow color contrast makes the design pop. It enhances the logo's readability while signaling reliability. (Check out more black and yellow logo designs.)
And the finishing touch? A bold sans-serif typeface that gives the design an air of assertiveness.
5. RUFF by Martijn van de Zuidwind
Standout Features:
Bold monogram logo
Sketch-like illustrations
Vibrant and dark color pairing
Martijn van de Zuidwind's design for RUFF, a delivery-only vegan burger bar in Utrecht, is a masterful blend of boldness and whimsy. The monogram logo instantly creates a recognizable brand identity.
The accompanying doodle-like food illustrations balance this strength. They add a layer of eccentricity without diluting the brand's sophistication.
A punchy purple set against pitch black injects dynamism into the design. Along with the fun visuals, the logo is not just distinctive; it truly reflects RUFF's spirited identity.
Subscribe to Spotlight Newsletter
Subscribe to our newsletter to get the latest industry news